Welcome to today's Photo of the Day! Here we have one of the first revolvers to utilize the swing-out cylinder that we all take for granted today. This is a Moore's Patent Revolver from the 1860s. Moore's Patent Revolvers have a bit of a sad place in history because even though they were popular and reliable they still infringed on Rollin White's revolver cylinder patent. Rollin White had patented the idea of a cylinder in which its chambers are bored all the way through. This was at a time when most revolvers were black powder percussion and not cartridge revolvers. So when Smith and Wesson introduced 22 rimfire the world changed and the patent became more useable. That is why Moore's Patent Revolver was only produced from 1860 until 1862. As I mentioned it does have the unique feature of a swing-out cylinder but it is not the same as today's standards. By holding down a button on the rear of the blast shield the barrel can be grasped and rotated to the side. This exposes the chambers just enough to load and unload them.
"The top barrel flat has the desirable marking "MANF'D FOR SMITH & WESSON BY MOORE'S PATENT FIREARMS CO.," which was required among the settlement stipulations of the patent infringement suit. The verdict resulted in Moore having to complete all unfinished revolvers then in production and, along with all finished units in inventory, mark them accordingly and turn them over to Smith & Wesson who sold them on the open market. The cylinder is marked "PATENTED APRIL 3. 1855 & SEPT.18.1860″. The revolver is factory engraved with floral blossoms, scrollwork on dot back grounds and geometric patterns."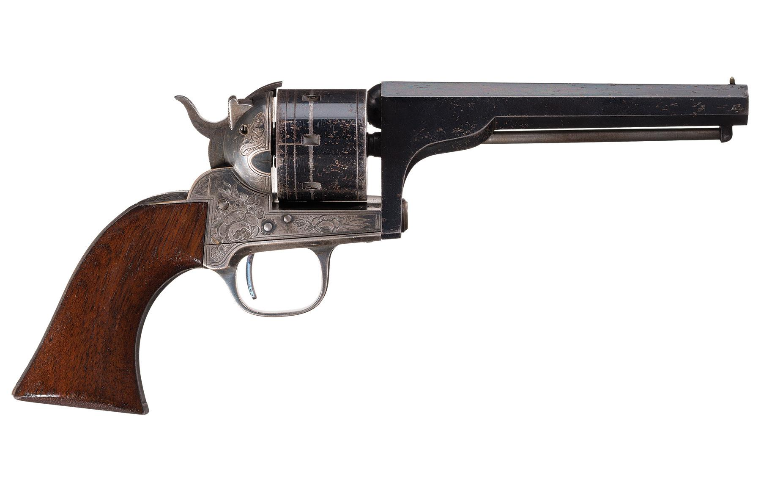 Lot 2213: Moore's Patent Firearms Co. Single Action Belt Revolver – Fine Engraved Moore's Patent Firearms Co. Single Action Belt Revolver with Desirable Smith & Wesson Markings. (n.d.). Rock Island Auction Company. photograph. Retrieved August 10, 2022, from https://www.rockislandauction.com/detail/70/2213/moores-patent-firearms-co-single-action-belt-revolver.