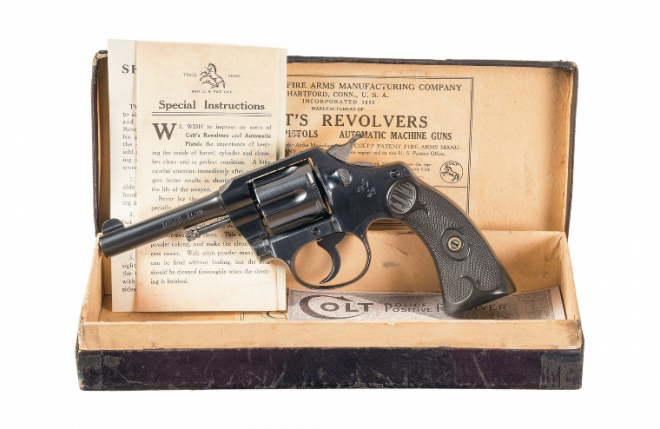 Welcome to today's Photo of the Day! Yesterday we touched on the Colt New Police and how it was Colt's newest and coolest introduction to police issue revolvers. What quickly followed would change their double-action lineup for decades to come! The Colt Police Positive was introduced around 1906 and boasted improved lock work. The new "positive lock" safety system (action will not allow the hammer to impact full force unless it is first pulled all the way to the rear) implemented gave the newest Colt its name. Unfortunately, the new Colt Police Positive's safety enhancement was not enough alone for it to be appealing so they also bumped up to the 38 Colt New Police cartridge (a copy of the 38 Smith and Wesson). After these necessary changes, the new Colt Police Positive gained a very good reputation and became a favorite amongst lawmen and outlaws all the same.
"Manufactured in 1941. Fixed blade front and frame notch rear sights, "B" marked barrel, and matching numbers on the frame and crane. With original box with "PEQUENO" marked end label. This configuration was not officially cataloged."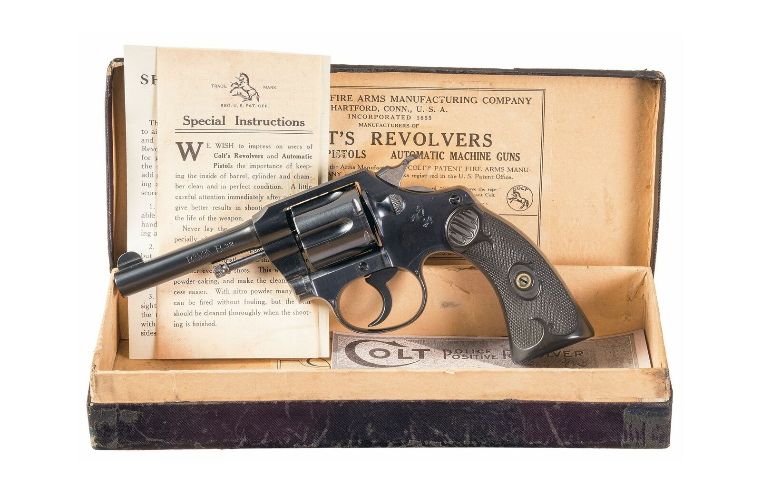 Lot 1683: Colt – Police Positive. (n.d.). Rock Island Auction Company. photograph. Retrieved May 3, 2022, from https://www.rockislandauction.com/detail/74/1683/colt-police-positive.
Shop top of the line gear at great prices in the Everest Marketplace and get outside!