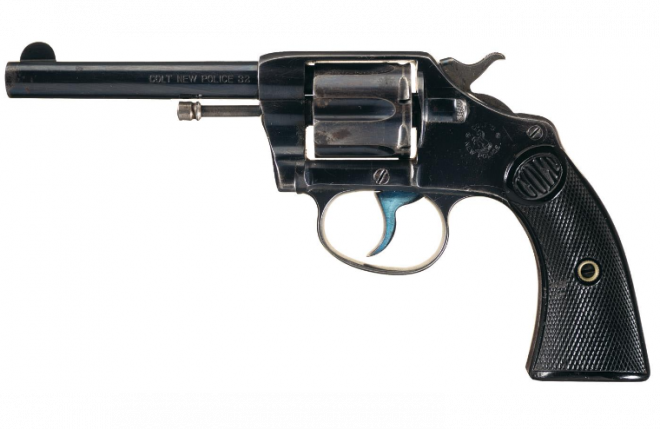 Welcome to today's Photo of the Day! Here we have an arguable milestone in the life of the Colt Police series of revolvers. This is the Colt New Police. The Colt New Police is significant because it was Colt's new and improved double-action revolver. You see, the model 1877 and similar iterations just did not fair real well out in the wild and as a result had a not excellent reputation attached to it. Gone were the days when everyone had a Colt Single Action Army and everyone was equal due to the old equalizer. Now outlaws and lawmen alike were looking for new and improved ways to outdo their competition.  This new colt also came packing a whole new cartridge, the 32 Colt New Police cartridge. This revolver was quickly eaten up by police forces around the country (New York Police as a notable example). Unfortunately, the New Police was not entirely perfect and its cartridge tended to be inadequate.
"Made in 1897. Fixed sights, with the 3-line address/patents on top of the barrel, "COLT NEW POLICE 32" on the left side, the "New Police" rampant Colt on the left side of the frame, and checkered "COLT" grips. The back strap is inscribed "New York Police". With an after-market storage box."

Lot 701: Colt New Police Revolver 32. (n.d.). Rock Island Auction Company. photograph. Retrieved May 3, 2022, from https://www.rockislandauction.com/detail/60/701/colt-new-police-revolver-32.
Shop top of the line gear at great prices in the Everest Marketplace and get outside!