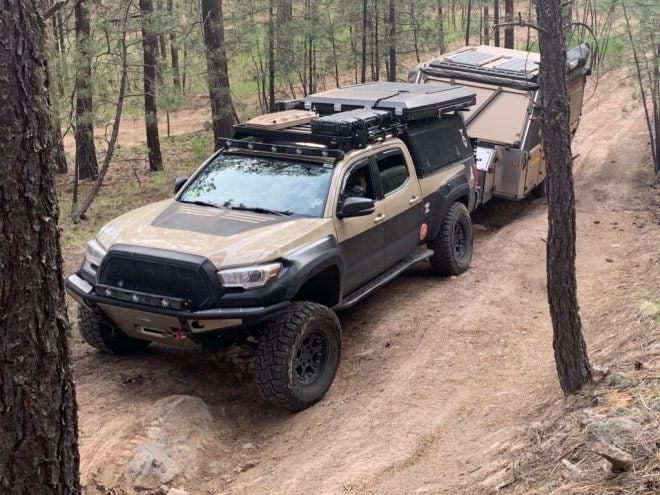 I did not buy my 2017 Tacoma for its excellent towing prowess. In fact, I had no intentions of towing anything with it initially. My original goal was a capable off-road vehicle that I could put a rooftop tent on, and live and work out of.  Not a vehicle dedicated to toy hauling and loaded with options like a brake controller.
Fate intervened and presented me with an opportunity to buy a South African Conqueror UEV-490 off-road trailer. I was in the process of doing the build-out on my truck and had already completed the suspension and armor when I scored a screaming deal on a trailer brand I had been lusting over for some time, but always had figured it was out of reach. The only problem was that the trailer was in Ohio and I was in New Mexico. It was a timing thing so I needed to turn and burn to both view – and retrieve – the trailer if it was what I really wanted.
I bought the 2017 Tacoma TRD Off-Road which came with the "towing package," but did not include a brake controller. The trailer weight rating of my truck is 6,400 pounds. Fully loaded and wet, the UEV-490 is 4,730 pounds (water and gear). I am also re-geared to a 4.88 gear ratio (from the stock 3.73) with a 9-inch Nitro Gear pack housed in a Currie F9 Axle. This allows me to tow more than the stock rating (assuming I have not overloaded the weight of my vehicle otherwise).
Even with the stock specifications and upgrades, I was still nervous to buy a trailer that close to the weight rating (which I know is conservative) – I've always been taught to try and keep towing around the 50% mark for optimum efficiency and safety. Since this was planned for heavy backcountry use, the math is a bit different than someone hauling on hardball.
I was able to successfully tow the trailer back home without the aid of a trailer brake controller, but I certainly paid a lot more attention to braking distances. Despite that success, I realized that long term I would need to add a trailer brake controller – and one that could be adjusted for off-road applications.
So why a REDARC trailer brake controller?
I decided to install a trailer brake controller because I am still towing a lot of mass and I didn't want to rely on the braking system of the truck. I did upgrade to a Stoptech big brake kit on my truck, so I have better braking than stock. The trailer brakes on Conqueror are electric drums, so all I needed was an electric brake controller.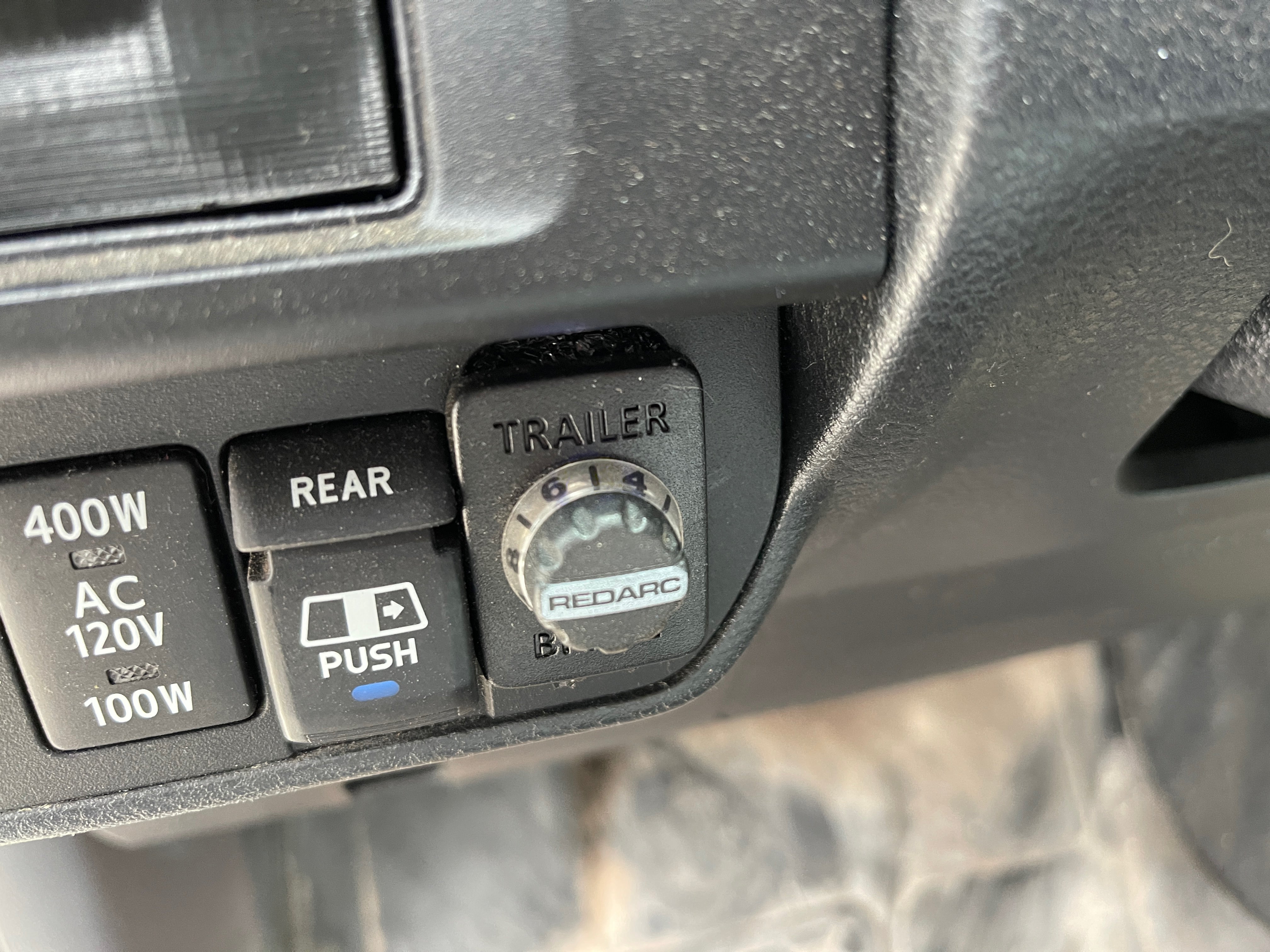 The inside of the Tacoma doesn't have a ton of space for additional switches, so it is important to pay attention to internal mods. In this case, I wanted to avoid a bulky brake controller (like the common "paddle" style found on many vehicles). I also wanted something that I could manually override because there are times off-road that you want to be able to apply braking to the trailer independently of the vehicle. The only brake controller that met my requirements was the REDARC. One of the other reasons I was interested after learning more about the Tow Pro Elite was that it offered the ability to switch between a "proportional mode" and user-controlled mode.
What does a REDARC Tow Pro brake controller do?
The REDARC Tow-Pro Elite Trailer Brake Control offers a selection of proportional and user-controlled trailer braking modes. The Tow-Pro Elite V2 electric braking system for trailers has an activated braking system that monitors its direction continuously and can even be calibrated without the trailer attached while still allowing the ability to mount from all angles.
The dash-mounted (or wherever you install it for ease of access and observation) control knob makes adjusting the brake system easier and safer. It features an LED indicator that changes color and enables easy adjustment of the braking force, depending on the mode.
Proportional Mode Braking
The proportional system is able to adapt to braking conditions after the learning calibration period (which happens automatically). The proportional mode inertia sensing starts learning as soon as power is applied to the unit.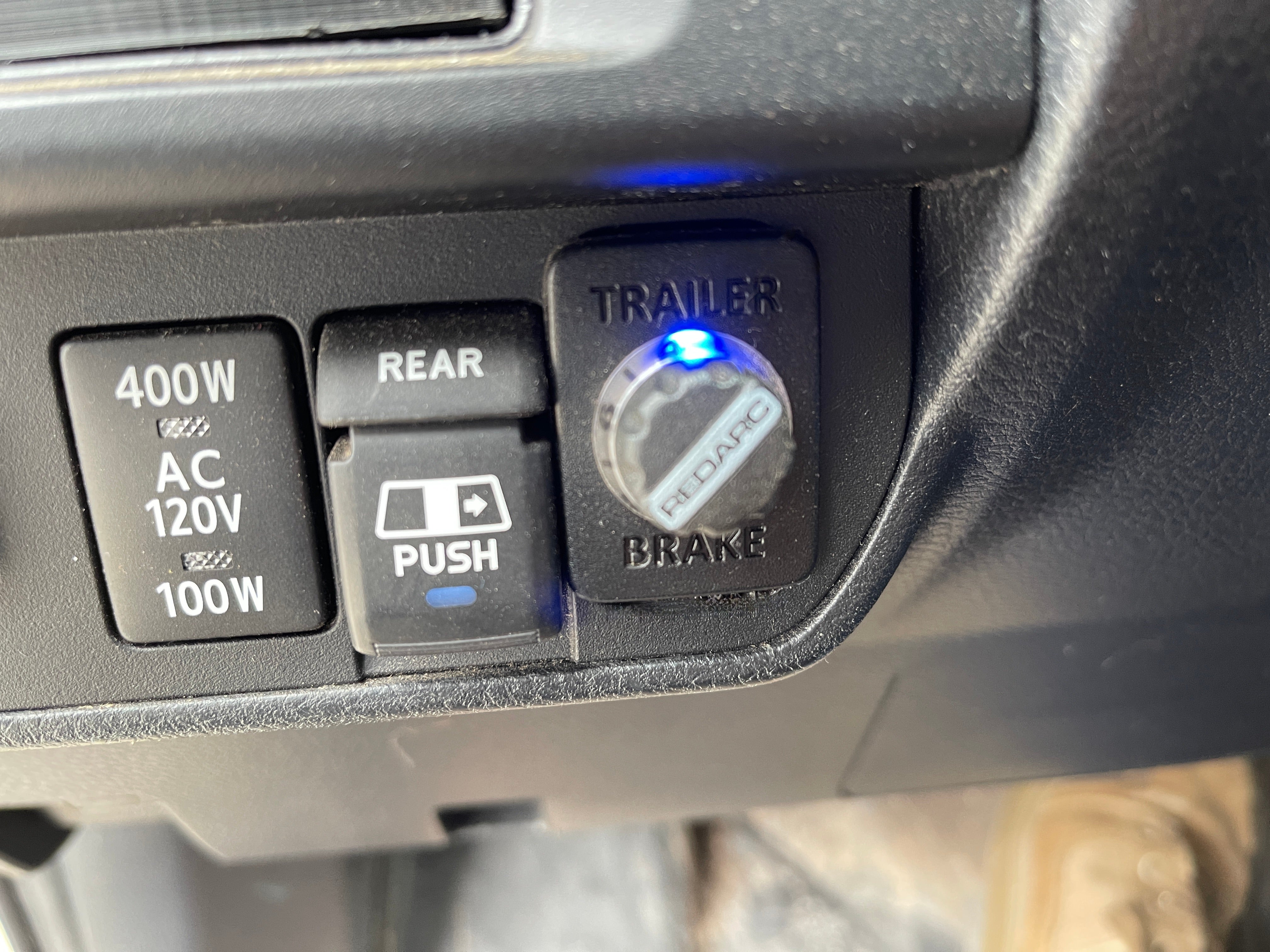 During the initial calibration of the system, the LEDs indicate the progress of the learning. The LED flashes green/blue for different lengths of time, gradually showing blue longer the closer it gets to "done." When the LCD remains solid blue, the system is set, and proportional calibration is done. When the learning is completed, the vehicle is calibrated for all future trips (until it loses battery power).
The proportional braking is pretty "fire and forget." Once the unit is calibrated, it applies braking similar to what you are doing to the vehicle when you step on the brake pedal, be it a slow gradual stop or slamming on the brakes. You can control the intensity by dialing the gain on the knob. It will lose calibration if the system loses battery power.
While in proportional braking mode, AND MOVING, the REDARC Tow Pro Elite allows for a manual override. By simply tapping on the control knob, braking will be applied independently of the vehicle brakes. This is extremely useful if you need to apply the trailer brake to control sway or some other condition. It is important to note that this is not the same as the dedicated user-controlled mode.
User-Controlled Mode
The Tow Pro Elite user-controlled mode is a useful feature for managing your trailer brakes while off-road. In this case, the trailer will brake according to the gain you set, independent of the intensity of stepping on the brake pedal of your vehicle.
Simple Installation; Out-of-the-Way
The REDARC Tow Pro Elite doesn't have any mounting restrictions like many proportional controls. The electronic device consists of two parts – the main brake controller component and the control knob. Since it requires no other part to be accessible than the control knob, this unit can be installed in an otherwise confined place. Calibration of the inertial sensors happens continuously so you really don't have to be super precise when installing the main control unit.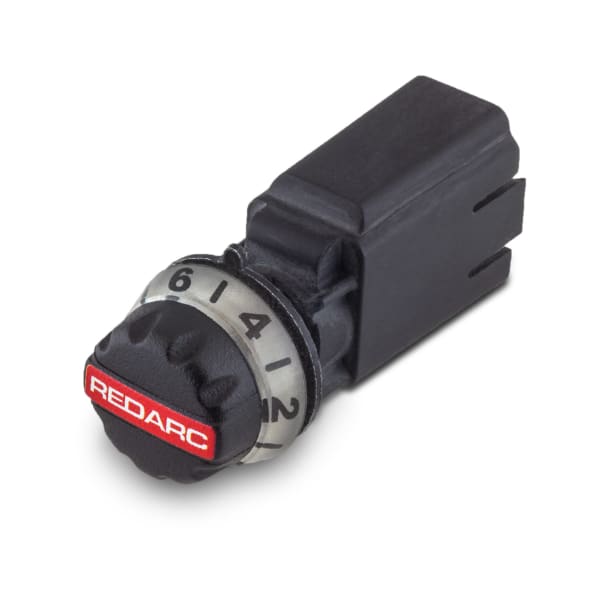 Because the user control is a knob, it takes up a lot less room than the more common paddle style and can be installed in a lot more places.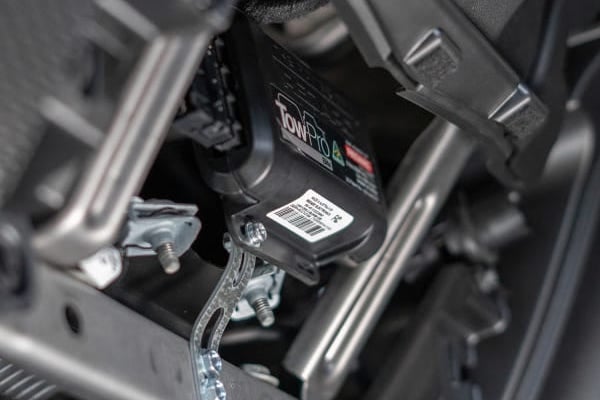 I mounted my main unit up in the wiring mess under the dash, and the knob to the left of my steering wheel. That way I can easily see the LEDs that indicate status and mode and can tweak the gain as needed.
Do I need a brake controller if I have a tow package?
If your vehicle does not come with a brake controller, then yes. More vehicles are coming with brake controllers, especially heavy-duty trucks. Light and medium-duty trucks are a gamble. And that is where an after-market trailer brake controller like the REDARC Tow Pro comes in.
Overall, this brake controller has been excellent. It is out of the way, simple to use, and has operated flawlessly for several years. Installation was very easy, and the support staff at REDARC is very user-friendly – they are responsive and genuinely helpful. I love having an easy-to-adjust dial rather than trying to squeeze a couple of paddles, and having a bright LED lets me instantly know the status. It has made towing with my Tacoma a lot safer and given me more peace of mind.
For a couple of hundred dollars (MSRP at writing was $212) and a couple of hours of install time, you can add a measure of safety to a vehicle that doesn't otherwise come equipped. If you are towing a lot off-road (and I mean backcountry rough terrain – not just a country dirt road), you might also want to consider the Tow Pro Elite since you can switch between the proportional and manual modes.
REDARC Electronics makes a ton of other equipment related to vehicle management including their very robust power management systems. It is important to know that REDARC Australia has a slightly different product line so you will want to visit REDARC Electronics for the U.S. to browse REDARC US products. Learn more about REDARC products at their website.
Source Link