If you're near the South Carolina coast and see what looks like the world's biggest fiddler crab, you're probably observing a non-native species. Th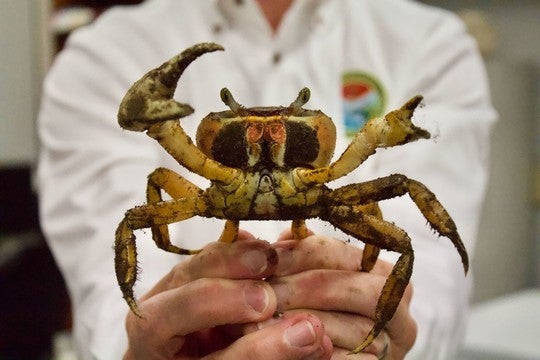 If you're near the South Carolina coast and see what looks like the world's biggest fiddler crab, you're probably observing a non-native species. The biologist from the South Carolina Department of Natural Resources (SCDNR) wants you to take a photo of said crab. There have been several reports as of late of the Blue Land Crab (Cardisoma guanhumi). The SCDNR biologists are asking South Carolinians to help them learn more about the spread of these non-native crabs. This can be done by reporting any sightings and taking/sending photos to the SCDNR
The Blue Land Crab (Cardisoma guanhumi) is native to the Atlantic coast from South Florida to Brazil. But since 2008 there have been occasional sightings of these large crabs reported from the South Carolina coast. Researchers do not yet know the exact extent of the distribution of the crabs along the South Carolina coast yet. The big concern is the lack of information on how these non-native crabs are impacting the local environment and other wildlife along the South Carolina coast. It is still unknown how the Blue Land Crabs landed in South Carolina, either through natural expansion of its range or being introduced by people.
The Blue Land Crabs are capable of reaching up to six inches wide across their top shell, similar in size the native swimming blue crabs. But unlike the swimming crabs, the land crabs are completely terrestrial, living in burrows they dig themselves. These burrows are within a few miles of coastal waterways and can be up to six feet deep. These burrows are one of the reasons the crabs are called pests, due to the damage they can do to yards and crop fields. They are omnivorous but prefer fruits and vegetation.
The crabs can vary in color, males being blue-gray, females white or ash-gray, and juveniles can range from orangish to dark brown to purple. They are a long-lived species and slow growing, capable of living up to eleven years. In some parts of their range, they are eaten regularly, but they are difficult to catch and will readily defend themselves with their large claws.
If you see one of these crabs, SCDNR biologists encourage you snap a photo and report your sighting at the link below. Biologists suspect the crabs may be more visible lately due to the heavy rains South Carolina's coast has experienced, which can drive them out of their burrows.
REPORT SIGHTINGS HERE