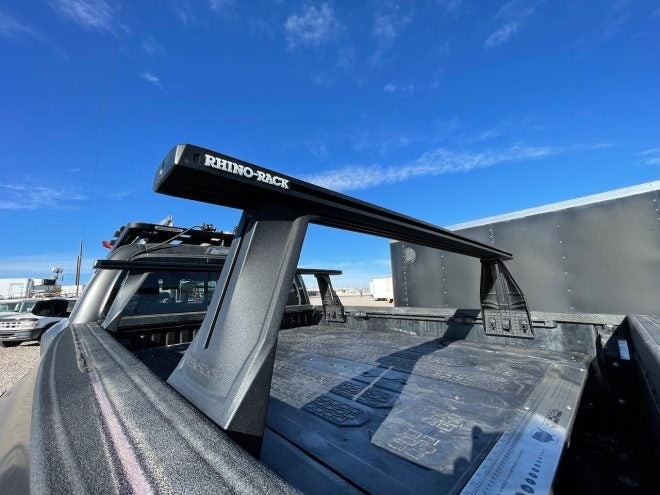 If you're into Overlanding, chances are you've spent time looking for the perfect platform to mount all of your gear on. Let's take a closer look at Rhino-Rack's Reconn-Deck and see if it could be the answer to your needs.
Good day everyone and welcome to a new installment of AllOutdoor's Off-Road and Overlanding series brought to you by onX Offroad–mapping software for all your adventures.
The first build on my Tacoma was around an enclosed cap from AluCab. I wanted lockable storage with some built-in organizational capability, and the ability to eventually mount a rooftop tent.
I successfully ran that for several years until I decided to lighten up my load (a cap and rooftop tent are heavy) and reconfigure the build to be more robust. The original setup looked great but was ultimately unsound as a ton of weight (air compressors and storage bottle) was attached to a side cabinet mounted using a couple of small bolts into a rail system. I needed a more modular design that also was strong enough to mount what I needed.
Versatile Truck Bed System?
There is no such thing as a perfect system–at least I haven't found one yet. There is always a compromise. A Tacoma is small and narrow, compared to a full-sized truck (like, say, a Power Wagon), and does not have a large cargo capacity. What I've started looking for in a cargo management system is easy installation (and removal) as well as the ability to change the configuration for whatever my current activity is so I can carry what I need. The Reconn-Deck has so far allowed me to do that.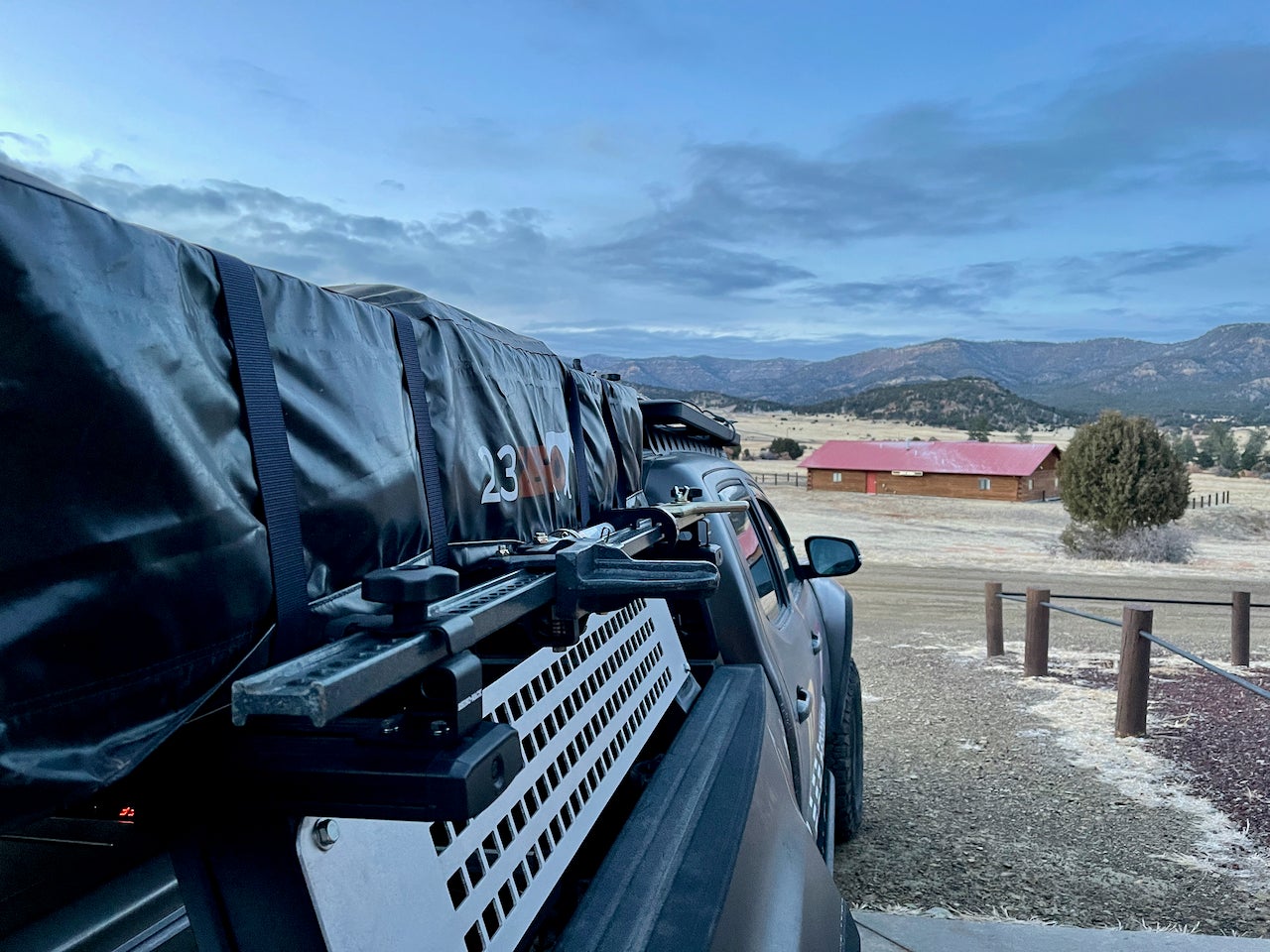 Adding a bed rack system allows for a number of additional mounting options for stowing and securing gear and other accessories. The Reconn-Deck towers can support a number of different top components: the Reconn-Deck Bars (with or without the Reconn-Deck NS Bars), Pioneer Platform (if you want to maximize carry space), or Vortex Bars.
The towers have slots allowing you to mount components on them as well.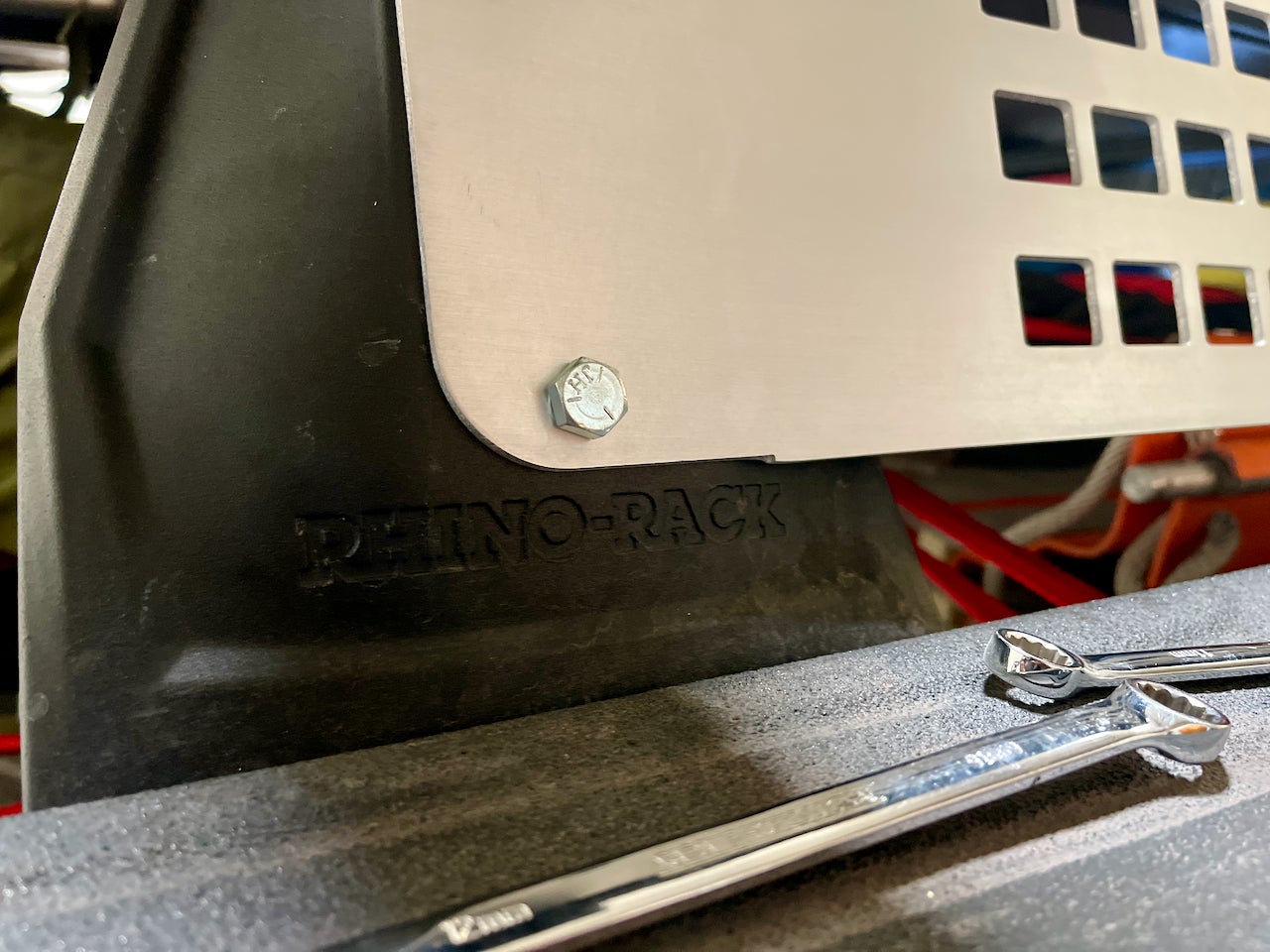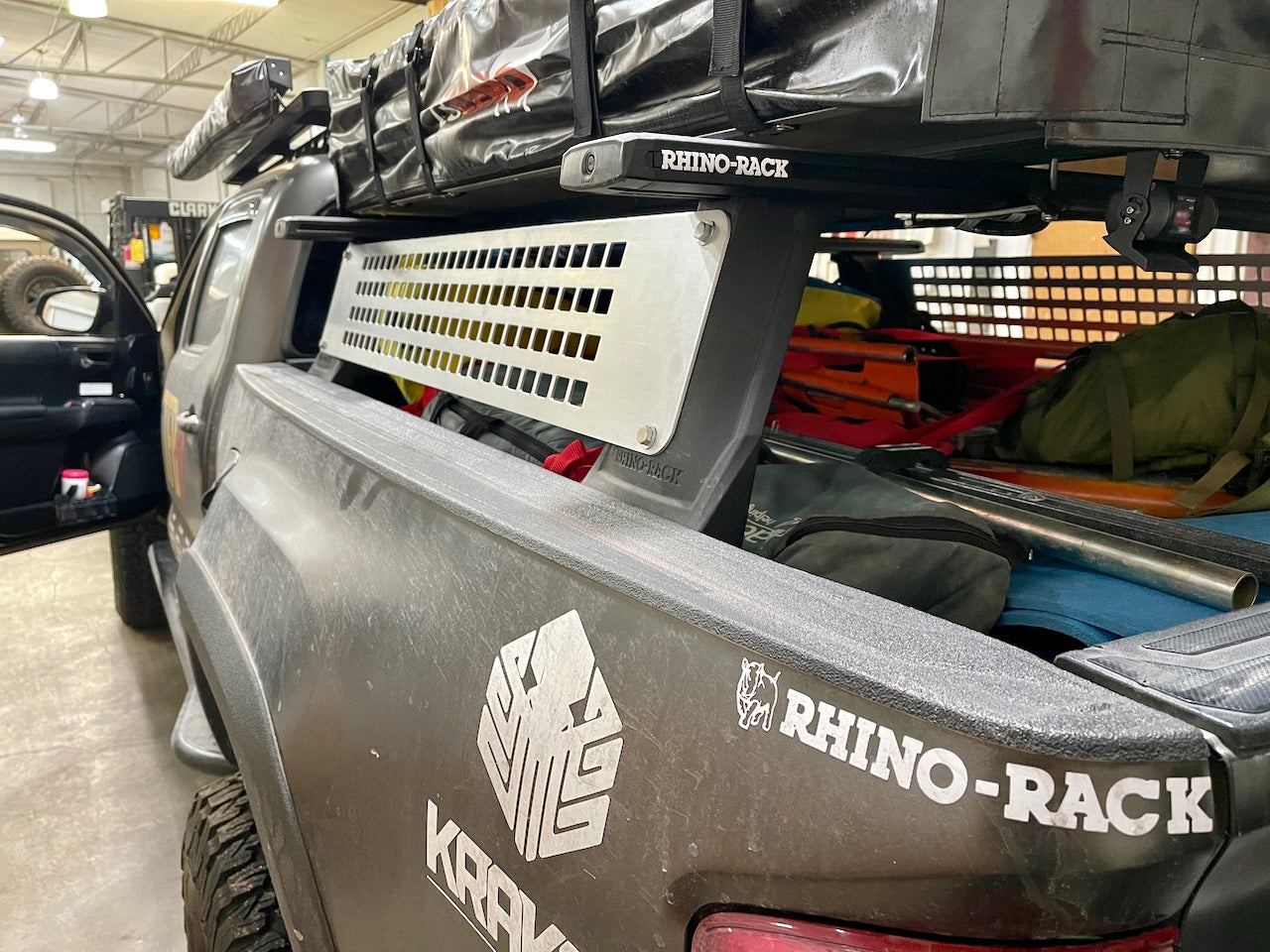 You can mount any of their huge range of roof rack accessories on the bars–assuming the item can span the distance. The system is designed to suit users' specific needs.
Reconn-Deck Bars
The Deck Bars are what I am running on my truck (I have a Rhino-Rack Pioneer Platform over my cab), and the Deck Bars will be the focus of the remainder of this post.
The Bars can accommodate 330 pounds dynamic load (while moving), and 826 pounds while static. The load rating is enough to mount a rooftop tent.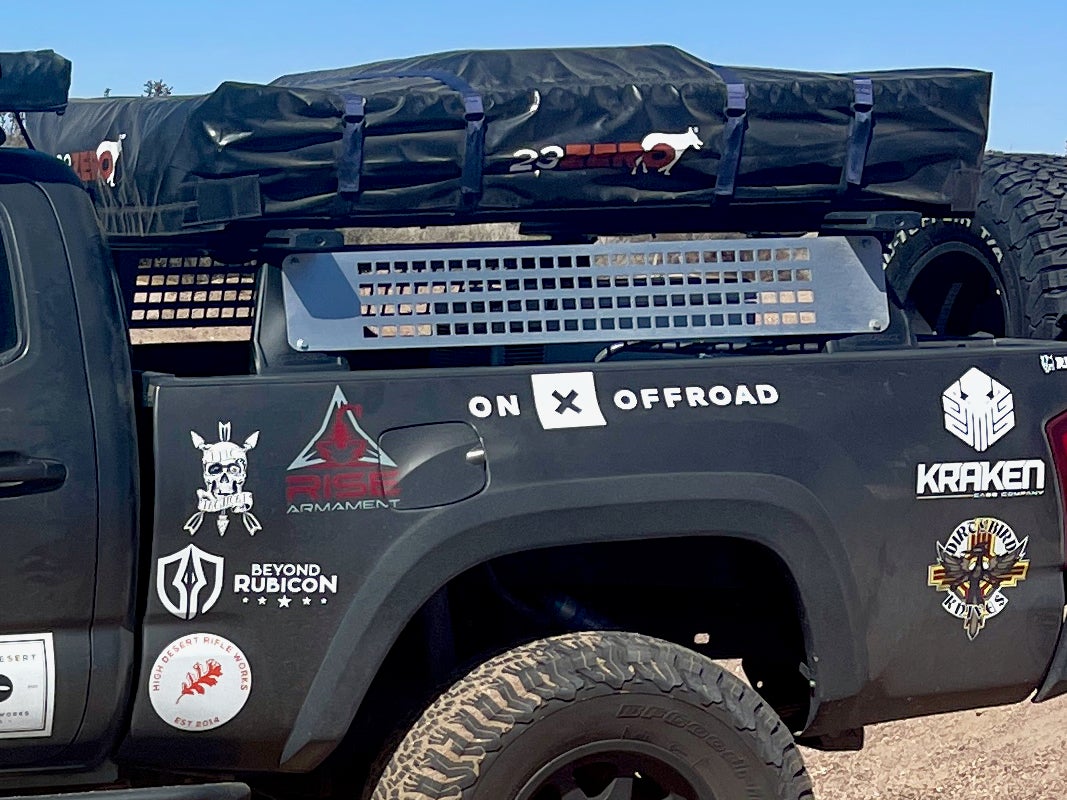 The Reconn-Deck bars have integrated channels on all four sides allowing you to mount items in a variety of ways. The underside channels are a good place to mount flat items like a folding table. The bars are made from powder-coated aluminum.
A Sleek and Rugged Design
The Rhino-Rack truck bed system is honestly pretty minimal. The towers mount to the rail system in your truck bed. There is no drilling or modification needed. It comes with all of the tools you need to do the install–their design team included a clever torque wrench and hex tool (this is becoming a more common trend among off-road gear companies it seems).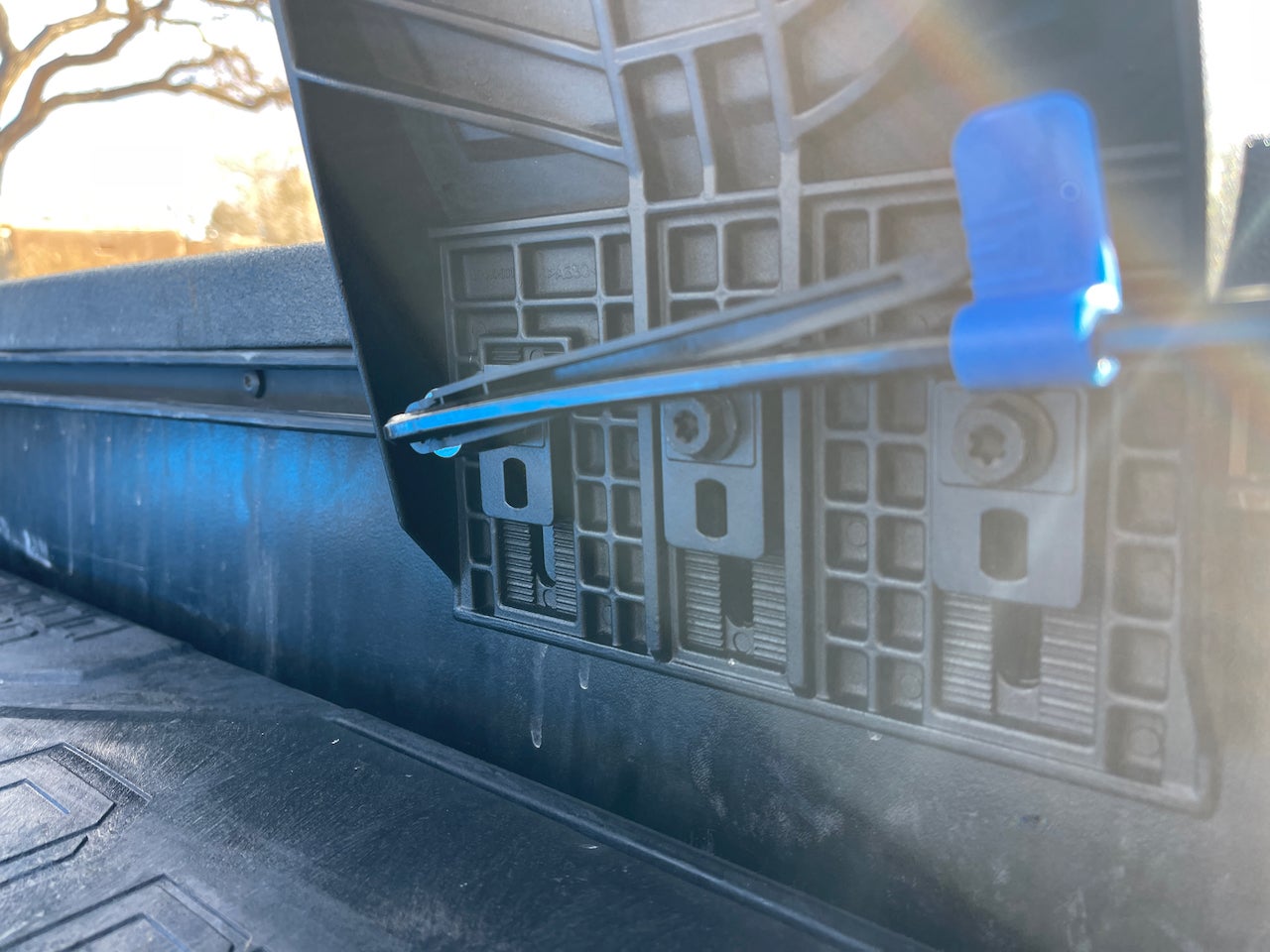 Once you mount the towers, you simply mount the Reconn-deck bars (or whatever platform you want to use).
The biggest downside is that you have to have bed rails. Or install some. If you have existing bed rails, you can install the system in about an hour by yourself.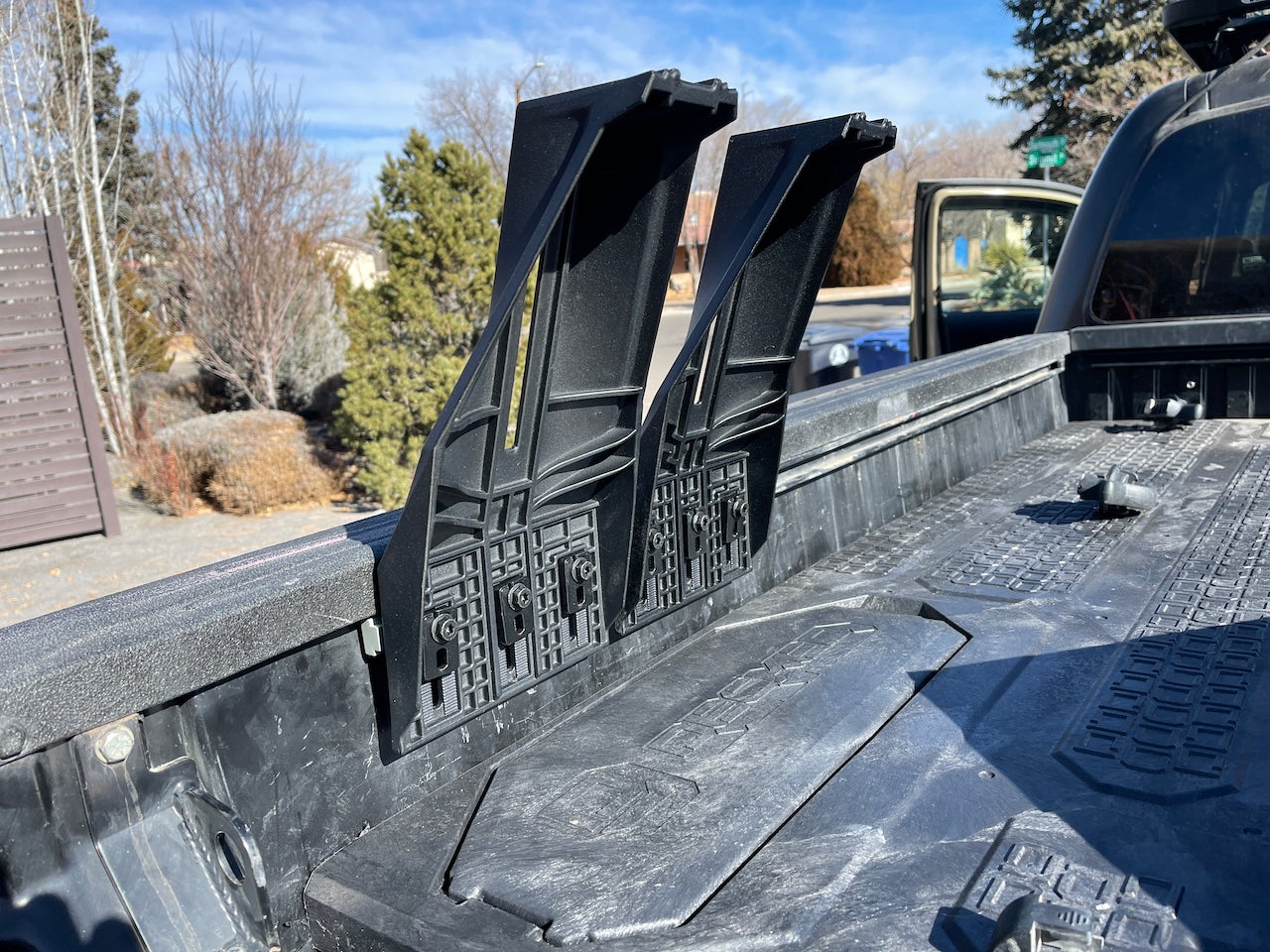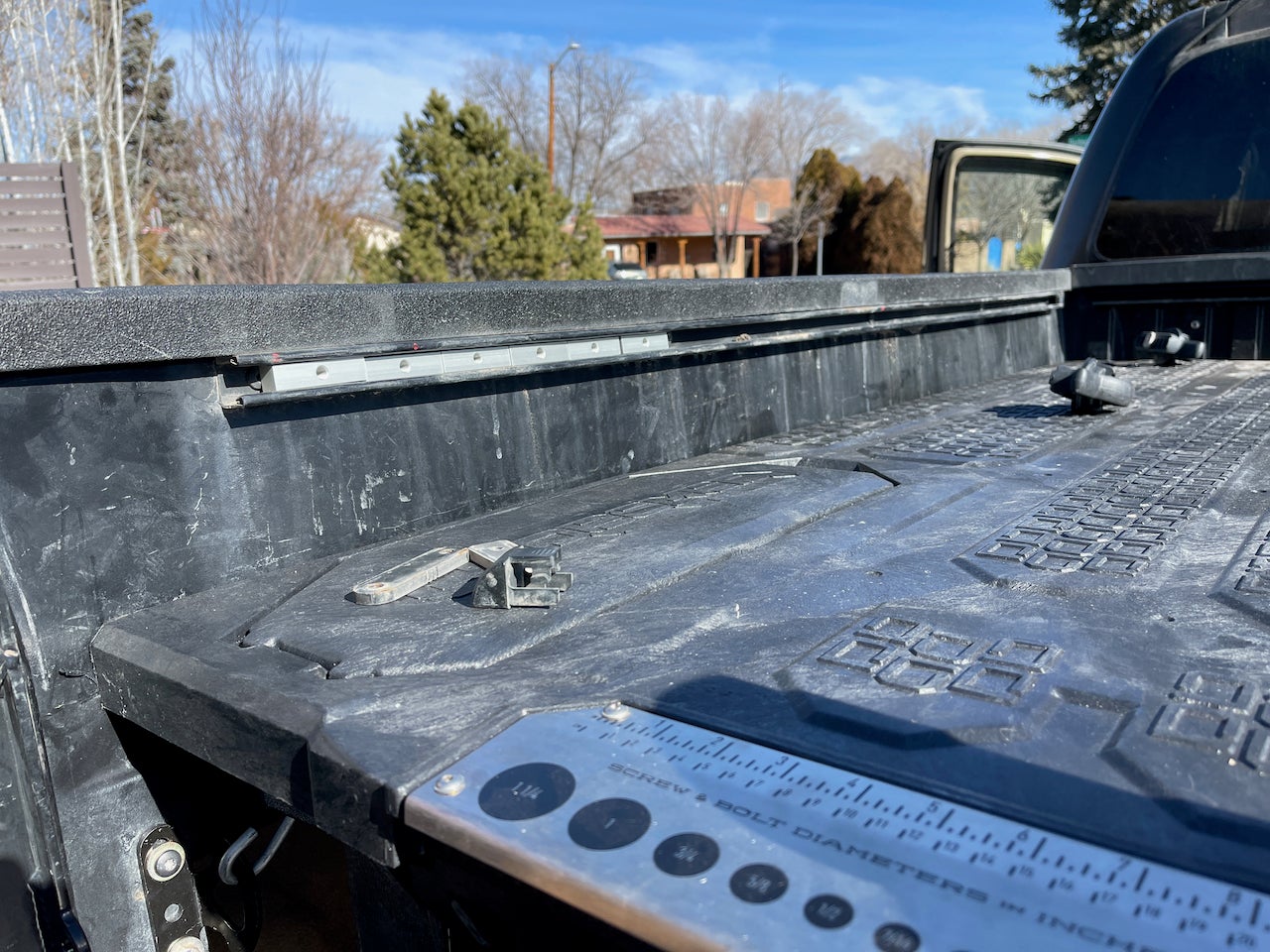 The most challenging part of the installation is measuring the tower placement. Rhino-Rack provides a handy reference for most vehicles, giving you the distance between towers and the distance from the front of the bed. These are fairly important measurements because you want the towers to be parallel to each other and perpendicular to the bed. Aside from that, it is bolting things in and torquing to spec. (Bigger trucks can add a third tower if needed.)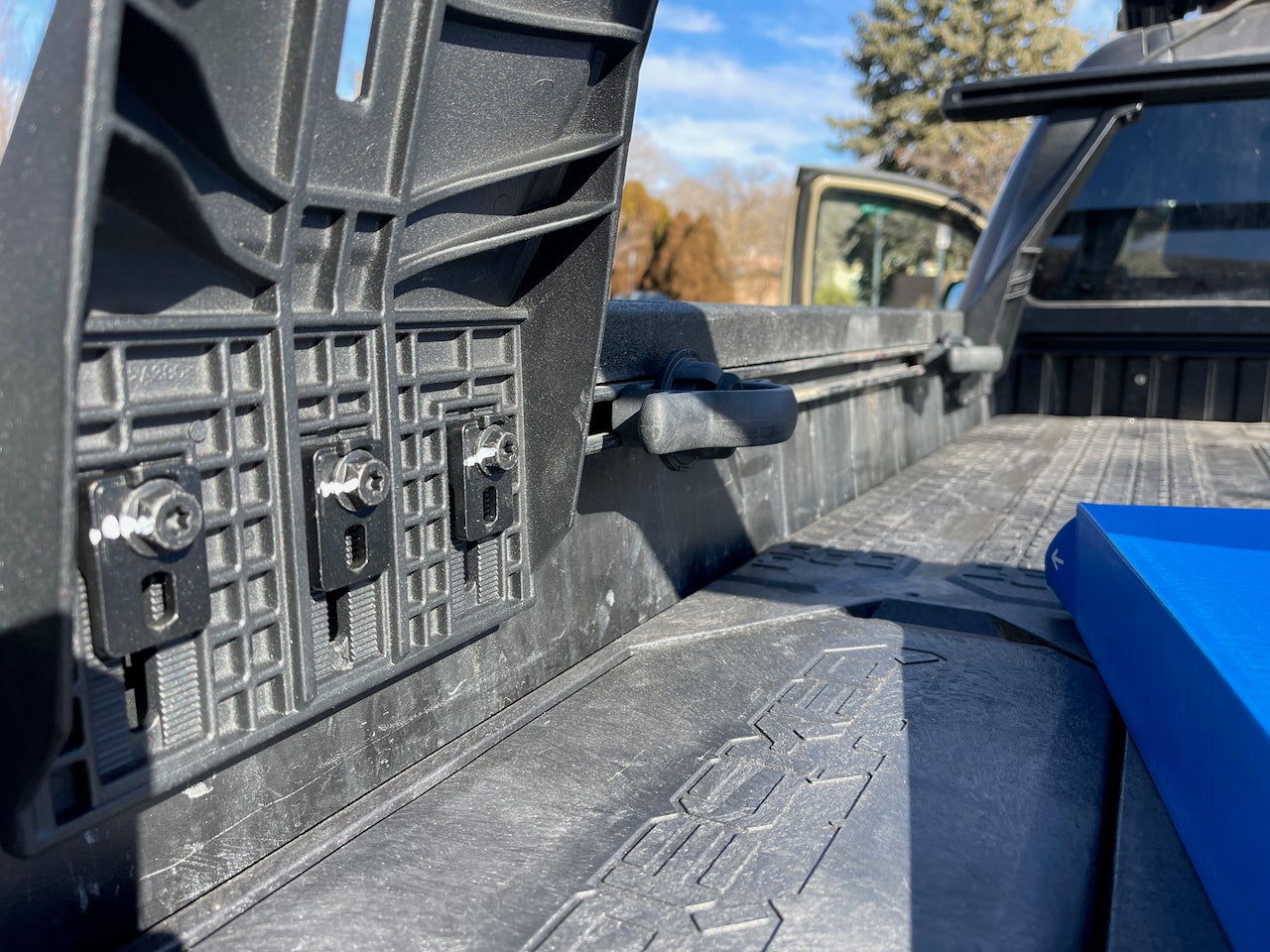 Rhino-Rack Reconn-Deck
The Reconn-Deck is a relatively new product from Rhino-Rack that has been designed for not only overlanding, but snow-sports, cycling, fishing/surfing, and contracting. It's a great platform to mount all of your gear on (and the perfect platform for my needs right now).  It's made from high-quality materials that will stand up to even the most extreme conditions.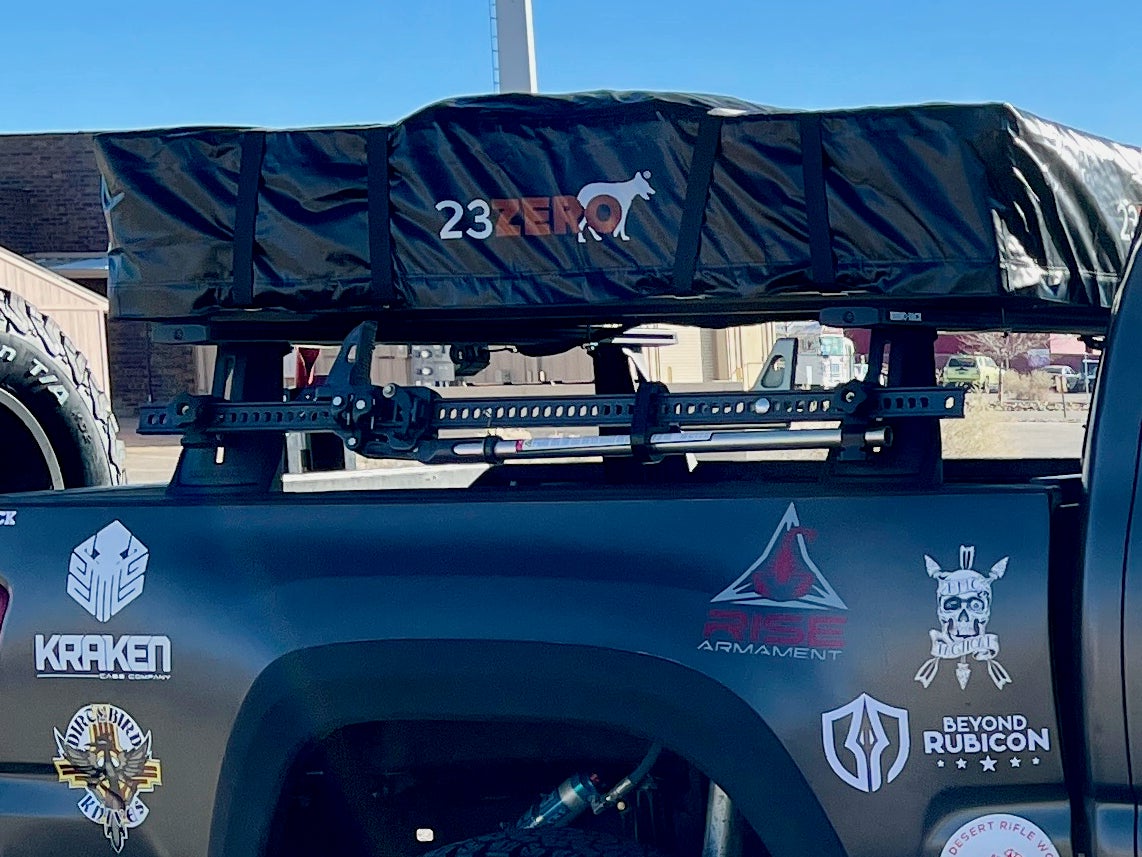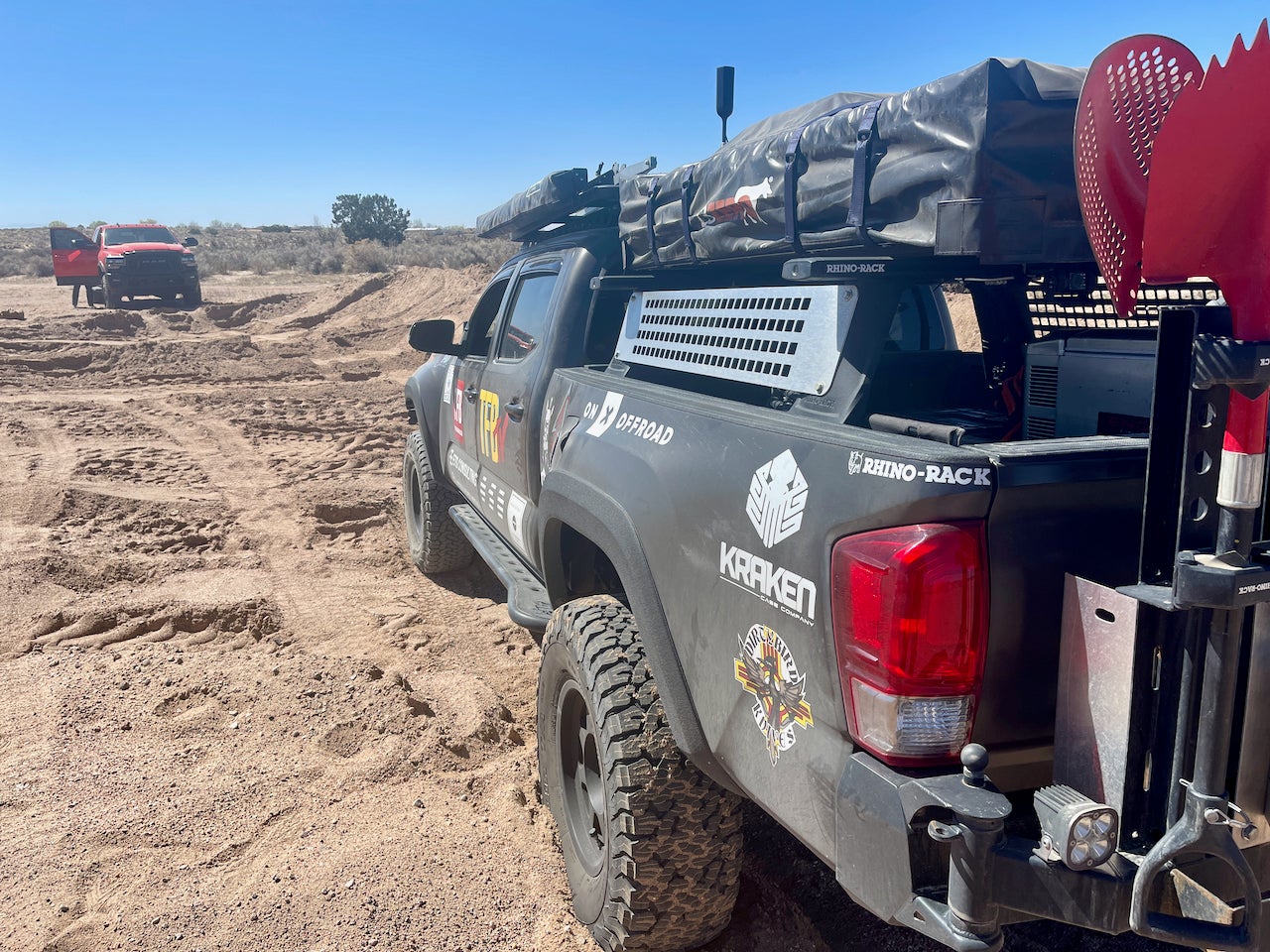 The Reconn-Deck is adjustable, so you can customize it to fit your vehicle, and it comes with channels on the towers that provide multiple points to mount accessories. It's quick and easy to install or dismantle, so you can reconfigure without a lot of hassle.
There are a few bed rack systems out there, and all have pros and cons. For my build, the Rhino-Rack system meets all of my current needs.  You can learn more about the Reconn-Deck at Rhino-Rack's website.
If you are running a bed rack, what do you have?  Share your thoughts in the comments.
Shop top of the line gear at great prices in the Everest Marketplace and get outside!