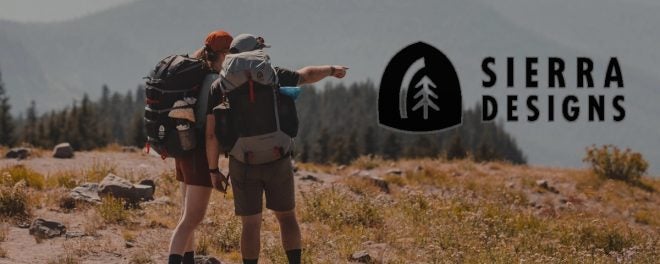 Sierra Designs has three new backpack models intended to drop in the Spring 2022 season. Check it out below!
Company Info: Sierra Designs Gear
Sierra Designs is an outdoors company creating beginner to mid-level outdoors gear. Founded in California circa 1965 by Bob Swanson and George Marks, they are now based out of Broomsfield, Colorado. Sierra is owned by Kellwood (Apparrel) Company, who also owns companies like Ames Taping Tools, Boston Market, and others. Their historical innovations include such inventions and designs such as:
The OG Flash Tent in 1983 – This was a two person tent that 40 years ago weighed 1800 grams (four pounds)!
Swift Clips – The plastic hooks that keep a tent suspended to poles.
They were the first to make a women's specific bag in 1995. What? did women not exist before or something? Oh! It's about size/proportions/fill zone density.
Zipperless sleeping bags in 2014
Sierra reports they offer a warranty on all products:
Sierra Designs branded products (tents, backpacks, sleeping bags, and apparel) purchased only from authorized retailers are warranted to the original owner against manufacturing defects in materials and workmanship for the lifetime of the product.  This does not mean your lifetime, but the reasonable lifetime of the product, considering its age and how you have cared for and used it.
Posts about Sierra Designs:
Products: Sierra Designs Spring 2022 New Products for Camping
Price: 119.95
Volume: 60L
Weight: 1840g (4.06 pounds)
Colors: Black, Blue, Green Grey
Adjustable suspension fits torsos size 16 – 21" for a custom and more comfortable fit
Made for weekend warriors and thru-hikers alike, the Gigawatt 60-Liter backpack has all the features to keep you comfortable on any backpacking trip – long or short. Built with an advanced perimeter frame and external compression straps, this top-loading backpack stabilizes the brunt of your gear for better weight distribution and all-day adventuring. Oversized external mesh pockets and zippered hip belt pockets keep layers and essentials within arm's reach, and the zippered lid with internal organization means the little things stay right where you left them. Made to last with durable materials to handle the tough terrain you hike through.
Price: $49.95
Volume: 25L
Weight: Not listed.
Colors: Black, Blue, Green Grey
Lined Glasses Pocket.
Sometimes bigger isn't better. That's why the Yuba Pass Daypack is just right for your day hike or around town adventures. With a 25-liter capacity and tons of internal and external storage options including dual water bottle pockets and a front shove-it pocket, fit all your trail must-haves without worry. Parched? The internal laptop sleeve doubles as a hydration reservoir holder, making this pack your do-it-all daypack solution.
Price: $59.95
Volume: 27L
Weight: Not listed.
Colors: Black, Blue, Green Grey
Hydration pack compatible.
A pack for any adventure, the Sonora Pass Daypack carries everything you need on a day hike. This pack rides comfy on your back, with padded shoulder straps and back and the 360-degree reflective features keep you safer when the sun goes down. With plenty of pockets to ensure everything is in its place, you won't miss a step on your next outdoor excursion.
Other New Products:
Basecamp Down Blanket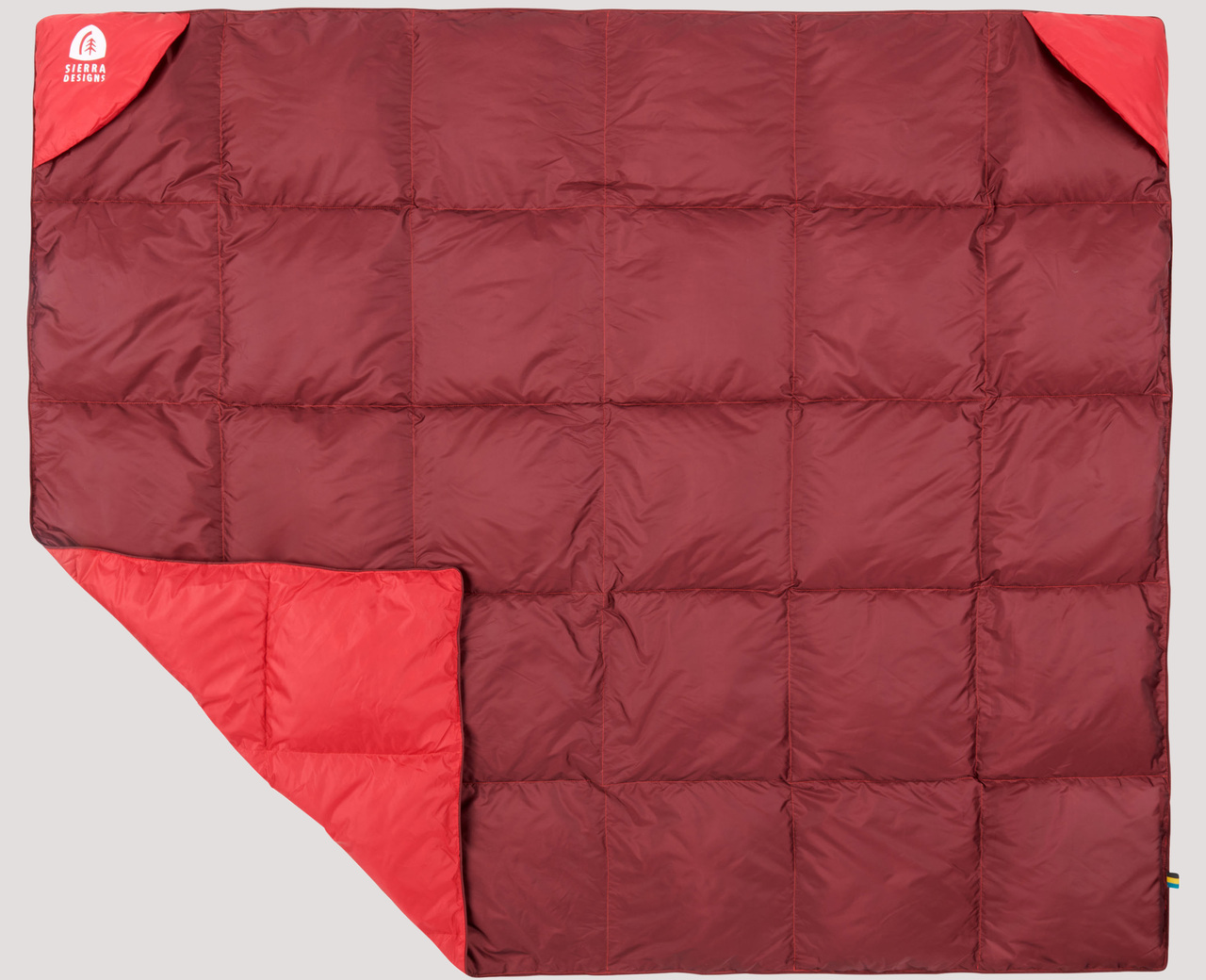 Price: $99.95
Stuff Sack Size: 10″ x 12″
Weight: 1lb 8.3oz, fill weight – 350g (12.4oz)
Colors: Red
Comes with pillow stuff sack for easy pack up and convenient storage.
Easy Roll Up Aluminum Table – 69.95
Observations
Sierra Designs fits into the ideal spot for campers not ready to throw $300 at a backpack that'll last two years if you don't pamper it like your first child.
The Gigawatt 60 is made of durable materials (300x400D Polyester Ripstop) and has no problem going the distance on a weeklong hike, carrying the eponymous 60 litres of gear. What I love about it is the adjustable shoulder strap height system. Tweaking where the bag sits on you will allow you to modify your center of gravity. If you're an enthusiast for anything with wheels and an engine, you know how much weight distribution can influence enjoyment. Same with pack weights and placement.
The Yuba Pass and Sonora Pass bags appear to be good daypacks that could double as a school bag, in-city exploring; in summary a do-it-all bag. Chest straps, reflective material for urban activities and a laptop pouch that can hold a hydration pack with tube port are all wise decisions. Even in the Sonora's webpage, it shows the bag primarily being used as an academic/school based bag. If I were going out with friends on just an overnight trip, I wouldn't have a problem ditching the Physical Chemistry and Calc III books and get out into the woods with it. Just note, I don't think the purpose of it is for any kind of extended outdoor activity, despite the 600D/210D Ripstop and 150 Denier fabrics able to stand up to the task.
---
Sierra Designs can be found on the following sites:
Want to join the Alloutdoor chat room? Use our Discord Invite. Sneak peaks, early notifications and perks await. Alloutdoor has started a Tiktok account, are you following?