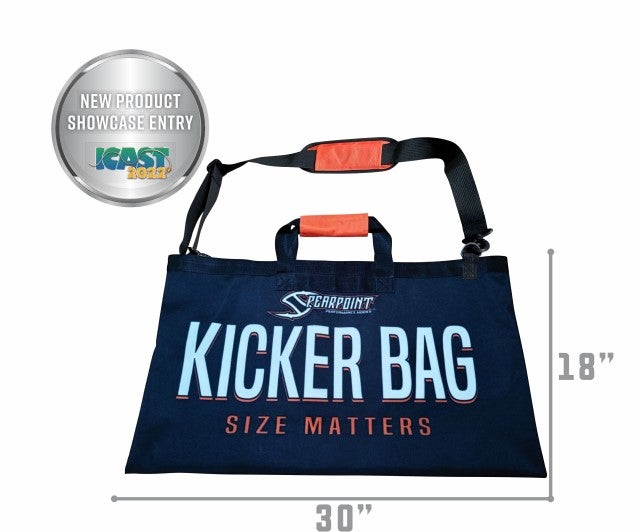 Spearpoint Performance Hooks, makers of the revolutionary VGrip® Technology hook point, are introducing a new product for ICAST2022. The Kicker Bag. Spearpoint Hook's new product has conservation in mind and will help with keeping their largest fish healthy and alive for that tournament weigh-in.
With the popularity of bass fishing and bass tournaments, anyone who chases after these green fish competitively would say the bass are our most precious resource. And the largest fish even more so, with the how long they take to get to such sizes. They make for the best photos, best bragging rights, and possibly the biggest paydays at tournaments.
The Tough Bag Tournament Weigh Bag was Spearpoint Hook's tournament bag introduction last year. It is a 23×24-inch woven, dual-layer weigh-in bag with a waterproof liner that still retains breathability. The bag features a zipper with padded carry handles, a should strap for carrying heavy creels that way the bag isn't placed on the hot ground during transport from the boat to the scales.
To work alongside the original Tough Bag, they are releasing the Kicker Bag for ICAST2022. A shorter but longer version of the Spearpoint Tough Bag. This new bag is for that large trophy bass to keep it separate from the rest of your tournament limit. The new Kicker Bag also features a mesh liner to reduce the handling of the large bass. This is all to keep those big old girls as healthy as possible.
Art Nubaryan, Vice President and co-founder of Spearpoint Performance Hooks said that the company's entry into the accessory market has been well received.  "We have loved seeing the bags at tournaments, and anglers across the country have adopted them," said Nubaryan.  "The Kicker Bag is a new concept in fish care for tournament anglers, and we are proud to introduce this product to the industry.  Combined with the TOUGH Tournament Weigh-Bag, the Kicker Bag allows anglers to put their limit over their shoulder and carry their biggest fish in one hand; it adds functional fish care and ergonomics to the weigh-in process."
The Kicker Bag measures 30×18 inches and has an MSRP of $49.99. Check out Spearpoint Hooks here.