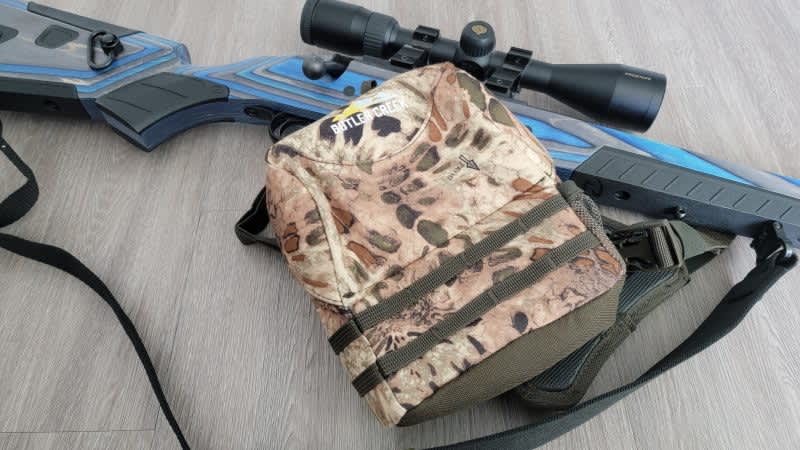 +
–
Table of Contents

1. KUIU Pro Bino Harness
SALE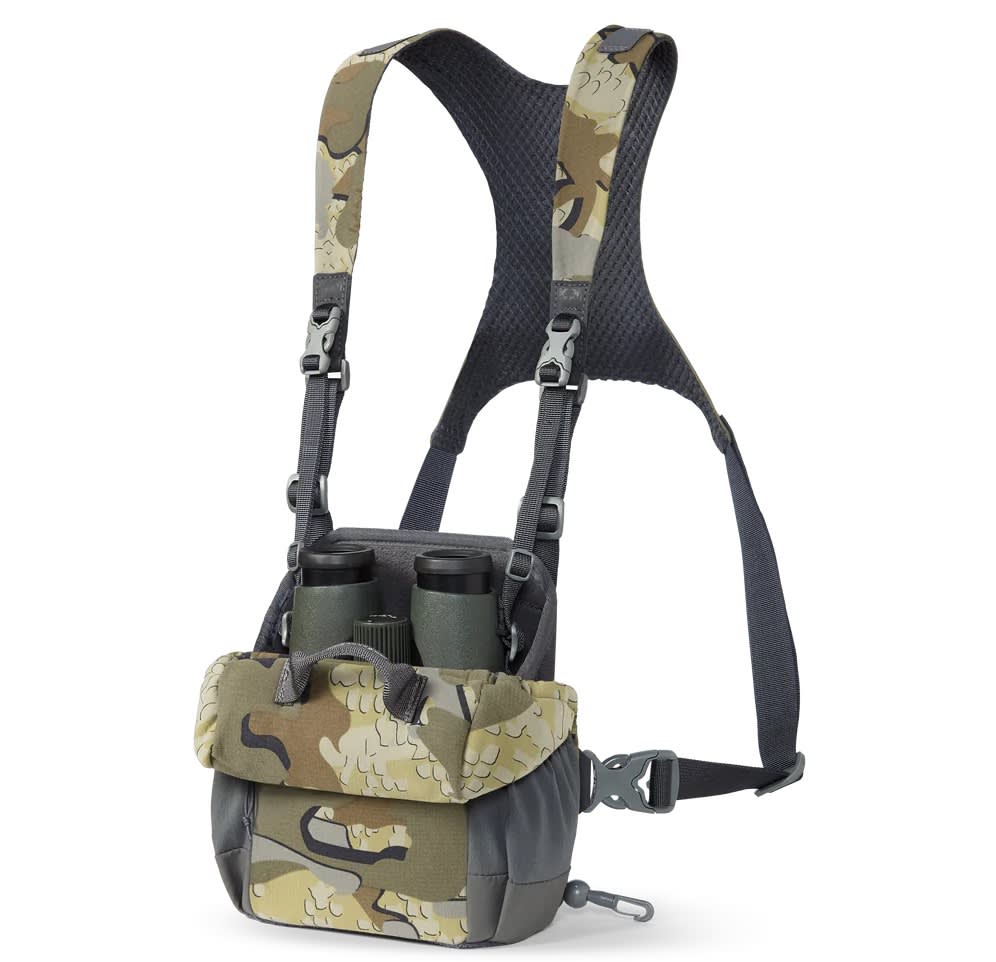 You never really know what kind of binoculars you're going to need or what your list of equipment is going to demand the hunt or adventure. The KUIU Pro Bino Harness is a great solution for those who want to be flexible with their gear set but not sacrifice on quality or quiet movement capabilities. The KUIU Pro Bino harness features a modular design with many different extra attachments available for things like laser rangefinders,  accessory pockets, and hydration rigs. The KUIU Pro Bino Harness is also very adaptable for different types and sizes of binos by virtue of its included internal foam shims which allow you to adjust both the width of the stowage pocket and the height at which the binoculars sit.
Pros/Lots of modularity in terms of both fitment and gear setup
Cons/Expensive
Bottom Line/A do-all unit that is great for the hardcore adventurer
2. Leupold Pro Guide 2 Bino Harness
SALE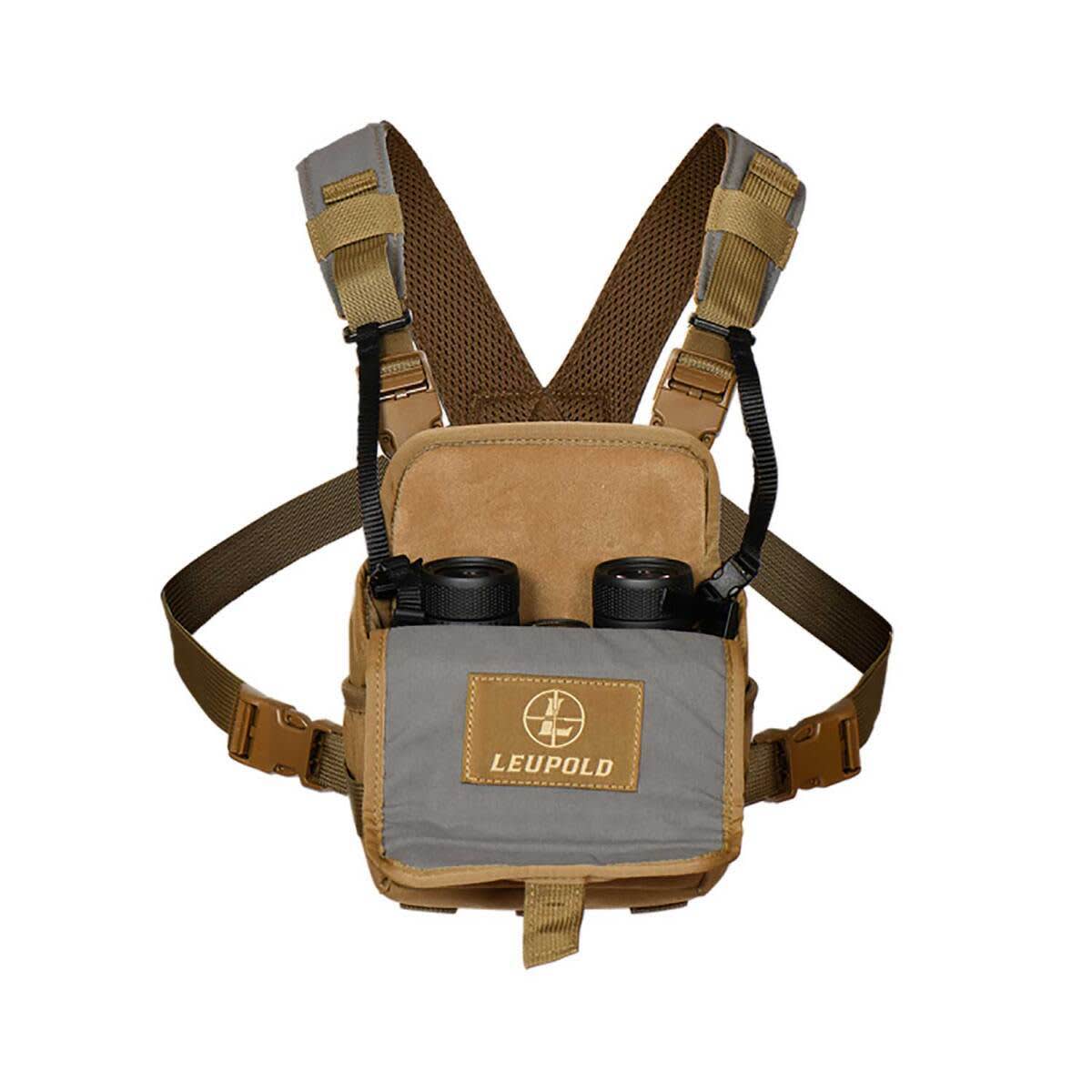 Leupold Pro Guide Binocular Harness 2 – Keep your binoculars fully secured inside our new Pro Guide Binocular Harness 2. It's made in America and tough enough to withstand the harshest backcountry conditions.
The soft fleece lining makes removing and replacing your binos silent and smooth, while a no-buckle magnet closure provides easy one-handed access without giving away your position. Enjoy improved all-day comfort in the field with the new mesh staps. With a front zippered elastic pocket, two elastic side pouches, and a rear cell phone pocket, there is ample storage for your calls, wind checker, lens cloth, or anything else you wish to carry. Fits all current Leupold binoculars except for the 15-power Santiams.
Pros/Made in the USA, Easy access magnetic front pocket.
Cons/Not as adaptable as other models and brands of harnesses. Also features zippers which aren't stealthy
Bottom Line/A simple solution to carrying your binoculars
3. Sitka Mountain Optics hrness
SALE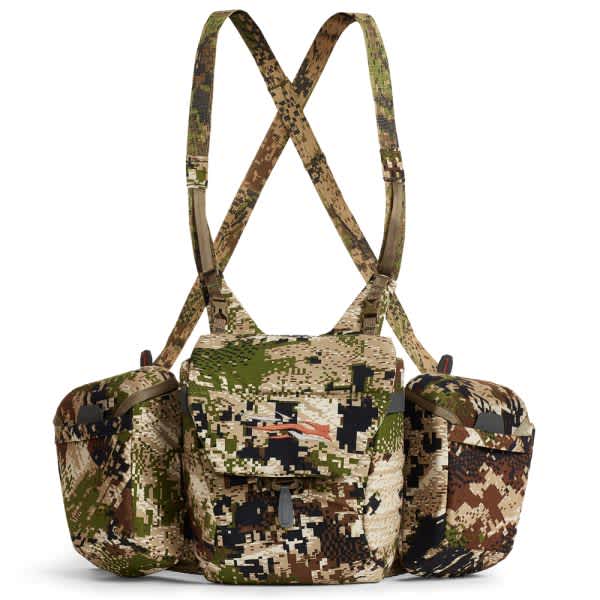 The Mountain Optics Harness is the utility piece hunters have been asking for. Sitka took a systems-based approach to the issue of carrying optics, electronics, mobile devices, and other accessories into the field. The harness features a quiet magnetic one-handed front flap for binos. Removable, modular side pockets can hold rangefinders, GPS, cell phone or other accessories for quick and quiet access. The chassis has zippered stash pockets on the back for added secure storage. Numerous elastic pockets provide at-hand storage for wind gauge and calls plus an internal lens cloth keeps your optics clean and sharp for glassing. The Mountain Optics Harness is rounded out with a brushed polyester face fabric for close in silent stalks.
Pros/QD binocular attachment system and internal lens cloth – Comes with modular side pockets
Cons/Sort of expensive and limited camo patterns
Bottom Line/The perfect setup for a hunter
4. Mystery Ranch Quick Draw Bino Harness
SALE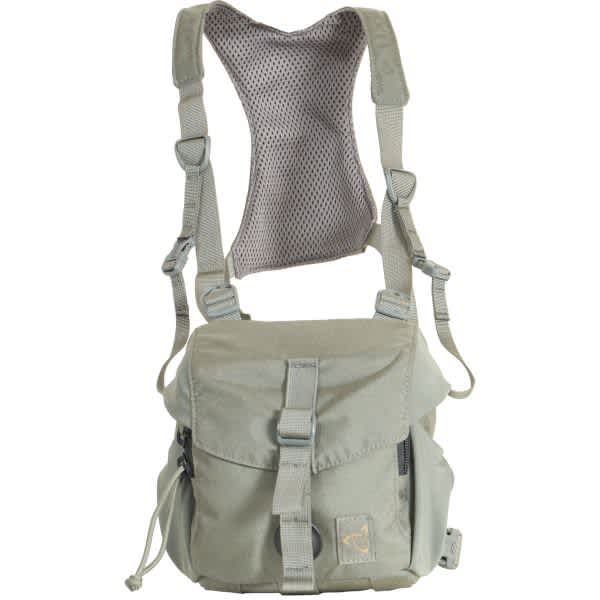 When you're focused on the hunt, key tools like binoculars shouldn't require a moment's thought to access or stash. Our new QUICK DRAW BINO HARNESS features a comfortable, close-fitting design that works in harmony with your pack. A 3-dimensional top flap, with a magnetic buckle closure, protects your Binos from the elements and closes securely when you're belly crawling. A detachable security strap provides insurance you don't drop your binos on the terra firma.
Pros/Affordable, Simple and MOLLE Compatible.
Cons/Optimized for medium/small binoculars and won't fit larger units or stabilized binos
Bottom Line/A simple rig that is very affordable and won't get in your way
5. Badlands Mag Bino Case
SALE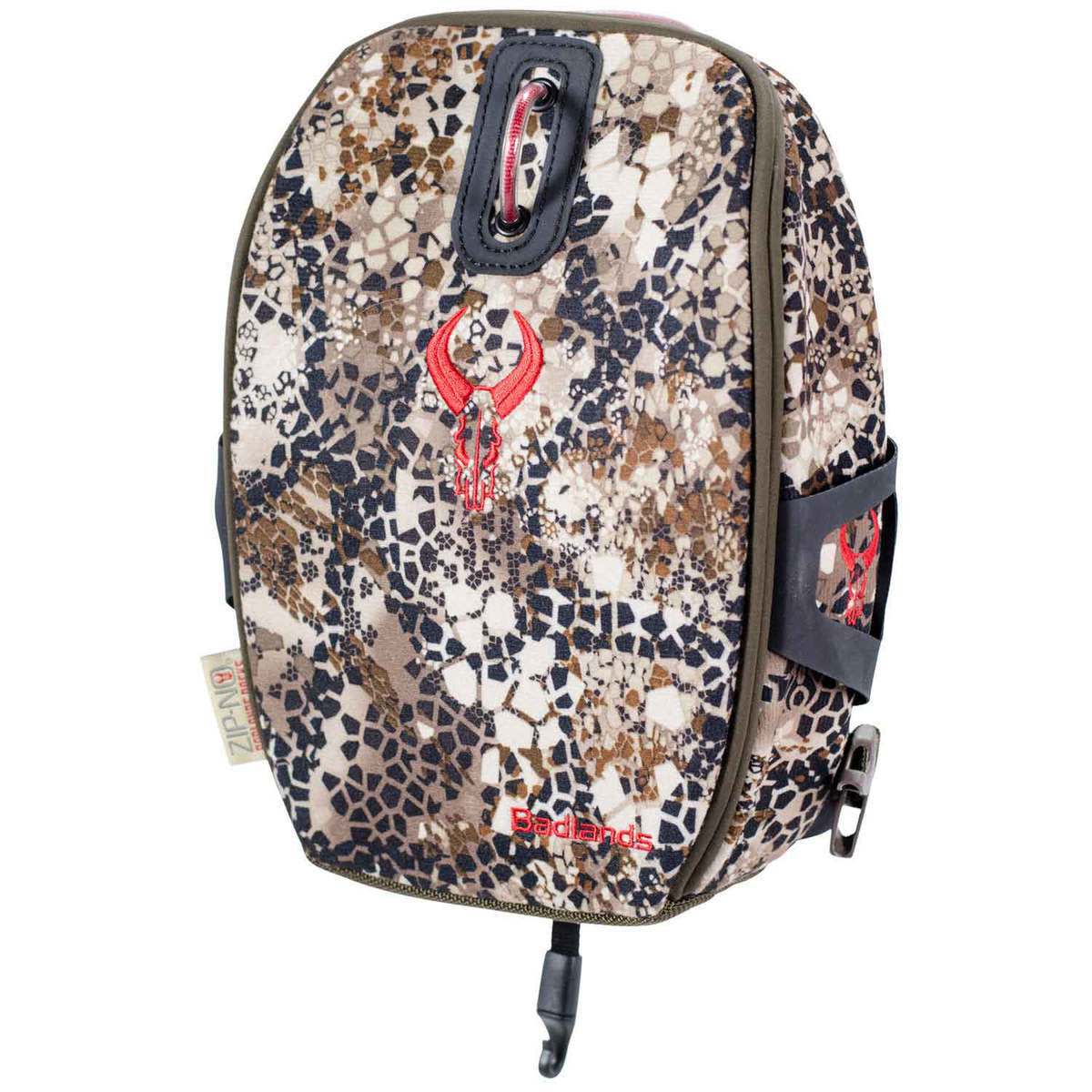 Badlands Mag Bino Case -Badlands created a lightweight, durable bag that is a revolutionary way to carry your expensive binos. The Badlands Binocular Pack features a new water tight and dust proof closure called the Zip-No" System, which makes accessing and protecting your binos easier than ever. The shoulder harness of the Badlands Binoculars Bag also accommodates your hydration needs with a rollout bladder.
Pros/Durable and sleek design while still maintaing modulaarity
Cons/Flap can be knocked open by accident fairly easily
Bottom Line/A silent and sleek bino harness that can adapt based on your task
Do I really need a bino harness?
If you're just birdwatching and don't need instant access to your binoculars at a moment's notice then no, you probably don't need a bino harness. However, hunters and outdoorsmen are often making split-second decisions and are often scanning the horizon and vegetation for approaching or hidden animals that can often take notice of us before we get within shooting distance. A bino harness is an important part of a long or medium-range gear setup and will allow you instant and hopefully silent access to your binos for the purposes of identifying and sometimes even ranging quarry.
Will Bino Harnesses and Straps interfere with my day pack?
Most modern bino harnesses are designed in such a way that they are mostly low profile and won't interfere with a backpack or even a plate carrier. A lot of the harnesses on this list feature QD bino pouches that are attached to the harness and these pouches can be moved freely to a lot of different systems if your needs change. However, for the most part, bino harnesses will work seamlessly with your hunting equipment, including hydration pouches and backpacks.
How come most bino harnesses don't have zippers?
Most bino harnesses don't feature zippers because zippers are loud. Since bino harnesses are often geared towards hunting applications over everything else, magnetic and flap-style closure systems are put in place so unseen animals won't hear odd noises coming from you as you try to take a good look at them. Silent closure systems aren't strictly necessary but it's always good practice to avoid making any unnecessary noise when you're on the hunt and therefore it is our recommendation to lean towards magnetically closed bino harnesses as they provide a good amount of protection from the elements and are also virtually silent in their operation.
We are committed to finding, researching, and recommending the best products. We earn commissions from purchases you make using the retail links in our product reviews. Learn more about how this works.