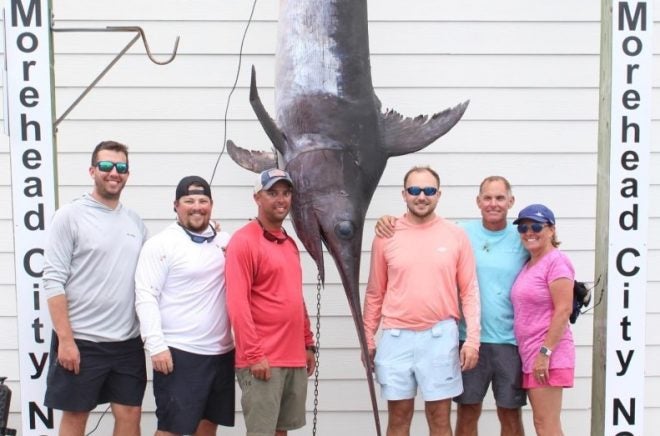 The North Carolina Division of Marine Fisheries recently certified a new state record swordfish (Xiphias gladius). This record swordfish was caught by Cary Carney of Newport, it weighed a whopping 504 pounds 8 ounces. The swordfish was caught about 55 miles off the coast of Morehead City on August 21st.
Cary Carney was fishing aboard the "Willow B", which was captained by his son, Brandon Carney. They were fishing in roughly 1300ft (396 meters) of water when they encountered the "sword of a lifetime," according to Carney.
Carney's swordfish measured 104 inches fork length, from the tip of the bill to the fork of the tail. The fish had a girth of 53 inches around. The official weight was taken at EJW Outdoors in Morehead City. Carney landed the monster fish using a
Carney's fish measured 104 inches fork length (from the tip of the nose to the fork in the tail) and had a 53-inch girth. It was weighed in at EJW Outdoors of Morehead City.
The fish was landed by Carney on 65-pound test line, on an electric Daiwa MP3000 reel that had blown a fuse. That meant he had to hand-crank the fish up from way down there only getting about 28.5 inches of the line every crank of the handle. The reel was paired with a 6-foot Crowder DDS80 rod, and Carney was using a dress albacore belly for bait.
When fishing for daytime swordfish electric gear is used due to the incredible depths the fish dwell at during the day. This fish qualified for the state record though because it was hand-cranked up. The first run of the fish was strong enough to blow the fuses on the reel so they disconnected everything and fought it by hand. The fish went all the way down to 2000ft with its blistering runs and pulled the boat about 10 miles before the fight was done. This monster bested the previous 1979 record by 63 pounds and was cut up and shared among 30 people leaving nothing to waste.
For more information on state record fish, go to the division's State Saltwater Records webpage or contact the North Carolina Saltwater Fishing Tournament staff at [email protected].