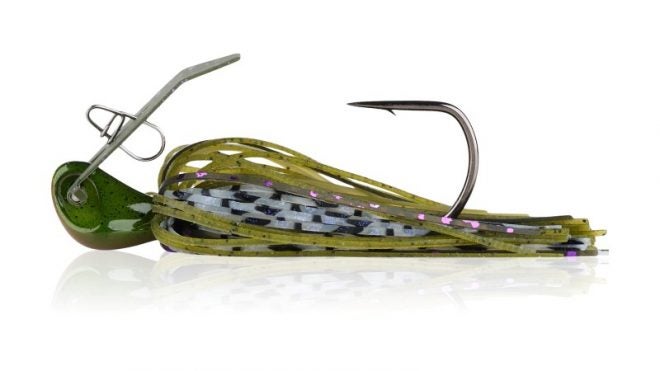 Bladed jigs are a great tool that anglers should all consider having in their tackle box. A versatile lure that can be fished fast or slow, deep or shallow, there is good reason for them having taken the bass fishing community by storm in recent years. Now seeing that Berkley Fishing has come out with their own improved design to the bladed jig world, the Berkley Slobberknocker.
Right out of the packaging you can see the Berkley Slobberknocker is different than every other bladed jig available on the market. It features an innovative through-head design for the blade, compared to the others where the blade is situated separately from the jighead. This makes for a more compact design that is sleeker in profile. Berkley Labs scientists fine-tuned this unique design to produce the most consistent vibration production possible, even when run through heavy cover.
The Slobberknocker features a signature hand-tied Berkley silicone skirt, which has been infused with PowerBait flavoring. This technology is backed by science to make fish hold on longer when they strike. Just another feature to help anglers put more fish in their boats.
For the finish of the jighead portion of the Slobberknocker, it is a chip-resistant paint finish, to survive being knocked off structure while being fished. The jig is available in 12 premium forage matching colors. The hook is a sticky sharp Fusion19 hook. All these features together make the new Berkley Slobberknocker the ultimate solution when it comes to choosing bladed jigs for your tackle box.
Key Features
Innovative Head-to-Blade connection design

Hand-tied, PowerBait infused silicone skirt

Talon style trailer keeper keeps bait secure without tearing
Premium color selection
Sharp and stout Fusion19 hook
Chip resistant paint finish
Photo Courtesy of Berkley and Pure Fishing
Two available sizes: 3/8oz, 1/2oz
Available in these colors: BL Special, Green Pumpkin Shad, Green Pumpkin, White, Bama Bream, Coleslaw, White Chartreuse, Herring, Golden Shiner, Fire Craw, Bruised, Hot Craw
MSRP: $13.99
Available starting this September 2022
To see more Berkley Fishing products click here.