+
–
Table of Contents

1. Bare Boxer Lightweight Bear Resistant Food Canister
SALE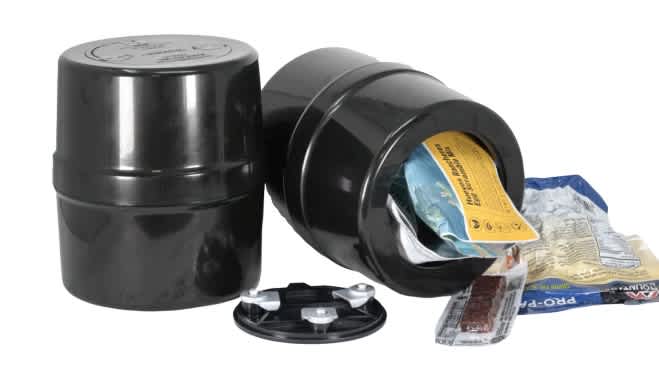 Weighing only 1.6 pounds, the Bare Boxer is THE lightest APPROVED bear canister in the market for its volume! Its compact design can slip easily into your backpack for use in National parks & forests with canister regulations. Compact & light design makes the Bare Boxer the ideal companion for shorter hiking and backpacking trips! Easy for you to open and impossible for the bear. Simply use almost any key*, knife, or a multi-tool like a Swiss army knife to open the 3 locks.
Pros/Lightweight and Easy to open
Cons/Limited on space, round design makes it hard to stow in some circumstances
Bottom Line/A very affordable food storage option for backpacking.
2. Bear Vault BV500
SALE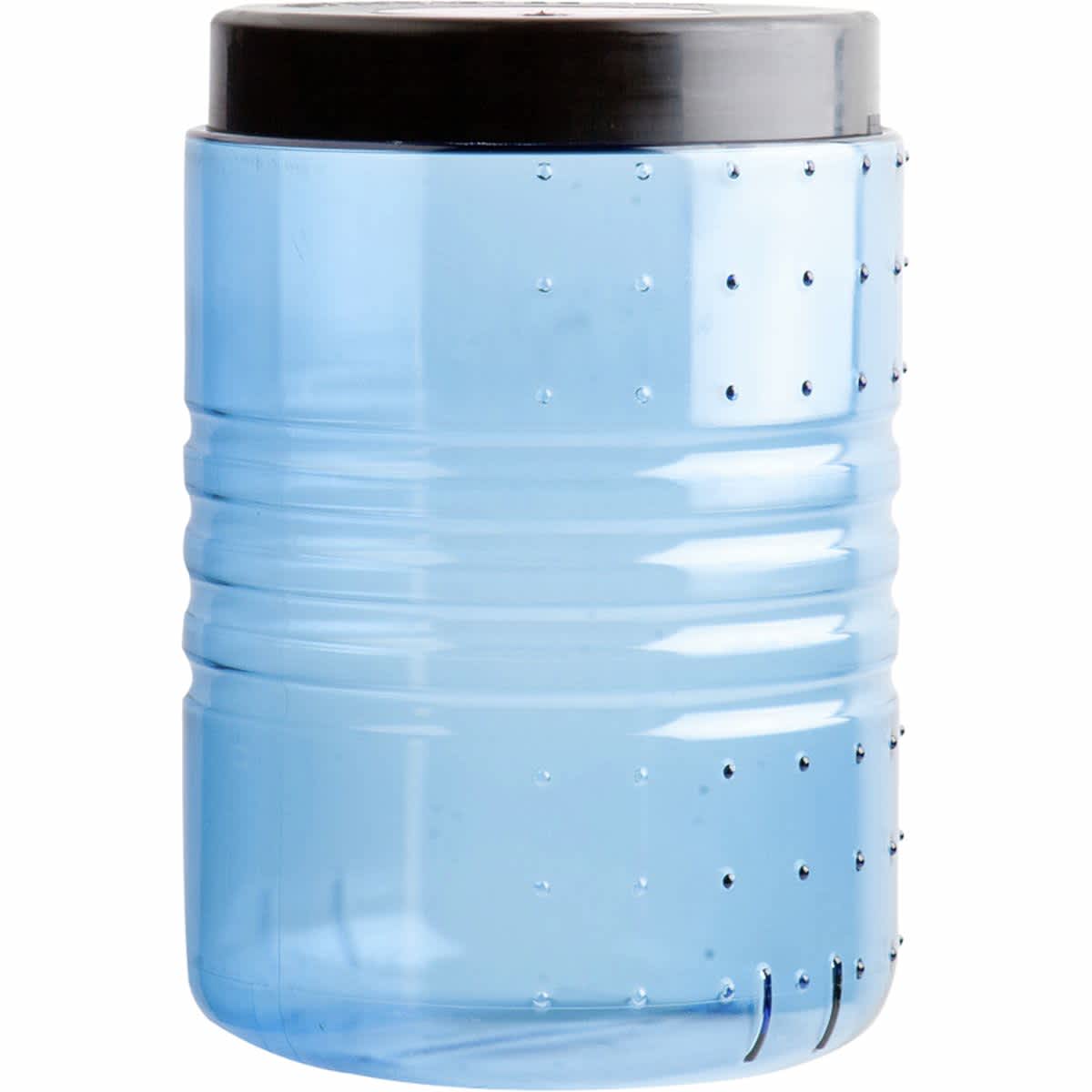 This large-capacity container's 700 cubic inch interior stashes enough supplies for weeklong trips into bear country. An innovative tool-free top gives you quick access to your goodies, and the see-through polycarbonate housing and extra-wide lid make it easy to find what you're looking for. Slip this lightweight Bear Vault canister into your expedition pack or use the guides to strap it down.
Pros/Lots of storage space with tool free access
Cons/Hard to take backpacking
Bottom Line/On the list of approved canisters for most camping and hiking areas with bears
3. Ursac Major
SALE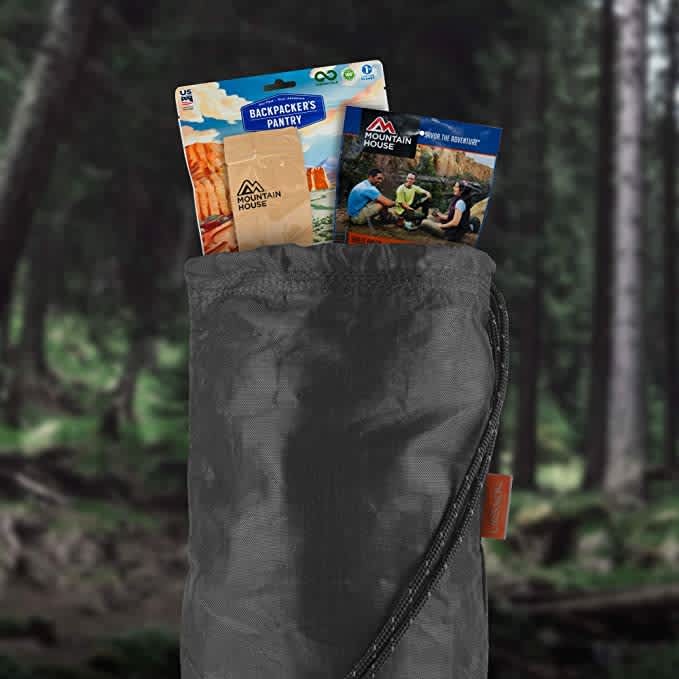 The Ursack Major Bear Bag is food protection against pesky bears. Lightweight and much easier to work with than the rigid bear containers, they certainly shrink down as you gobble up the food inside. Tear-resistant and certified, you should hang it from a tree or hide it, just be sure to secure it to a fixed object and keep it far from camp.
Made of "bullet proof" UHMWP fabric and is designed to prevent bears from getting your food in their territory
It comes with an integrated six foot, 2,500 pound tensile strength cord
It is about 24 inches in circumference, 14 inches tall and holds about 650 cubic inches (10.65 Liters)
If packed only with freeze dried food, it will hold 37 single servings of breakfast, lunch and dinner
Weighs 7.6 ounces
Pros/Easy to use, durable, and lots of capacity
Cons/A determined bear will get through this sack with enough time – also not approved for most National Parks
Bottom Line/A very lightweight option that takes up less space as you use items from inside.
4. Frontiersman Bear Safe & Resistant 11.86 Liter Food Storage Container
SALE
This durable food storage container is made for multi-day hikes and has a generous 11.86-liter (734.64 cubic inch) capacity. The container easily packs inside 45 liter or larger bags along with your other outdoor gear; Tapered design helps to make the most of your pack space and prevents awkward load distribution for comfortable carrying. A locking mechanism secures the lid using three solid screws to ensure the lid stays tightly closed; A high pressure release valve allows the container to flex without breaking if a bear attempts to get inside. The smooth polypropylene container is tough and difficult for bears to grasp; It keeps bears out!
Pros/Slim design perfect for backpaking along with high-visibility orange canister coloring
Cons/Requies tools to open
Bottom Line/A solid storage idea when you're trying to optmize for space and packability within a backpack
5. Counter Assault Bear Keg
SALE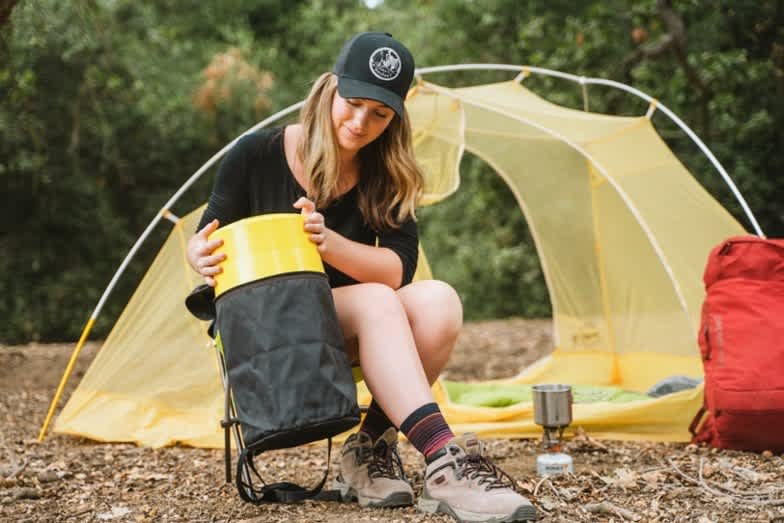 The Counter Assault Bear Keg container is about as simple as it gets. It's fairly small but can still pack a lot of dry goods without issue and requires only a simple flathead screwdriver to open which you should probably have on you, to begin with. Very similar in nature to other tool opened options on this list, the Counter Assault Bear Keg is very affordable and also on the list of approved bear-resistant canisters for a large majority of National Parks within the united states.
Pros/Lightweight, simple design with decent storage
Cons/Interior can pick up and absorb the scent of food which might attract bears
Bottom Line/A very solid option very popular with backpackers and hardcore campers
Will bear canisters keep bears from smelling the food inside the canister?
Not completely. Bears have some of the best noses on the planet and given that it is nearly impossible to completely contain the smell of food, you'll probably wind up attracting bear if you leave it sitting around long enough. This is why it's highly recommended that you store your food both downwind and away from your camp just in case a curious bear comes wandering around and catches a whiff of your food.
Is human food bad for bears?
Bears actually really like human food – especially junk food. Many studies have been conducted to assess the impact that human food has on various North American bear species and while it won't outright kill them if they eat it, they can become dependent on human food and will seek it out on some occasions.
Bears are more or fewer carnivores and a large part of their diet consists of fresh meats they really only resort to eating fruit during periods when they can't find fresh meat. Another reason to keep bears away from your food is for their own health. It has been discovered that bears who eat enough human food will often hibernate less and at later periods than other bears do.
Who certifies bear canisters?
As you read through various regulations and requirements for your specific hiking or camping site, you'll start seeing two acronyms pop up: IGBC and SIBBG. These mean "International Grizzly Bear Committee" and "Sierra Interagency Black Bear Group."
The SIBBG has disbanded but you'll still see their name pop up since that's what Yosemite uses for their accepted canister requirements (and many other national parks end up taking Yosemite's lead in creating their guidelines).
The IGBC is still active in certifying new canisters so the ones on this list are just a handful of the options you have at your disposal. Although black bears and grizzly bears only show up in a handful of places across the united states, (most notably Alaska and the Pacific northwest) there are other places where bears do exist that you normally wouldn't expect so it helps to read the rules and regulations of your desired campsite before you head out.
We are committed to finding, researching, and recommending the best products. We earn commissions from purchases you make using the retail links in our product reviews. Learn more about how this works.
Shop top of the line gear at great prices in the Everest Marketplace and get outside!