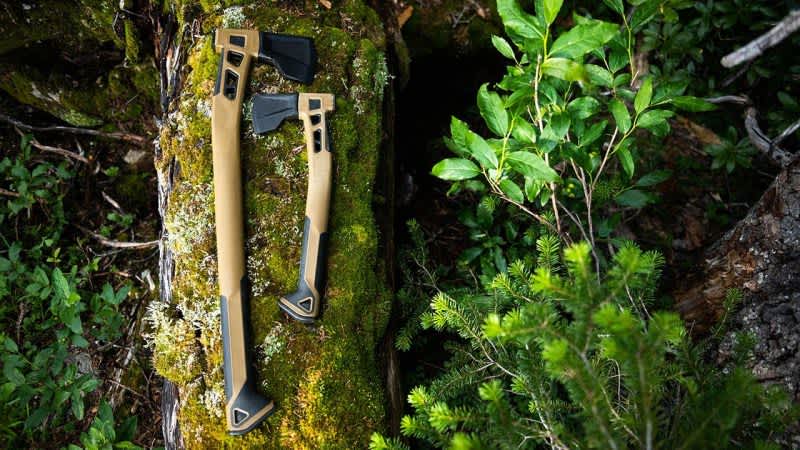 +
–
Table of Contents

1. Gerber Freescape Hatchet
SALE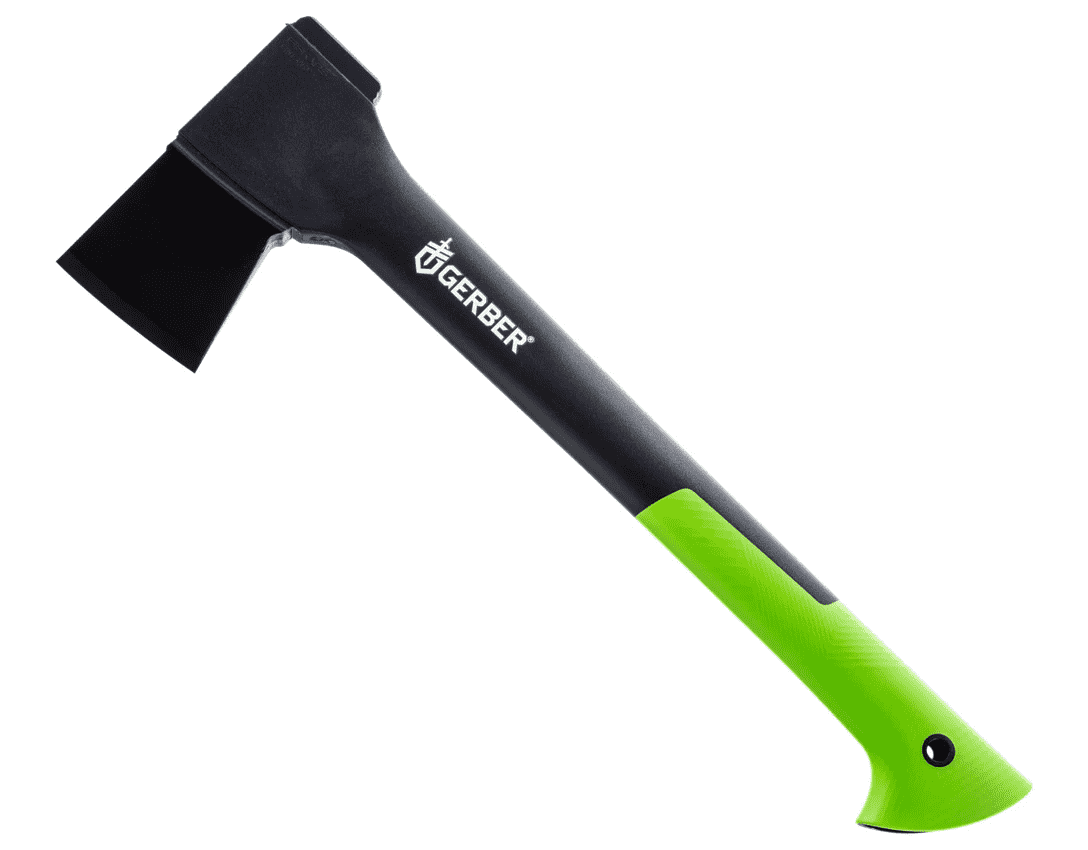 The Author's Pick
The Gerber Freescape Hatchet is a great size for camp work or big game hunting. The forged steel axe head features a black PTFE coating to reduce friction. The head is attached to an indestructible glass-filled nylon handle, Shock-absorbing FiberComp® and a 3D grip offer a solid, nonslip hold. The grip area of the handle, the blade guard, and the sheath is bright green, so they won't get left behind. The Gerber Freescape Hatchet includes a polymer sheath. Overall Length: 17.5″.
Forged steel axe head
Black PTFE coating
FiberComp, 3D grip
Glass-filled nylon handle
Polymer sheath
I have had this model of hatchet (in orange) for well over a decade and it's still trucking along. Over time the coating has worn away and my dog also got a hold of it one day and chewed the polymer handle, but after a bit of hand sanding and reconditioning its back in service and still being used till this day.
Pros/Lightweight, Affordable, and easy to sharpen
Cons/Not incredibly well balanced and the rust-resistant coating wears away quite easily
Bottom Line/An inexpensive workhorse
3. Gransfors Bruks Outdoor Axe
SALE
The Premium choice
The Gränsfors Outdoor Axe was developed with the help of survival expert Lars Fält, and is ideal for those who want to use an axe in different ways when out and about in the countryside. Although it is light, it can be used to fell a tree, thanks to its relatively long handle and heavy, elongated head. The axe is also excellent for limbing a tree. The handle has a protective steel collar near the head so that the axe can be used for light wood splitting tasks. It can also be used as a large knife. Lars Fält, who worked with Gränsfors Bruk to design the Gränsfors Outdoor Axe, established the Swedish Armed Forces Survival School and has trained the Swedish Army Ranger Battalion for 35 years at the Ranger School and Parachute Ranger School. He has also written 10 books on survival and outdoor pursuits.
Pros/Metal Collar Guard, Premium construction and includes a full grain leather sheath
Cons/Very expensive
Bottom Line/A great gift for a friend or to yourself – A truly premium option
4. Adler Rheinland Hatchet
SALE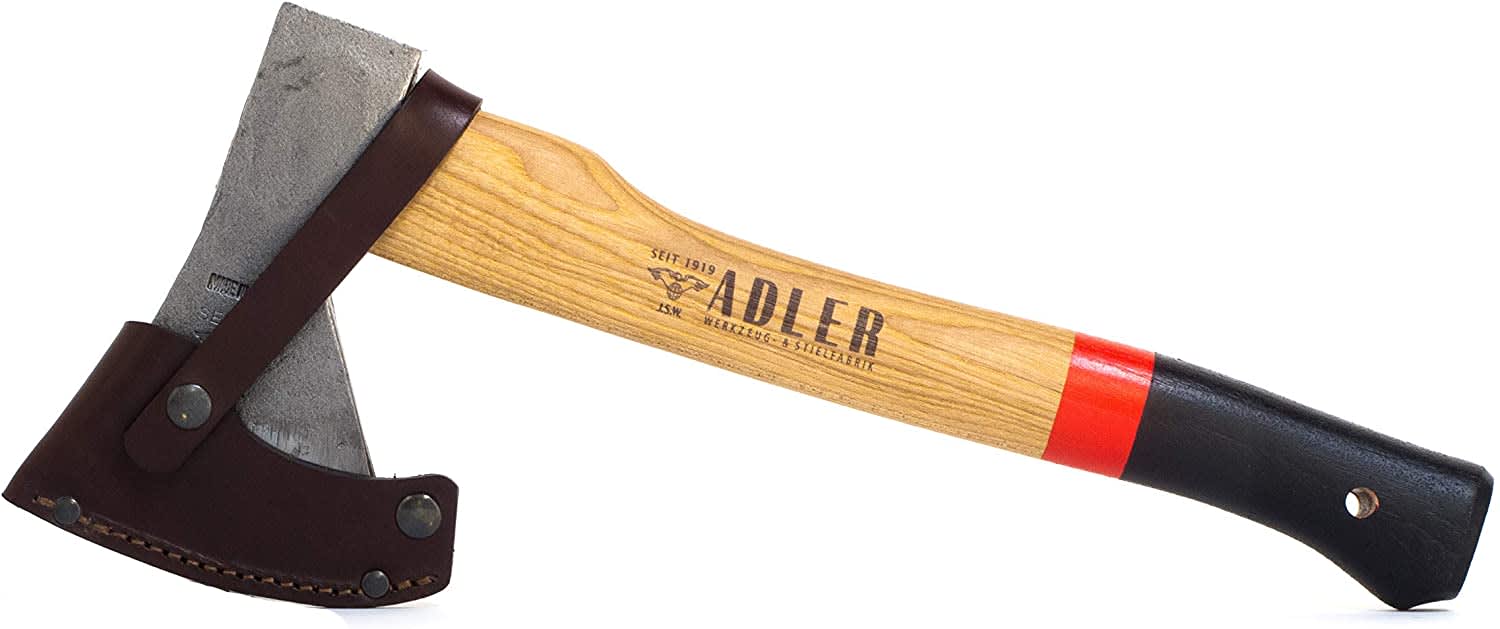 The Utilitarian Option
An all-purpose companion in the wilderness or for managing tasks closer to home. Ergonomic US-hickory handles with unique anti-slip paint for better grip. The head shape is the German "Rheinland" pattern which offers a larger, curved cutting surface. Each hatchet comes with a heavy-duty leather sheath with a 2-button release system and a cotton storage bag. Although the Adler is very basic, I appreciate the small improvements they've made to the handle and the inclusion of a nice leather sheath. If you're looking for something simple that isn't made from polymer, this is the ticket.
Pros/Basic hatchet with great head design and smart improvments made to the handle.
Cons/Still more expensive than the gerber
Bottom Line/A great no-nonsense camp hatchet
5. Morakniv Boron Steel Camping Axe
SALE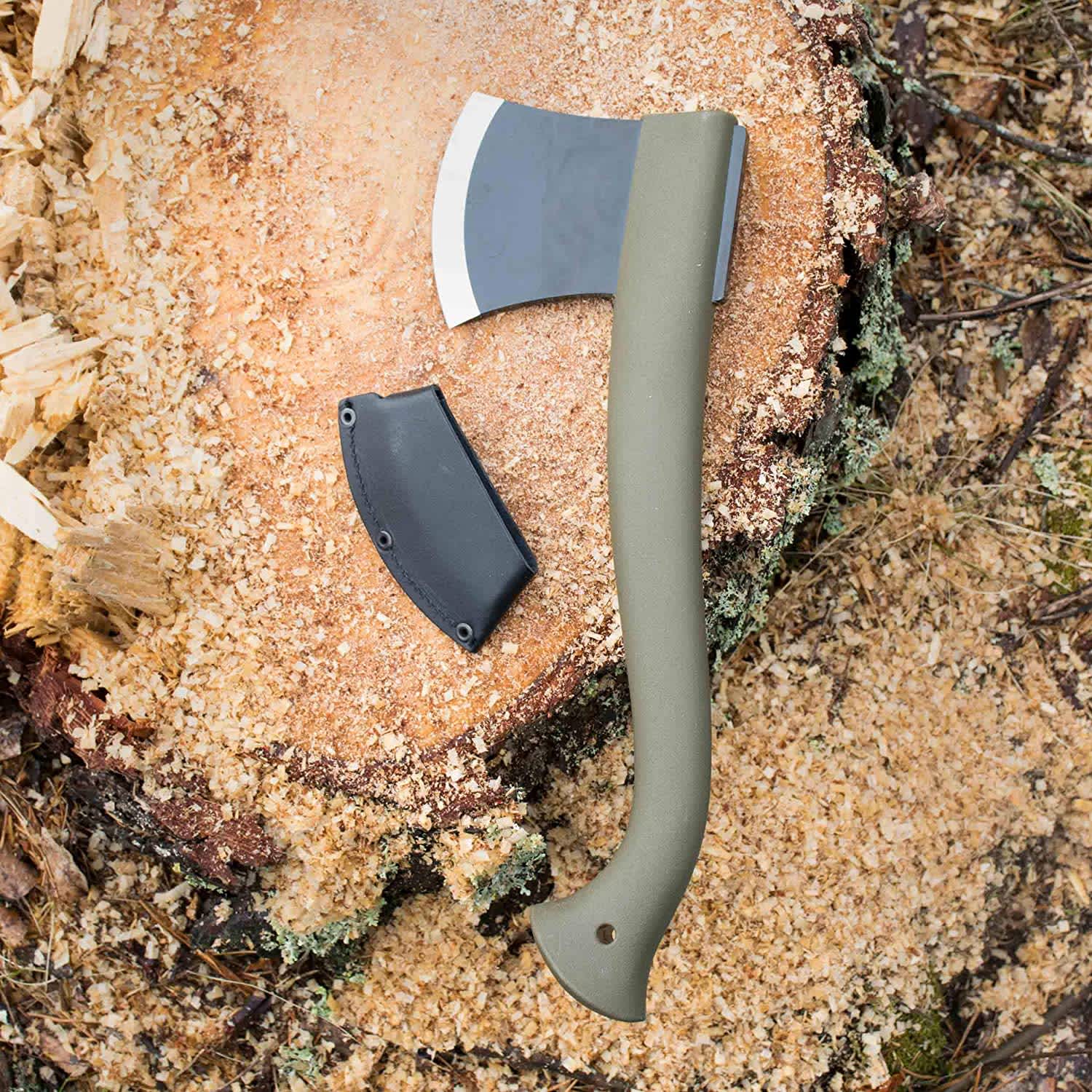 A great little camp axe. Bear in mind that it's not intended for splitting large logs, this is not a "winter axe" (everyone who is getting the chips are trying to split logs that are too large). It's meant for dead wood about the size of your forearm and even then you should split your wood with the wood lying flat not standing erect. It's also a great little carving axe. Pair this with a small fixed blade knife and a saw and you're set. If used properly there's no reason you should have any problems with this little axe. A Morakniv is always made in Mora, in their factory in the village of Östnor, where it's been located for centuries. Morakniv has control over the entire production, as it's they who carry out each step of the process.
Pros/Affordable with a wide axe head design good for splitting of branches and chopping up kindling
Cons/Not suitable for heavy duty use
Bottom Line/A compact, and simple option for light camping duty. Quality product made by dedicated craftsmen.
What is the difference between a camp hatchet and a regular axe?
A regular axe is longer and gives more leverage, so is better suited to splitting lots of larger logs. A camp hatchet is useful as a multi-tool and easier to use with one hand, thanks to its smaller size and lighter build. When you're heading out camping, you want to take everything you need and nothing you don't so the often compact and lightweight nature of a camp hatchet is better suited to temporary stays in the wilderness where weight and utility are intrinsically tied together.
What is the best length for a hatchet?
Somewhere between 12 and 20-inches in handle length. There are hatchets that fall well outside of these boundaries but these types of hatchets are suited for different jobs than camping. Smaller survival hatchets optimize for compactness while still being able to be used as hammers or for shaving wood for kindling but lack the leverage of a camp hatchet for heavier chopping duty. Meanwhile, longer hatchets give you more leverage but have the obvious disadvantage of taking up more space and also not being as easy to use one-handed.
We are committed to finding, researching, and recommending the best products. We earn commissions from purchases you make using the retail links in our product reviews. Learn more about how this works.
Shop top of the line gear at great prices in the Everest Marketplace and get outside!