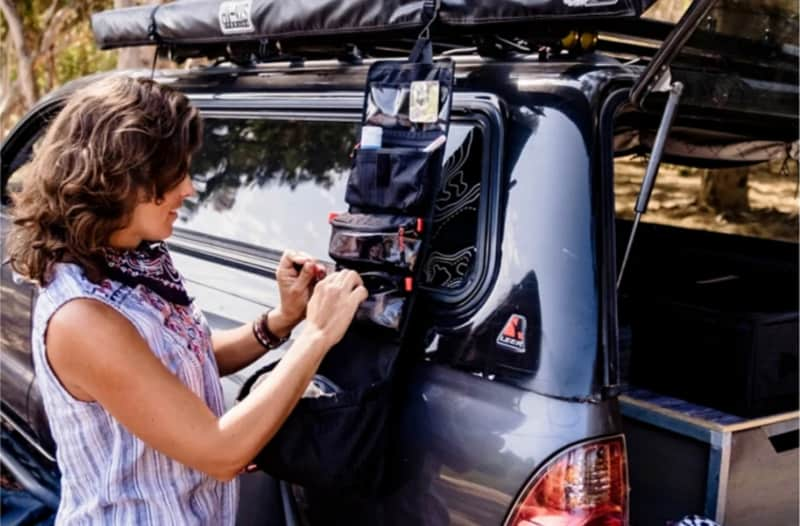 +
–
Table of Contents

1. Hazard 4 Toiletry Kit
SALE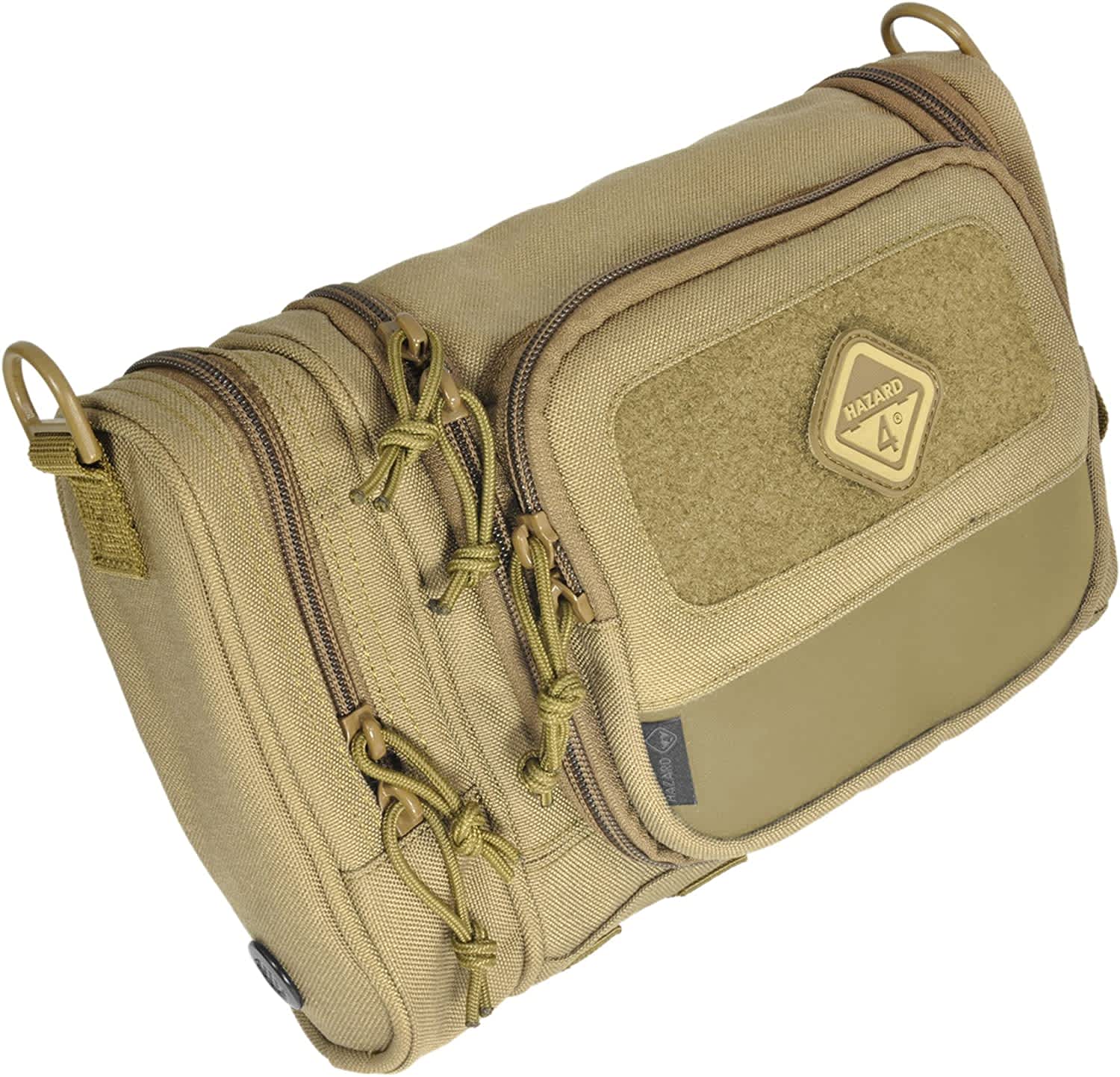 Desert tent encampments, military barracks, and 3rd world lodgings are the places for which this tough toiletry bag was designed. But its progressive, rugged looks won't appear out of place on five-star hotel marble. Made with the same innovative features, and attention as larger Hazard 4 bags, it will keep you civilized in even the roughest destinations. It features a larger volume for prolonged deployments, a suspension swivel-hook to keep it off questionable surfaces, and internal organizers to keep contents from mixing/breaking. It even has a clear internal window for an optional mirror.
Pros/Super functional design with lots of neat little features packed into a rugged kit
Cons/Expensive
Bottom Line/A great tolietries kit that can easily be carried on the outside of your pack rather than inside it to save space
2. Gonex Hanging Toiletry Bag
SALE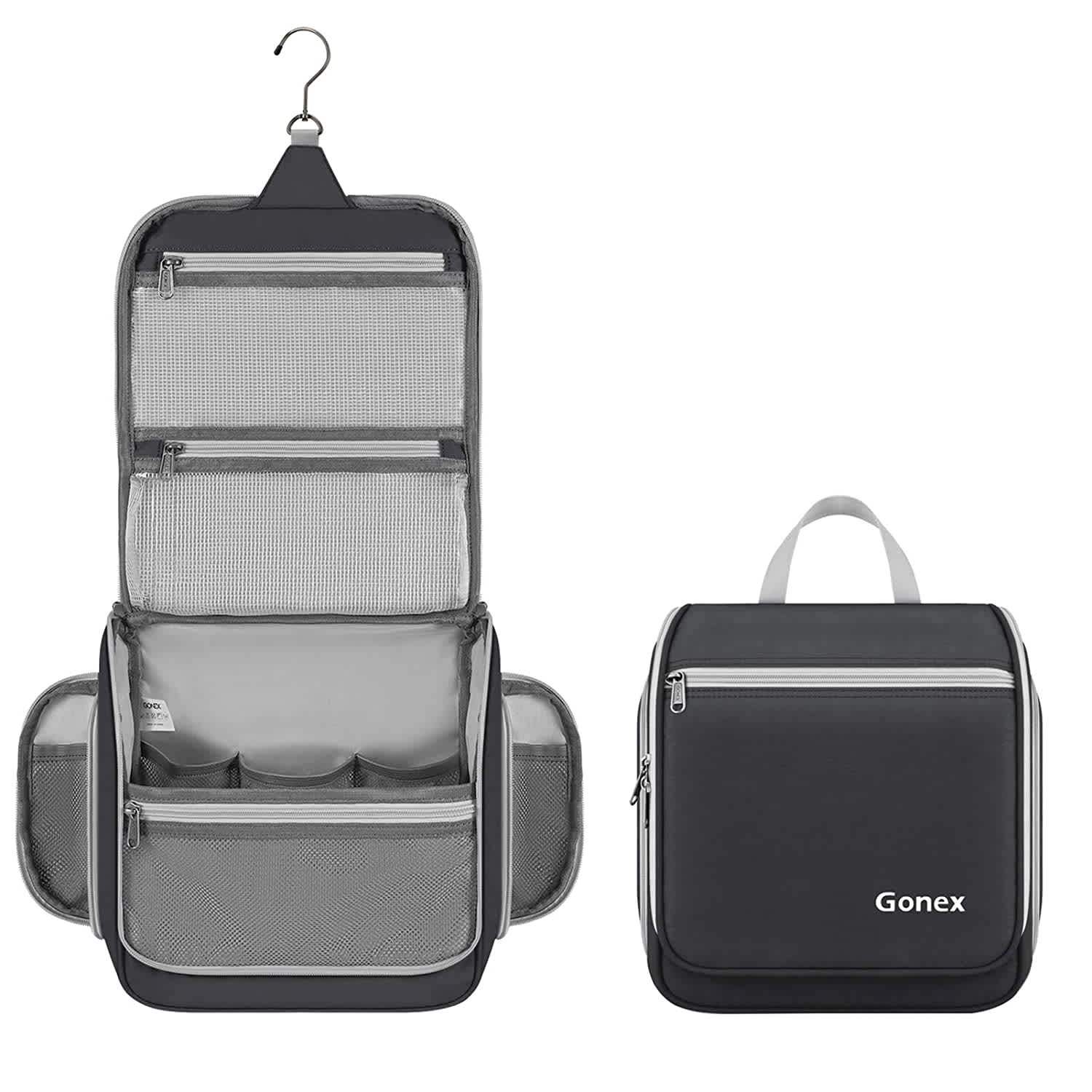 The Gonex travel bag features a sleek design, lots of dedicated space for soap and shampoo bottles, and also features a convenient front pocket for storing flatter things, and even a convenient carry handle for quick transport. One thing you'll find pretty common on all of these travel bags that I've selected for this list is that they all feature a nice convenient hook to hang your toiletry kit from which makes it much easier to get access to your stuff when showering. The pockets will keep your soap and shampoo bottles upright and the bag even includes a dedicated storage pocket for wet items so that the rest of your stuff doesn't get soaked.
Pros/Lots of storage space, with a dedicated wet compartment for a washcloth etc.
Cons/Loses points for being fairly large and bulky where it doesn't need to be
Bottom Line/A great option if you've got the space for it.
3. Fitdom Tactical Toiletry Bag
SALE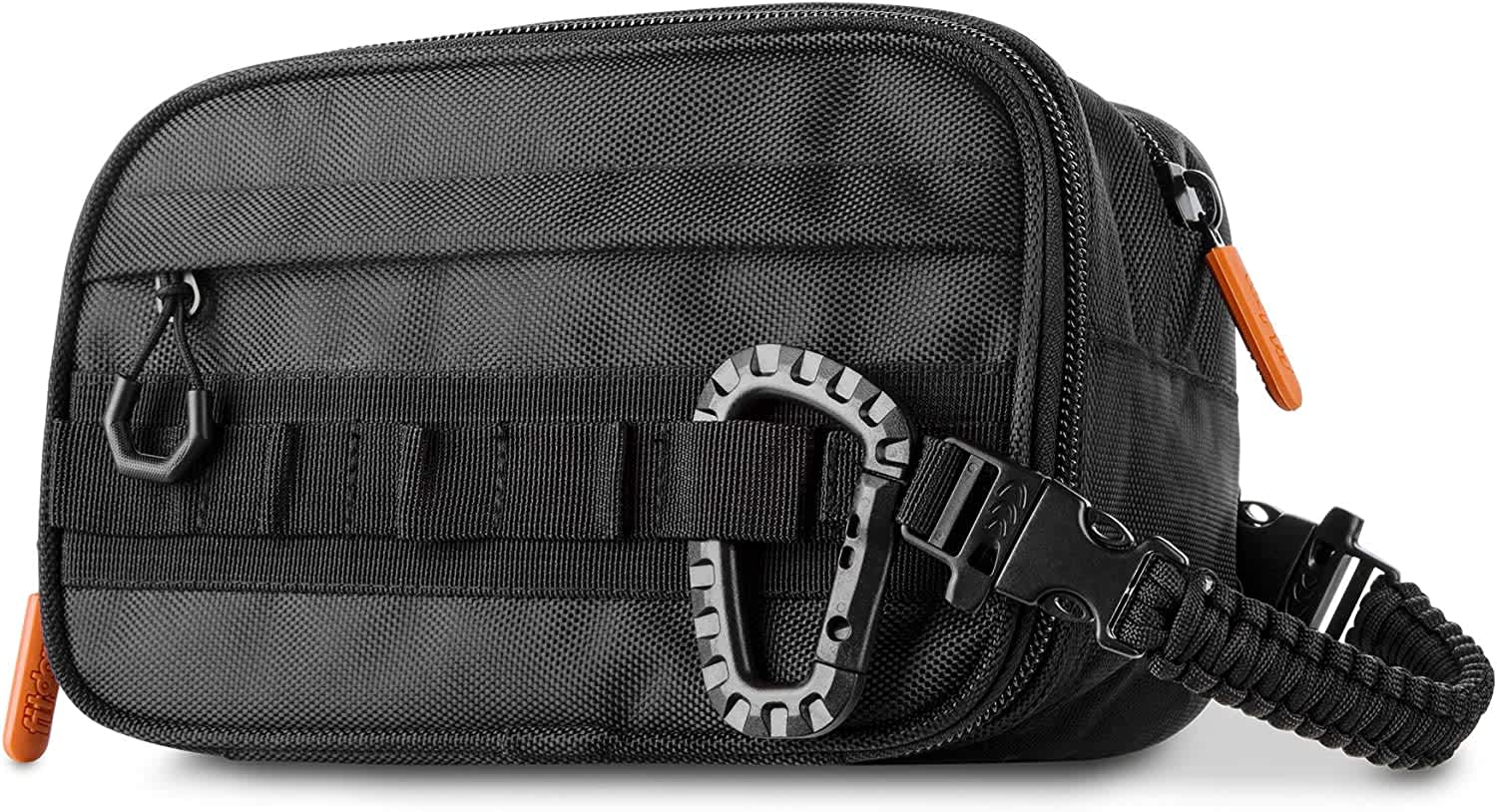 Tactical-inspired design that not only serves you in the hotel room but also in the unknown wilderness. The side molle webbing allows you to add tools & gadgets for quick access, or even a pouch for additional carry capacity. The handle is made from detachable 550 paracord and whistles for emergencies because anything can happen. Features luggage-grade zipper to ensure smooth opening and keep your belongings in place. The heavyweight polyester exterior not only prevents the accumulation of dust but is also cut-resistant and waterproof. In addition, all seams are double sewn for extra durability.
Pros/Durable and Affordable
Cons/Might be too small for long trips
Bottom Line/An almost utilitarian option but still comes with neat features for convenience
4. Lewis N. Clark Hanging Toiletry Bag
SALE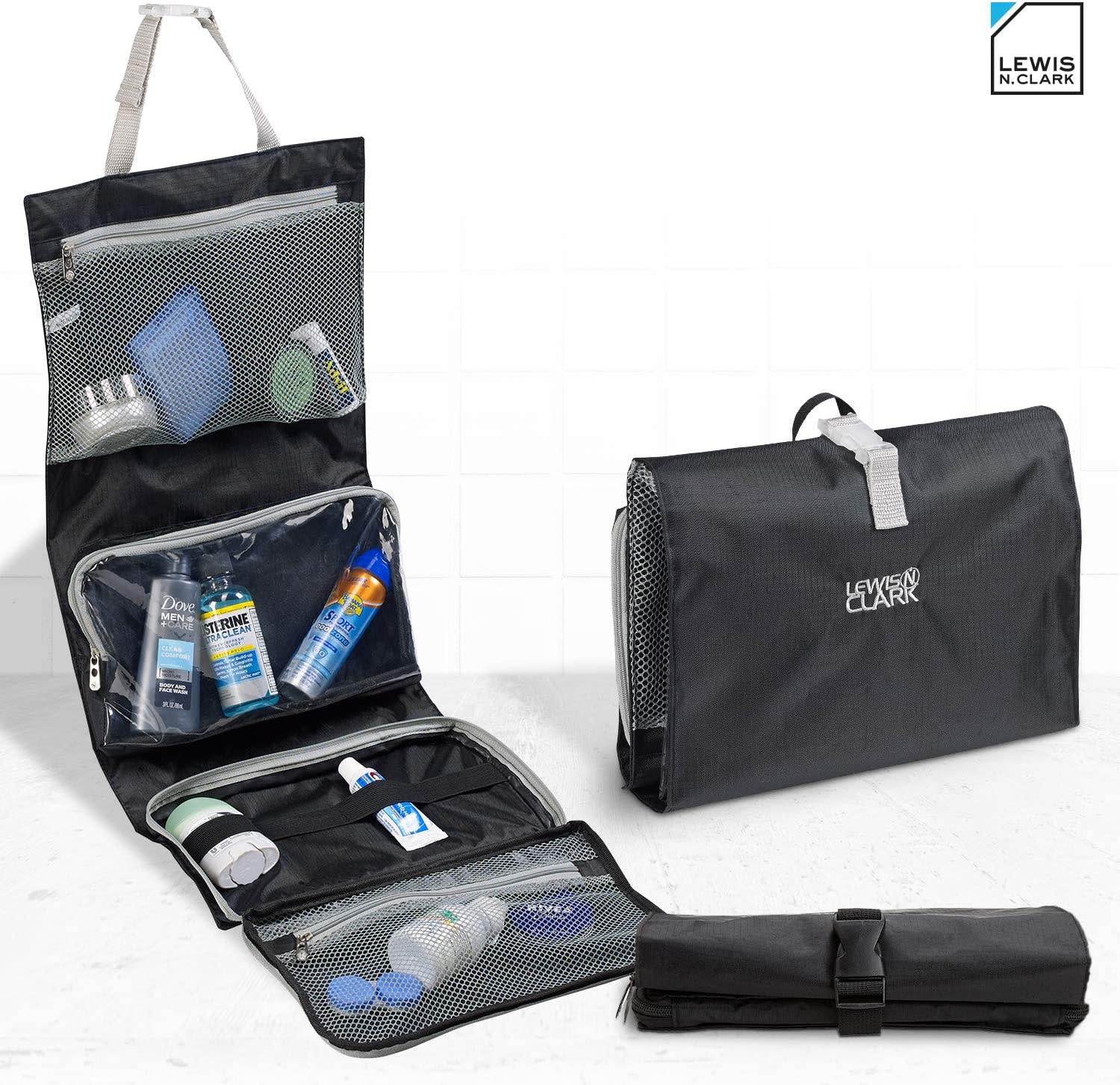 The Lewis and Clark toiletry kit features a classy-looking yet functional design with lots of smaller compartments for all of your gear. Most of the compartments in this kit are big enough for TSA-approved bottles and the like so if you're lugging along larger bottles I'd look elsewhere. However, if you like to travel light and only carry the necessities this option will take you car and even has its own hanging strap that can fit over tree limbs for convenient access when showering.
Pros/Rolls up compact when not in use, slim design means its more backpack friendly.
Cons/Interior pockets are small
Bottom Line/A great option for lighter camping duty or general travel
5. Osprey UltraLight Zip Organizer
SALE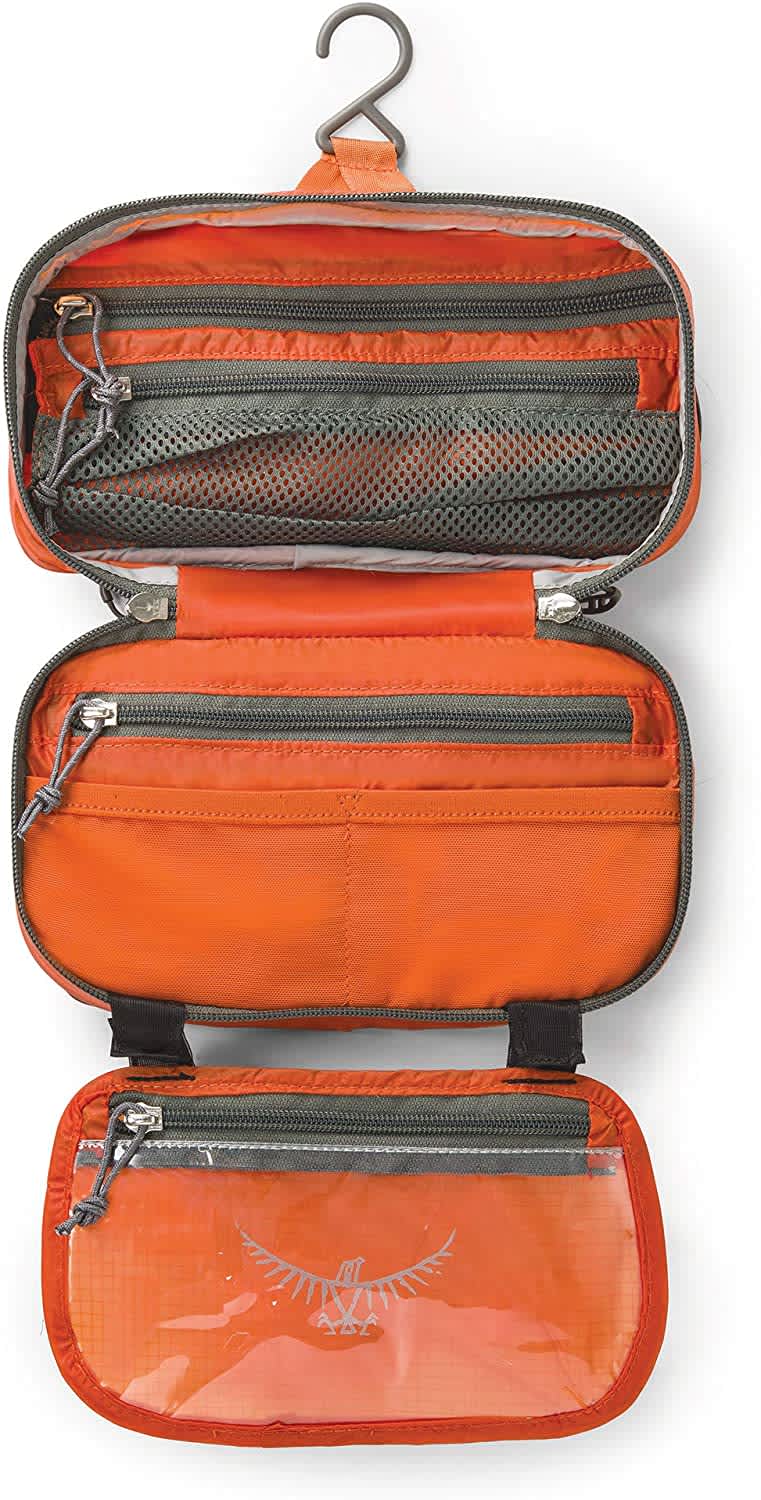 Compact, lightweight, and bright orange for high visibility (if you want). Keep your toiletries, first aid, or backpacking kitchen ship shape with Osprey's Ultralight Zip Organizer. The separate see-through pouches hang from a clip loop so you can view your gear at a glance. Even if you don't use this particular kit for a toiletries kit, I'd highly recommend it for use as a nice supplemental first aid kit that you can stuff in the camper, truck or RV for when you need it most.
Pros/Compact design that still retains all the great features of a hanging toiletry kit
Cons/Limited on space
Bottom Line/My personal choice when it comes to camping tolietries bags
Is a toiletry kit the same thing as a Dopp kit?
Simply put, a Dopp kit is a small bag for storing toiletries. How is it different from a regular toiletry bag, you might ask? Brace yourself for an underwhelming answer: It isn't! As a matter of fact, the terms "Dopp kit" and "toiletry bag" are used interchangeably. The main difference is that "Dopp kit" is used almost exclusively in the U.S. and rarely, if at all. Dopp kits were named after Charles Doppelt, a leather craftsman from Germany who founded the company that made them in 1926. Before then, the U.S. Military issued toiletry kits to soldiers who fought in World War I. These kits helped service members keep their grooming essentials organized … to an extent.
What should be in a travel toiletry kit?
Toiletries kits should contain a few core items for every trip that will keep you clean, and fresh for your adventures or outings. These would include regular items like soap, shampoo, toothpaste, a toothbrush, and deodorant. However, if you're camping you should probably also include bug spray, triple-antibiotic, a small set of safety pins,  bandages, and maybe even some iodine. In fact, carrying a full-sized first aid kit would be a part of any outdoor adventure but keeping small bandages and antibiotics in your toiletries kit should be standard practice as well – more is always better.
We are committed to finding, researching, and recommending the best products. We earn commissions from purchases you make using the retail links in our product reviews. Learn more about how this works.