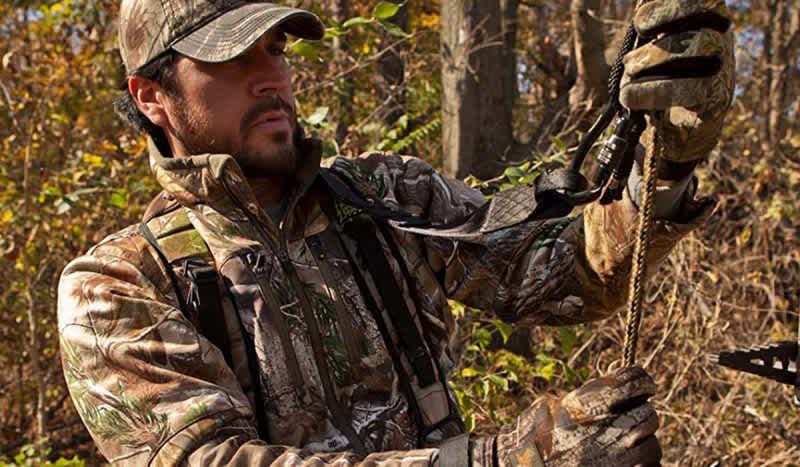 +
–
Table of Contents

1. Hunter Safety System HSS Carabiner
Many of the carabiners that you will find are aimed at the climbing market. However, anyone headed up into a treestand needs some good carabiners, too. They are extremely important with the lifelines and safety lines. Hunter Safety Systems knows a thing or two about treestand safety and they offer HSS Carabiners made of high-tensile-strength aluminum. These carabiners have a strength rating of 5,600 lbs. with the screwgate in its locked position.  They can be used for all sorts of connections
Pros/5,66lb. capacity
Cons/Replaces steel units sent with select HSS products – should just use these to begin with
Bottom Line/A lightweight and very strong carabiner option designed around treestand safety and hunting
2. Black Diamond RockLock Screwgate Carabiner
Most climbers want to decrease the amount of weight they are carrying as much as possible in order to make the trek up the side of a crag much easier or less dangerous. The Black Diamond RockLock Screwgate style of carabiner features a hot-forged construction which means that it still retains a lot of its load bearing strength while cutting down on a lot of bulk and weight.
Measuring in at just 2.99 ounces the Black Diamond carabiner also features a maximum axis strength of 24 kN when closed and 7 kN across both its major and minor axis. The RockLock features a screwgate lock with a squared rear end that is also slightly curved to give it a maximum gate clearance of 21mm. The Black Diamond RockLock Screwgate Carabiner is currently sold for $11.95 in either Black or Grey.
Pros/Lightweight Construction, Wide Gate opening for all sorts of rigging
Cons/Expensive per unit
Bottom Line/ A great option if you want the absolute best in terms of weight savings and climbing gear compatibility
3. Mammut Crag Wire Gate Carabiner
SALE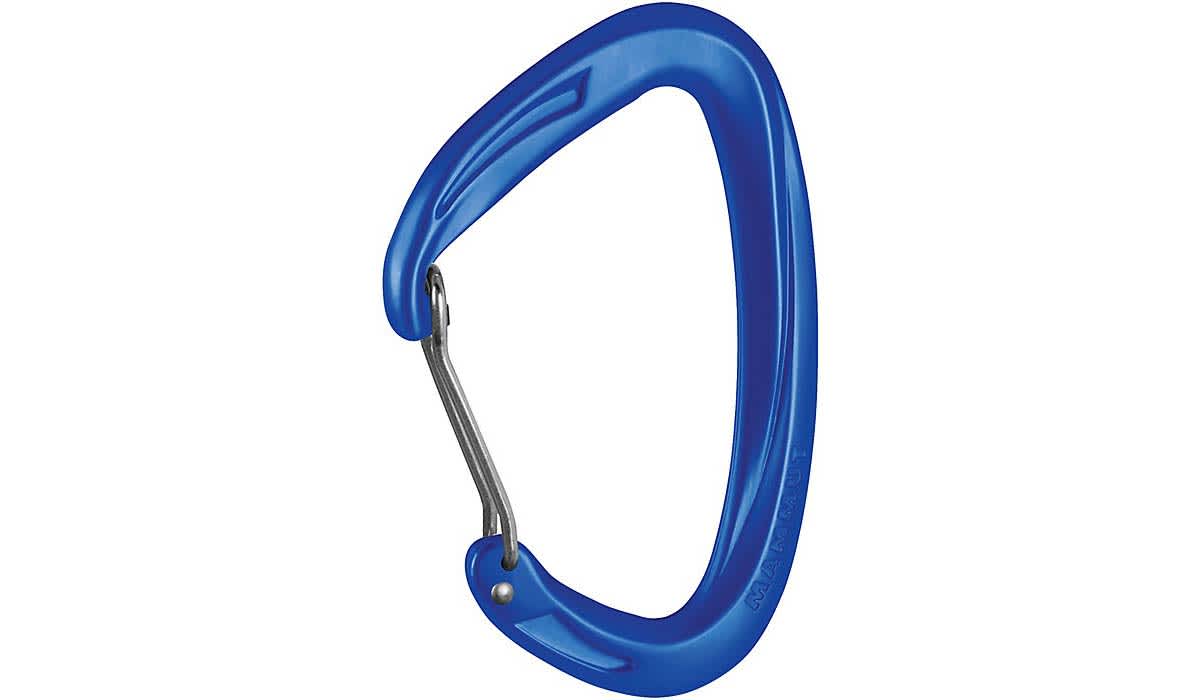 Mammut's Crag Wire Gate carabiner is both affordable and durable. A lot of wire gate carabiners don't offer much in the way of weight savings but the Crag weighs just 43 grams making it one of the lightest wire gate style carabiners on the market. The D-ring shape makes it both easy to stow and handle and the carabiner has a Major Axis Strength of 24 kN when closed and 9 kN across its major axis and 8kN across its minor axis.
Wire gates offer a few advantages over solid gates but can occasionally get caught up in your rigging or clothing so it will be up to you do decide how well this one would work for you. What can't be disputed however is its price of just $4.99 per piece making it a great budget option that still meets the strength expectations as other carabiners on this list.
Pros/Extremely lightweight and affordable
Cons/No locking mechanism
Bottom Line/Great to have as part of your main lineup or when a wire gate is better suited to your climbing situation
4. Petzl Spirit Bent Gate Carabiner
SALE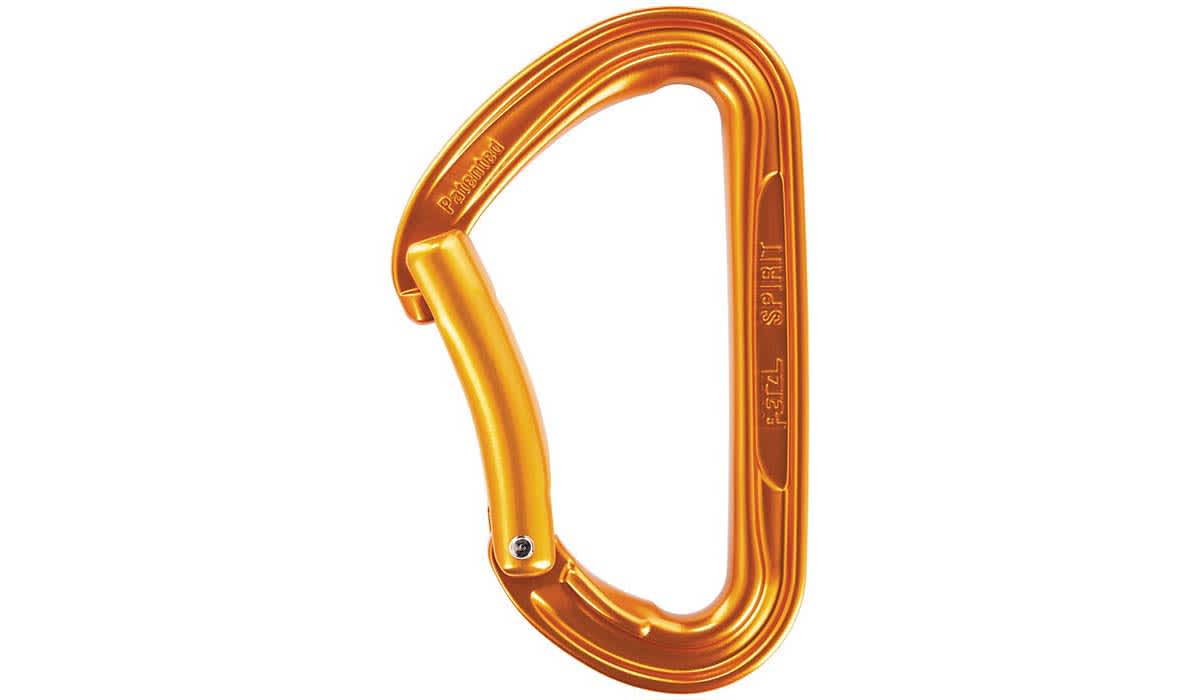 The design of the Spirit bent gate carabiner features an "H" shape which is said to offer an improved strength to weight ratio over its D-ring counterparts. The Spirit features much wider contact surfaces than competitors which translates to better rope glide and much less wear on the carabiner over repeated uses.
Weighing in at just 1.3 ounces the Spirit is a little on the lighter side but in doing so it sacrifices a bit of durability. The Spirit features a 23 kN major axis strength when closed, a 9kN major axis strength when opened, and an 8 kN minor axis strength when opened. The Overall clearance of the gate is a generous 25mm meaning you can get just about any type of rigging or backpack strap in there if you're not using this for climbing. The Spirit has the honor of being the American Alpine Institute Guides' Choice Seal Award winner for 2013. The Petzl Spirit Bent Gate Carabiner is sold for $9.95.
Pros/Improved strength to weight ratio and wide gate opening
Cons/Sacrifices weight and design characteristics for some strength. Also does not feature a locking mechanism
Bottom Line/A good balance of price, durability, and overall strength
5. Camp USA Core Belay Lock Carabiner
SALE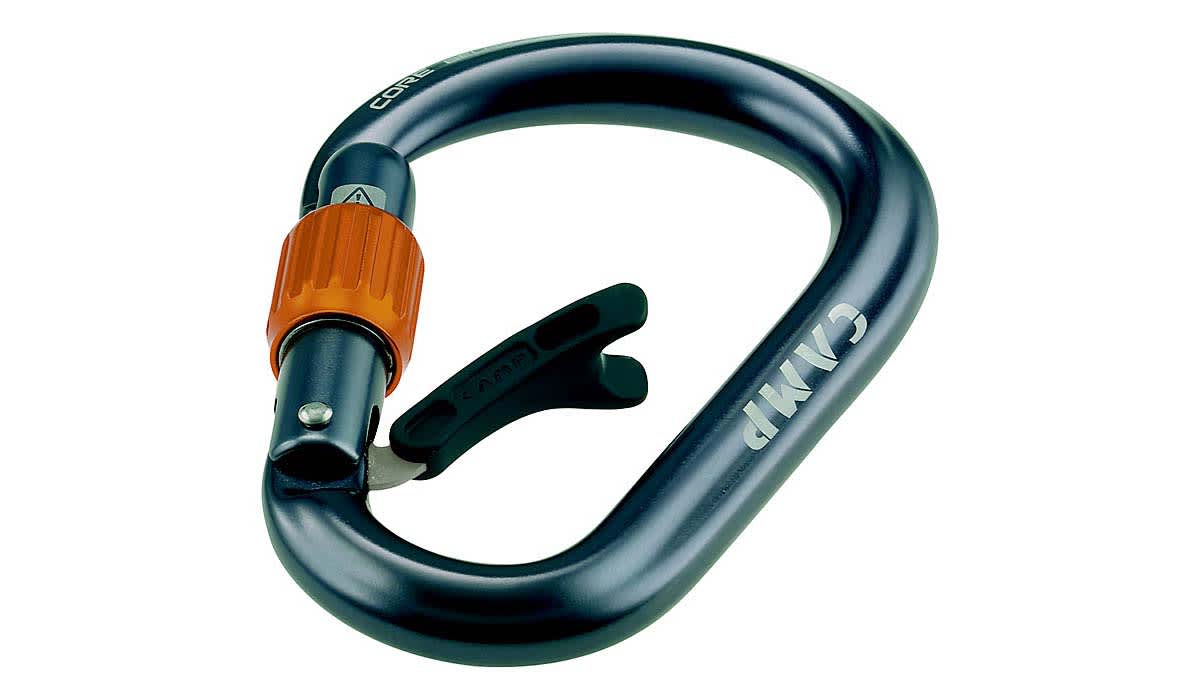 Those of you who have been climbing for a long time will know that cross loading is something to be avoided if at all possible. The proprietary inner gate of the Core Belay Lock carabiner makes it so that your main line will never enter into a cross loading event and instead maintain its alignment across the major axis of the carabiner.
In addition to the inner gate, the Core Belay Lock features a generous 25mm gate opening, highly visible etching on its sides to indicate whether the gate is locked or not, and an improved screw gate lock that is much easier to handle one handed when attaching new rigging. The Camp USA Core Belay Lock Carabiner is available for $17.95 and weighs 3 ounces.
Pros/Specially designed to avoid a cross loading event, lots of safety features
Cons/Heavy and expensive
Bottom Line/Probably best suited to only having a handful of these in your kit for belaying and or mountaineering to keep the weight distributed in the correct direction
6. DMM Phantom Screwgate Carabiner
SALE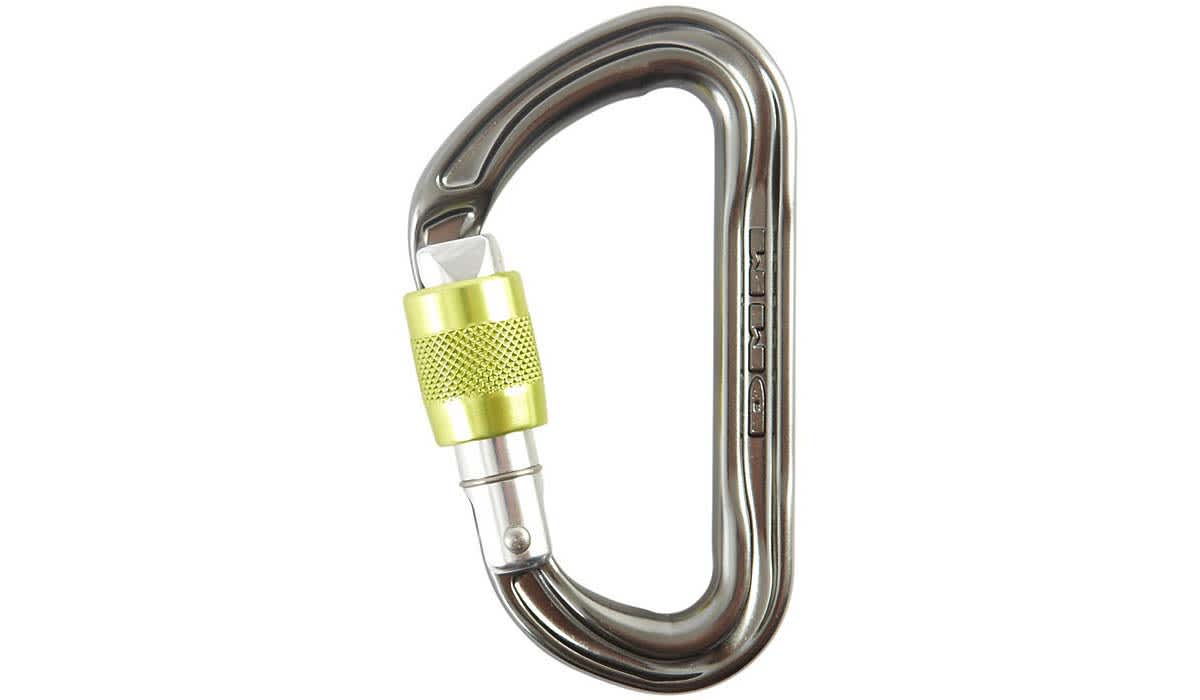 Having the distinction of being the lightest screw gate carabiner in the world at just 1.45 oz. the DMM Phantom is an a "do it all" locking style carabiner that has all the benefits of a wire gate carabiner without the added rigging complexity.
The Phantom features smooth and steep internal radiuses to minimize hang-ups and snagging as well as bad loading and features a 100% anodized design for maximum durability and easy of sliding for your ropes. The Phantom features a 23 kN major axis strength and an open gate strength of 9 kN. The DMM Phantom is sold for $14.95.
Pros/lightweight design and extremely durable even across its minor axis
Cons/Despite its improved design, solid gate carabiners still suffer from ice buildup at the gate
Bottom Line/Suitable for any climbing or every day carry situation outside of the arctic

Keep sideloading in mind
Carabiners have what is called a Major Axis and a Minor Axis. If looked at from the side a carabiners major axis can be considered the "up and down" portion of it which includes the spine of the carabiner while the horizontal portion of it which includes the gate entry portion can be considered the minor axis. Sideloading is when your rope is generating tension in line with the minor axis and since it is the far weaker portion of the carabiner it is a much less desirable orientation for your carabiner and will generally feature less than 1/3rd of the overall strength that the major axis does.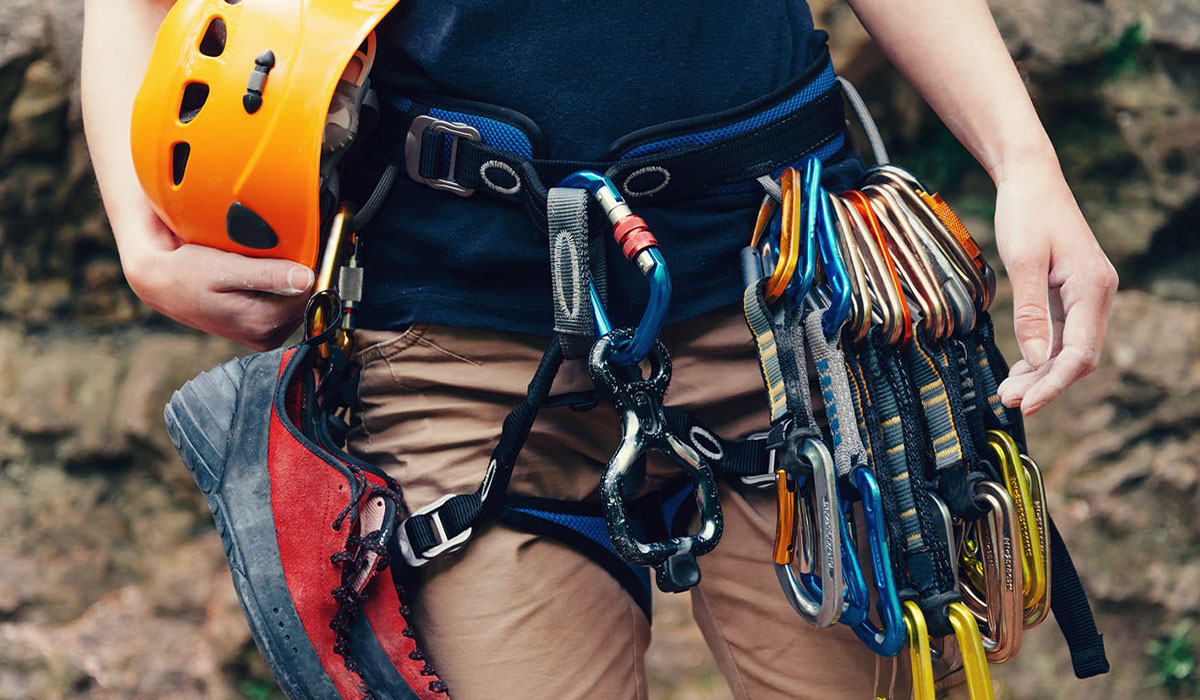 Wire gate vs. solid gate
Most climbers will argue that either option is fine and that you only need wire gate carabiners if you're doing a lot of arctic climbing (due to the possibility of ice buildup). In general, wire gates are both stronger and lighter weight so they get points in that direction, but a major advantage of wire gates is that they don't suffer from what is called "gate flutter." Gate flutter is what happens if you fall, and the carabiner slams up against the rocks causing the momentum to open the gate and risk the possibility of detachment. Therefore wire gate carabiners often don't have gate locks and solid gates will feature screw gates. For indoor climbing solid gates are more than adequate and are often a lot easier to clip in and out of for the rapid pace of indoor climbing.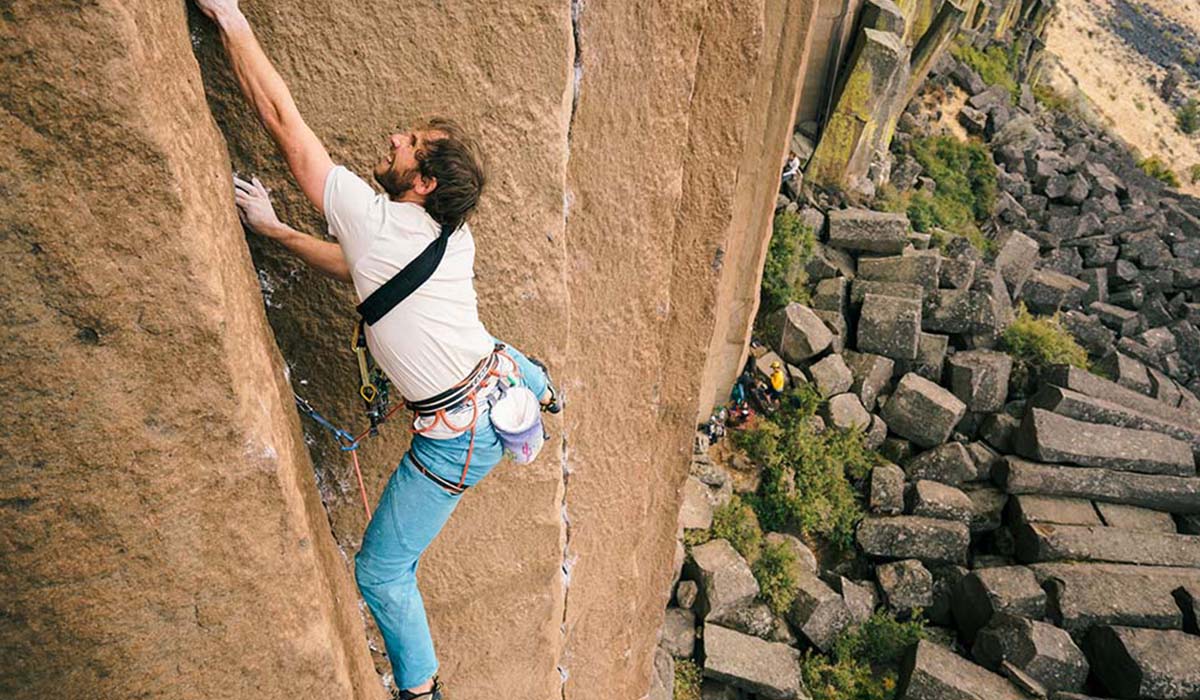 How many carabiners do you typically carry for a rock climb?
Rock climbing is a pretty complex sport and as such you'll need a lot of equipment and preferable an experienced climber to get started. Most crags or rock faces will already have anchor points in them so you won't need the cammed anchors if you're just climbing a frequented face. You'll generally want to carry two or more of the types of carabiners listed in this article. One is usually used for Belaying (coming back down) and another can be used as additional support or as a backup in case one of your quickdraw carabiners gets lost or is rendered inoperable.
We are committed to finding, researching, and recommending the best products. We earn commissions from purchases you make using the retail links in our product reviews. Learn more about how this works.
Source link