+
–
Table of Contents

1. Survival Frog Tough Tesla Lighter 2.0
SALE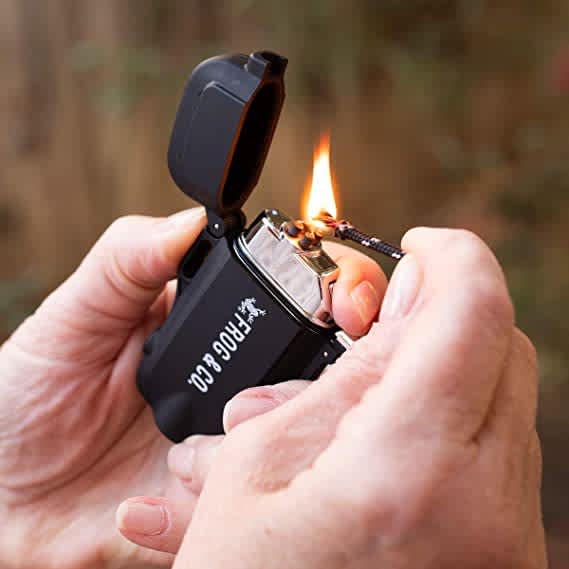 Tough Tesla Lighter 2.0 is an electronic lighter for outdoor and camping use. Waterproof, windproof, and needs no butane or adjustments for altitude. Its new top-facing plasma dual arcs design is perfect for camping, survival, or a backyard cookout. Just touch the dual arcs to anything flammable and you'll have an instant fire. The battery life is fairly decent and the unit can even be charged by a solar charger if you have one of those in your backpack.
Pros/Windproof arc ignition and comes with a build in flashlight.
Cons/Needs to be recharged which might not be optimal for long treks
Bottom Line/A solid lighting method that works well in damp and windy enviornments
2. Survive Outdoors Longer® Fire Lite Kit
SALE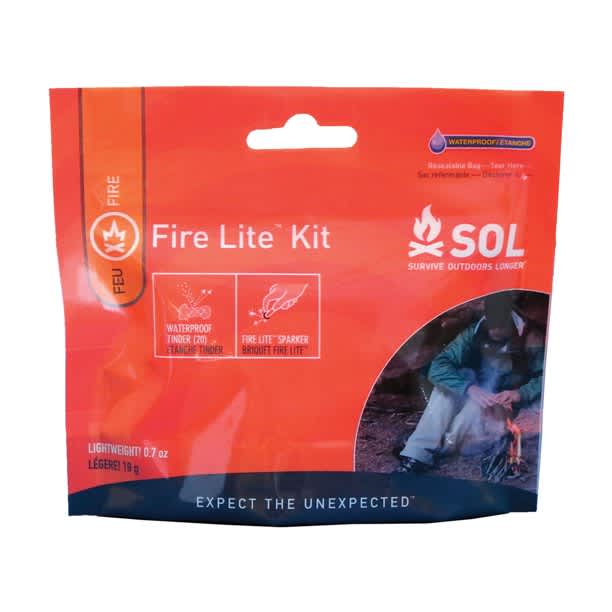 Minimalist and practical, the SOL Fire Lite Kit gives you the supplies to start up to 20 fires all in a lightweight, waterproof package. In addition to the 20 pieces of waterproof tinder, each Fire LiteKit includes a Fire Lite sparker and comprehensive fire starting instructions. This one is great for emergencies as it is a self-contained kit and if you find yourself in a damp environment or take an unintended dip in a river or stream, you won't have to worry about your tinder or firestarter getting soaked.
Pros/Self contained kit that includes both a firestarter and waterproof tinder
Cons/Takes up more space than a simple standalone firestarter
Bottom Line/A gret small waterproof kit to keep in case of emergency
3. UCO Titan Stormproof Match Kit
SALE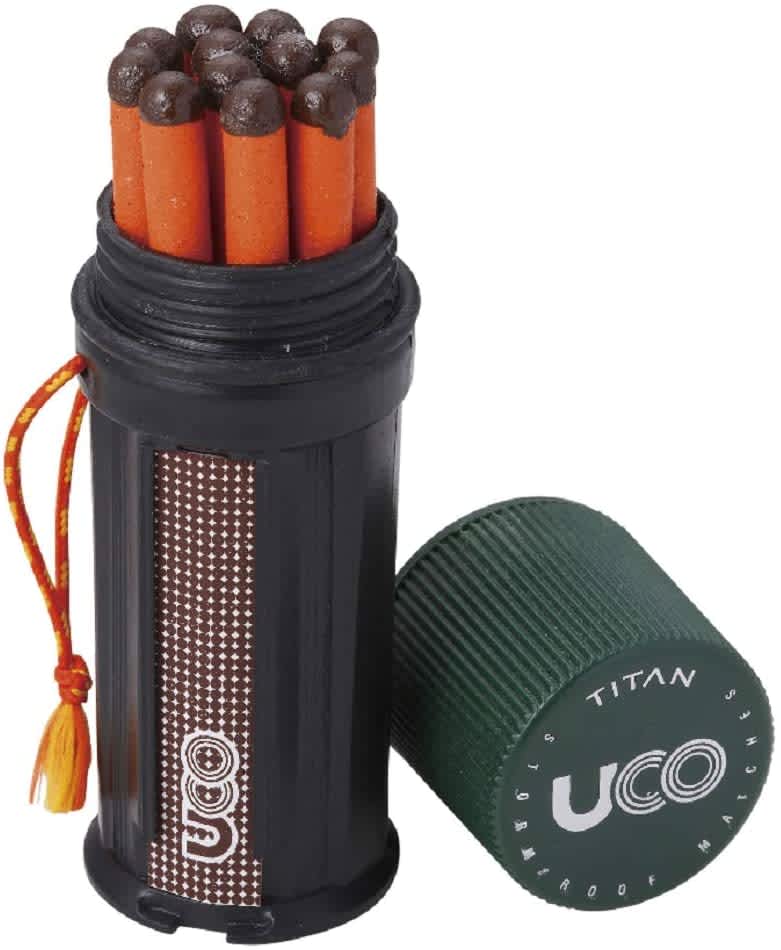 UCO Titan Stormproof Matches are windproof, easy to light, and will stay lit for up to 25 seconds. Titan matches will burn underwater and in gale force winds, making them reliable in even the harshest conditions. The waterproof case protects its contents, floats in water, is contoured for secure handling in all conditions, and has an area for removable/replaceable strikers. Also included with the case is a cord for attaching to a lanyard or clip.
Pros/Waterproof matches with a wateproof case, very simple and easy to start fires with
Cons/Strikers are not waterproof and the matches only have a shelf life of 5-years
Bottom Line/A minimalist approach that's handy to have around for lighting campfires and gas grills that don't have integrated igniters.
4. Zippo Emergency Fire Kit
SALE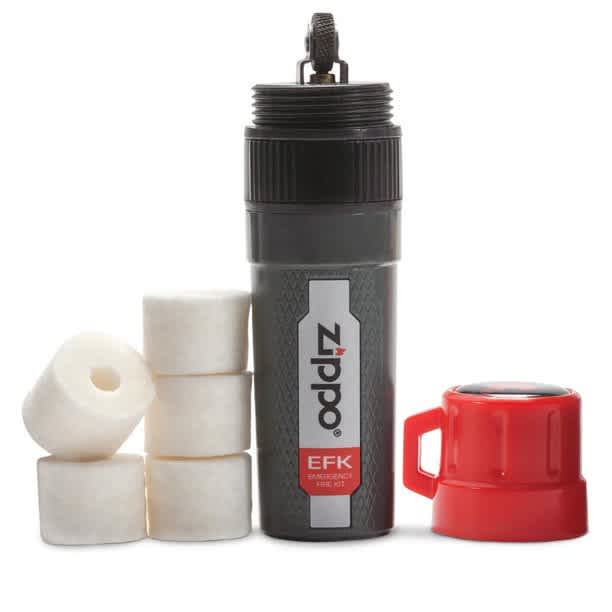 Designed to save the day, the Emergency Fire Kit comes through when others turn back. Its compact and high-caliber construction packs enough punch to overpower bleak conditions and fire up your campsite at a moment's notice. The EFK is a compact and high-caliber construction that packs enough punch to overpower bleak conditions and fire up your campsite at a moment's notice.
Pros/Familiar ignition method in a compact package – includes tinder
Cons/The small flint piece is much more easily worn away than a full flint and steel setup
Bottom Line/Another great option that is probably more sutiable for emergencies rather than a frequent fire starter
5. Morakniv Companion Spark
SALE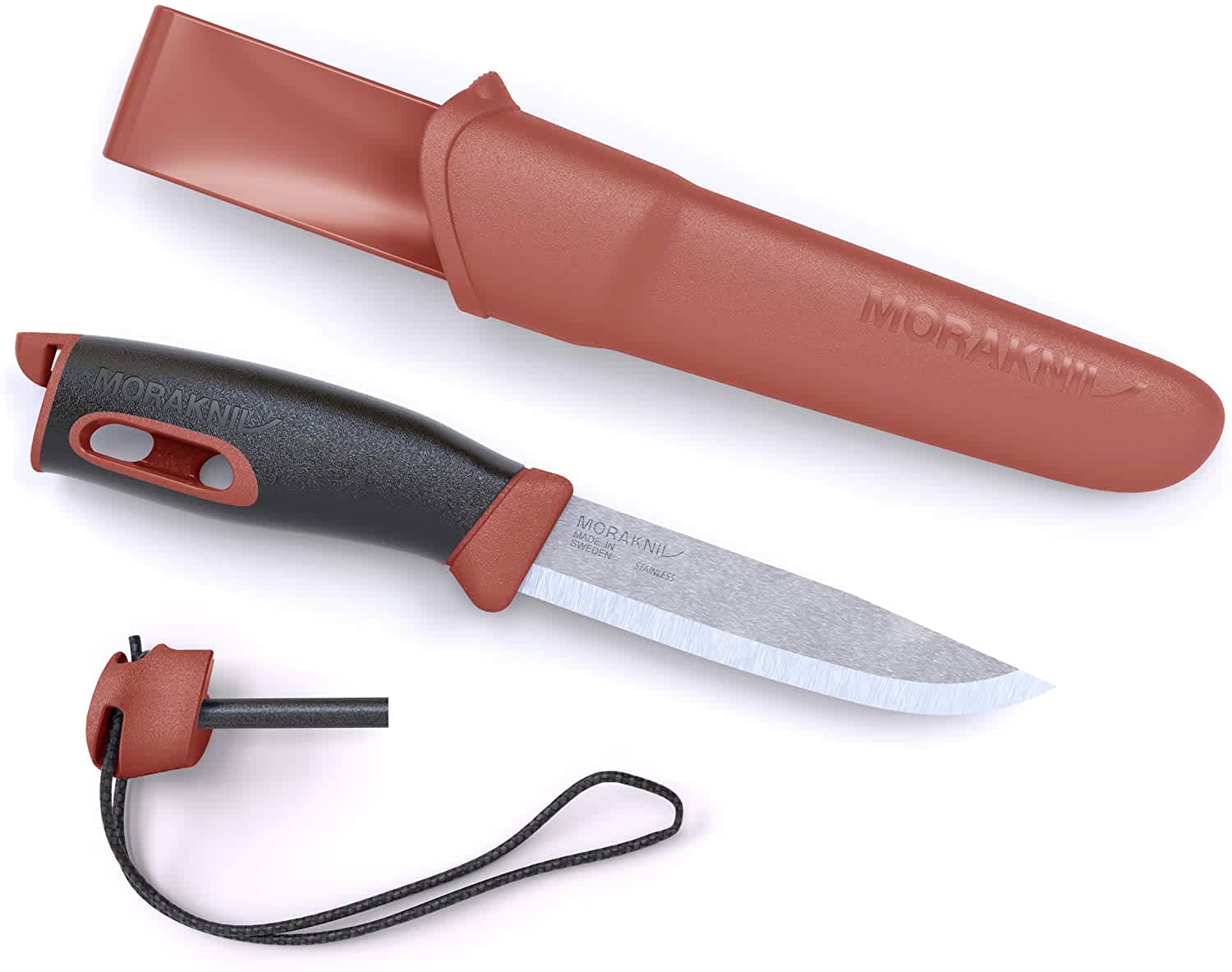 Based on the popular Companion model, the new Companion Spark is designed to be a reliable tool that performs in any weather condition. The durable blade is made of 2.5mm thick Swedish stainless steel, which is easy to maintain and offers exceptional edge retention. It has a soft friction grip handle made of TPE rubber, offering a safe and steady grip. A high-quality fire starter is built right into the handle for easy access and use along the blade's 90-degree spine, with a reflective cord that makes it easy to spot. The sheath is made of a durable polymer with a handy clip for easy attachment to a belt or pack.
Pros/Comes with an included knife which is a handy survival tool in itself – durable firesteel integrates into the butt of the knife
Cons/Firesteel can come loose after repeated unseatings
Bottom Line/A great combo item that can be quite useful
6. Gerber Bear Grylls Fire Starter
SALE
The Author's Pick
This is one I personally own and have used for a number of years. Even without the Bear Grylls name attached to it, it's still a solid piece of Gerber Gear. Over the years the firesteel has worn away a bit in some spots but it continues to be useful and durable enough for just about any situation. What's great about firestarters like this as opposed to matches is that it gives you a virtually litter-free way of starting up a fire which should lessen your impact on the surrounding environment.
Pros/Simple to use and a bascially indestructable
Cons/After a couple years of use the coupling between the two halves has become kind of loose.
Bottom Line/A very utilitarin option with no frills
Will water damage my flint and steel?
Water cannot damage flint or firesteels. Even when just taken out of the water and still wet, they are perfectly able to strike a spark. Flint and steel are also more durable than your average lighter or pair of matches. Another great benefit of flint and steel is that your consumed fuel source (steel) often can last for thousands of strikes which makes it a nearly endless source of sparks that requires no recharging and no other fuel sources.
My flint and steel isn't starting a fire. What am I doing wrong?
If you're having trouble starting a small fire with flint and steel or any other method you're probably dealing with a short list of problems that aren't related to your fire steel. The first could be that your kindling is too large to take light from just the sparks alone, proper tinder for firesteel should be something like very fine dry grass. If you've got the right kindling and it's still not lighting then it is probably just wet, you can set some tinder aside in the sun or next to an already existing campfire to dry out or you can carry around some fire rope or other pre-treated waterproof fuel to get the small flames going to set the slightly larger pieces of tinder on fire.
What is the difference between a Ferro Rod and Flint?
Flints are made up of different materials than ferro rods, they're harder to strike, and they don't produce as hot of a spark. In the case of a ferro rod, the material that is being shaved off the rod produces the spark, therefore you can strike it with virtually anything that is sharp. A flint, on the other hand, doesn't produce too many sparks, but the magnitude of the spark largely depends on the material of the striking source.
We are committed to finding, researching, and recommending the best products. We earn commissions from purchases you make using the retail links in our product reviews. Learn more about how this works.
Shop top of the line gear at great prices in the Everest Marketplace and get outside!