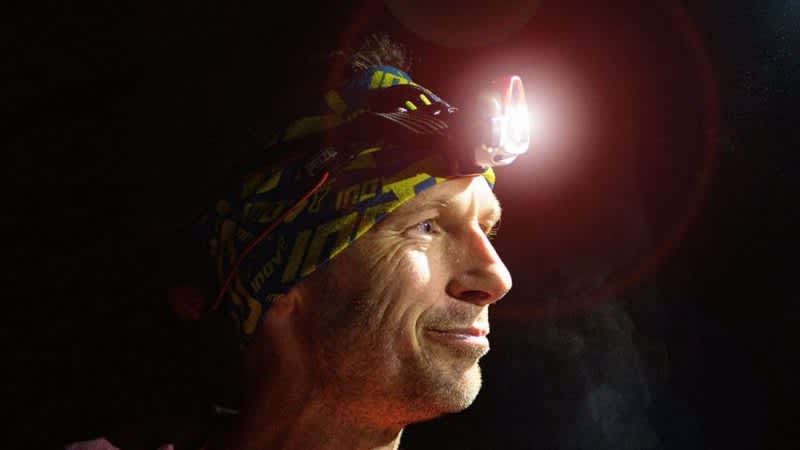 +
–
Table of Contents

1. Petzl Actik Core Headlamp
SALE

The Author's Pick
The Petzl Actik Core Headlamp is a great option for people who really need to get a lot of use out of their headlamps. The Actik Core Headlamp's most notable feature here is its replaceable rechargeable battery packs. This means there are no loose AA or AAA batteries to lug around or lose (unless you want to). In reality, the Actik Core Headlamp can actually run off of either the battery packs sold by Petzl or plain old AAA batteries. What this does is make the Core Headlamp way more versatile and portable since you can power it any number of ways, and even recharge the headlamp remotely using the USB charging cable. In addition to that one great feature, the headlamp is also fairly water resistant and should protect it from the occasional rain or errant splash of water.
 Comes with the Core USB-rechargeable battery (charge time via USB port: 3 hrs.) and is also compatible with 3 AAA/LR03 batteries (not included) without the need for an adapter
 Features 2 beam patterns (flood or mixed) and several white brightness levels; single-button adjustment allows for quick and easy lighting selection
 Red lighting preserves night vision; reflective headband provides low-light visibility
 Lock function helps you avoid turning it on during transit or storage
 Headband is detachable and washable
 CE-certified; IPX4 rating means this can withstand splashing water from any angle
 Compatible mounting accessories (not included) allow the lamp to be attached to any kind of helmet or to a bicycle
Pros/Fairly powerful light, good battery life, multiple battery options, and tons of great QOL features.
Cons/Expensive and not the best waterproofing rating
Bottom Line/A great option if you're a frequent backpacker or hiker who doesn't plan on seeing a lot of direct water exposure
2. NITECORE NU32 550 Lumen LED Rechargeable Headlamp
SALE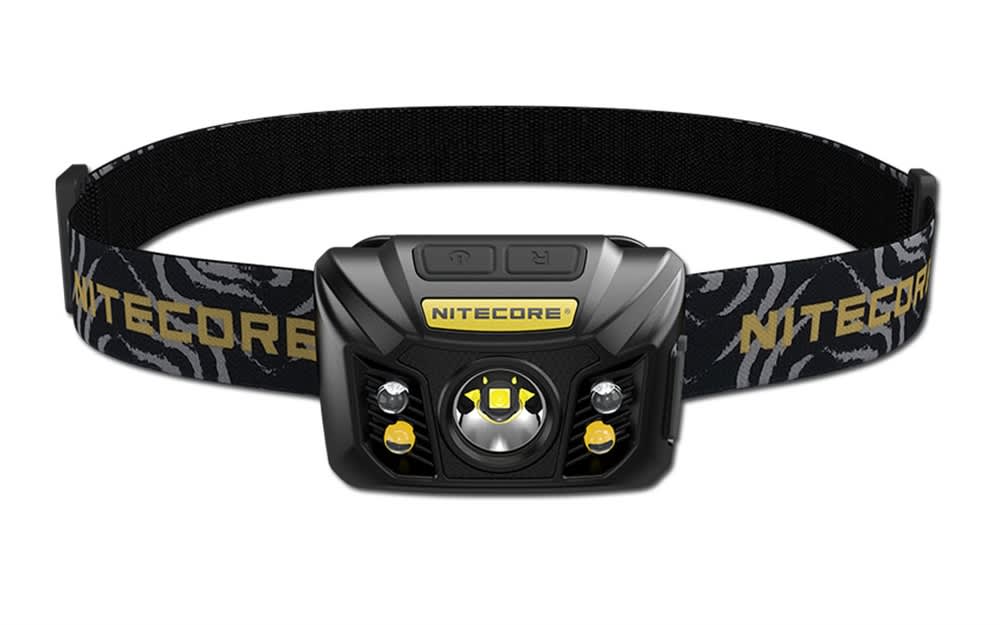 Packed with more power yet remaining lightweight, the NITECORE NU32 rechargeable headlamp is a noteworthy upgrade from the highly rated NU30 headlamp. Equipped with a CREE XP-G3 S3 LED, the NU32 emits a bright 550 lumen for distances up to 136 yards on Turbo mode. Switch freely between a primary white LED, offering four brightness settings from 1-550 lumens to high CRI auxiliary LEDs for even flood illumination, ideal for close-up tasks and reading. Alternatively, switch to the red auxiliary LED and protect your night vision.
Pros/Powerful Beam, Rechargeable on-board battery, ultra light
Cons/Beam angle isn't very adjustable compared to most modern headlamp options/ Onboard battery isn't replaceable.
Bottom Line/A truly lightweight option that can keep up with every camping trip or long range hike.
3. Fenix HM65R Headlamp E01 V2.0
SALE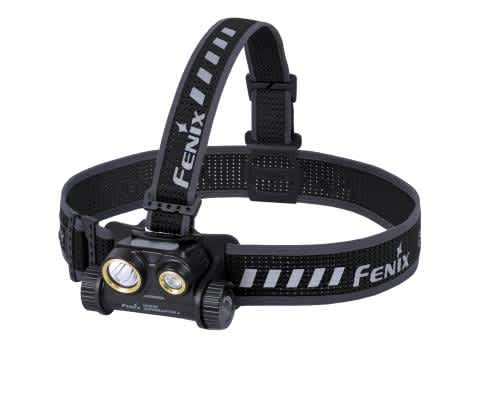 The Fenix HM65R Rechargeable headlamp is designed to endure all the elements. This new Fenix headlamp is constructed from ultra lightweight magnesium material. With two Cree LED's, the HM65R can reach 1400 Lumens by activating its dual spotlight and floodlight mode. The primary power option is a single 18650 battery; as a secondary option, you can also power the HM65R with two CR123A batteries. The HM65R also features a USB type-C Charging port to facilitate charging of the 18650 battery that is included with your purchase. With an all-new body designed from magnesium, the Fenix HM65R headlamp has an IP68 waterproof rating, IP6X dust-proof rating, and 2 meters of impact resistance. The included adjustable headband provides comfort and adjustability for a perfect fit in every situation. We recommend using the Fenix HM65R for fishing and hunting trips where you will need to light your path quickly and hands-free.
Pros/Multiple beam sizes for better versatility, Super Durable and Great battery life
Cons/Very Expensive
Bottom Line/One hardcore Headlamp that can just keep on truckin no matter what you throw at it.
4. Black Diamond Sprinter 500 Headlamp
SALE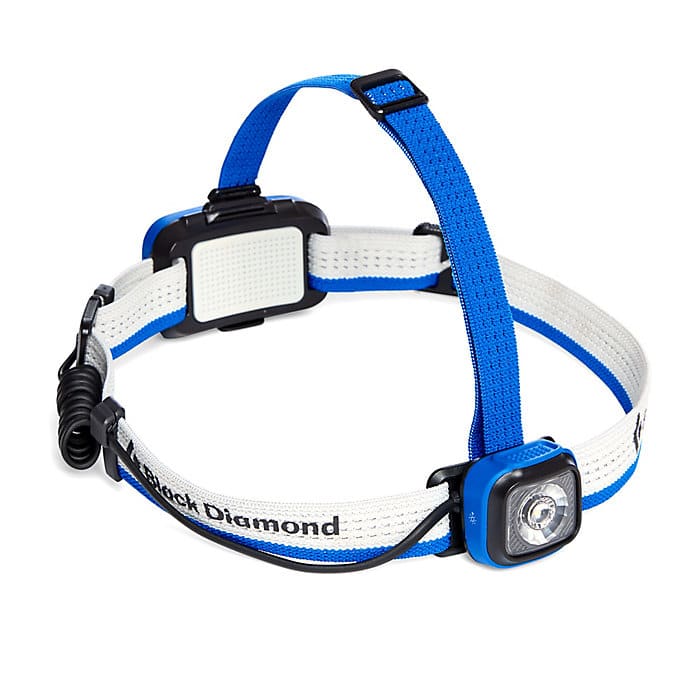 Ultra-thin and well balanced, the Sprinter 500 now features nearly twice the lumen output of previous versions, emitting 500 lumens on the light's brightest setting. Providing maximum power flexibility for runners on the move, the Sprinter is Dual-Fuel compatible and can be powered with either our rechargeable BD 1800 Lithium-ion battery which is included when purchased or it can run off three AAA alkaline batteries as well. The single front lens has an extremely smooth universal beam that minimizes hot spots and eliminates harsh transitions on the trail.
Pros/Lightweight balanced desgin with a rechargeable battery pack
Cons/Quite Expensive with not a lot of versatility
Bottom Line/A great option for jogging at night
5. Black Diamond Spot 400
SALE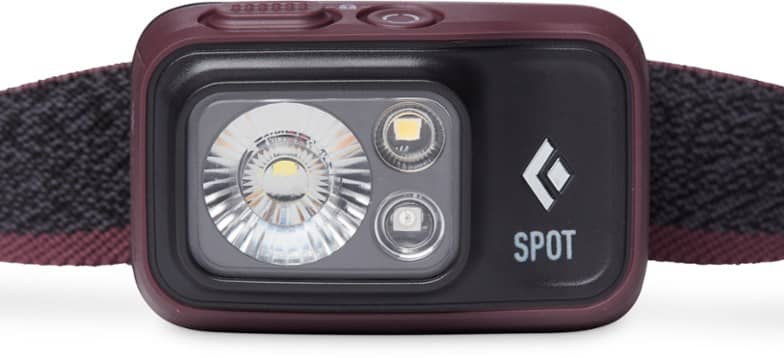 The Black Diamond Spot 400 Headlamp is an all-around headlamp for lighting up the dark moments in the outdoors. The trail comes with trials and most definitely nighttime darkness and even weather. Turn on the powerful LED lamp that emits a 400-lumen max output, or choose a dimmer setting, proximity or distance mode, or even red LED for better night vision. Whether you're pushing further on the trail before making camp, setting up your tent, making dinner or other, the comfortable head strap provides hands-free lighting. Wet weather? No worries about the IPX8 waterproof-tested casing.
Pros/Most durable headlamp out there – ultra waterproof and perfect for people working in wet enviornments – also very affordable
Cons/Doesn't come with the compatible rechargeable battery
Bottom Line/The ability of this one to last up to 30 minutes submerged in 1 meter of water makes it the perfect option for wet enviornments.
What is a good lumen rating for a headlamp?
While this will vary depending on the situation (for example a cave diver might want something much less bright), a good general lumen rating is somewhere between 300 and 500 lumens. The reason for this is that this range of light is the most useful for our eyes (in terms of white light) when the rest of our environment is dark. In addition to being more comfortable to your eyes, lower output headlamps also generally consume less energy and therefore will last much longer. Some headlamps feature multiple brightness levels and some even feature red LED lights which can help preserve your night vision if you plan on switching the lamp on and off.
Wait is it safe to hike at night?
It's perfectly fine and actually really fun to hike at night. In general, you'll find that the weather will be much cooler and this will keep you going at a faster pace for longer. If you're not racing to your destination, the scenery can also be quite nice, especially around more mountainous terrain that is flanked by valleys.  There are a lot of great options out there for night hiking but my best advice would be to hike the area first during the daytime so you can get a general feel for the land, its hazards, and pick out any potential trouble spots before you do your night hike. Next, you'll probably want to opt to pick less technical terrain which means that you should probably avoid any climinbg and extremely steep grades along your path. In case you're wondering, no, it's not illegal to hike at night, in fact, there are no laws on the books as far as I know that outlaw it.
Why do some people walk around at night with red flashlights?
The big player in  your natural night vision is rhodopsin (a light-sensitive receptor protein that allows you to see light), and that takes from 20 to 40 minutes for humans to start benefiting from it. A key trait of this feature is that rhodopsin is photoreactive. It only takes a few seconds of bright light to cause the rhodopsin to decay into two parts with a photosensitive reaction, and the rods stop working. Then the cycle starts again. In layman's terms this means that when the light gets shined in your eyes, they need time to recover before you'll start to be able to see again in your current conditions.
It is an interesting trait that deep red lights do not trigger the neutralization of the rhodopsin and therefore they don't completely destroy your natural night vision when you use them. Most of the red flashlights on this list are probably way overkill and will still diminish your night vision some, it won't be nearly as bad as when you use the white light of your headlamp.
We are committed to finding, researching, and recommending the best products. We earn commissions from purchases you make using the retail links in our product reviews. Learn more about how this works.