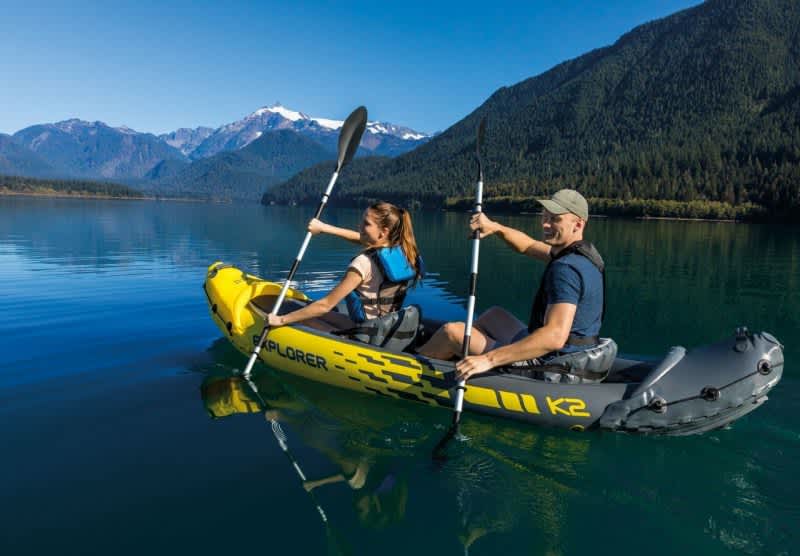 +
–
Table of Contents

1. Intex Challenger K1 Inflatable Kayak with Oar and Hand Pump
SALE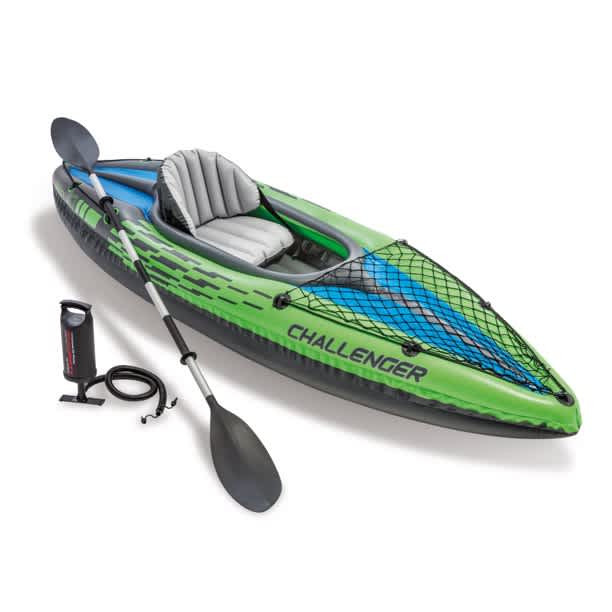 Get ready for a fun day on the water with the Intex Challenger K1 Inflatable Kayak with Oar and Hand Pump. It's sporty and fun with a streamlined design for easy paddling. It's also quick and easy to assemble. The bright green color and sporty graphics make this Intex blow-up kayak highly visible in the water. It's suitable for one adult and is ideal for experiencing lakes and mild rivers solo. The Intex Challenger K1 Inflatable Kayak with Oar and Hand Pump includes a repair patch for your convenience so that you can be back on the water fast if a fix is needed. An Inflatable I-beam floor and low-profile deck make for a stable ride, while high-buoyancy side chambers supply additional safety. A cargo net allows you to bring along supplies. This one-person inflatable kayak has been NMMA certified by the U.S. Coast Guard I.D.
Pros/Compact, with all accessories included – no need to shop around – Super affordable
Cons/Not great in rough water
Bottom Line/A great affordable Kayak for the casual lake or river paddler
2. Airhead Angler Bay Inflatable Boat, 4 Person
SALE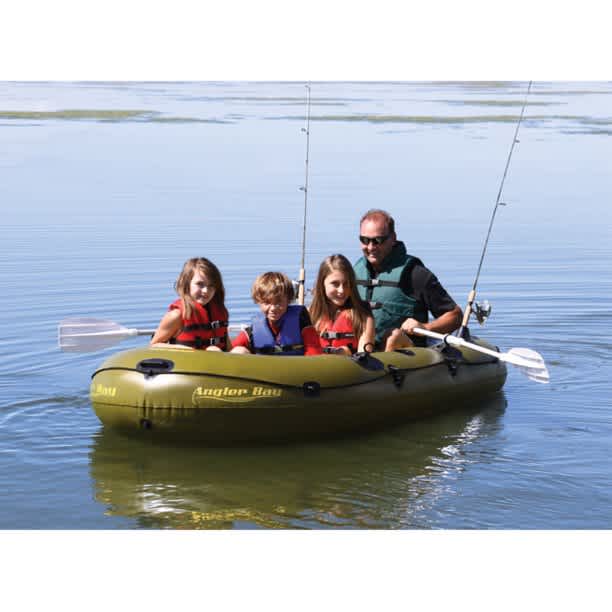 Angler Bay Inflatable Boats are designed to give you all the components you need to have a great fishing adventure. There are 2-rod holders, multiple molded drink holders, 4 drain plugs, a battery storage bag, and a ditty bag. They're lightweight, portable, and ideal for lakes and slow-moving streams. Equipped with wrap-around grab lines, swiveling oar locks, trolling motor transom mounts, and side-mounted oar holders. Constructed of heavy-duty vinyl with electronically welded seams. Factory tested for quality assurance. Angler Bay boats also come with locations for motor mounts.
Pros/Adaptable and affordable
Cons/No storage bag and is easily drifted around by the wind
Bottom Line/A great small boat for taking the whole family on the water to fish
3. iROCKER Blackfin Model X Inflatable Stand Up Paddle Board
SALE
With this board, you get the full experience – and all the accessories to boot. Name an activity and this board has it. Dual cargo areas for camping and fishing gear, eight multi-use action mounts to tackle any adventure, built-in fishing rack mounts for those who love throwing a line, and an ultralight full carbon matte shaft paddle – making this beginner board glide through the water with ease. This is luxury at its best and an investment that will reward over time. Its 35" width, 100% stability rating, and high weight capacity of 450lbs make it a superb choice for any paddler. Travel to the lake with your family and friends and feel great knowing this board will provide it all.
Pros/Very durable, rigid and portable and comes with everything you need to get out on the water in a hurry
Cons/Expensive
Bottom Line/A convenient package for the hardcore lake goer or paddle boarder
4. Sea Eagle 330 Inflatable Canoe
SALE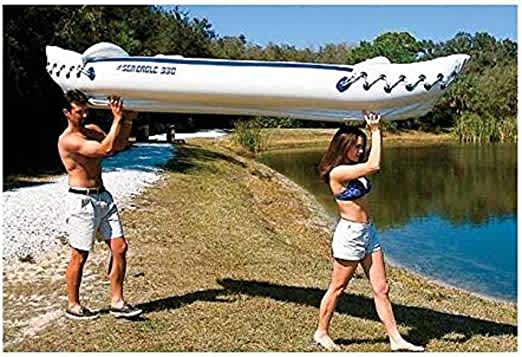 This is the most affordable option for an inflatable canoe. You get a lot for your money and although it is not as high quality as the more expensive models out there, it is still a great canoe and a lot of fun to paddle. It comes with two seats that can be adjusted for solo use.  It also comes with two kayak paddles but you can easily paddle the 330 canoe style as well.
Pros/Most affordable inflatable canoe on the market
Cons/Quality control isn't the best but when they work they work
Bottom Line/A great way to get you and your significant out on the water together without speodning hundreds on a canoe and paddles
5. Intex Challenger Inflatable Boat Series
SALE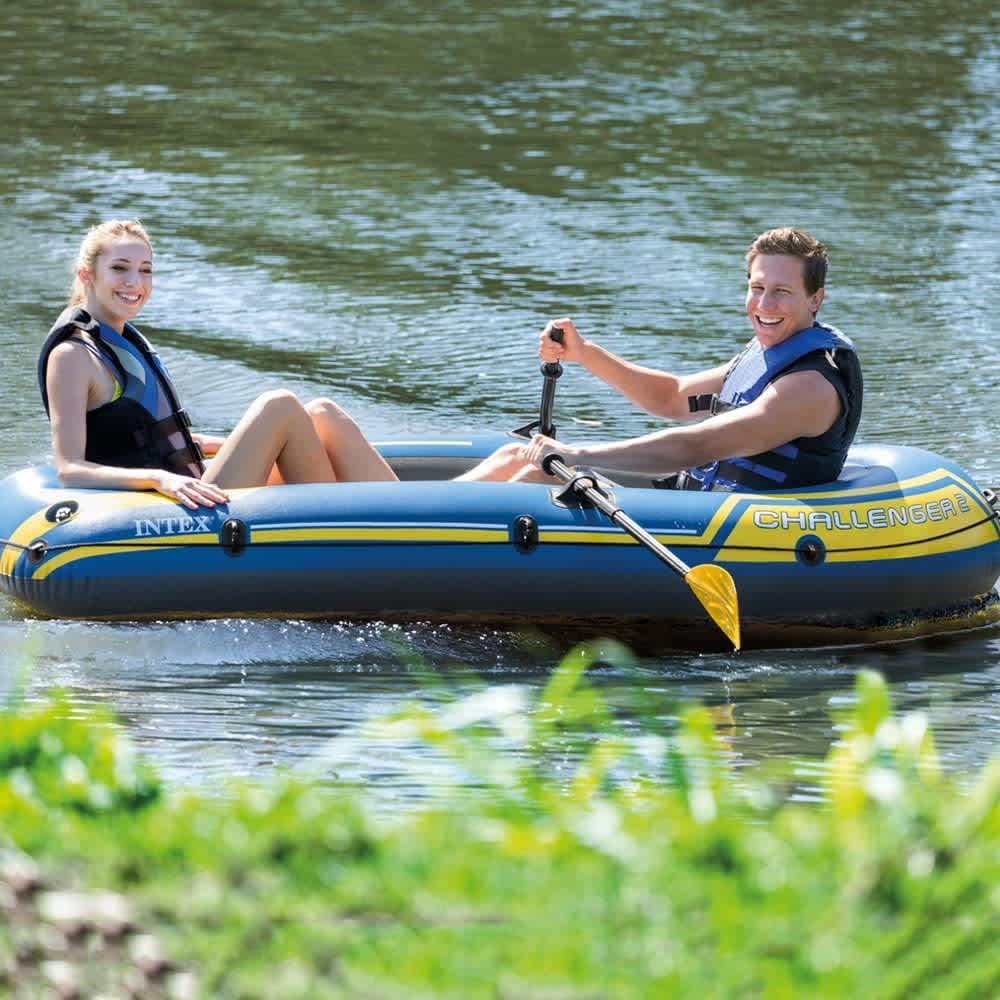 Available in both a 2-person and 3-person configuration. The Intex Challenger inflatable boat series fills up quickly with the included pump, comes with two oars, and features welded-on ora locks and grab lines for extreme durability. The Challenger 2 inflatable boat is perfect for boating fun for two adults. Whether fishing, relaxing, or rowing on the lake, this boat is great for making your adventure exciting and entertaining. Designed with heavy-duty, puncture-resistant PVC for comfort and durability, and an inflatable I-beam floor for rigidity, the boat contains three air chambers including an inner auxiliary chamber inside the main hull for extra safety. Inflating and deflating is a breeze with two quick-fill Boston valves. A grab handle on the bow and an all-around grab line are provided for your convenience, as well as welded oar locks, oar holders, and a repair patch kit. Also included are two 48-inch French oars and an Intex high-output pump for inflating and deflating.
Pros/Very affordable and very fun for two people!
Cons/Oar holders don't work very well and the boat has a ton of drag making it hard to accelerate especially with a current
Bottom Line/A great option for camping trips with your special someone.
How do inflatable craft compare to rigid craft?
In general, you'll find that inflatable crafts are not nearly as durable as a rigid one but they do offer the user better overall stability, and convenience and are also much easier to transport wherever you're going due to their inflatable nature. Stability in kayaks correlates with width and inflatable kayaks are usually quite wide. There are disadvantages as well, most importantly, they are slower than hardshell kayaks.
Do inflatable kayaks puncture easily?
Quality inflatable kayaks don't pop easily nor do inflatable kayaks tear or puncture easily. The durable materials and manufacturing processes used in developing inflatable boats yield high-quality kayaks that are resistant to punctures or tears. Most of them are made from one or more layers of durable and thick PVC material which is pretty puncture resistant unless you're trying to stab it with a knife or other super sharp object.
Can inflatable boats sink?
It may not seem like it but inflatable boats are pretty resistant to sinking. Even if they are full of water, they often still don't sink and this is mostly due to the fact that the materials used to make the hull are naturally buoyant in water. So if you're worried about taking an untimely swim in the water without anything to hold onto, you shouldn't be too worried – that being said, most inflatable watercraft come with patch kits for the occasional tear or puncture that might put you into the drink.
We are committed to finding, researching, and recommending the best products. We earn commissions from purchases you make using the retail links in our product reviews. Learn more about how this works.