The Latest Trail Camera from SPYPOINT has just been released to the market. Introducing, the new SPYPOINT Flex Dual-Sim Cellular Trail Camera. This new trail cam from SPYPOINT incorporates two independently operating SIM Cards that allow the 33-megapixel camera to upload photos and videos on the best available network and will automatically adjust to optimize for the best connection so your pictures and video come through to you no matter what. The new trail camera also makes use of GPS-tagging technology and features a 100-ft flash engagement range meaning you'll be able to catch photos and videos of game animals from further away.
The New SPYPOINT FLEX Dual-Sim Cellular Trail Camera
"There are so many features our customers are excited about with the FLEX, it's tough to say what is driving the early interest, but the unique dual-sim configuration that allows it to connect to whichever cellular network provides the best, most reliable signal is certainly a major development that our customers were happy to see," said?Alexandre McElhaw General Manager at?SPYPOINT.?

"The optimized antenna is really what makes the FLEX go. The 33-megapixel photos and 1080p videos are great, but it's how reliable the connectivity and transmission are, that's what really makes it stand out," he added.

Those videos will also be available to be transmitted to the SPYPOINT app and will appear in the gallery as an animated preview, after which users can request the full-length HD version which will be sent to the app and replace the preview. Every SPYPOINT customer that activates their first new FLEX will receive five free FULL-HD Video Requests in their account. This will give users the chance to test out the new feature and see how the process works. Additionally, the free photo transmission plan that has set SPYPOINT apart for so many years is still available with the arrival of the FLEX.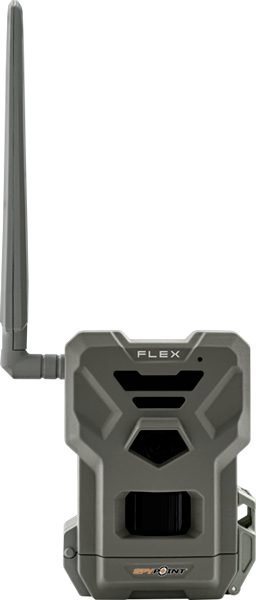 The new SPYPOINT FLEX trail camera promises to be ready to use right out of the box with its pre-installed dual-sim cards and its simple setup and testing protocol. The New SPYPOINT FLEX Trail camera will be sold for a retail price of $169.99 and will be available from both big box retail stores as well as the SPYPOINT website. For more information including availability, authorized retailer list, and full specifications you can visit the SPYPOINT website.