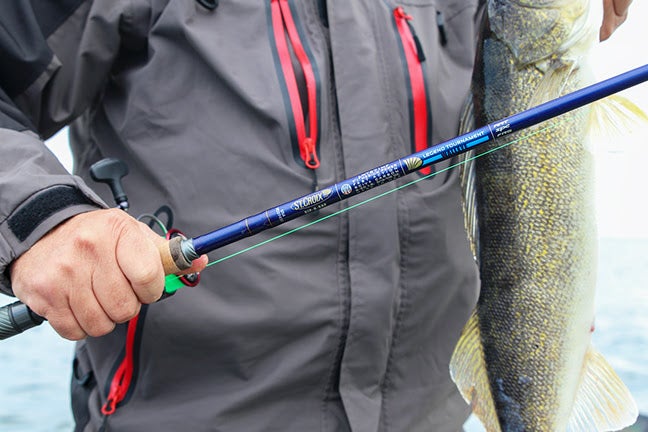 The St. Croix Legend Tournament Walleye series of rods were first introduced in 2005, and rapidly earned a large following from walleye anglers seeking technique-specific walleye tools. These anglers wanted a rod made in the USA using premium materials and technologies. And St. Croix obliged to their needs, in the years since then, the Legend Tournament Walleye Series has set new standards, establishing what a walleye rod should be and how it should work. Now St. Croix is releasing their newest generation of this series of walleye rods, the newest iteration of the standard that other walleye rods try for.
These iconic blue walleye rods have been made even lighter, stronger, and more comfortable to fish all day. Even after all that, offer even more technique-optimized models that enrich your experience of walleye fishing. The improved balance, performance, and capability in any technique or presentation make for a great experience on the water.
This was all due to three exhaustive years of research, development, and testing to create the most comprehensive, high-performance walleye-specific fishing series ever. St. Croix has dramatically reengineered and expanded the series for 2023, with the next generation of the Legend Tournament Walleye Series including 17 technique-specific models handcrafted in the USA.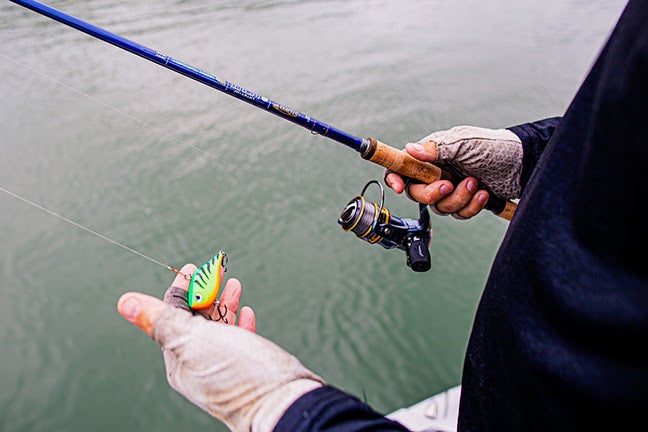 New St. Croix Legend Tournament Walleye Features

Next-generation technique-specific hybrid carbon fiber SCIV+ blanks
Fortified Resin System (FRS) technology
Advanced Reinforcing TechnologyTM (ARTTM)
Integrated Poly Curve® (IPC®) mandrel technology
Taper Enhancement Technology (TET) blank design
K-Style tangle-free guides with Alconite rings
Ergonomic full-grip super-grade cork handles with integrated nylon and stainless-steel reel seat
Precision-machined aluminum reel seat nut
Model specific hook keepers
15-year transferable warranty backed by St. Croix Superstar Service
Designed and handcrafted in Park Falls, U.S.A. for walleye anglers worldwide
Retail price $270 to $320

New St. Croix Legend Tournament Walleye Models

HEAVY METAL / LWTS58HF – 5'8", heavy power, fast action, spinning / Retail $270
VERTICAL JIG / LWTS63MLXF – 6'3", medium-light power, extra-fast action, spinning / Retail $280
MID VERTICAL JIG / LWTS63MXF – 6'3", medium power, extra-fast action, spinning / Retail $280
JIG-N-RIG / LWTS66MLF – 6'6", medium-light power, fast action, spinning / Retail $280
BIG WATER / LWTS66MF – 6'6", medium power, fast action, spinning / Retail $280
SNAP JIG / LWTS68MXF – 6'8", medium power, extra-fast action, spinning / Retail $280
FINESSE / LWTS70LXF – 7'0", light power, extra-fast action, spinning / Retail $280
RIGGIN' / LWTS70MLF – 7'0", medium-light power, fast action, spinning / Retail $280
CRANKIN' / LWTS70MM – 7'0", medium power, moderate action, spinning / Retail $280
BOUNCE-N-TROLL / LWTC70MHM – 7'0", medium-heavy power, moderate action, casting / Retail $280
JIG-N-RAP / LWTS71MMF – 7'1", medium power, moderate-fast action, spinning / Retail $285
RIP-N-RAP / LWTS71MF – 7'1", medium power, fast action, spinning / Retail $285
MID RIG / LWTS73MLXF – 7'3", medium-light power, extra-fast action, spinning / Retail $295
MID JIG / LWTS73MXF – 7'3", medium power, extra-fast action, spinning / Retail $295
SLIP-N-RIG / LWTS76MLXF – 7'6", medium-light power, extra-fast action, spinning / Retail $300
SLIP-N-RIG / LWTS76MLXF2 – 7'6", medium-light power, extra-fast action, spinning, two-piece / Retail $315
DRIFT-N-FLOAT / LWTS80MLF – 8'0", medium-light power, fast action, spinning / Retail $320