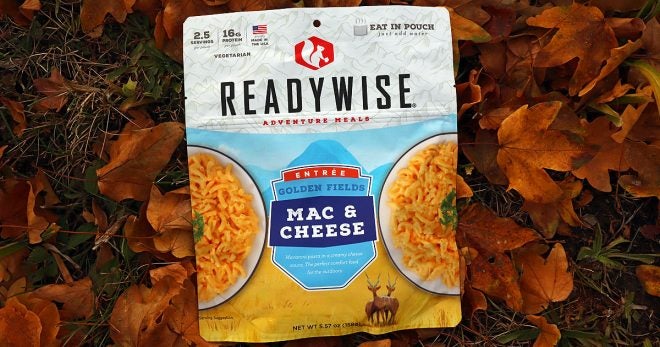 I ran across a deal on dehydrated meals that I'd never seen before. This one in particular was Readywise Adventure Meals Golden Fields Mac and Cheese. I was ready to expect Kraft Easy Mac style Mac & Cheese. If you've ever had cheap boxed macaroni, I'm sure you know what was expected.
---
Welcome to our recurring series of "The Path Less Traveled." In this series, we want to take you along for our exploits out in the wilderness while hiking, camping, exploring, and general adventuring. This will include our small daily victories, foibles, tips, tricks, and reviews of gear we authentically appreciate and frequently utilize. While a well-worn trail can often be the pathway to a leisurely day, the paths less traveled can often spur on some of the greatest memories, misadventures, and fun we could imagine. Join us in the Comments as we share our travels and hopefully, we can all come together for a greater appreciation of the outdoors.
---
Mmm… Chomp on this Food Coverage
Company Info
Readywise describes themselves as a manufacturer and marketer of freeze-dried and dehydrated foods for a variety of purposes. The company is based in Salt Lake City, Utah and was founded in 2008 by Morten Steen-Jørgensen. There are roughly 50 employees with the company who make freeze fried goods rated to last up to 25 years. Their dehydrated food lines online range from emergency preparedness kits, daily snacks, and "Adventure" meals.  These lines include foods such as:
Gluten Free
Organic
Meats
Fruits
Vegetables
Milk & Eggs
etc…
I purchased four of their meals at my local Wal-Mart on a promotional endcap. The four flavors included: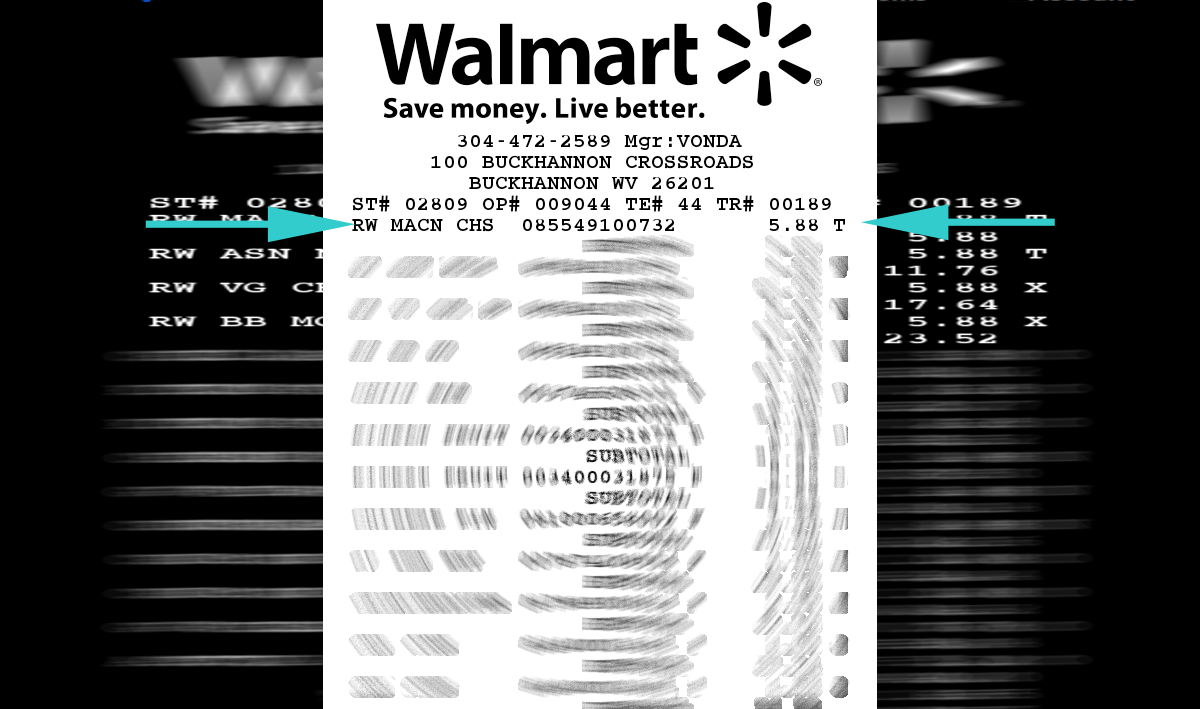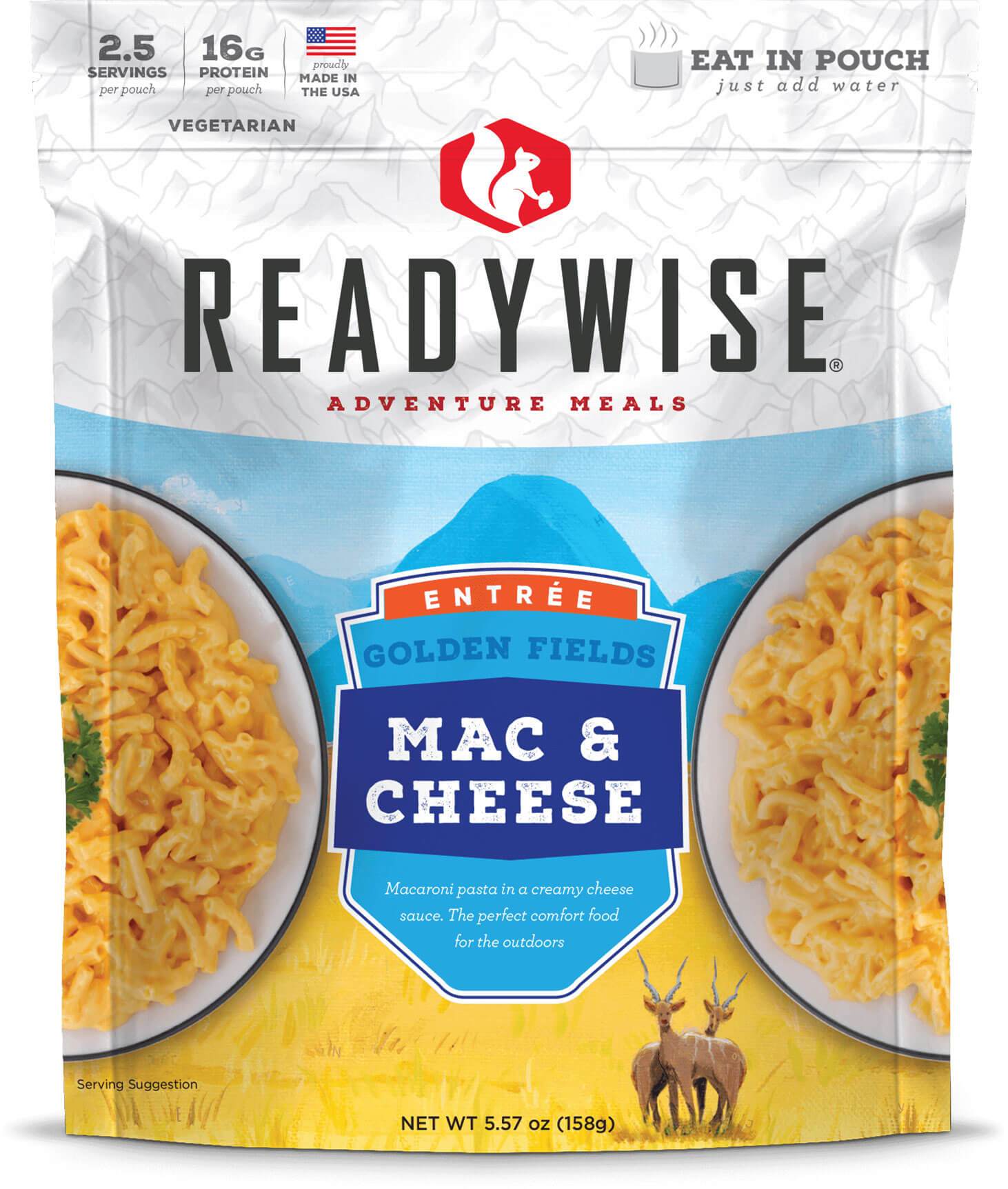 Mac & Cheese out on the trail is a very common sight, especially in smaller servings made from the powdered cheese types with quick cooking noodles. Readywise's meal falls into this category. There are 2.5 servings in the resealable package, and has 108 carbohydrates in the entire package. The sodium content (which everyone who reads this blog knows is one of my biggest concerns) for the entire package reaches 1500mg, or 65% of one's daily requirements.
One thing that surprises me about the ingredients listed in this Mac & Cheese meal is the addition of blue cheese and butter. I truly believe butter makes so many foods better. Blue cheese added to a mac & cheese meal is a way to increase this entree from "kids meal" food to something with a dash of distinction.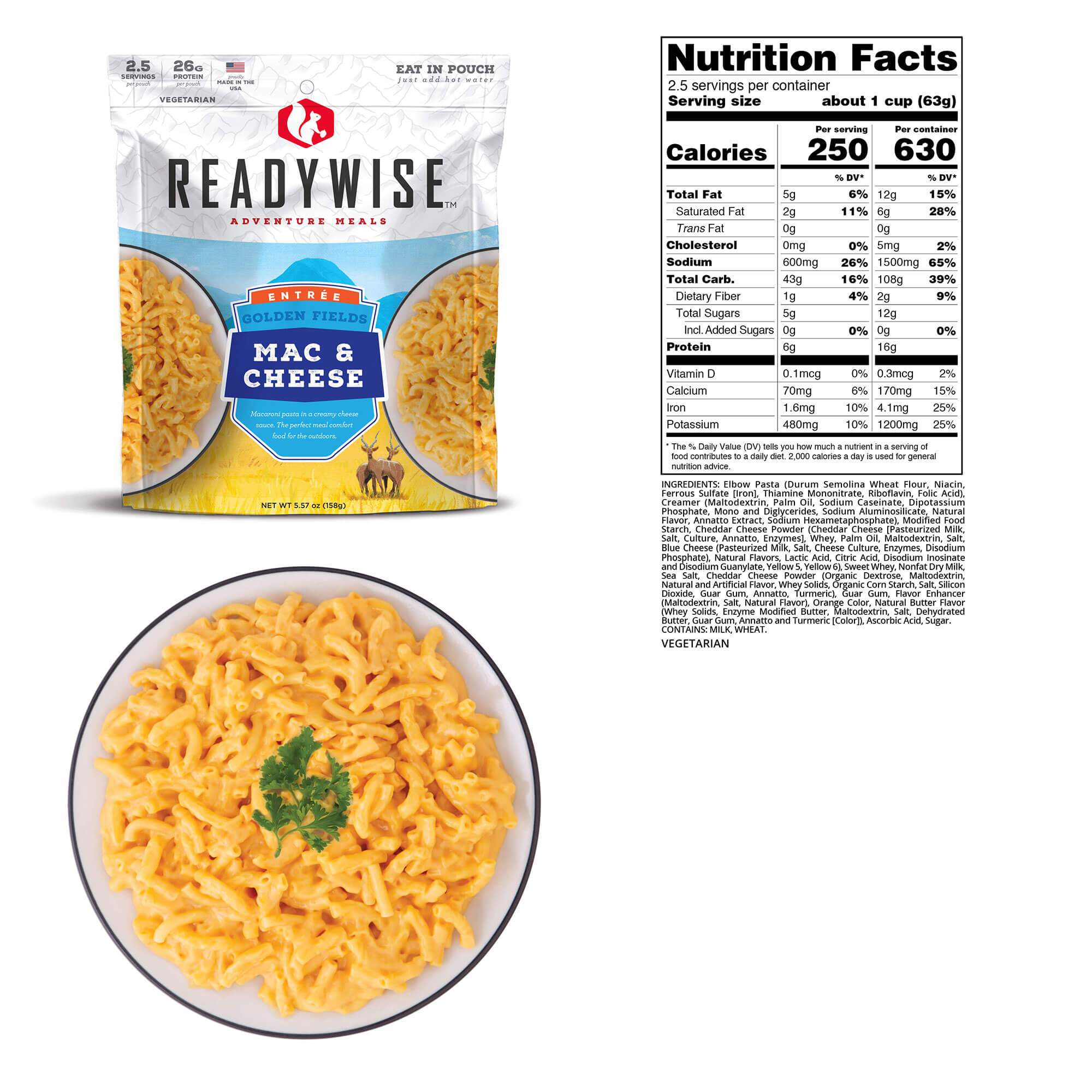 Observations
I purchased this meal on an impulse as it was a prepackaged camp food that I'd never seen before. I've never been a fan of instant mac & cheese. I probably haven't eaten boxed Kraft Mac & Cheese since the Sega Dreamcast was new and cool.
Knowing that prepackaged foods turn to goopy, soupy, sad products if you add the recommended amount of water to it, I made this meal with eleven ounces of water. The package recommends 16, but it clearly would have been soup if this was done. In addition to this, I only let it sit and "cook" for about nine minutes. Camp food with noodles becomes mushy if it sits around too long, mushy noodles are something I'd throw away no matter the price. With these adaptations to instructions, the consistency and texture was ideal, if not perfect.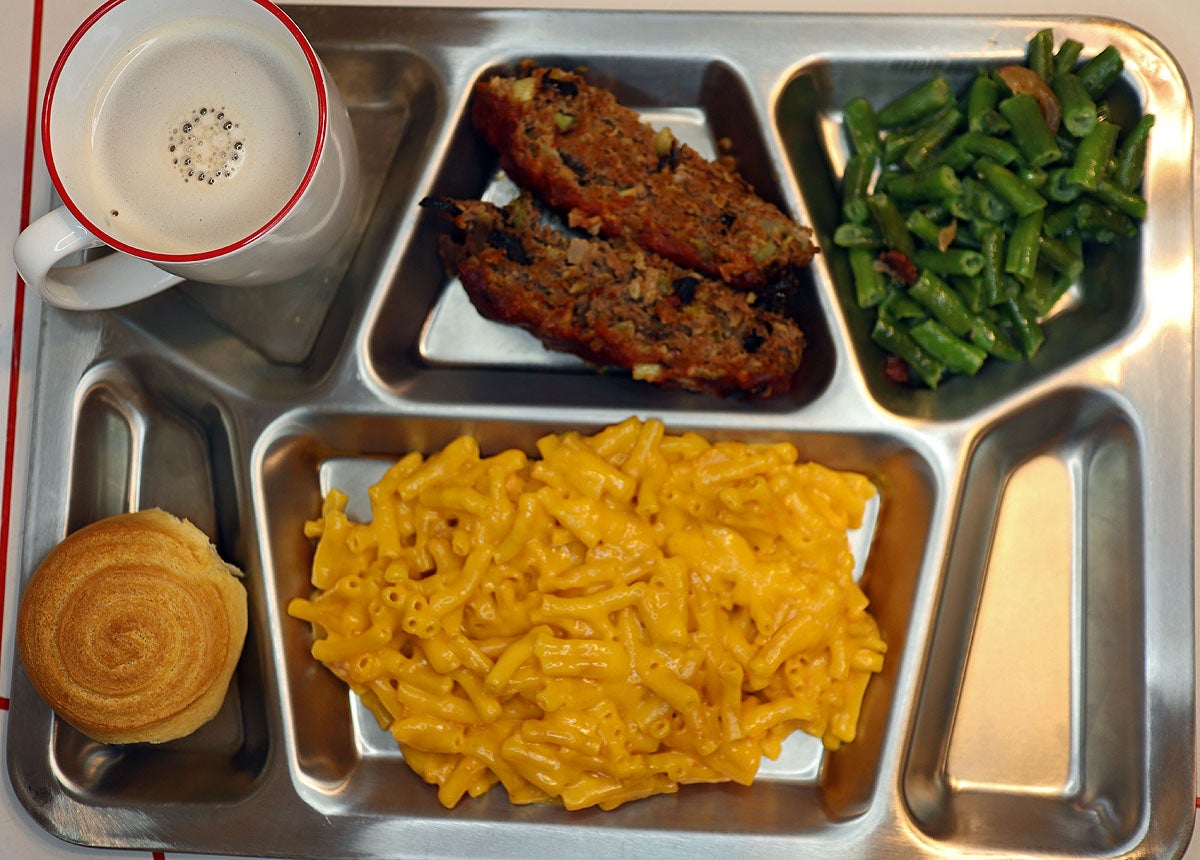 The noodles were just beyond al dente after my nine minute wait. Starving out on the trail, please be patient or you'll be eating crunchy-ass noodles. The cheese sauce was creamy, smooth and plentiful; coating all noodles entirely. Readywise doesn't skimp on their flavors or portions.
First bite, something immediately was off-putting. There was a… creaminess with a unnatural flavor. I can't describe it, I just don't have enough instant mac & cheese experience to provide an educated understanding of what ingredient was causing this strange taste. My firm belief is that it is one of the preservatives or the the processed butter.
The mouthfeel of the noodles was ideal, the cheese flavor was good. After swallowing, the slightly bitter sting that held onto the fat molecules came back and led to an undesirable taste and feel. Taking another bite repeated this experience.
If I had this meal out on the trail, I would have eaten it all as it wouldn't have been that large of a deal breaker, but trying this at home before eating it out on the trails… Only about five or six bites were taken before the rest was disposed of.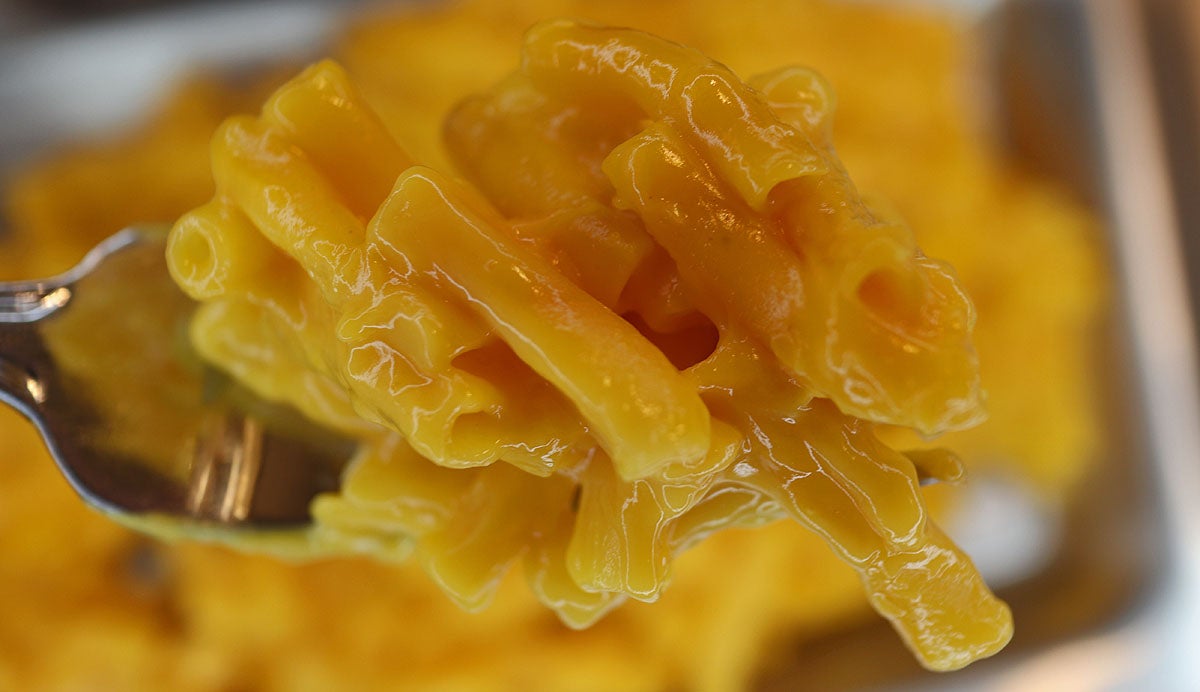 I don't know how much of my lack of pleasure with this meal is my own preference as compared to an objective understanding of it. Texture and consistency was good, flavor was just "okay." With the quality of flavor, texture and volume of food, my overall rating is:
?? out of ????
Comparison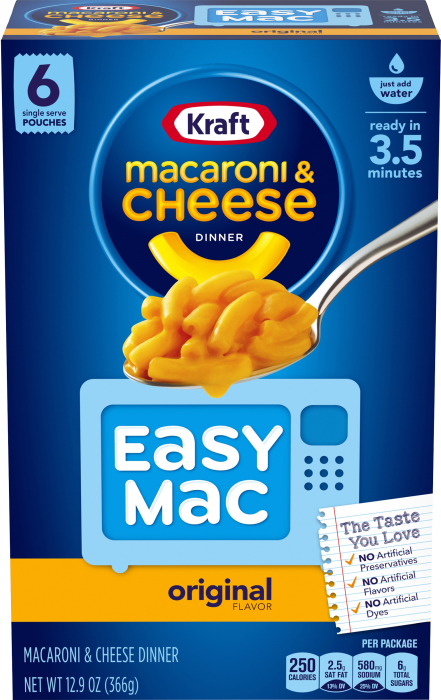 The OG. What makes this meal more successful than others is the indifference of the macaroni to time and duration of cooking. This has been a staple of Appalachian Trail hikers and campers in the know.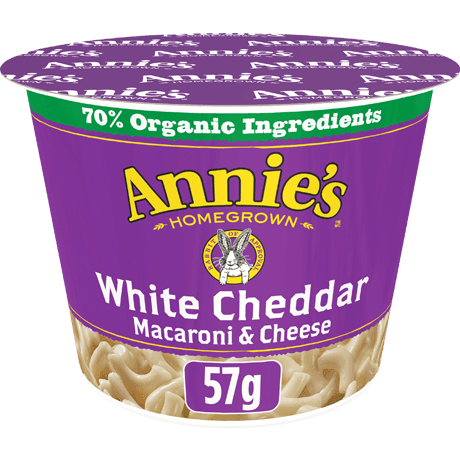 Annie's White Cheddar Mac & Cheese is like the hiking mac & cheese for those who listen to NPR on their commute to work. Not gonna lie though, can't think of a single thing they make that is unenjoyable.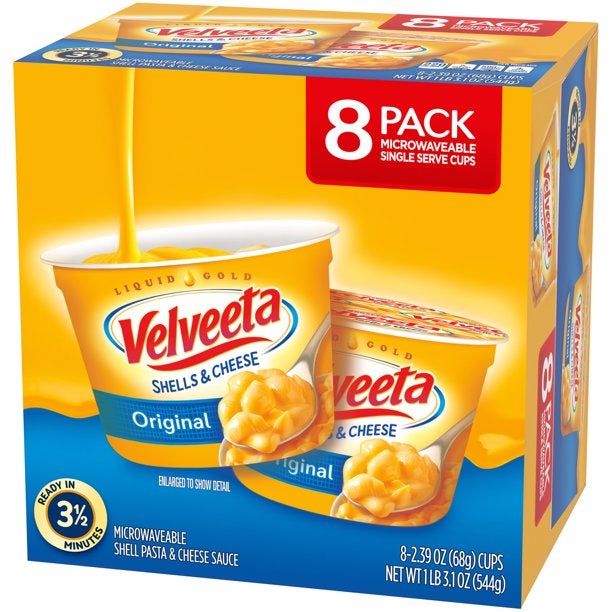 Want Mac & Cheese without the powdered cheese product? Try this! Not going to lie, if I'm lazy for a meal, I still buy one of the boxes with the silver packet of creamy cheese.
Readywise Mac and Cheese – Specifications
As per Readywise's site with an MSRP of $6.68:
Each pouch of our Golden Fields Mac & Cheese contains 2.5 servings and is resealable. These pouches are lightweight making them easily portable for any outdoor adventure. Just add water and you can eat directly from the pouch.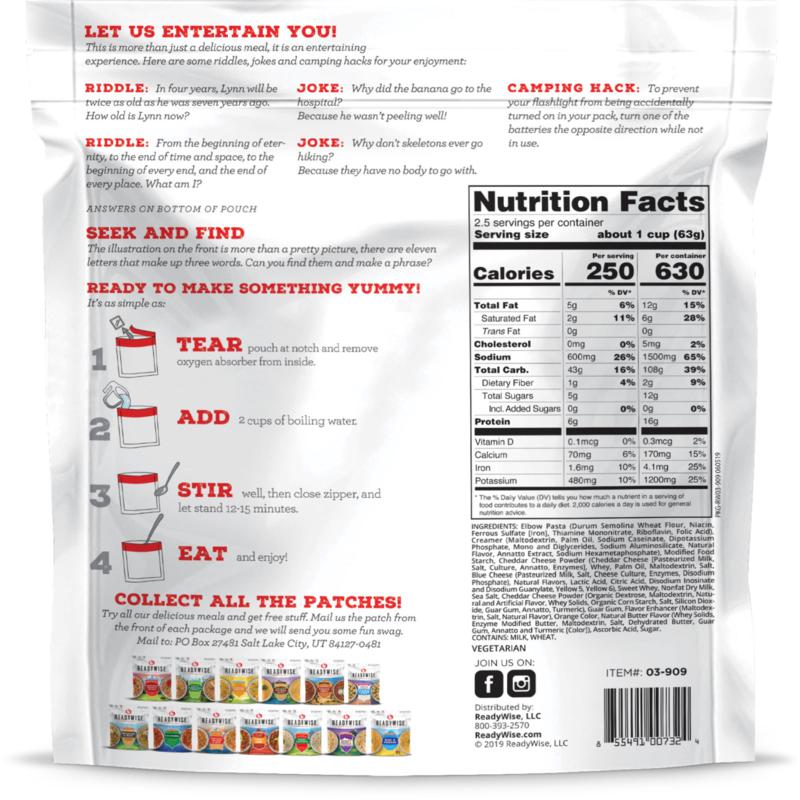 Source Link