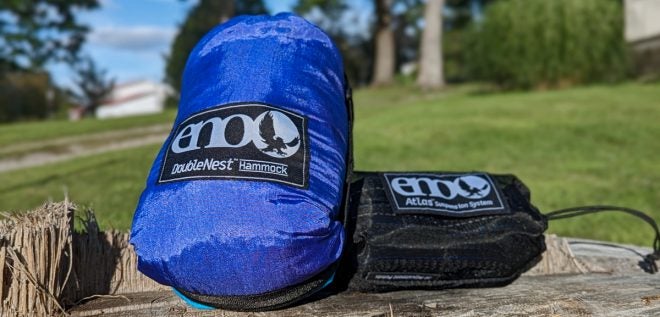 One of my close relatives called me recently about wanting to buy a hammock, asking what my recommendations were. If you've been reading this blog for a while, you know my opinions are on sleeping in a hammock. Despite this, I do find hammocks to be entertaining and worth buying for leisure activities, festivals or around the yard while drinking a beer. Luckily, I've remained in contact with ENO Hammocks and nabbed a Doublenest hammock and Atlas Straps.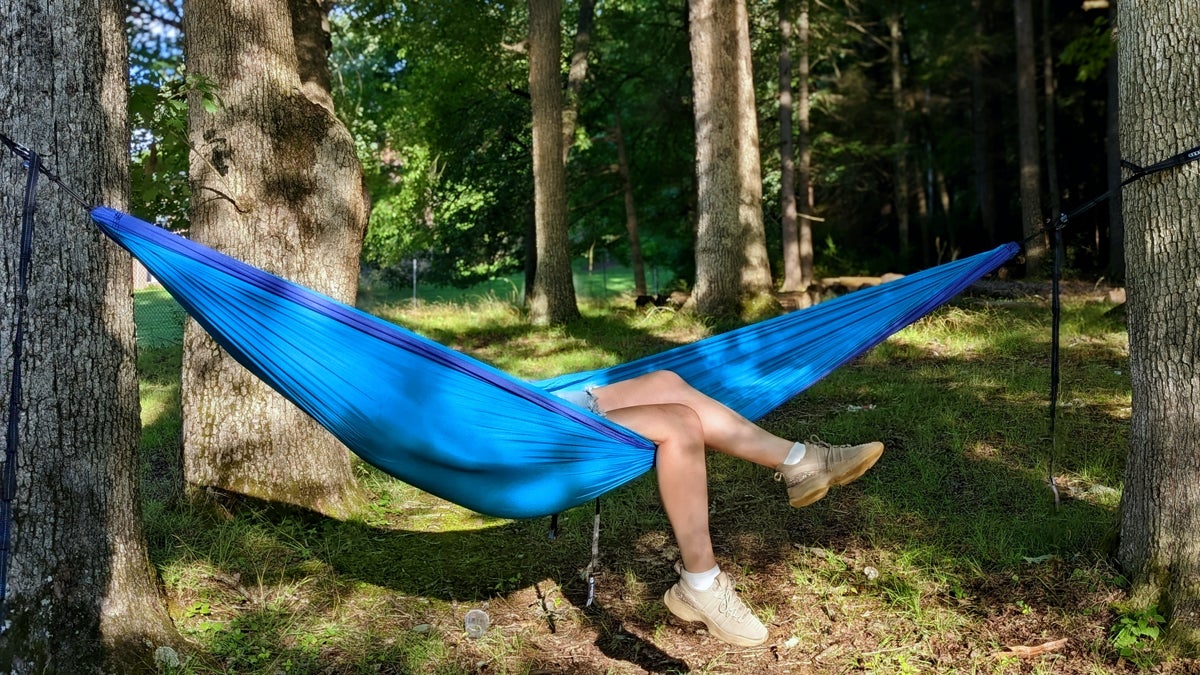 ---
Welcome to our recurring series of "The Path Less Traveled." In this series, we want to take you along for our exploits out in the wilderness while hiking, camping, exploring, and general adventuring. This will include our small daily victories, foibles, tips, tricks, and reviews of gear we authentically appreciate and frequently utilize. While a well-worn trail can often be the pathway to a leisurely day, the paths less traveled can often spur on some of the greatest memories, misadventures, and fun we could imagine. Join us in the Comments as we share our travels and hopefully, we can all come together for a greater appreciation of the outdoors.
---
More AllOutdoor posts about Hammock and Hammock Accessories:
Company Info – Eagles Nest Outfitters
Destiny of Eagles Nest Outfitters told me a story of how the company was started out of the back of a van and traveled to music events across the country to sell their gear at the turn of the century. ENO was the company that developed the first knot-less hammock suspension system and they remain dedicated in making hammocking/camping easier and more fun.
Today, their product line includes more things than just hammocks including chairs, tote bags, outdoor games, and blankets. ENO reports they're as dedicated to sustainability and environmental protections as they are to making gear people love.
Eagle's Nest Outfitters products come with a Two Year warranty from original date of purchase. They'll also do repairs on some types of damage.
Product Info and Observations – Eagles Nest Outfitters DoubleNest Hammock
Atlas Hammock Straps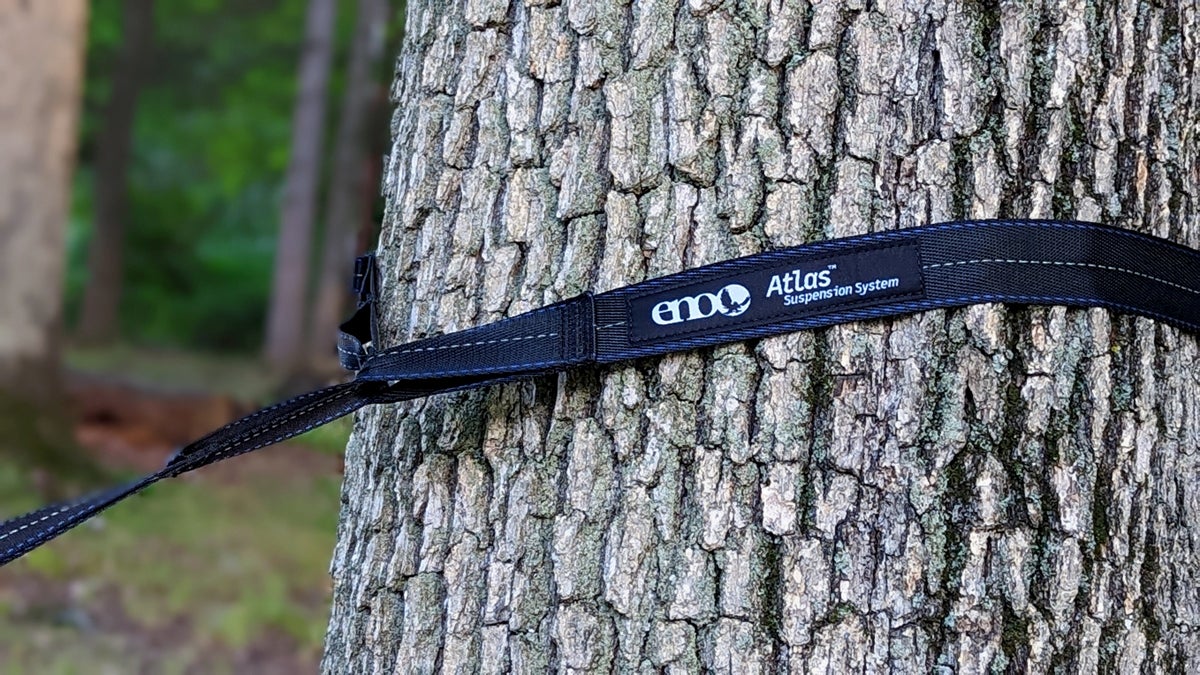 What can I say about tree straps? My niece had the hammock up in less than two minutes for her very first time setting up a hammock!
The straps appeared durable, and the daisy chain loops make rigging the carabiners up much easier than straps with adjustable buckles. There are dozens of hammock straps, but I know ENO has bundles where you get a discount when buying hammock and straps together.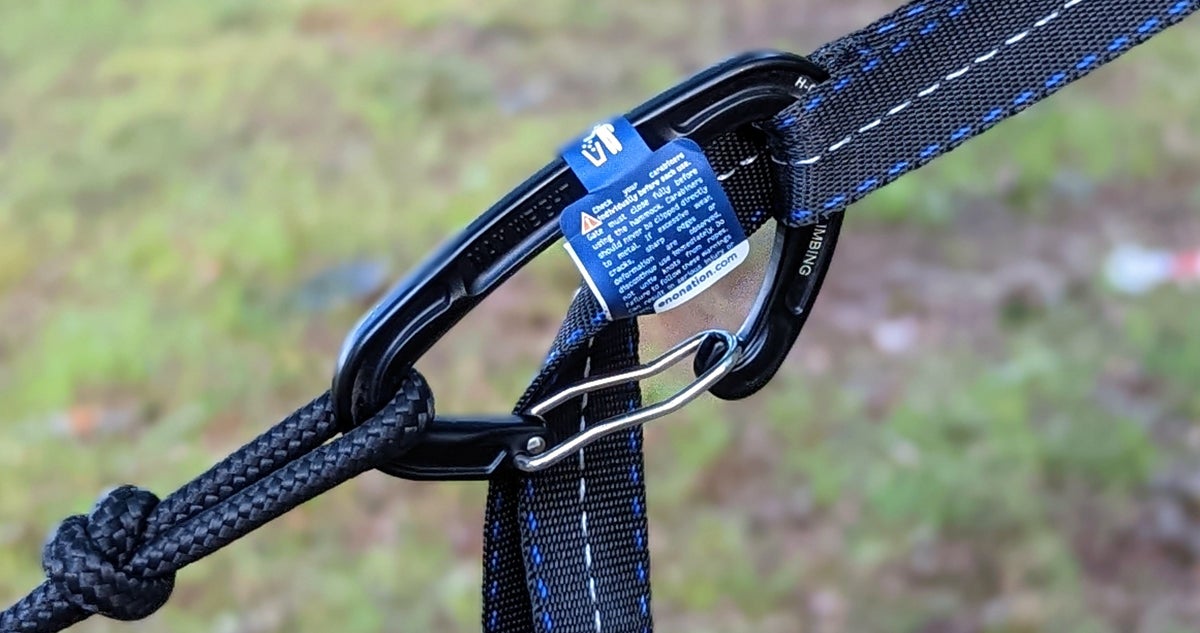 If for some reason I decided to buy a hammock, I would opt for the Helios Ultralight Hammock Straps that are roughly $5 more and weigh half of the Atlas straps.
DoubleNest Hammock
The Doublenest Hammock is 9.5′ long before setting up, this leaves it comfortable enough for even the tallest individuals. While the claims of it being a double hammock are true, you would have to be seriously comfortable with the person you're with to remain in it for more than a half hour. Well, Maybe if you were sitting in it sideways, this could easily be a suitable two-person hammock.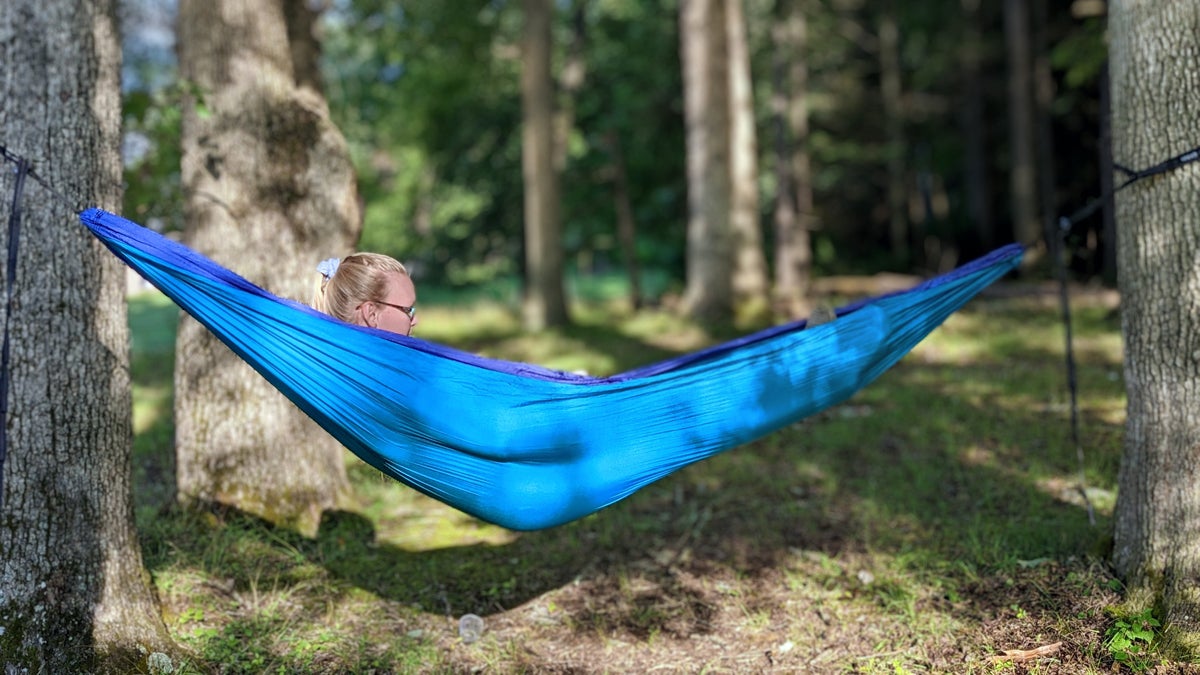 The material is softer than usual type of 70 denier nylon. I can attest it is initially mildly spill resistant and will allow water to be shaken off of it for the first couple outings, after that, it can become a moisture trap which may require time to dry if left out overnight.
There are many accessories for the Doublenest – including bug nets, rainfly tarps, and insulating under and top quilts.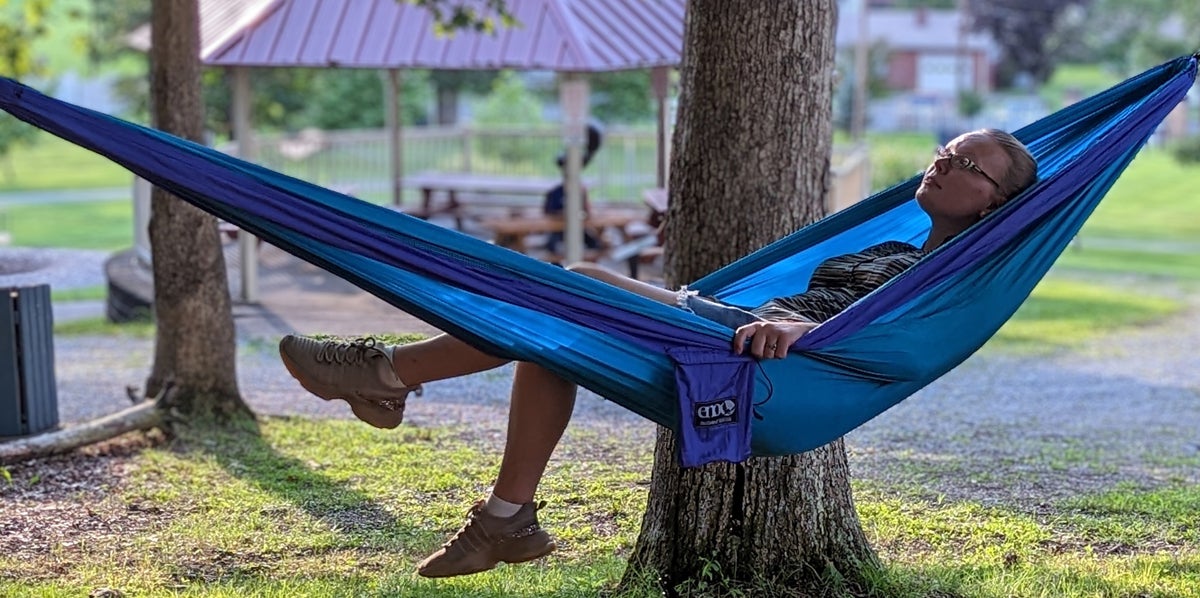 ENO typically has a dozen or more colors at one time and often does collaborations with famous organizations and bands. For example, they put out a line of Grateful Dead hammocks recently; which I feel lines up well with a hammock using demographic, no?
My niece indicated that she loves how portable the hammock and straps are, just keeping it inside or attached to her backpack while on campus. It has only been a few weeks since receiving the hammock, but she is starting to have questions about things like hiking poles, or jackets that could keep her warm and dry when outside during adventures this fall.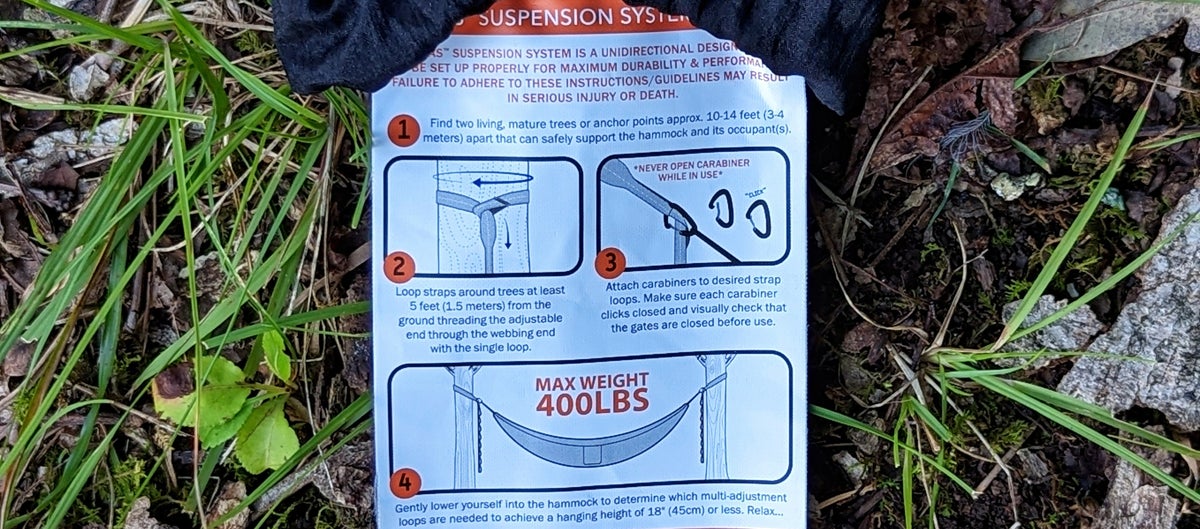 Could a hammock be the gateway drug for getting more people interested in the outdoors?! We'll have to wait and see!
Specifications
As per ENO's site:
Atlas Hammock Straps
Whenever you like to hang out, the patented ENO Atlas Hammock Straps are expertly constructed to safely and perfectly suspend your hammock in a tree-friendly flash.
No-Knots-Needed setup will have you relaxing securely in seconds.
Patented construction includes 30 combined adjustment points to fine-tune your perfect hang.
Innovative tapered design protects trees, saves weight, and packs down to adventure-ready size.
Reflective accent stitching improves nighttime visibility.
Compatible with all ENO hammocks. (toggle system hammocks require carabiners – sold separately)
Capacity: 400lbs / 181kg
Material: 1000D Polyfilament Webbing
Dimensions: 9' x 1.5/.75", 2.8m x 4/2cm
Packed Dimensions: 3.5″ x 5.5″ / 8.9cm x 12.7cm
Weight: 9oz / 255g
MSRP: $29.95
DoubleNest Hammock
Spacious enough for two, the award-winning ENO Doublenest hammock is expertly constructed with durable yet soft Freewave® fabric and reigns supreme as your all-access pass to relaxation.
Supremely comfortable, breathable, and fast-drying Freewave® fabric.
Spacious 9.5′ hammock body.
Integrated stuff sack with internal stash pocket compresses to travel-ready size.
Time-tested durability with triple-stitched seam construction.
Specially designed carabiners create a safer, easier hang.
Compatible with all ENO hammock straps, stands, and accessories.
Capacity: 400lbs / 181kgs
Material: FreeWave® 70D Nylon Taffeta, Anodized 7075 Aluminum
Dimensions: 9'6″ x 6'4″ / 2.9m x 1.92m
Packed Dimensions: 4″ x 5.5″ / 10.2cm x 14cm
Weight: 19oz / 538g
MSRP: $74.95
---
Come join AllOutdoor's Discord server and chat about Archery, Firearms, Fishing, etc. with others! Sneak peaks, early notifications, and perks await.
We have a Tiktok account, too!