Megan Plete Postol   04.19.22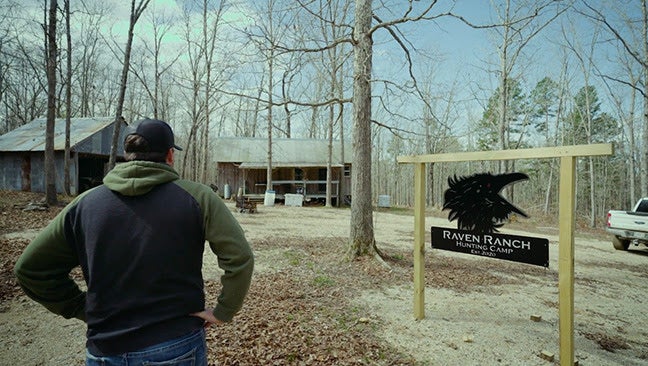 Producer Randy Birdsong and his crew of hardy deer hunters are back at it with The Raven Project. The team of down-home dudes and enthusiastic hunters is responsible for The Raven Project which is now entering its 2nd season. The Raven Project centers around acreage in rural Missouri and follows the process of turning the raw land into a successful whitetail deer hunting property. Birdsong, known in the hunting industry for his award-winning work on popular network TV shows like Whitetail Freaks and HeadHunters TV, takes care to show the ups and downs of the process, not to glaze over the hard stuff.
"The biggest thing is I see in The Raven Project is reality meeting education," Birdsong says. "We took raw hunting land in Missouri with the idea that we'd take viewers along for everything we're trying to do there to make it an incredible hunting property and camp. So there's really a lot of ample, nuts-and-bolts stuff surrounding whitetail and overall wildlife management that's interesting to anyone who hunts deer or manages a property… food plots, game cameras, mowing, clearing, all that. But it's not that mundane, because you've got all these characters there – myself, my brother Cody, my buddies Dustin Reece, Nate Hosie and others – trying to get their $.02 on everything, trying to kill deer, prank each other, and generally just doing what people do at deer camp."
The Raven Project is presented by ScentLok, and can be viewed on Waypoint TV, Realtree365, and YouTube. Birdsong describes The Raven Project as a story of a true old school deer camp meeting new world management practices to take a raw piece of hunting land and develop it into a whitetail mecca. This is not the story of the wealthy, this is the story of the modern-day average deer hunter.
The Raven Project producers strike a balance between storytelling and valuable information. The show is loaded with helpful tips while also delivering a relatable narrative. Birdsong is grateful for industry partners, such as ScentLok, that help provide the resources that make producing The Raven Project possible.
"ScentLok is a company that makes great products we used long before our TV days," he says. "I've enjoyed a 15-year partnership with the folks there and I've watched as they consistently develop new technologies and push the boundaries of what can be done to help deer hunters have even better experiences. They're great people making great products and we couldn't be prouder or happier to have their ongoing support."