Losing a loved one is always traumatic, but it also presents an important turning point. Rather than being overcome by grief, we must find the strength to live on in a way that would make that person proud. Walt Wagner made this difficult choice after his cousin — a former Army Ranger, federal law enforcement officer, and tactical medic — passed away unexpectedly at a young age. The two men had bonded over their love for overland vehicles, and Walt's cousin purchased his 2009 Toyota Tacoma with the intention of turning it into a mutual project. After he passed, Walt inherited the truck and decided to use it to build an overland Tacoma and keep that legacy alive.
Editor's Note: This article originally appeared in Issue 6 of our sister publication Carnivore magazine.
TAV's Overland Tacoma Project
Walt's cousin had earned the nickname "Ranger Goat" after showing up to his new long-range surveillance detachment with a beard, so the truck was christened with the same name. Walt writes, "His quiet rebelliousness was an inspiration for our build." In addition to its sentimental value, the Tacoma would serve as a proving ground for Walt's new overland vehicle building company, Tactical Application Vehicles (TAV). "With this truck, we were able to validate everything we want to implement in the expedition vehicles we build for our clients."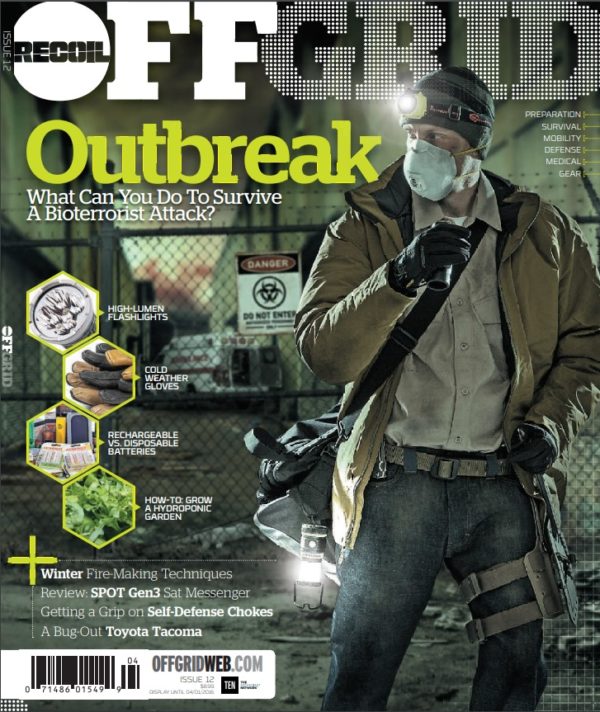 Subscribe Today and Save!
Above: Above: Opening the bed topper reveals a spare wheel and tire, full-size jack, dual air compressors in an aluminum box, and plenty of room for other equipment.
Long-Travel Suspension
The heart of this overland Tacoma build is its long-travel suspension, which was painstakingly tested, modified, and re-tested until it produced the desired results. Rather than settling for off-the-shelf spring and shock combinations, TAV worked with the manufacturers to spec out custom valving and spring rates for a buttery-smooth ride. We're told the company also has plans to set up an in-house shock dyno, something that you typically won't find in the overland vehicle segment — that level of suspension R&D is more common among shops that work on racecars and trophy trucks.
Above: The Goat's custom long-travel suspension soaks up bumps and makes it easy to maintain high speed over uneven terrain.
A Total Chaos Fabrication long-travel kit serves as the foundation, with 3.5-inch extended, boxed, and gusseted lower control arms. These were fitted with 2.5-inch King coilovers and secondary King triple-bypass shocks, each with custom TAV-spec valving and adjustment knobs for fine-tuning. In the rear, TAV removed the original axle and replaced it with a much stronger Ford 9-inch unit, complete with a Currie fabricated housing and Nitro Gear billet differential. The axle rides on an Alcan spring pack and King 12-inch-travel remote-reservoir shocks, both customized to TAV's specifications. All four corners were topped off with SOS Performance big brakes, 17-inch Method Race Wheels, and 37-inch Yokohama mud-terrain tires.
Above: Two sets of remote-reservoir King shocks are visible between the 37-inch mud tires and bulged fiberglass fenders.
This suspension setup allows the Goat to cruise smoothly over whoops and ruts, but the stock 4.0L V-6 seemed lacking in comparison. TAV addressed this by installing a Magnuson supercharger, which added roughly 70 horsepower and an equal amount of torque. Since this would be an overland vehicle, it would need to remain reliable on long treks, so a dual-battery system, upgraded alternator, transmission cooler, and high-capacity fuel tank were also added.
Above: Baja Designs LED lights are attached to the bumpers, roof rack, and topper to illuminate dark trails and campsites. Each set of lights can be toggled by an sPOD switch inside the cab.
Interior & Exterior Mods
TAV reworked the overland Tacoma's exterior with bulged fenders and bedsides from McNeil Racing, rock sliders, and fabricated bumpers. The front bumper is a one-off custom piece, and houses four Baja Designs LED lights as well as a ComeUp USA winch. A matte gray vinyl wrap gives the body a subdued appearance. Maxtrax recovery devices, a storage case, and area lighting are attached to the Front Runner roof rack.
An AT Overland Equipment Habitat topper provides secure access points on all three sides of the bed, and its roof panel swings open in a 180- degree arc to reveal a spacious Nemo rooftop tent. This setup conveniently doubles as an awning over the tailgate. Extra storage capacity was added by replacing two-thirds of the rear bench seat with a sliding drawer from Goose Gear and attaching Grey Man Tactical organizer panels to the seatbacks. Auxiliary electronics are controlled by an sPOD switch panel attached to the overhead console.
Above: Two-thirds of the rear bench seat were removed and replaced with a Goose Gear storage compartment. Grey Man Tactical seatback panels contain a fire extinguisher, binoculars, and other gear.
Walt says he uses the overland Tacoma as a marketing tool for his company at events and trade shows, but it's no squeaky-clean show vehicle. He drives it daily and frequently takes it out on long journeys, including a 1,500-mile, 10-day "Trail of Missions" trip down the Baja Peninsula in Mexico. Over the years, parts have broken, and catastrophic failures have occurred, but these incidents just fueled TAV's improvements to the truck. "The Goat always got us home and is stronger than ever." No matter what happens, it'll be a part of his life and his company forever — "This truck is basically a family member."
Build Specifications
2009 Toyota Tacoma
Engine
4.0L V-6 with Magnuson supercharger and LRA 33-gallon fuel tank
Transmission
5-speed automatic with transmission cooler
Driveline
2WD / 4WD with 2-speed transfer case; TAV-spec rear axle with Nitro Gear billet Ford 9-inch differential and Currie F9 housing
Brakes
SOS Performance big brake kit
Front Suspension
Total Chaos Fabrication 3.5-inch long-travel kit, secondary shock hoops, and cam tab gussets; custom 2.5-inch King coilovers with compression adjuster, and custom triple-bypass shocks with quick-adjust knobs; RCV Performance CV axle shafts
Rear Suspension
Total Chaos Fabrication shock tower; custom King 12-inch travel remote-reservoir shocks and air bump stops; Archive Garage hammer hangers, shackles, and cross-tube; custom Alcan leaf spring pack
Above: One glance at the engine bay tells you this truck isn't a pavement princess. The supercharged V-6 is coated in a healthy layer of dust from the trail.
Wheels & Tires
17×8.5 Method Race Wheels 704 Trail Series wheels, 37×12.5R17 Yokohama Geolandar M/T G003
Bed Topper & Roof Rack
AT Overland Equipment Habitat topper/tent with Revive Wraps MultiCam Black vinyl wrap, Front Runner roof rack
Body Modifications
McNeil Racing fenders and bedsides, TAV custom front bumper, CBI Offroad custom rear bumper, Revive Wraps matte gunmetal gray vinyl wrap
Lighting & Electrical
Baja Designs LED lights; Spyder Auto headlights; ComeUp USA Seal Gen2 wireless winch; Garmin Overlander navigation; sPOD 4×4 switch panel; TAV custom dual battery system; DC Power alternator; dual air compressors
Built by:
Tactical Application Vehicles, LLC
Albuquerque, NM
www.tavllc.com
---
Prepare Now:
Disclosure: These links are affiliate links. Caribou Media Group earns a commission from qualifying purchases. Thank you!
---
STAY SAFE: Download a Free copy of the OFFGRID Outbreak Issue
In issue 12, Offgrid Magazine took a hard look at what you should be aware of in the event of a viral outbreak. We're now offering a free digital copy of the OffGrid Outbreak issue when you subscribe to the OffGrid email newsletter. Sign up and get your free digital copy Click to Download!
---
Source Link