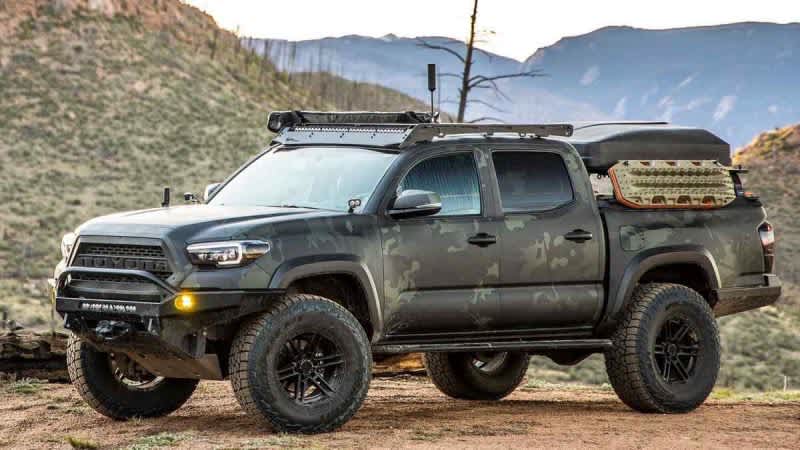 +
–
Table of Contents

2. Portable Air Compressor
SALE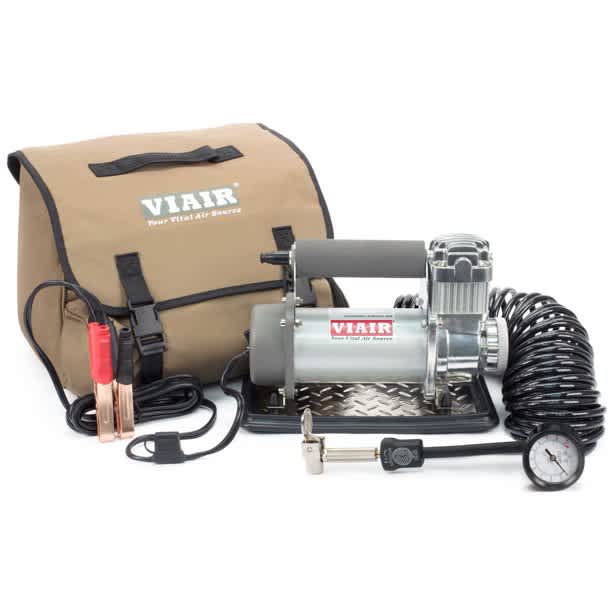 After you've aired down your tires, get out of the hole you dug yourself into and made it back onto the open and paved roads, you'll want to air your tires back up. Having an onboard and integrated air compressor is great but is a heavy and often more expensive modification to your truck that isn't always useful if you also use your truck as a daily driver. That is why we'd recommend the VIAIR 400P portable off-road air compressor. This 12V unit produces a maximum of 150 PSI and comes with a 25ft of air hose. The 33% duty cycle means you can run this compressor for 15 minutes before it needs to take a 30-minute break.
Pros/Runs off of 12 volt power making it completel yportable and has a long duty cycle
Cons/Almost as epensive as some non-portable air compressors
Bottom Line/Essential if you plan on getting back on paved roads at any point in time.
3. Good All Terrain (A/T) Tires
SALE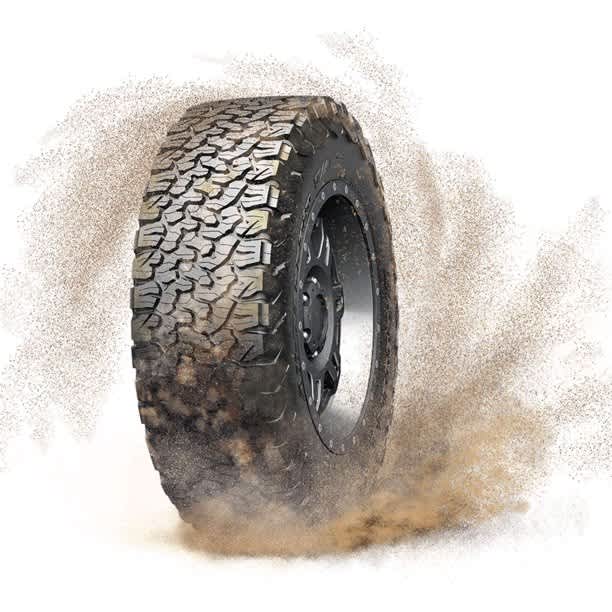 Since traction is king, we'll need to kit you out with some good all-terrain tires. While M/T tires off you a lot more traction in sand, mud, and another loose or mushy substrate, they tend not to perform so well on paved roads. A/T tires can give you a good all-around performance and will keep you on the move whether you're on the streets or in the brush. BF Goodrich All-Terrain K02 tires come highly recommended by experts for their durability, wide variety of comparability options, and of course their great traction characteristics when properly inflated.
Pros/Tough and durable treds with good performance across all conditions and terrain types
Cons/Expensive but you probalby already knew that
Bottom Line/Built to last and tough as nails (or tougher)
4. Recovery Boards
SALE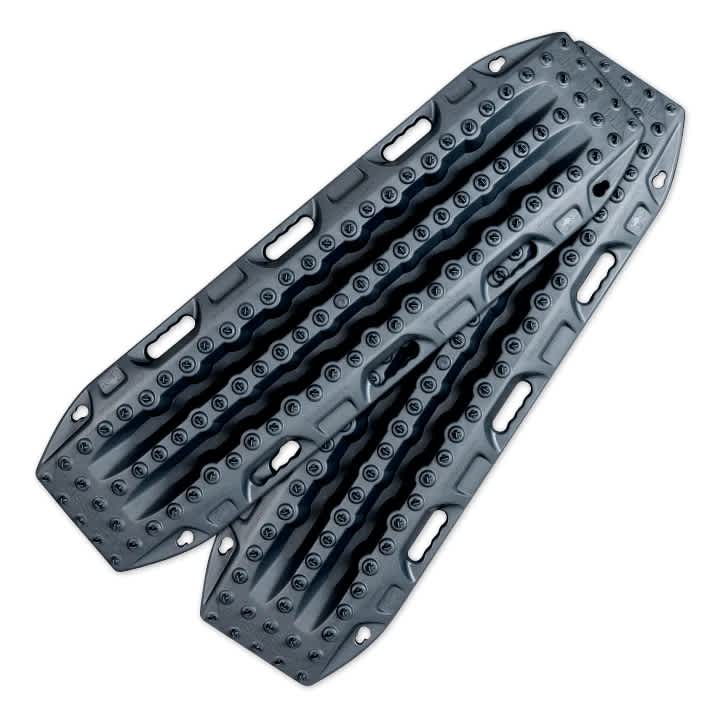 If you're planning a trip where you'll be venturing off paved roads and might encounter sand or mud, you should consider carrying rescue tracks. For vehicles stuck on soft surfaces, these portable composite ladders provide enough stability and traction underneath tires for simple, safe vehicle recovery. In short recovery, boards can get you through just about any terrain situation even if you don't have A/T or M/T tires or even a winch. They'll help you power through snow, rocks, ruts, and even mud. At OutdoorHub.com we recommend Maxtrax recovery boards for their longstanding reputation of solid performance as well as their wide variety of color options (if you care about that).
Pros/Often considered to be the gold standard for high-quality recovery boards
Cons/Not made in the USA
Bottom Line/Any well rounded recovery kit will have a good set of recovery boards in it
5. 2-Way Satellite Communicator (Or other off-grid communications)
SALE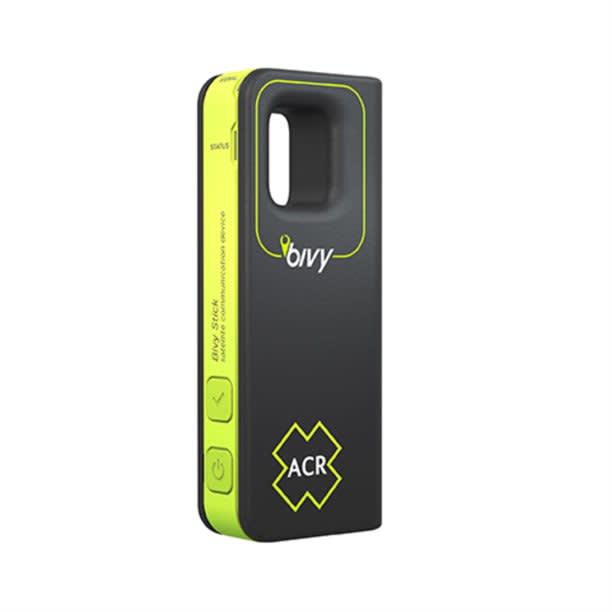 If all of the above gear fails you or you have a catastrophic breakage or failure, you'll want to call in some help. To do this you can either go with a long-range radio or you can use a two-way satellite communicator. Although older models used to only send out an SOS signal, these new models can integrate with your phone or another mobile device to give you full messaging capabilities. With this tool, you can call in friends or people with the proper equipment to help you get out of a sticky situation that could wind up being deadly. For this purpose, we recommend the affordable but reliable ACR Bivy Stick which has 100% full global coverage so you'll never be left stranded for long.
Pros/100% Global Coverage with flexible coverage plans and no activation fees
Cons/None worth mentioning
Bottom Line/A great addition to any off-roading or overlander setup
Why didn't you mention a Hi Lift or other similar jack?
Hi, Lifts are great if you've already gone beyond the basics of recovery. However, Hi Lifts and other jacks similar to it are very niche tools that even require specific vehicles or attachments to make them truly useful when Overlanding. On that note, I personally feel that these types of lifts also pose a significant risk to uninitiated users who haven't received any sort of training while using them and the improper use of these tools can lead to some pretty serious injuries. We'll get into Hi Lifts and other types of jacks and advanced recovery methods in a future article. ETS Consulting has a great training course in offroad/vehicle training that goes over these jacks and other equipment.
What exactly makes a vehicle an Overlander?
Overland vehicles are typically built out to accommodate living from the vehicle, a set-up that usually is not compatible with extreme off-roading, four-wheeling, and rock-crawling due to balance and weight loads. Overlanders are basically built to let you travel almost anywhere independently of any sort of external support services so you're usually bringing all of your food, water, sleeping gear with you to some pretty inhospitable places. However, Overlanding doesn't just apply to trucks and SUVs – there are plenty of cars out there that work great as overlanders, they just don't see the same types of terrain that other vehicles do.
Do I need to have a 4×4 vehicle for Overlanding?
4×4 capability in your car or truck is a great feature to have but you'll likely get far more mileage out of the items we listed above rather than simply turning your truck into 4H or 4L to get yourself out. Most Overlanding in the USA lower 48 and Europe will involve lots of driving on well-packed dirt or gravel roads. This type of offroad is perfectly fine for a 2wd vehicle. However, if you're expecting to encounter deep sand, mud or ice, 4×4 becomes much more important.
We are committed to finding, researching, and recommending the best products. We earn commissions from purchases you make using the retail links in our product reviews. Learn more about how this works.