When most people think of Hawai'i, they think of paradise. With its lush green islands, dramatic waterfalls, and gorgeous beaches, it's easy to see why. But what many people don't know is that Hawai'i is also home to some of the most active volcanoes in the world! So if you're looking for an adventure, then a trip to Hawai'i Volcanoes National Park is a must.
This incredible park is full of opportunities for exploration and excitement, and in this post, we'll tell you how to make the most of it. So pack your bags and get ready for the adventure of a lifetime!
Start planning your Hawai'i adventure with this detailed guide to Hawai'i Volcanoes National Park.
Where is Hawai'i Volcanoes National Park?
Hawai'i Volcanoes National Park is located on the southeast side of the Island of Hawai'i, which is commonly known as the Big Island. The Park is spread out over 323,000 acres with almost half the park designated as Wilderness Area.
There is one Visitor's Center at the entrance of the park in the town of Volcano.
Getting to Hawai'i Volcanoes National Park
The island of Hawai'i has two airports located in Kona and Hilo. The Hawai'i Volcanoes National Park summit area, which is the most widely visited section of the park, is a 45-minute drive from Hilo and 2-2.5 hour drive from Kona. 
Most visitors fly into the Kona airport, which means it can be a little busier than Hilo. If you can get reasonable flights, I encourage you to fly into one airport and fly out of the other so that you can experience as much of the island as possible. Be sure to check on one-way rental car prices first. If you're looking for things to do in Kona during your trip, check out this guide.
Either way, Hawai'i Volcanoes National Park is accessible from either side of the island so don't fret too much about which airport to fly into. You'll need a rental car to explore the park as there is no public transportation within the park and other attractions on the rest of the Big Island are pretty spread out. 
If you want to rent a campervan or car that you can sleep in, check out Outdoorsy.
Hawai'i Volcanoes National Park Makp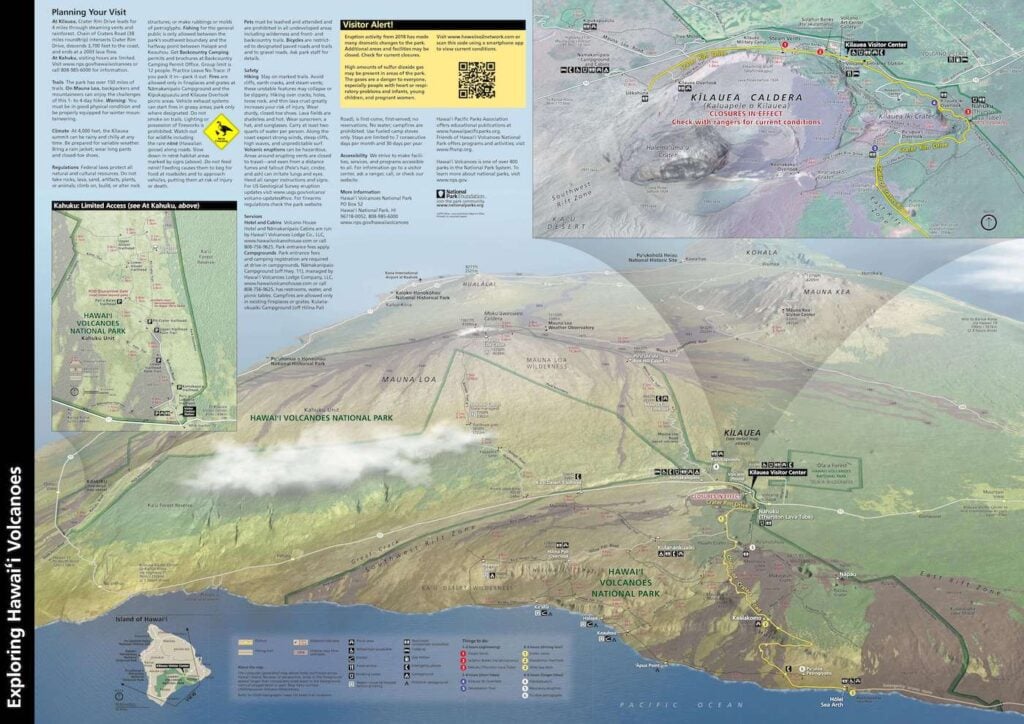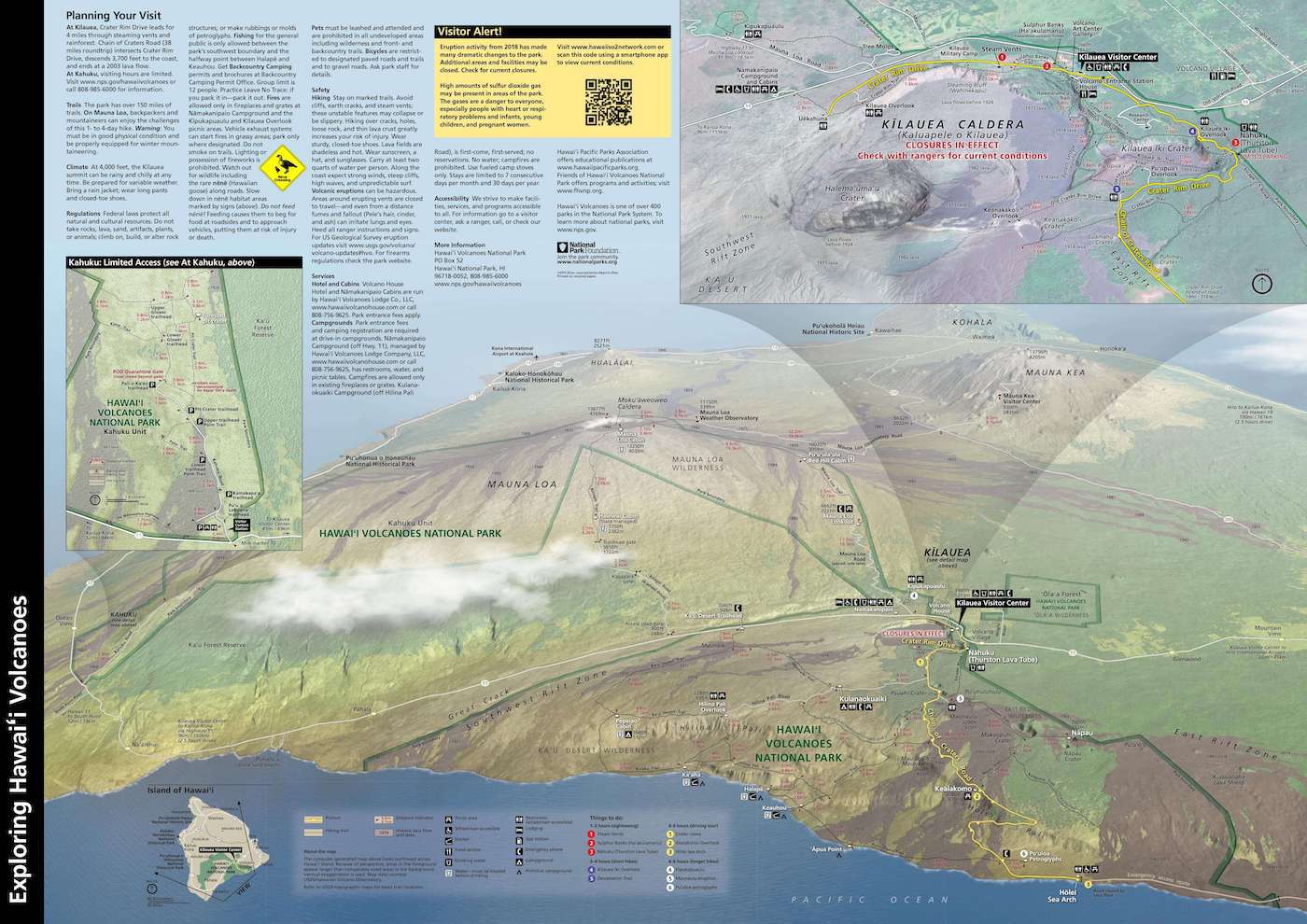 ---
How Much Time To Spend At Hawai'i Volcanoes National Park
If you want to visit lava up close and personal, then you should allow at least TWO full days for visiting Hawai'i Volcanoes National Park. If you don't plan to view lava up close, you can fit in the highlights of the Hawai'i Volcanoes National Park in one day, but you could also easily spend 3+ days in the park. Let's just say I wish we would have had more time to explore!
Here are a few tips to help you plan your visit to the park:
It is $30 per private vehicle to enter the park. Get a National Park Pass before your trip if you plan to visit more than 3 parks in one year.
The Kilauea Visitor's Center is open from 9am-5pm daily and will be on your right shortly after entering the park. I strongly recommend you stop here on your way in. They have excellent informational boards that list attractions, ranger talks, current conditions, and suggested itineraries for spending an hour, a full day, or multiple days in the park. You can also talk to rangers regarding any last-minute questions you have.
At most National Parks, guests work to beat the crowds by getting up early. This is true at Hawai'i Volcanoes National Park, but you also don't want to miss evenings in the park. The lava viewing is best at night and stargazing can be spectacular in this area as well. Make sure you have plenty of food packed for a full day of adventuring in the park.
There is a second area of the park, the Kahuku Unit, which is only open Thursday through Sunday from 8am-4pm. This Hawai'i Volcanoes National Park guide focuses on the central summit area of the park near the Kilauea Visitor's Center, not the Kahuku Unit.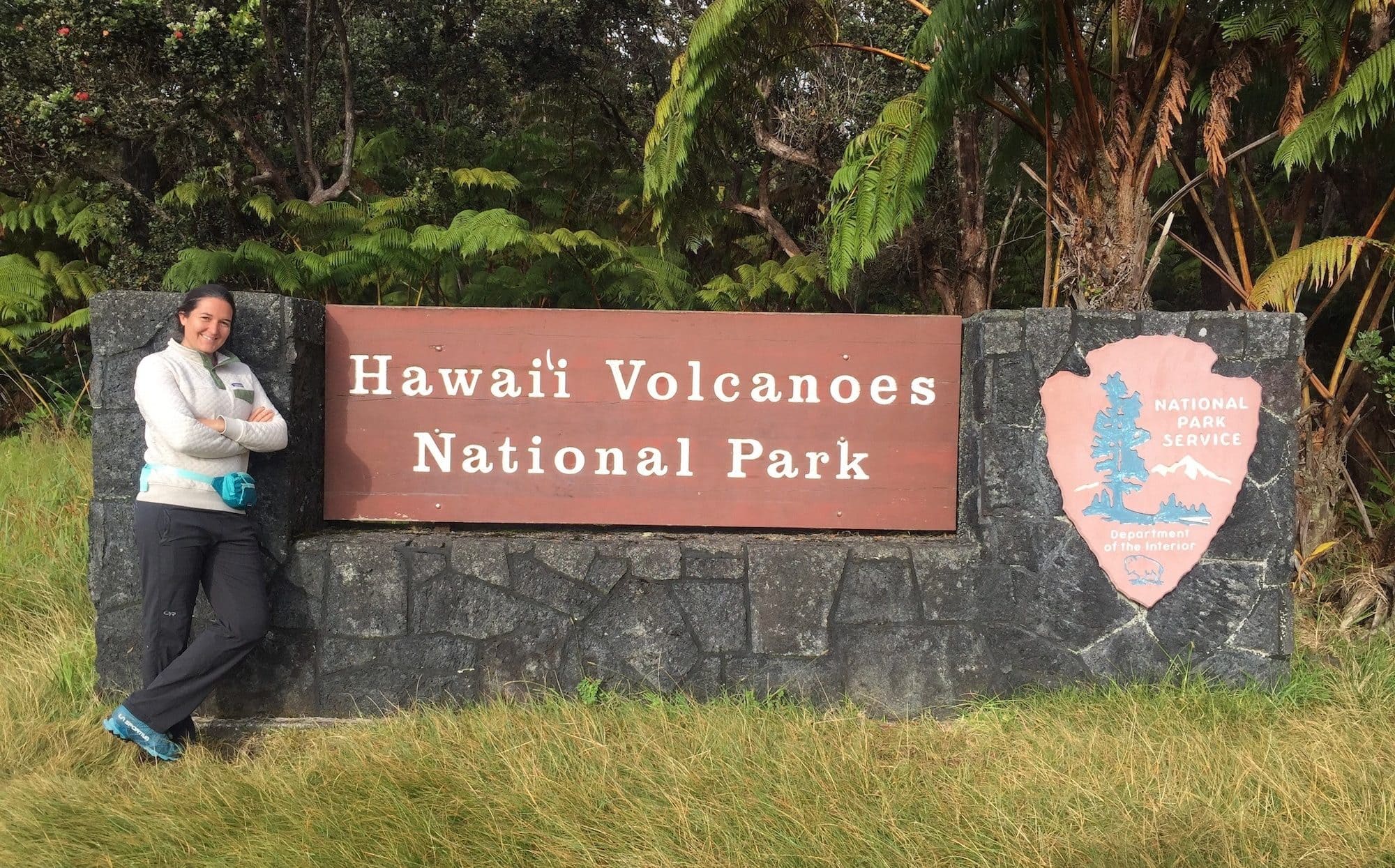 ---
When to Visit Hawai'i Volcanoes National Park
In Hawai'i, temperatures and conditions vary significantly by elevation & time of year. The weather at Kilauea's summit (4000 feet in elevation) changes daily and can be rainy and chilly any time of the year.
The drier season in Hawai'i is from May-October, but that being said it can rain any time of the year. The coastal area of the park, at the end of Chain of Craters Road, is often hot, dry, and windy with the possibility of passing showers. If you want to avoid crowds, the spring & fall are the best times, in general, for visiting the Big Island.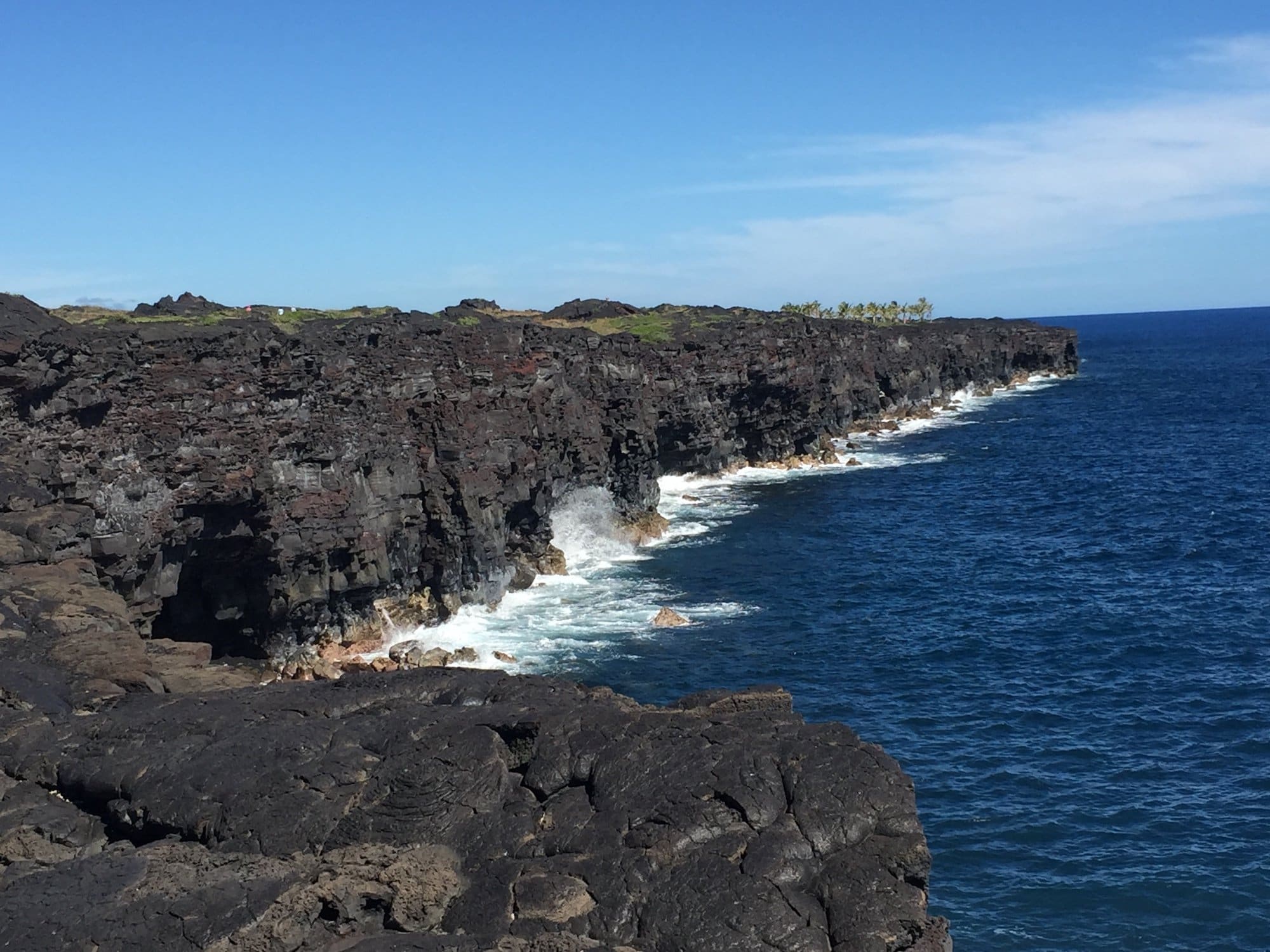 ---
7 Interesting Hawai'i Volcanoes National Park Facts
Every National Park has its own unique history and interesting facts, but because Hawai'i Volcanoes National Park is so dynamic and its landscape changes every year, it's even more fascinating.
Here are a few fun and interesting facts about Hawai'i Volcanoes National Park:
Hawai'i Volcanoes National Park encompasses two active volcanoes: Kilauea and Mauna Loa. In 2018, a large eruption of the Kilauea volcano changed the landscape of the park forever and remains one of the most active volcanoes in the world.
The park was designated a UNESCO World Heritage Site in 1987.
Mauna Loa is the largest volcano in the world. It stands at over 13,000 feet above sea level.
Many Hawai'ians believe that Kilauea is inhabited by a family of fire gods, including Pele, the goddess of volcanoes and fire and the creator of the Hawaiian Islands
The park is home to seven different ecological zones including a tree fern forest, which receives nearly 100 inches of rainfall a year.
Since Kilauea's eruption that started in 1983, more than 500 acres of new land have been added to the island of Hawai'i.
Backpackers can summit Mauna Loa. The trip takes about 4-5 days.
If you're lucky, some visitors can see molten lava flow into the ocean.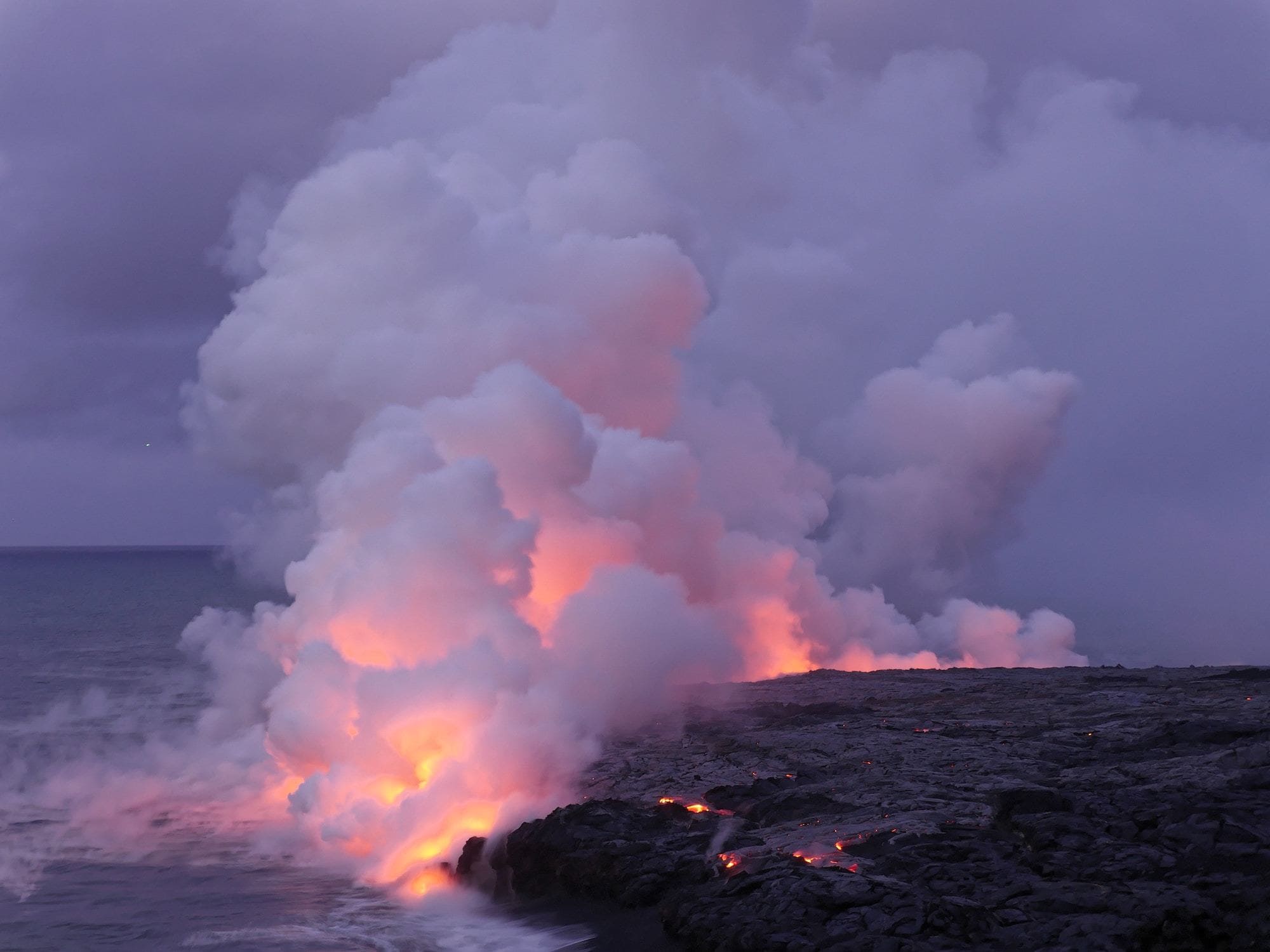 ---
What To Do In Hawai'i Volcanoes National Park
1. Stop by the Volcano Art Center
Just to the left of the Visitor Center is the original Volcano House Lodge which serves now as the Volcano Art Center. The center is a great place to pick up unique, handmade Hawaiian gifts. The Art Center is open 9am-5pm daily.
They offer demonstrations, classes, and workshops, so I recommend checking their calendar before planning your itinerary for the day.
2. Hike the Kilauea Iki Crater Trail
The 4-mile Kilauea Iki Trail Loop will take you from the lookout on Crater Rim Drive down to the floor of Kilauea Iki crater. The Volcanoes National Park Visitor Center sells a great trail guide filled with lots of facts and interesting history, or you can download the guide online.
The trail begins shaded by the surrounding rainforest, but soon enough you'll be on the floor of what used to be a lava lake. It can be hot and exposed, so be sure to protect your skin from the sun.
This is a beautiful hike and a great intro to exploring the Park. Beat the sun (& the crowds) and start your 2-hour trek before 9 am.
Tip: Don't miss the Kilauea Iki film in the Visitor's Center beforehand. It will give a whole new meaning to your hike.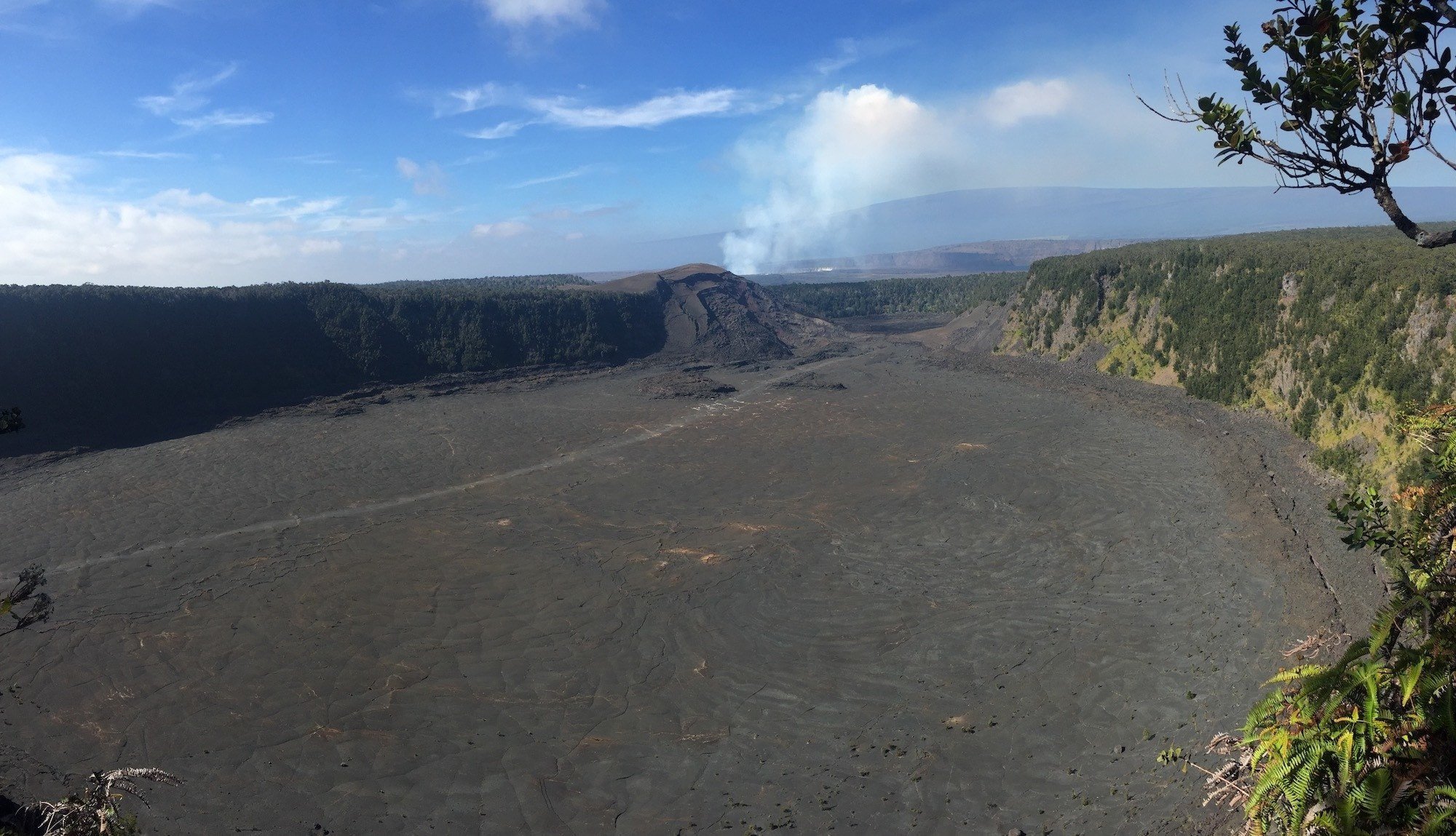 3. Walk through the Thurston Lava Tube
The 500-year-old Thurston Lava Tube in Volcanoes National Park is definitely worth a quick stop, especially if you've never had the experience of being in a lava tube. It's a strange feeling knowing that you're standing where a stream of 2,000°F lava once flowed!
The Thurston Lava tube is located right across the road from the second Kilauea Iki parking area, so stop by after you're finished with your Kilauea Iki crater hike.
Alternatively, the lava tube is great for those who can't complete longer walks or for those traveling with little kids.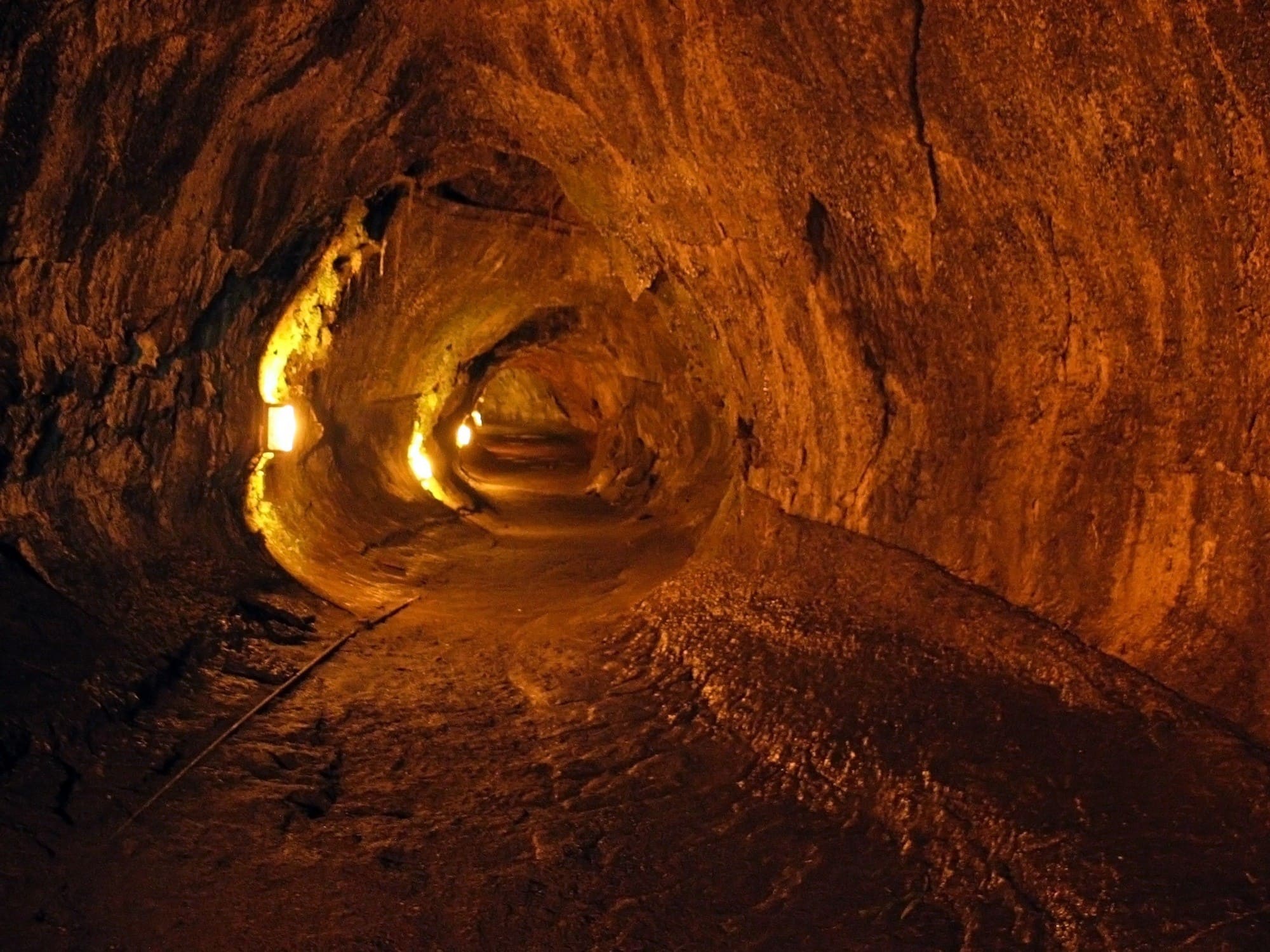 4. Drive Crater Rim Drive to the Holei Sea Arch
Crater Rim Drive is the main road through Hawai'i Volcanoes National Park and it ends at Holei Sea Arch on the Pacific Ocean. There are plenty of stops along the way, so take your time. The drive is almost 19 miles long with an elevation change of 3,700 feet. The reason why this drive is so impressive is you get to visualize how lava has flown across the park over time. Volcanoes National Park has a Crater Rim driving guide.
On the drive, you'll see examples of both types of lava; a'ā and pāhoehoe. There are areas you can stop and see evidence of former park roads that don't operate anymore due to lava flowing over the road. There used to be a Visitor Center, a heiau (ancient Hawaiian temple), a campground, and a black sand beach along the road but they have all been covered/destroyed by lava. This was one of my favorite things to do in Hawai'i Volcanoes National Park!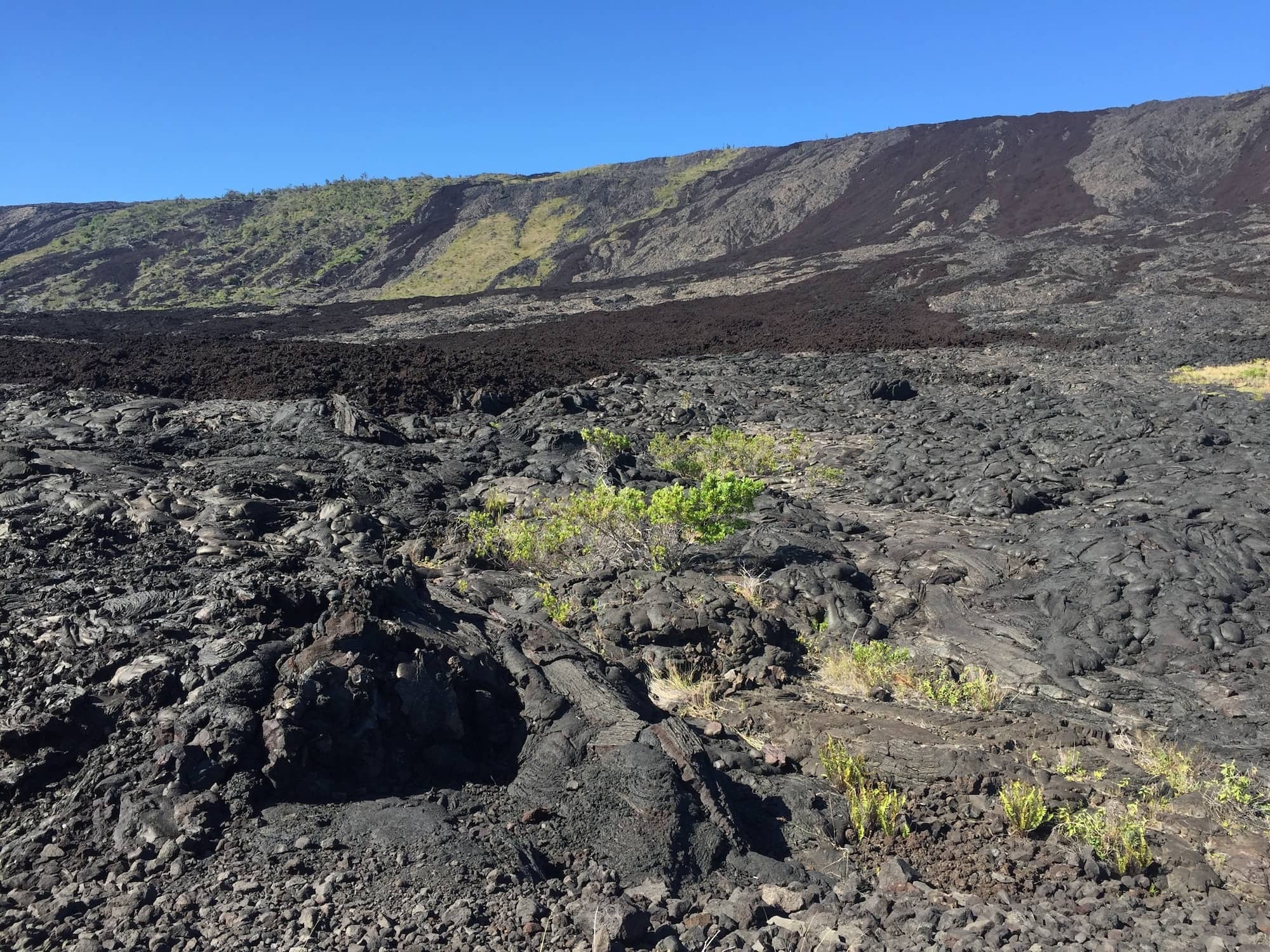 It's worth taking the road all the way to the sea arch just to see the expansiveness of the lava flow.
History and culture buffs who are looking for a short walk might enjoy the Puu Loa Petroglyphs Trail, but I didn't think it was as exciting as some of the other sites in the Park.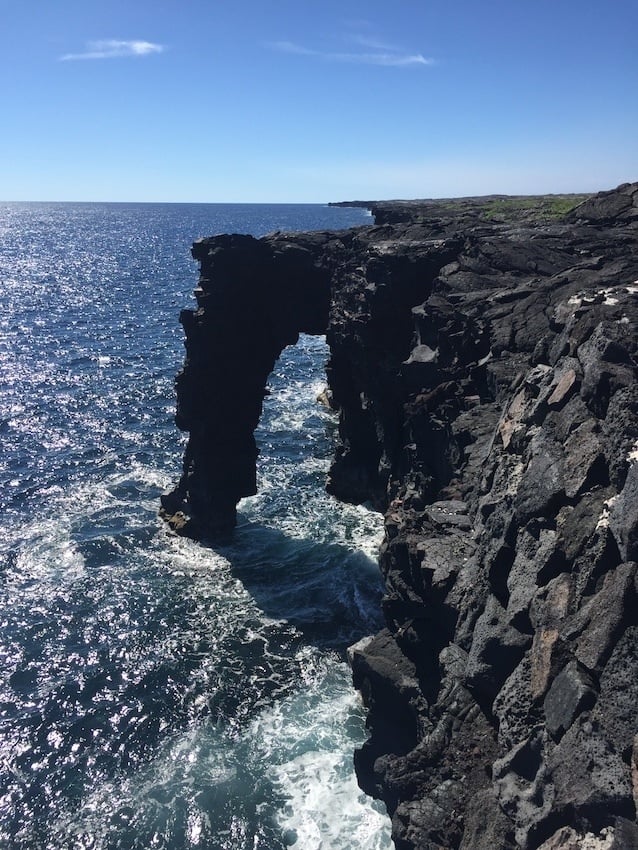 5. See Lava Flow Up Close at Kalapana
If you've seen any photos of Hawai'i Volcanoes National Park, you've probably seen images of hot lava up close. These photos most likely weren't taken inside the Park. Instead, most visitors drive an hour north to the town of Kalapana to view the lava flow.
If you're lucky, you might be able even to see lava flowing into the ocean, an experience you'll never forget!
To reach Kalapana, take HWY 11 towards Hilo to HWY 130. Then follow HWY 130 until you reach the road's end, there will be a visitor parking area.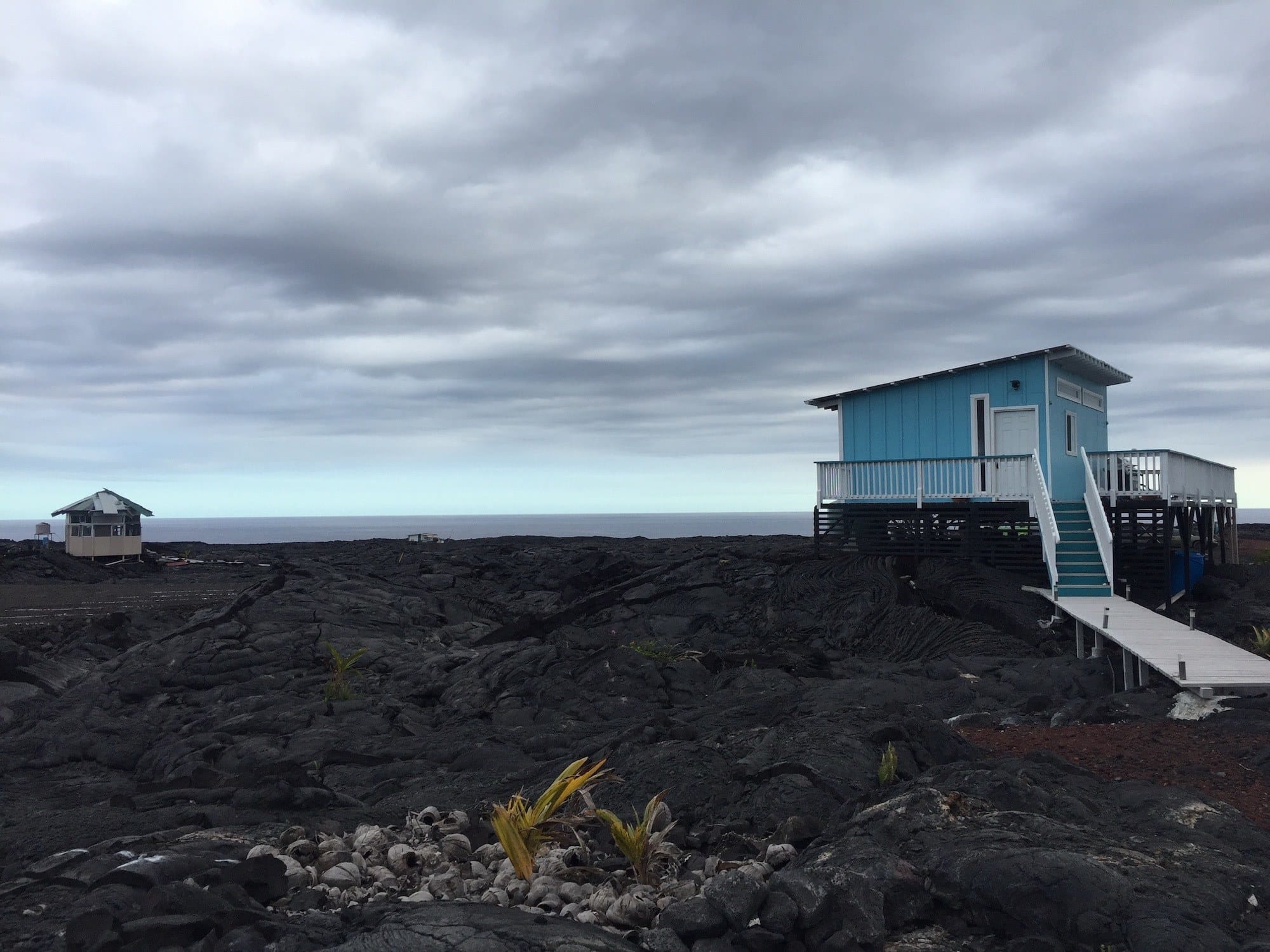 Tips for visiting Kalapana:
This information is based on my Spring 2018 trip, so note that lava viewing locations are subject to change.
You'll want to check on where the current flow is before driving to Kalapana. There is no trail and the terrain changes daily based on the lava flow. The Volcanoes National Park NPS website has extensive additional information and daily updates on the lava flow.
Security guards may be posted on HWY 130 before the entrance to Kalapana Gardens to direct you to parking areas. Don't leave VALUABLES in your car; this can be a high crime theft area.
If you're traveling to Kalapana, know that lava viewing for the general public is only available 3-9pm daily.
The total distance from Kalapana to the lava flow varies based on the current flow & route to assess the flow. Expect to hike at least 4 miles (1.5-2 hours) one way for viewing.
The hike to the lava is HOT (even at night) and the air is dry, bring plenty of water (at least 2-3 liters per person)
You should have strong, sturdy hiking boots or tennis shoes. I would not recommend wearing flip-flops, Tevas, or thin-soled tennis shoes, as the lava is sharp.
If you plan to visit the lava for sunset, make sure you have a flashlight (not your cell phone camera's light) and extra batteries. We recommend a headlamp.
Consider Joining A Guided Tour
My dad and I opted to go on a guided hike. We saw plenty of people biking and hiking to the lava flow and agreed if we did it over again we'd still go with a guided hike. Why opt for a guided hike? Here are a few reasons:
When we finally arrived at the lava, there were A LOT of people. One of our guides ran off to find a different section of flow to take us to. Getting away from the crowd was great.
As we began to hike back with our lights in pitch-black darkness, numerous people attempted to join our group. Our guides let them know this was a tour and asked them to go ahead. Many people said they were scared & didn't know how to get back to the main road. Some didn't have water, lights, or appropriate clothing. My dad and I were very thankful to have guides leading us out because honestly, we wouldn't have known which way to hike. Having the guides was very valuable.
We loved hearing the personal stories our guides had of living in the area. During the last significant lava flow, they talked about how they played horseshoes at their friend's house until the lava hit the porch steps. We couldn't believe the story but seeing how SLOW the lava flows put the story in perspective.
It might seem like a straightforward hike but keep in mind after the sun goes down the area drastically changes and route-finding back to your vehicle can be more challenging. There is no trail or cairns to follow to the lava flow as the route changes daily based on the current lava flow.
If you decide to go on your own without a guide, just make sure you have a good sense of direction and have the right gear. Consider using a GPS hiking app on your phone to track your route so you can follow your steps back out. There are also boat tours and helicopter tours available.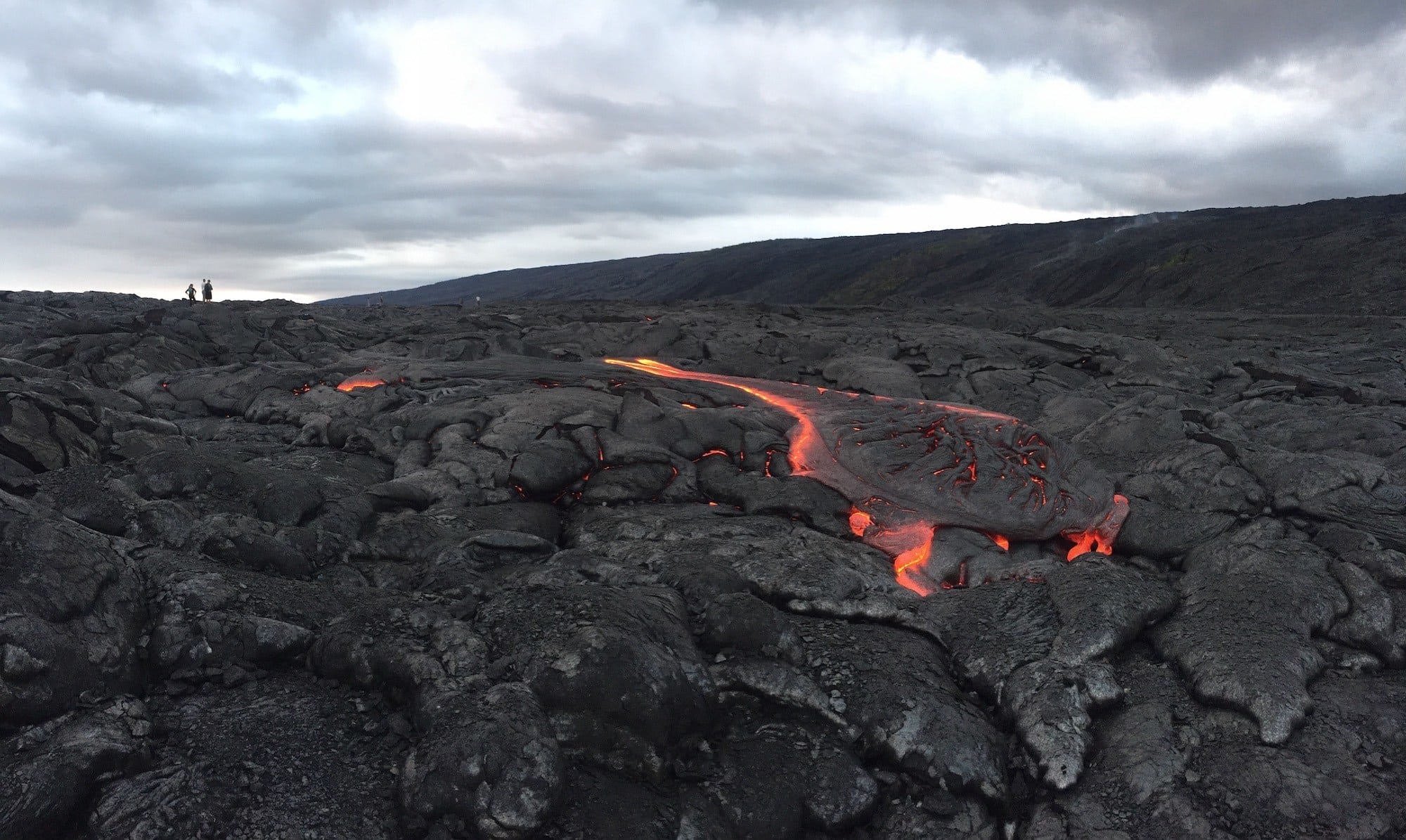 ---
Where to Eat Near Volcanoes National Park
Just a word of note, there aren't a ton of dining options in the local area and there are a lot of tourists. I highly recommend making food reservations once you have your trip planning completed. There isn't a main "downtown" area in Volcano, Hawai'i, and the surrounding community is similar to a rural area on the mainland.
Breakfast
The Kilauea Lodge, in Volcano, Hawai'i, did not disappoint for breakfast. They have a unique menu for breakfast, lunch, and dinner that is slightly European, yet has local Hawaiian favorites. They're open from 9-2pm and 5-9pm Wednesday through Sunday.
Lunch
Both Tuk Tuk Thai Food Wagon & Cafe Ono came highly recommended to us by both locals and tourists, but since we had a substantial breakfast, we munched on snacks in our car until dinner.
If you only have a day in the park, I recommend packing enough food so that you don't have to leave just to get lunch. Cafe Ono closes after lunch and Tuk Tuk Thai closes at 6pm.
Dinner
Ohelo Cafe offered an excellent dinner for a reasonable price, especially considering there are few other options in the town of Volcano open past 6pm. They have wood-fired pizzas as well as other options and specialize in serving fresh food with a Hawaiian flair. They are closed Tuesdays and Wednesdays and reservations are strongly recommended.
Packing Food from Hilo
There are great grocery stores in Hilo. I recommend stocking up on snacks before heading to Volcano. Island Naturals has tons of options if you are vegan/gluten-free. The Hilo Farmers Market, open 7 days a week, is also an excellent choice for picking up local fresh fruit/vegetables.
After visiting the National Park, I recommend a stop at Volcano Winery, which offers tours and tastings by reservation only. They carry a traditional Pinot Noir and also offer unique creations like Mele, Mac Nut Honey Wine, and Guava Wine.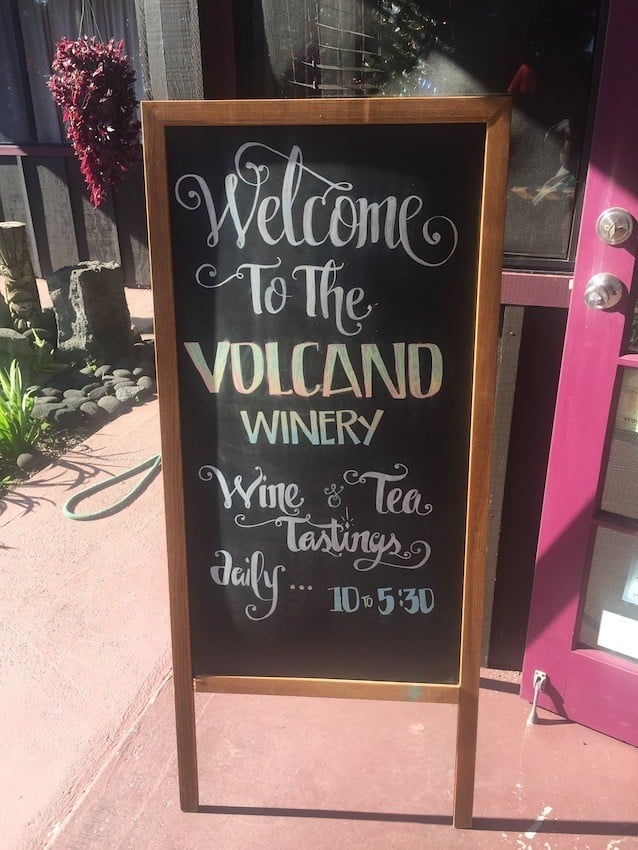 ---
Where to Stay Near Volcanoes National Park
Camping
There are two drive-in campgrounds in the park:
Namakanipalo Reservable Campground
The campground is run by the Volcanoes Lodging Company, which also operates the only hotel in the National Park, the Volcano House Hotel
16 Tents sites are available as well as 10 one-room rustic cabins
The campground has restrooms, water, picnic tables, and barbeque pits
The campground is at 4,000 feet so it is cool & damp year-round. You'll want to make sure you have a tent that is waterproof with a quality rain fly. You can rent a tent from the Volcanoes Lodging Company for an additional $40 if you aren't traveling with camping equipment.
Campground reservations can be made online or by calling the Volcano House.
Kulanaokualki First-Come, First-Serve Campground
Located 5 miles down Hillina Pali Road at 2,700 feet elevation
Nine campsites are available on a first-come, first-served basis
The campground has picnic tables and pit toilets, but NO WATER
Sites are $10 per night
No pets allowed
Additional Lodging Options
Volcano House Lodge
The Volcano House Lodge is the only hotel in the National Park. It has 33 guest rooms as well as a dining room & lounge. If you've stayed at other National Parks hotels, it has a similar slightly rustic vibe. It is a short walk from the Kilauea Visitor Center.
---
Recommended Gear to Pack
For a complete packing list, head over to our Hawai'i Packing List For Hikers and Outdoor Enthusiasts. Below are a few items we recommend packing that are especially helpful when visiting Hawai'i Volcanoes National Park.
Hawai'i Volcanoes National Park National Geographic Map – this is a great map that shows hiking trails, points of interest, and other helpful information to make the most of your visit.
Hawai'i The Big Island Revealed – if you plan on exploring the Big Island outside of the National Park, be sure the pick up this book. It's filled with great tips on things to do and see.
Close-toed shoes – sturdy sandals will work, but close-toed shoes are a better choice. Lava rock is incredibly sharp and if you stub your toe, it'll hurt!
A Daypack – there aren't many amenities to be found inside the park boundaries, so be sure to bring a pack big enough to fit everything you'll need for the day including water, snacks, and your hiking essentials.
---
Have you visited Hawai'i Volcanoes National Park? What were your favorite things to do? Do you have any helpful tips? Leave us a comment below!