Veil Camo, an industry leader in cutting edge modern camo patterns, partnered with Buck Bourbon to bring Veil's Wideland Camo pattern to the new Rack House 300+ hunting blind. Veil Camo Wideland has been an immensely successful pattern. Breaking up the pattern of whatever it is applied to and blending into a wide variety of terrains, Wideland was a smart choice for the new Rack House 300+. Veil Camo uses a very unique process when creating their patterns, see below.
Buck Bourbon is a company specializing in deer attractants. Now expanding their product line with popup style hunting blinds.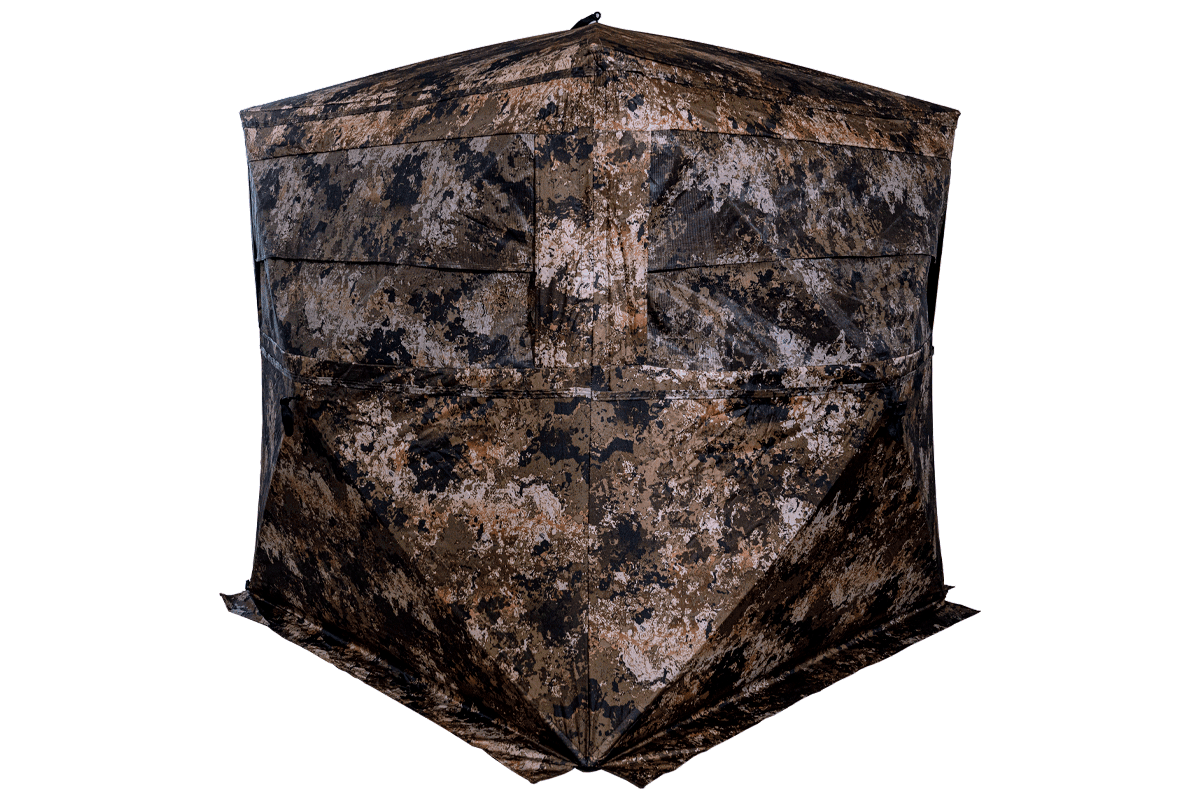 Rack House 300+ Specifications
Patented One Way Mesh® Windows
Integrated Internal Blackout Curtain System
Saloon Style Spring Blind Door
Four-sided Hub Style Hunting Blind
Footprint:58″ x 58″ x 67″
Weight: 18lbs
The saloon style spring door on the Rack House 300+ is a standout feature. Many popup style hunting blinds still use loud zippers or hook-and-loop to open or secure the entry point. The saloon style door could make all the difference when trying to keep noise to a minimum. Rack House 300+ features one way mesh on three of the four sides, and one mini rear door window allowing near 360-degree field of view around the blind only obstructed by the corners and door.
This unique one-way mesh fabric prevents wild game from seeing what's inside the blind while allowing anyone inside the blind to see out.

In addition to the One Way Mesh the inside of the blind features our integrated black out curtain system for the brightest of days.
Included with the Rack House 300+ is the blind, carrying case, four guidelines and twelve stakes. I imagine not many hunters will be unfamiliar with this style of popup hunting blind but for those that are not, setup couldn't be easier and should only take a few minutes. Available now on Buck Bourbon's website for $169.99.