The concept of recycling isn't just about dropping off empty bottles and cans — it's about taking an item that has reached the end of its service life, and rebuilding it into something new. That's exactly what Jonathan Norris did with this old FedEx delivery truck, which he bought at auction for only $3,500. Although it still looks like an ordinary box truck from the outside, the inside is packed with creature comforts including a queen-size bed, enclosed shower, 4K TV, sound system, and even a spacious "garage" for Jon's bikes and outdoor gear. YouTuber Jarrod Tocci met up with him to show the van's interior and ask some questions about the details of this tiny home on wheels.
Above: Jon, formerly a truck driver in the Army, explains that he did most of the work himself using off-the-shelf parts from Home Depot.
Thanks to its top-mounted ventilation, absence of side windows, and secure sliding cargo door, the delivery truck's exterior doesn't offer any hints at what's inside. The only unusual exterior design cue is the lettering on the sides, which now reads "Ex round" rather than "FedEx Ground." After stepping into the cab, Jon slides open the original locking cargo door to reveal a second insulated door. Behind that, there's a spacious living area lined in cedar planks. On one side, a custom-made butcher block countertop with a deep stainless steel sink sits below the range-top microwave. On the other, there's a large 12V fridge/freezer, enclosed shower, and custom pantry.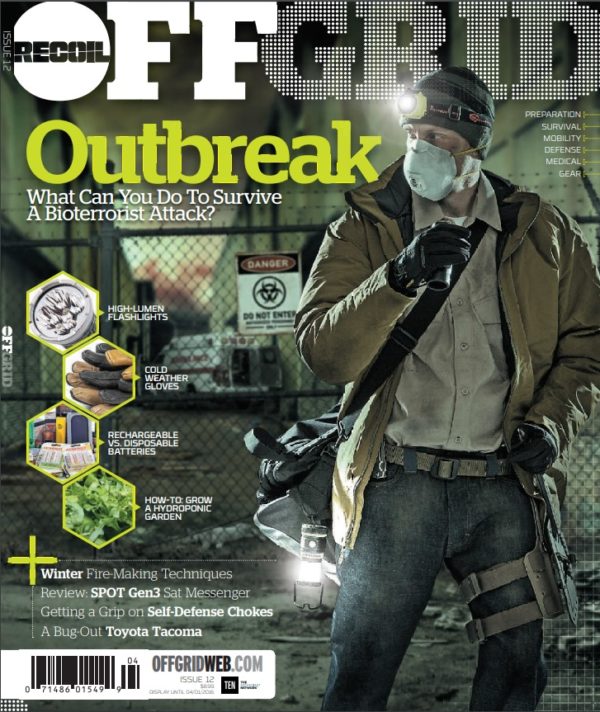 Subscribe Today and Save!
Towards the rear of the cargo area, there's a four-person seating area with a 4K TV and Playstation. Behind that, a queen-sized bed platform folds up to reveal what Jon calls his garage. It contains mountain bikes and a road bike, as well as bins of gear for his other hobbies (rock climbing and whitewater rafting). Like many residential garages, there's also a water heater in one corner that provides hot running water to the sink and shower.
Check out the 22-minute video below from Jarrod Tocci for a detailed tour, and follow @stepvan88m on Instagram for updates on the build.
---
Prepare Now:
Disclosure: These links are affiliate links. Caribou Media Group earns a commission from qualifying purchases. Thank you!
---
STAY SAFE: Download a Free copy of the OFFGRID Outbreak Issue
In issue 12, Offgrid Magazine took a hard look at what you should be aware of in the event of a viral outbreak. We're now offering a free digital copy of the OffGrid Outbreak issue when you subscribe to the OffGrid email newsletter. Sign up and get your free digital copy Click to Download!
---