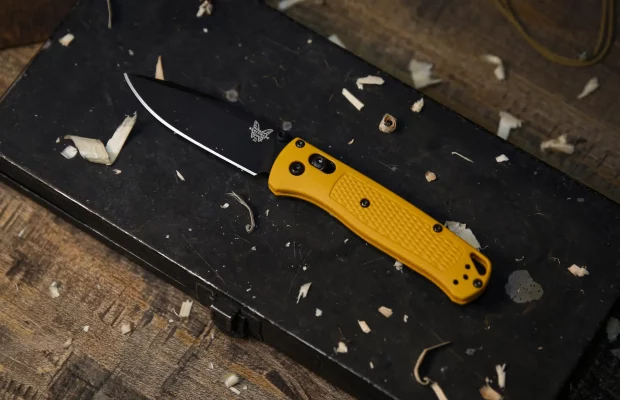 Work Sharp is partnering with another major name in Oregonian cutlery, Benchmade, for their first limited edition knife, the Work Sharp Bugout. This specially-configured cutter comes clad in the company colors, and brings a boost in blade steel to boot.
We feel confident saying that there hasn't been a Benchmade release since we started KnifeNews that affected the company as much as the Bugout. Designed with ultra lightweight backpackers in mind, the featherweight folder found financial and critical success way beyond that particular niche. It impacted other Benchmade knives that followed, most recently the Taggedout; and of course the Bugout family itself expanded, with a Mini, CF Elite version, and the tactical Bailout all released in due course.
Given our penchant for all things orange, we've always felt a kinship with Work Sharp and its signature bright yellow color scheme. That yellow livens up the Work Sharp Bugout's scales, and is offset by all black hardware and a black Cerakoted blade. The steel on that blade, by the way, is CPM-20CV, which can be had through Benchmade's Custom Knife Builder, but is a performance upgrade over the S30V offered on most factory Bugouts. Furthermore, Work Sharp chose to equip their limited edition Bugout with the longer, butterfly-style deep carry clip instead of the stubbier one that comes standard.
Other than these changes it's as usual on the Work Sharp Bugout: same dimensions, thumb stud opening, and titanium Axis Lock setup. Benchmade and Work Sharp have had a good relationship for years. This Bugout is a nice companion piece to the Benchmade-branded Work Sharp Guided Field Sharpener released a few years ago. During the 2019 Readers' Choice Awards, a handpicked group of knife enthusiasts at Work Sharp chose the 980 Turret as their Knife of the Year.
The Work Sharp Bugout is available now in limited quantities.
Knife in Featured Image: Work Sharp Benchmade Bugout