Adam Scepaniak   10.13.21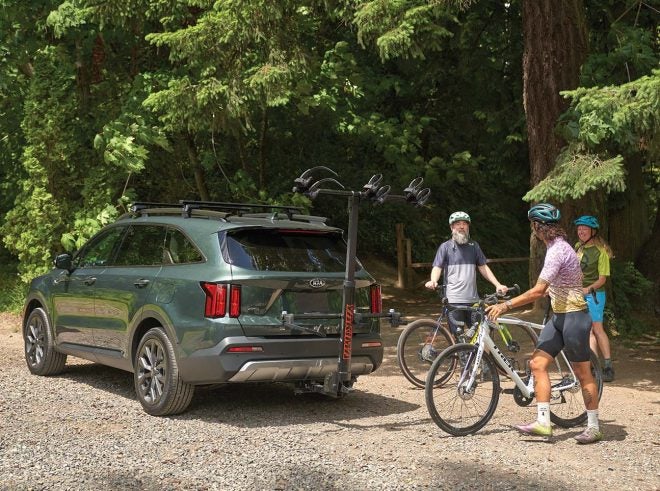 Yakima is known across the country for their creative and sleek products that support hauling your gear to your next adventure. This spans the gauntlet of snowboards, rooftop tents, cargo racks, and even bike racks. In fact, Yakima has debuted some new hitch-style bike racks in the StageTwo, HangTight, and OnRamp lines of products. Both the StageTwo and the HangTight will be available on 11/15/21 on Yakima.com and at associated dealers while the OnRamp is available for purchase at the time of this writing.
"We are beyond excited to announce the release of both the HangTight and the StageTwo. The bike rack category has become increasingly competitive in recent years and we are extremely proud to not only offer one rack that excels in carrying versatility, bike protection, and ease of use, but two racks that lead the charge with their innovative features." – Garrett Barnum, Director of Category Management
With fall on the horizon it is some of the best time possible to get outside, explore, and take in the colors of autumn on a bicycle. The air is crisp and cooler weather makes for a more pleasurable ride as opposed to the hot summer months. So, let's dive in and take a look at all of the new hitch bike racks being debuted through the StageTwo, HangTight, and OnRamp product lines.
---
Yakima HangTight
The first hitch bike rack in the HangTight is a vertical one meant to carry an assortment of bicycles and sizes for varying riding style interests. This includes such favorites as enduro shuttlers to family road trips. The HangTight comes in 2 models in the HangTight 6 (MSRP $999) that can haul 6 flat bar bikes or 4 drop bar bikes while the other offering in the HangTight 4 (MSRP $799) is capable of carrying 4 flat bar bikes or 3 drop bar bikes. For its versatility, the HangTight in either size should be popular among cyclists.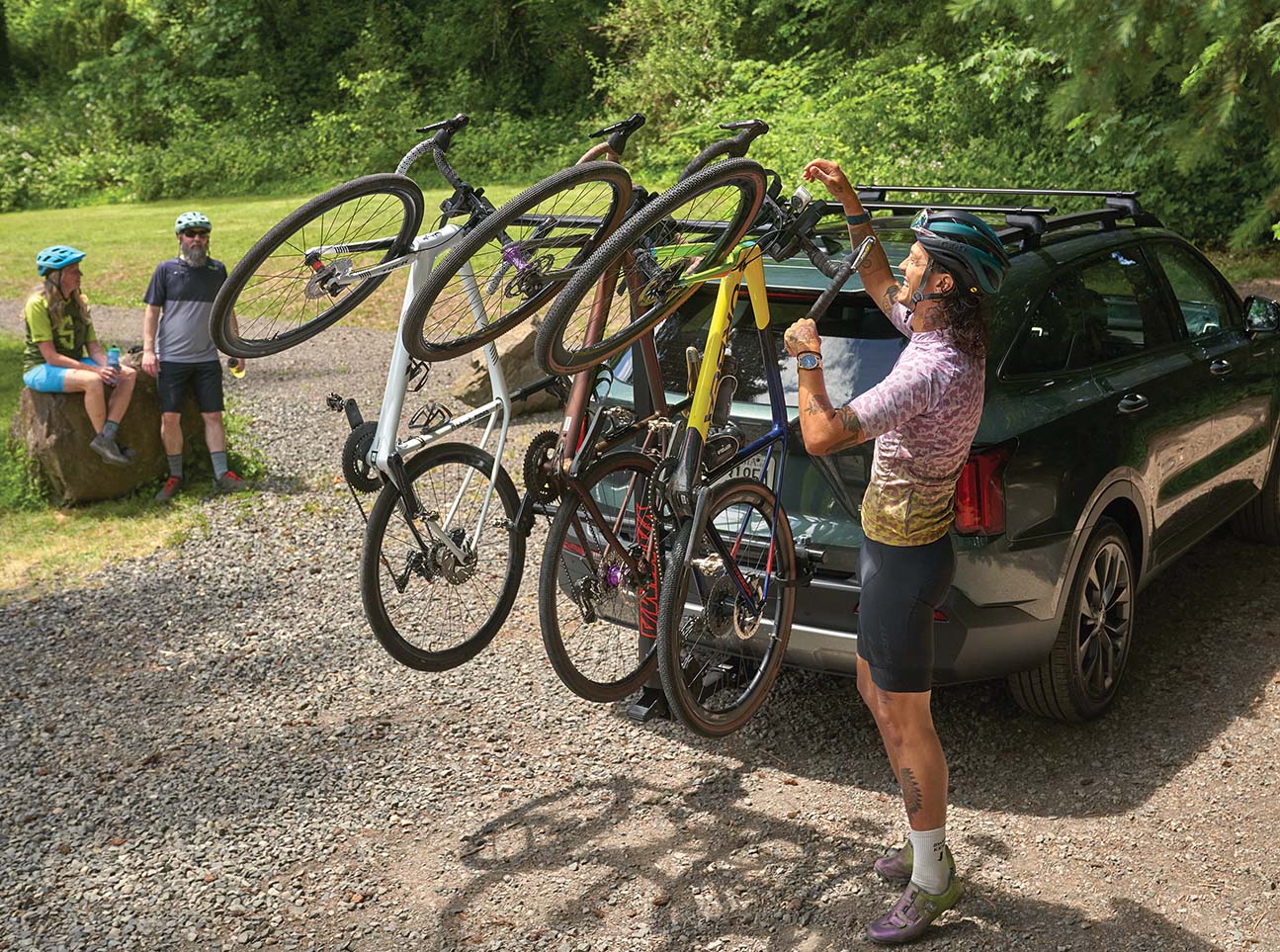 ---
Yakima StageTwo
The StageTwo is another hitch mounted bike rack that has more curb appeal as well as utility to impress those in your cycling cadre. The StageTwo retails for $749 and boasts a tiered stadium seating architectural design to reduce the bike-to-bike interference. This will also maximize ground clearance wherever your travels take you. The StageTwo is capable of accommodating a library of bicycles from mountain, road, kids, E-bikes, and fat tire bikes with the StageTwo FatBike Kit. The unique StageTwo hitch bike rack scores on looks and utility which will be a bonus for any interested parties this fall.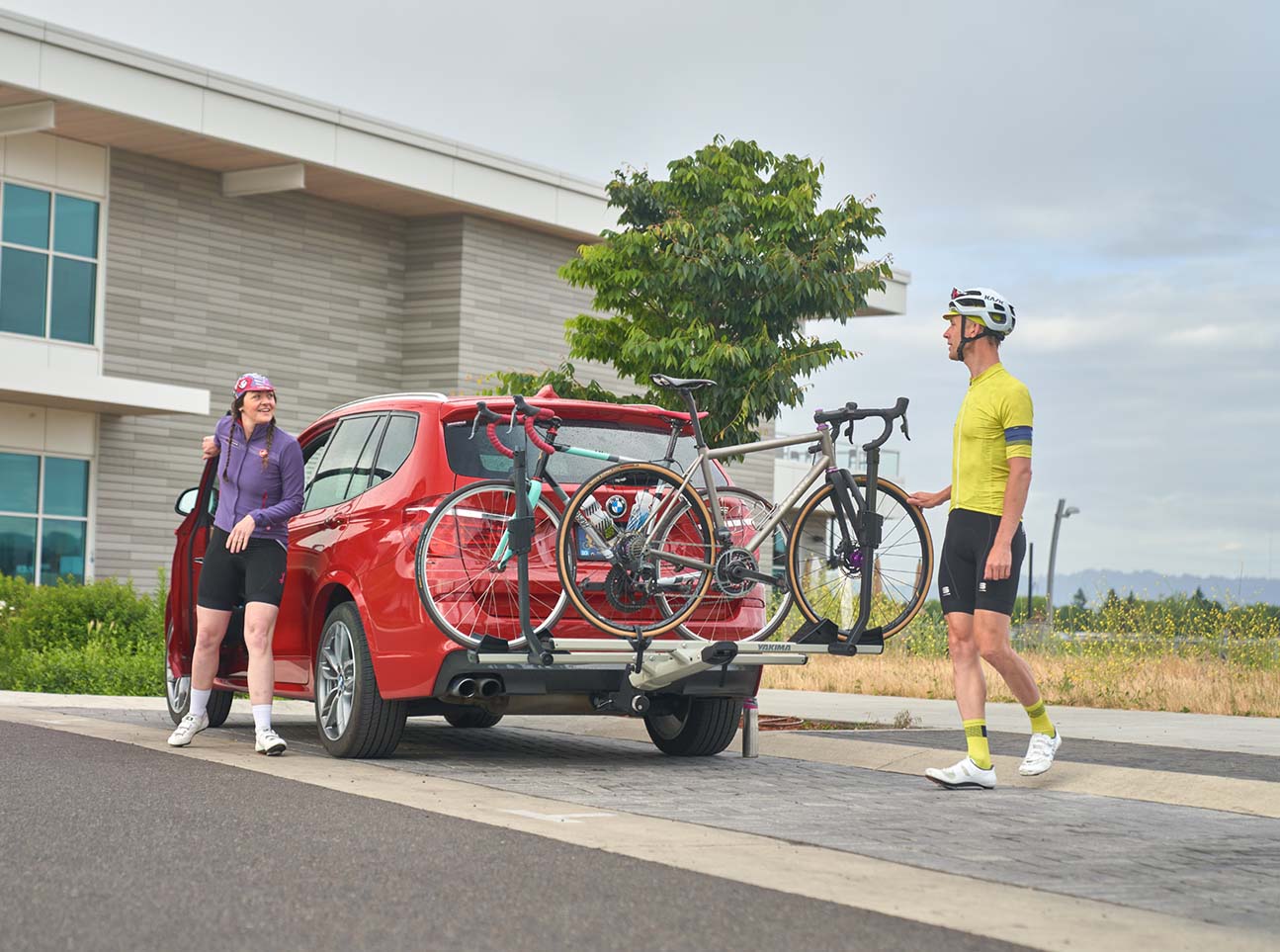 ---
Yakima OnRamp
The last, but most certainly not the least of the three new products being unveiled is the OnRamp. The OnRamp is tailored for all of us with an E-Bike. Being as E-Bikes are much heavier than a traditional bicycle, the OnRamp makes loading and transporting that heavier breed of bicycle much easier. The hitch mounted OnRamp (MSRP $549) is designed to carry 2 E-Bikes up to 66 lbs and features a built-in ramp which makes loading and unloading simple while also neatly storing right on the rack itself.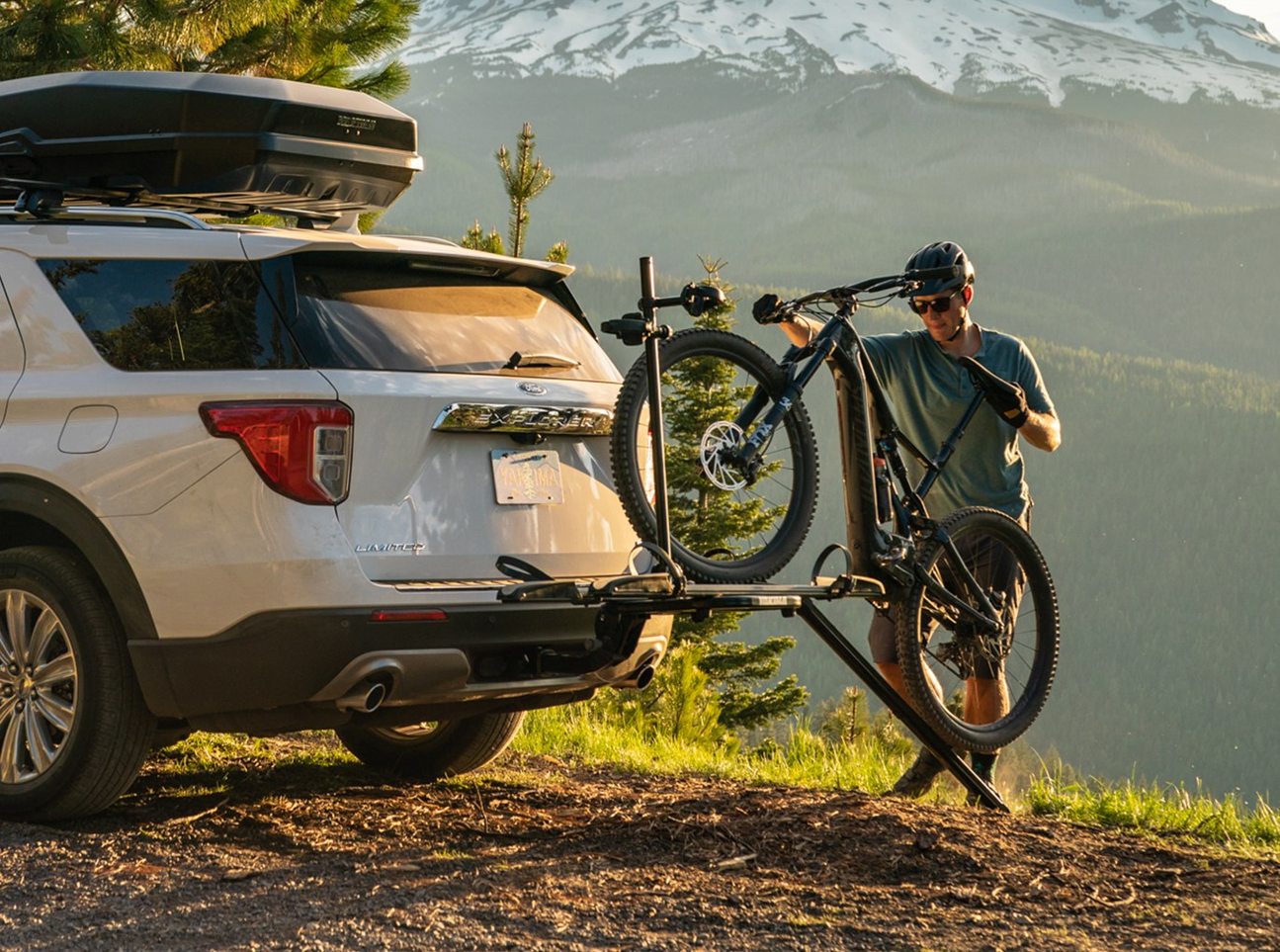 ---
About Yakima
A pioneer in vehicle racks and cargo management solutions since 1979, Yakima is known for its rugged and dependable products. Built for a wide variety of recreationists, Yakima products embody the company's commitment to quality and safety and its passion for the outdoors. Yakima Products, Inc. is headquartered outside of Portland, Oregon. For more information, visit www.yakima.com and follow Yakima on social media: facebook.com/yakimaracks, @YakimaRacks on Instagram and Twitter, and youtube.com/yakimaproducts.