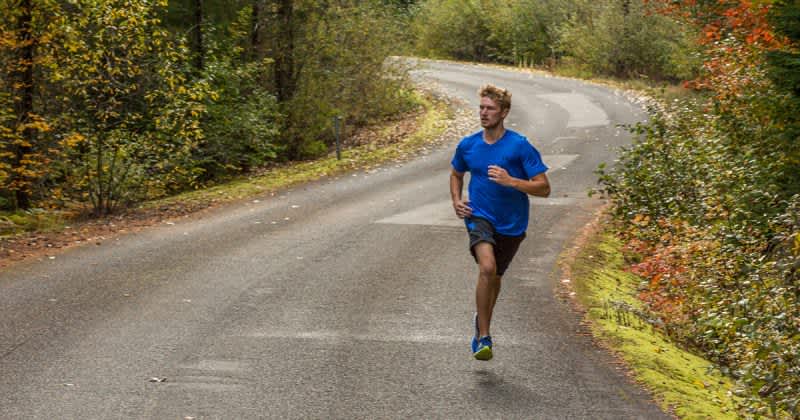 +
–
Table of Contents

1. Altra Superior 5 Shoe
SALE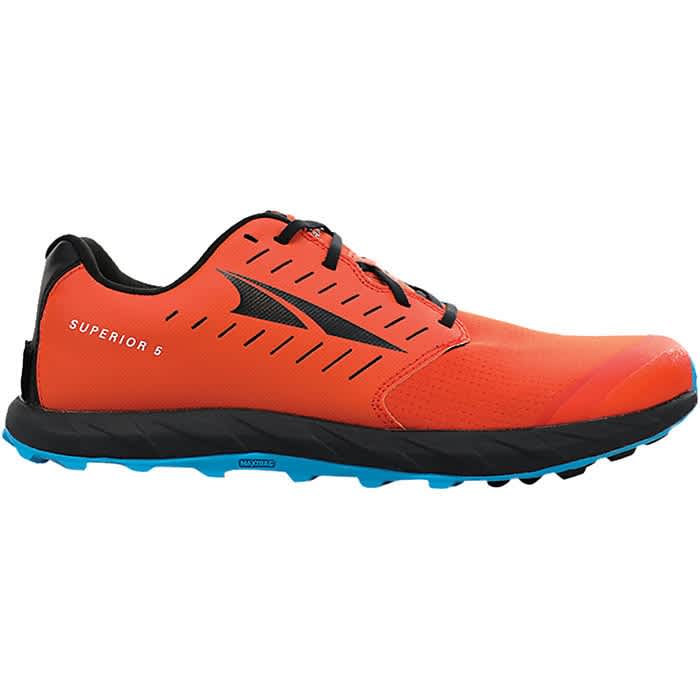 The Altra Men's Superior 5 Shoe is a running shoe for plenty of traction on the trails. The MaxTrac outsole uses multi-directional lugs to grip the earth while Balanced Cushioning puts your heel and forefoot equal distance to the ground for low impact landings. The Quantic midsole is lightweight and offers enough cushion to soften the demands of the trail and a breathable mesh upper keeps feet cool.
Signature FootShape comfort gives your feet more space to sit naturally and is designed to address biological differences in men's and women's feet.
Grippy MaxTrac outsole provides the perfect combination of grip, traction, and durability on all types of terrain
canted lugs on the outsole are strategically placed beneath the metatarsals to provide added traction underfoot
hook-and-loop tab allows our strapless gaiter to easily attach to the shoe, adding protection against rocks and debris
grid-like grooves in the midsole are designed to provide flexibility and movement
Details
Weight: 8.8 oz / 251 g
Midsole: Quantic
Outsole: MaxTrac
Cushion: Low
Stack Height: 21mm
Upper: Sandwich mesh vamp with durable quarter panel overlay
2. Smartwool Run Targeted Cushion Ankle Sock
SALE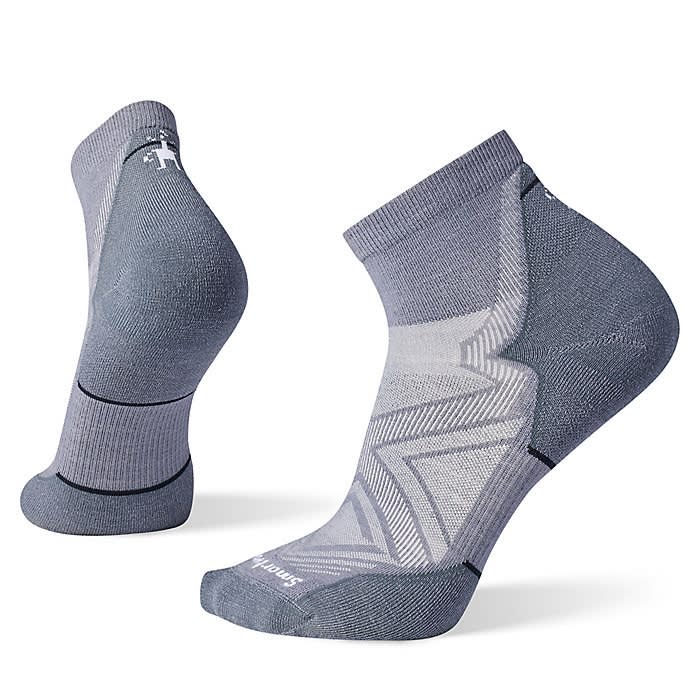 The Smartwool Men's Run Targeted Cushion Ankle Sock is a targeted cushion sock built for running. Cushion underfoot, mesh venting up at the top, hitting all the zones just right for more comfort while you're putting the hard work in on the road or trail. The 4 degree elite fit system ensures they won't slip or bunch inside your shoe, with Indestructawool technology for durability in hard-wearing areas such as the toe. This merino wool blend wit recycled nylon is soft against the skin, manages moisture, and is comfortable all day long.
4 Degree elite fit system for a dialled-in, performance-oriented fit
Mesh zones for added breathability
Virtually seamless toe for enhanced comfort
Overall 3.25″ height
Height: Ankle
Targeted cushion
Fabric Details
56% Merino Wool 28% Nylon 13% Recycled Nylon 3% Elastane
56% Merino Wool 28% Nylon 13% Recycled Nylon 3% Elastane
Pros/Moisture wicking merino wool construction and a near-seamless toe for better long-lasting trail running comfort
Cons/Expensive per pair
Bottom Line/A great american made sock that will keep your feet dry and comfortable.
3. Runyon TrailStash 5″ Hot Lava Gravel Short
SALE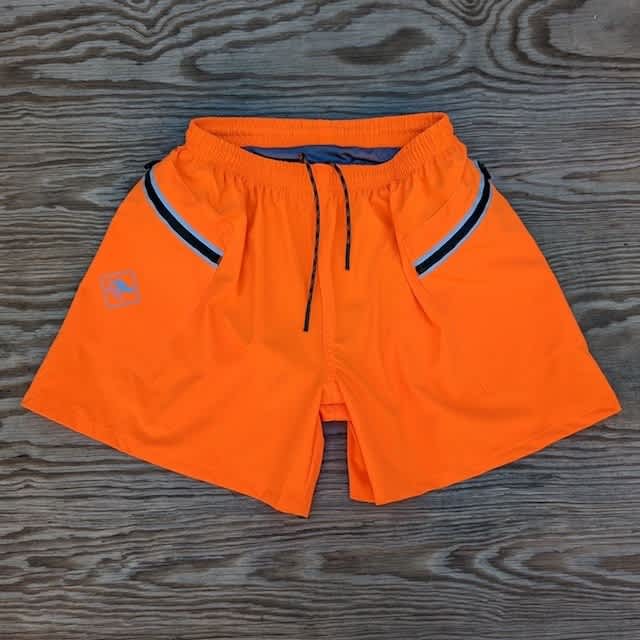 Introducing the Runyon TrailStash 5″ Gravel Short—  a performance multi-sport fitness short that's perfect for everything from cycling to running to hiking and beyond! This multi-sport short features two outside reflective zipper pockets perfectly sized to run with water bottles, keys, gels, a phone and all your other paraphernalia. The snazzy reflective zipper pockets helps you get noticed whether you're running into the night or commuting around town on the e-bike. Constructed with lightweight yet durable moisture-wicking poly/spandex outer shell, it moves when you move keeping you dry while you're on the grind. For the drawstring we used a US Military Grade survival paracord that also functions as a tourniquet if you get bit by a rattler in the wild. You'll be glad to know our signature drawstring cord was made by a United States Government Contractor and was also purchased from a veteran-owned business. Each drawstring is individually hand-crafted and finished.
Made In The USA
Designed for Ultra Running to Hiking to Casual Cycling and beyond
Dual Reflective 6″ Side Zipper Outer Pockets
100% performance moisture-wicking fabric technology
4 way stretch performance shell
Built-In Performance Liner Brief
Roomy Leg Openings for Range of Motion
US-Made Military Grade Survival Paracord drawstring
Available in Sizes Mens XS-XL
Women S/M is comparable to Size XS
Pros/Lots of color options and convenient pockets and features perfectly suited for trail running
Cons/Nearly $100 a pair
Bottom Line/Getting anything longer than a 5 or 6″ inseam is just asking for trouble – do yourself a favor and let those thighs out!
4. Smartwool Wilderness Summit Graphic SS Tee
SALE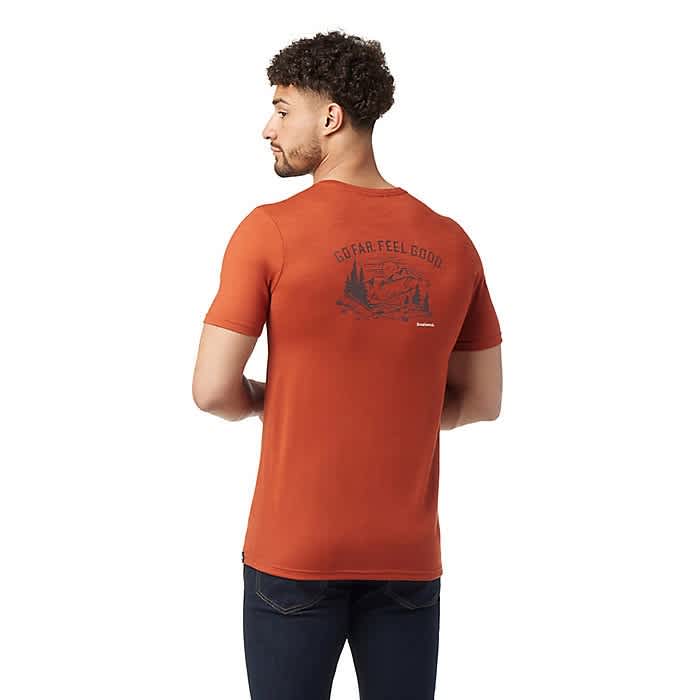 There really isn't much to this shirt besides the fact that it's made from high-quality American merino wool, is very lightweight, features quick drying fabrics and is UPF 20+ rated. This shirt combines the odor resistance of merino wool with the durability and quick drying capabilities of recycled polyester. The Flatlock seam construction is perfect for trail runners as the low-profile seams reduce chafing and increase comfort.
Pros/Will keep your skin from chafing and becoming soaked
Cons/Expensive
Bottom Line/A great lightweight option if you're not planning on going shirtless as many male trail runners do.
5. Crossbreed Holsters Modular Belly Band Package 2.0
SALE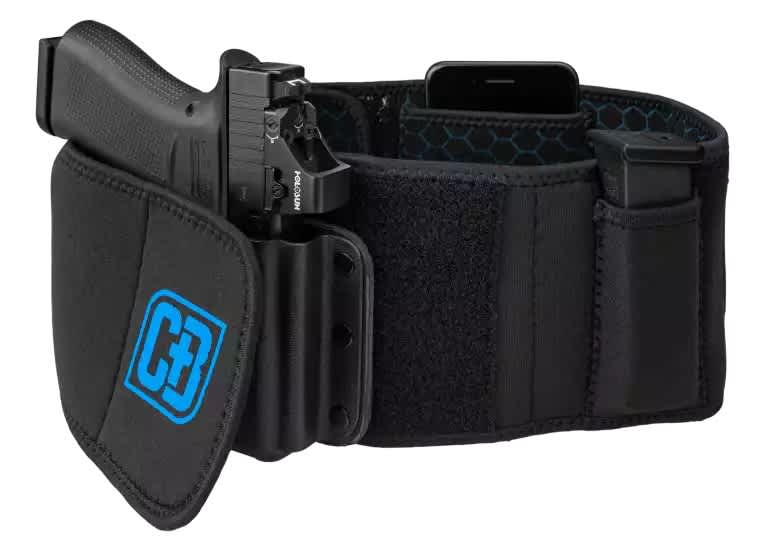 If you're planning on packing during your trail run, you'll first want to make sure it's legal to do so on your planned route. Second, to that, you'll want to make sure you have a good holster that won't get in the way! The Crossbreed Holsters Modular Belly Band 2.0 is perfect for those who won't have a belt on during running and also combines the convenience of a spandex belt design with the security and safety of a Kydex holster.
Pros/Great retention for your weapon and maximum concealability
Cons/The Modular Belly Band 2.0 is quite thick and will make you sweat when running
Bottom Line/A very discreet option for both men and women who want to come to the trail prepared.
6. Mazama Tumalo Hydration Backpack
SALE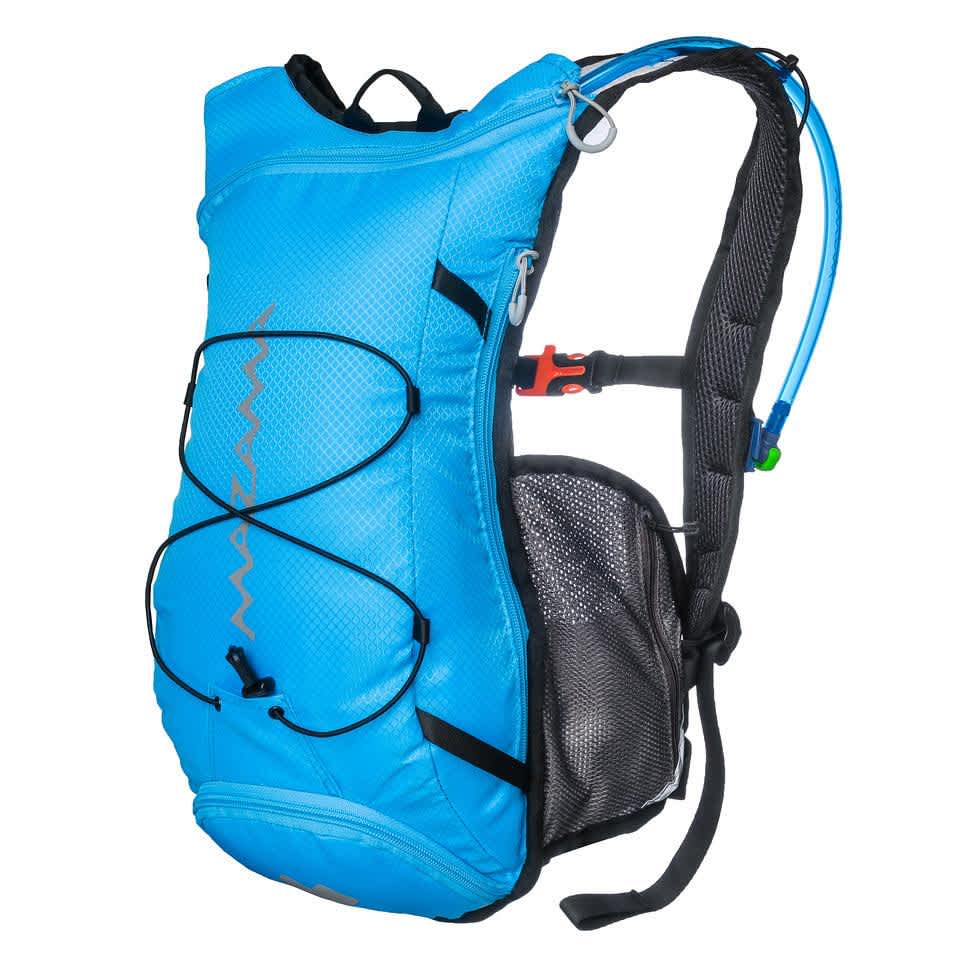 The Tumalo Hydration Pack is a lightweight, low-riding pack designed to follow your every move. Water weight is carried low, lowering the center-of-gravity and reducing upper pack torque. Side stabilizers hug your body keeping the pack centered and anchored to your core. With multiple storage options and Mazama's premium 3 Liter (100 oz.) taste-free reservoir. This pack carries all the essentials in comfort, whether hiking, mountain biking, or skiing you and your gear move as one.
PACK SPECS
Sizes: One size
Pack dimensions: 17 x 10 x 3 inches
Fluid Capacity: 100 oz (3 Liters) reservoir
Cargo capacity: 5 Liters
Weight: 1 lb (450 grams)
Waistbelt range: 20 – 48 inches
PACK FEATURES
C.O.G. (Center of Gravity) geometry
Stabilizer wings with easy access pockets
Strap stow system–no loose ends
Left or right drink tube routing
Insulated reservoir compartment–keeps fluid cool or warm
Drop-in loading for reservoir and drink tube
Quick-loop drink tube anchoring
Blinker light attachment
Side loops for helmet attachment
Pros/Balanced hydration pack capable of holding up to 5-liters of water
Cons/Some components used in the making of this hydration backpack are not made in the USA.
Bottom Line/A great American-made affordable hydration backpack option suitable for nearly every activity including trail running
7. Smartwool Go Far Feel Good Runner'S Cap
SALE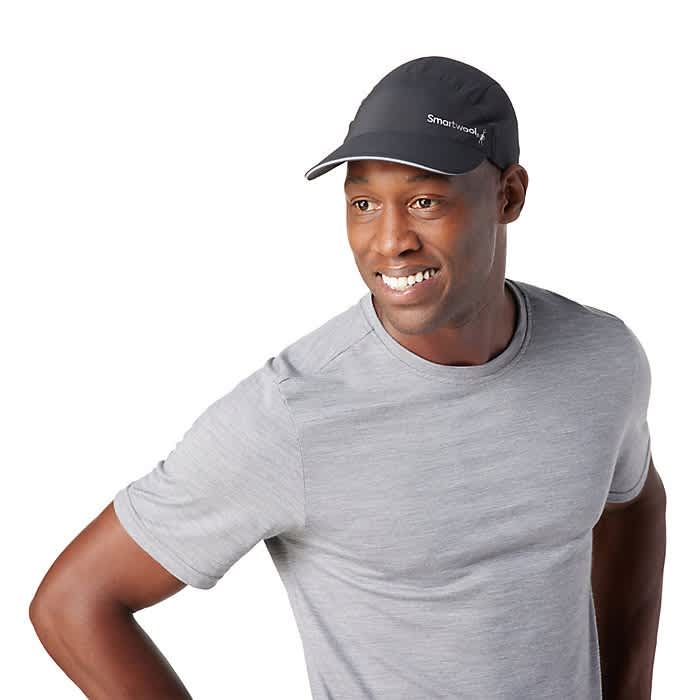 One of the few American-made hats out there I could find. This hat comes in multiple colors and is made from a blend of fibers including the very popular anti-microbial Merino wool.
Reflective elements for visibility in low-light conditions
Reflective trim around brim edge
Lightweight, quick-dry recycled stretch woven fabric
UPF 20+
Pros/Keeps the sun off your face
Cons/One of the few USA-Made hats… and its quite expensive.
Bottom Line/A great way to keep the sun off your face and neck
8. Oakley Flak 2.0 XL Polarized Sunglasses
SALE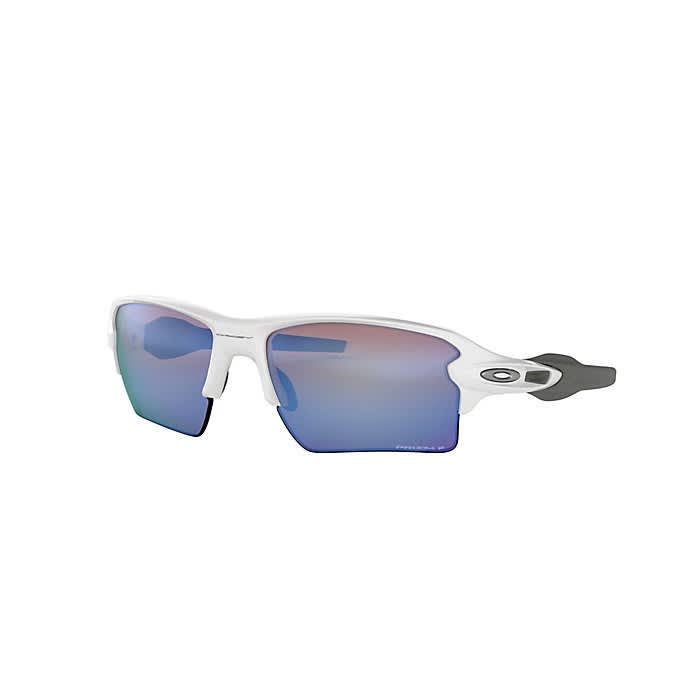 The Oakley Flak 2.0 XL Polarized Sunglasses are athletic sunglasses for those constantly on the move. Whether you're into running, biking, team sports or other, these XL size lenses will provide full coverage over your peepers in bright sunlight. The lenses are also polarized, preventing UV light from entering your eyes. The lightweight frame won't cause any bobble-head effect plus the Unobtainium® at the nose pads and temple arms grip so they won't fall off, even when you sweat.
8 base lens extends your peripheral view while providing coverage that improves side protection against sun, wind and impact
Unobtainium, a soft hydrophilic synthetic, increases adhesion when wet to grip better when you perspire
High Definition Optics, a collection of patented technologies that allosw Oakley eyewear to meet or exceed the testing standards of the American National Standards Institute for optical clarity, visual fidelity, and impact resistance
Oakley HDPolarized lenses filter out 99% of reflected glare without the haze and optical distortion that can come with polarized lenses made with conventional manufacturing techniques
Pros/A great brand of glasses that are tough as nails and look great
Cons/Quite expensive
Bottom Line/These glasses are great for just about everything that brings you out doors.
Should I wear just regular gym clothing to trail run?
If you've never done trail running, you can go outside and do it right now! Just find a trail and start running. However, if you've been at it for a long time you'll know there are a few key features you'll want for your dedicated trail running clothing to avoid chafing and the like. Your running wear should be made of moisture-wicking merino wool or synthetics rather than cotton, which is very slow to dry. Socks, too, should be merino wool or synthetic. For cool or wet weather, a lightweight rain shell or windbreaker is advisable.
What kind of trail snacks should I bring or eat before hand?
I try not to load up on too much food when I go trail running especially if it's only about an hour or so of a run. If you're going on a lengthier run, you might want to consider taking compact snack foods that can be consumed on the go like energy gel packs, or granola bars or energy chews. Stick with simple foods and try not to load up on too many heavy foods like meat or starches.
What if I get lost trail running?
If you're running trails in an unfamiliar area, don't forget navigational tools such as a map and compass or, additionally, a GPS unit. Like to run at night? A headlamp is a must. The headlamp that you take backpacking may be sufficient but if you plan to do a lot of nighttime running you'll want a light with a minimum output of about 200 lumens.  However, beyond all that, you should get to know your trails first before you set off running – if there isn't a posted map at the physical location, try looking online for a map you can keep with you on your phone.
We are committed to finding, researching, and recommending the best products. We earn commissions from purchases you make using the retail links in our product reviews. Learn more about how this works.