Adam Scepaniak   03.31.22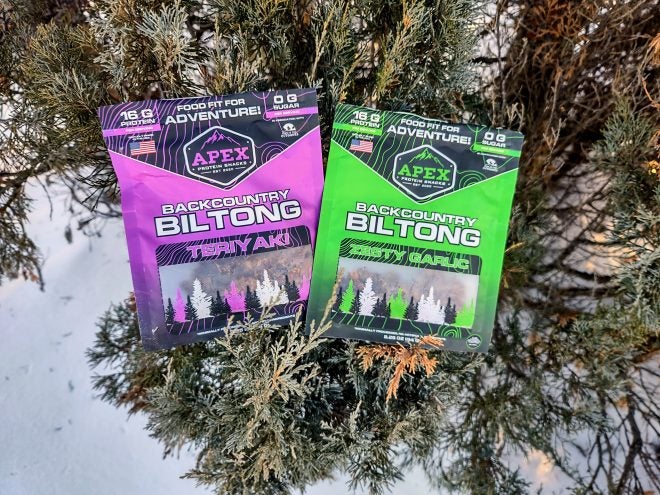 When you need a quick snack heading out to your hunting parcel, meeting up with friends for a hike, or simply walking your dogs in a park, what are you reaching for as a go-to snack to fuel your adventures?… A favorite for many of us is beef jerky because it generally is low in calories, easily packable, and its an easy food to munch on. As we are all becoming more aware of the food we put into our bodies, have you looked at your beef jerky lately? Many brands are crammed with startling amounts of saturated fat and sugar – not something you would come to expect from beef jerky. This is where Apex Protein looks to be different from the pack. They set out to create a minimally processed, highly nutritious meat snack product we could all enjoy in the outdoors. So, today we will put that to the test to see if Apex Protein Backcountry Biltong – in their Teriyaki and Zesty Garlic flavors – holds up to those claims. Let's dive in!
Food Coverage on AllOutdoor
About the Company – Apex Protein Backcountry Biltong – Teriyaki & Zesty Garlic
The idea for Apex Protein Snacks was conceived in the backcountry of the North Brooks Range, Alaska – 150 miles from the nearest civilization. While out finding adventure in the Alaskan wilderness, the founders of Apex Protein were eating some gas station beef jerky and simply were yearning for a vastly better product. It was then they took it upon themselves to create something better in the Apex Protein brand.
"Outdoorsman. Adventurists. Fitness Junkies. Purists. Label us whatever you want, just know one thing – everyone involved at Apex has a passion for spending time outside the concrete jungle. For pushing our limits, both physically and mentally, in environments that truly test us as individuals. Day by day, we want to continually better ourselves – not only in the business and fitness realm, but as people, making sure we do our best to play a valuable part in the lives of our family and to those we come into contact with. The idea for Apex Protein Snacks was conceived in the backcountry of the North Brooks Range, Alaska – 150 miles from nearest civilization. It was there while eating a normal convenience store snack stick, and diving into the nutritional aspects of it out of boredom, that we realized the need for a minimally processed – highly nutritious meat snack product in the outdoor market place. No more lies about meat products being a so-called health food, yet carrying more saturated fat than French Fries from a local fast food joint, and sugar levels that rivaled a soft drink to produce higher amounts of product, for less cost (using sugar as filler product to allow for less meat per product). This seemed absolutely wrong to us, and so we wanted to create a snack line that truly had health benefits and macros that would fit into any diet plan.

Here's to you for joining us on our mission here at Apex – we look forward to providing you with Food Fit For Adventure!"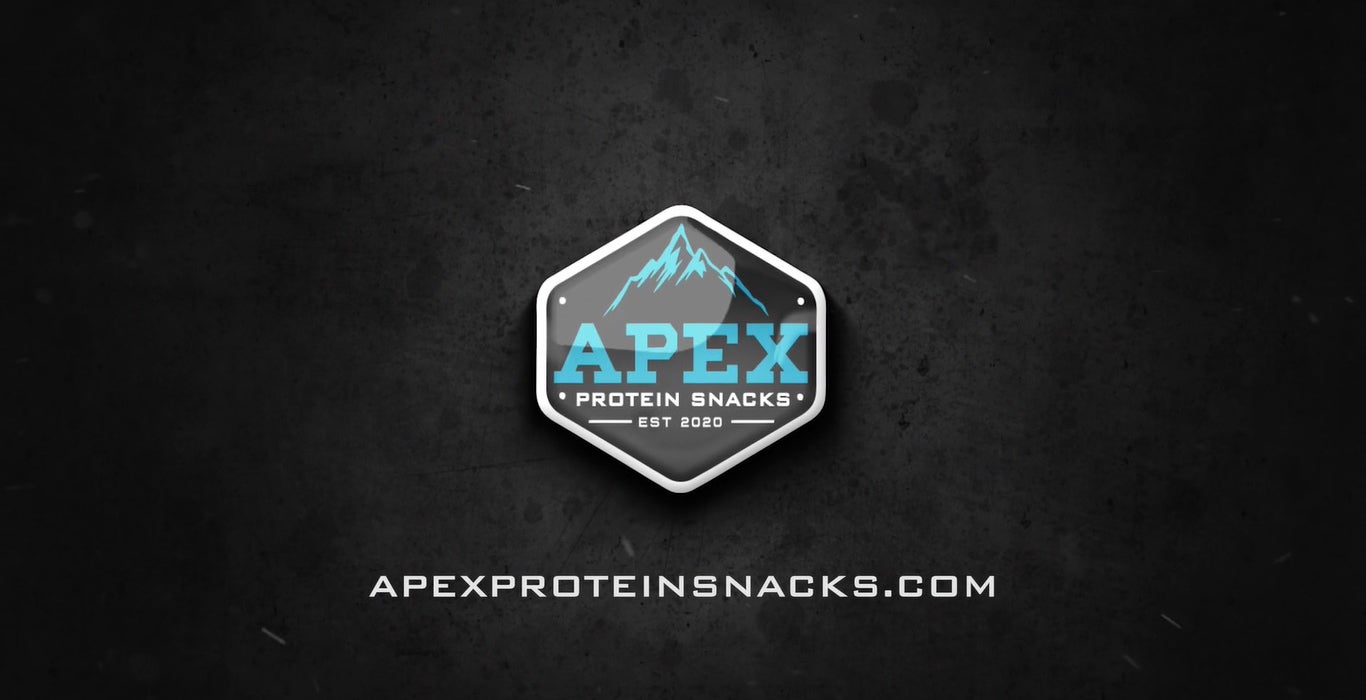 Nutritional Data – Apex Protein Backcountry Biltong – Teriyaki & Zesty Garlic
When it comes to beef jerky or even the higher grade of biltong that Apex Protein offers, you might be surprised to know just how healthy it can be actually produced. Most of us only know of the highly salted, sugared, and saturated fat laced variety we see at gas stations yet that is not our only option. Apex Protein with their Backcountry Biltong offers a new and significantly improved option in the meat snack space.
16 Grams of Protein per serving
0 Grams of Sugar per serving
Gluten FREE
Keto Friendly
Minimally Processed
No Artificial Ingredients
Proudly Made in the USA
Available in Teriyaki, Zesty Garlic, Original, Hickory, Mesquite BBQ, and Spicy Peri Peri all at a retail price of $7.99 for a 2.25 ounce bag. For this review, we were able to sample the Teriyaki and Zesty Garlic which we were very impressed with. Apex Protein goes on to elaborate about their product in their Press Release statement below:
"The better-for-you jerky made South African Style. Don't let the strange name fool you, this product is incredible tasting and minimally processed! Our Biltong packs an even higher protein count than your typical jerky. With 36g Protein and 0g sugar per bag, these snacks are truly made to work within any diet plan, and keep you at peak performance! Try it once – and we guarantee you'll never look back!"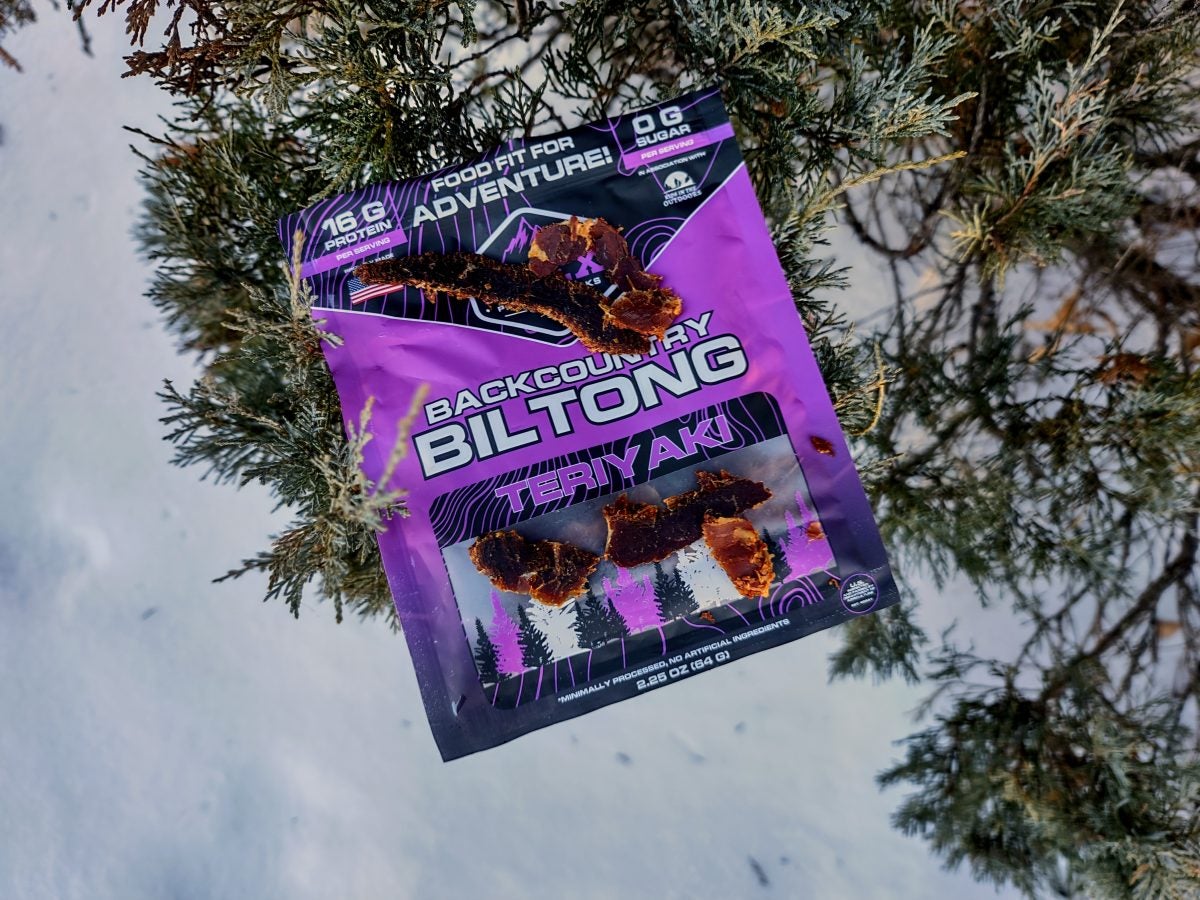 Field Use – Apex Protein Backcountry Biltong – Teriyaki & Zesty Garlic
I found myself sampling the Apex Protein snacks sent out to us while ranching my family's herd of Red Angus beef cattle and Mangalitsa pigs this winter. The brutally cold Minnesota winters coupled with the rigorous work of feeding and maintaining livestock always has me reaching for snacks. The first Apex Protein snack I enjoyed was the Teriyaki flavor. They were thinly sliced with a faint teriyaki taste; not overpowering at all. I also immediately noticed that it was not aggressively salty like a lot of biltong. There was also a little bit of natural fat for an improved taste yet simultaneously it didn't taste processed like competing beef jerky where you need to chug water afterwards. Overall, I liked it and it kept me moving while working outside.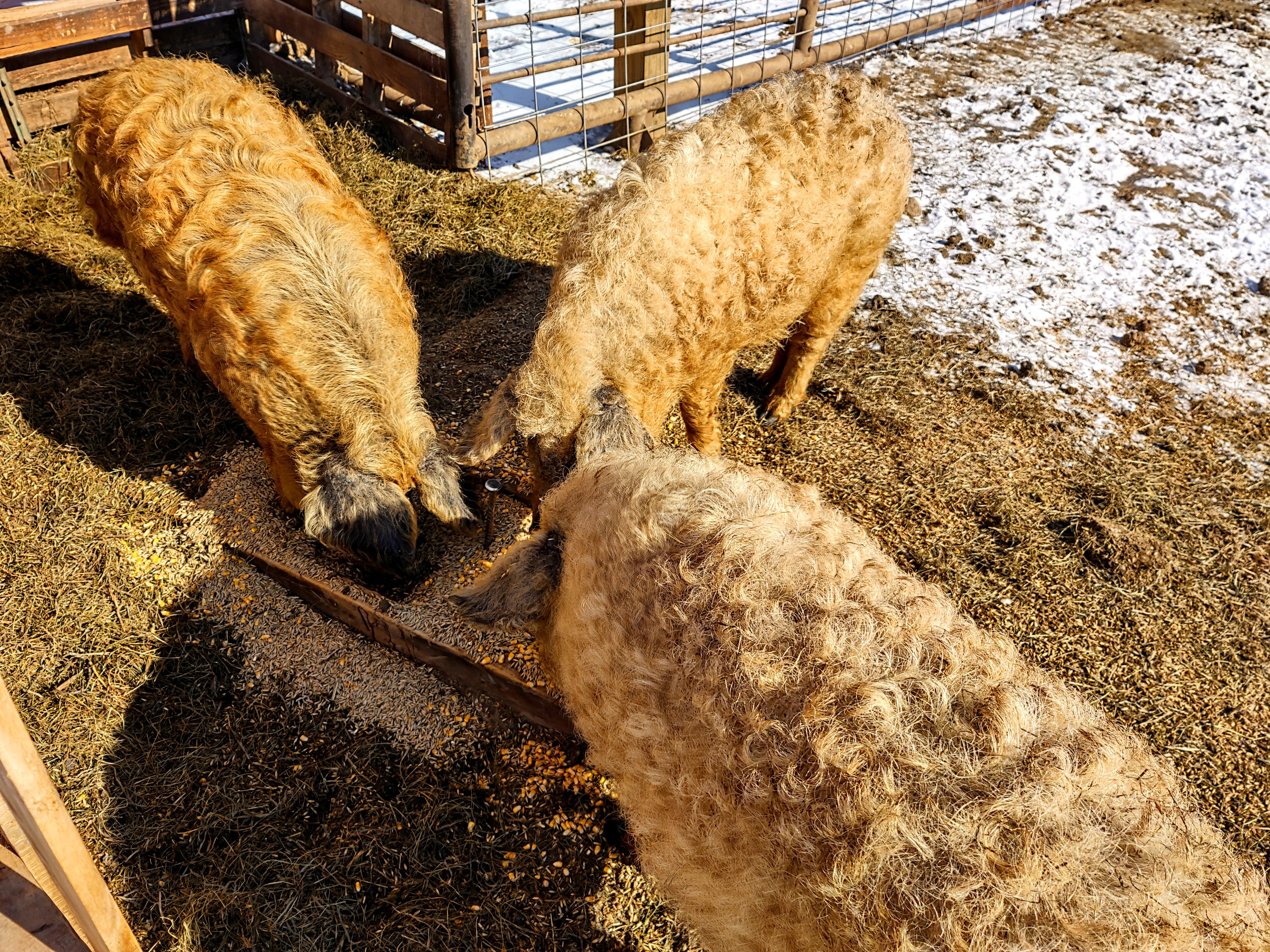 The next Backcountry Biltong flavor we tried from Apex Protein was their Zesty Garlic flavor. Again, this had a faint taste of Zesty Garlic. The fat was delicious and retained more of the seasoning that was applied to the biltong. Another one of our editorial writers for AllOutdoor.com – Samuel Schaust – had stated:
"Not what you normally think of for beef jerky; lacking stereotypical high salt content and MSGs."
His thoughts were essentially mine as well. This product is way healthier; a taste most would be unaccustomed to since "the bar" for jerky is rather unhealthy and loaded with additives.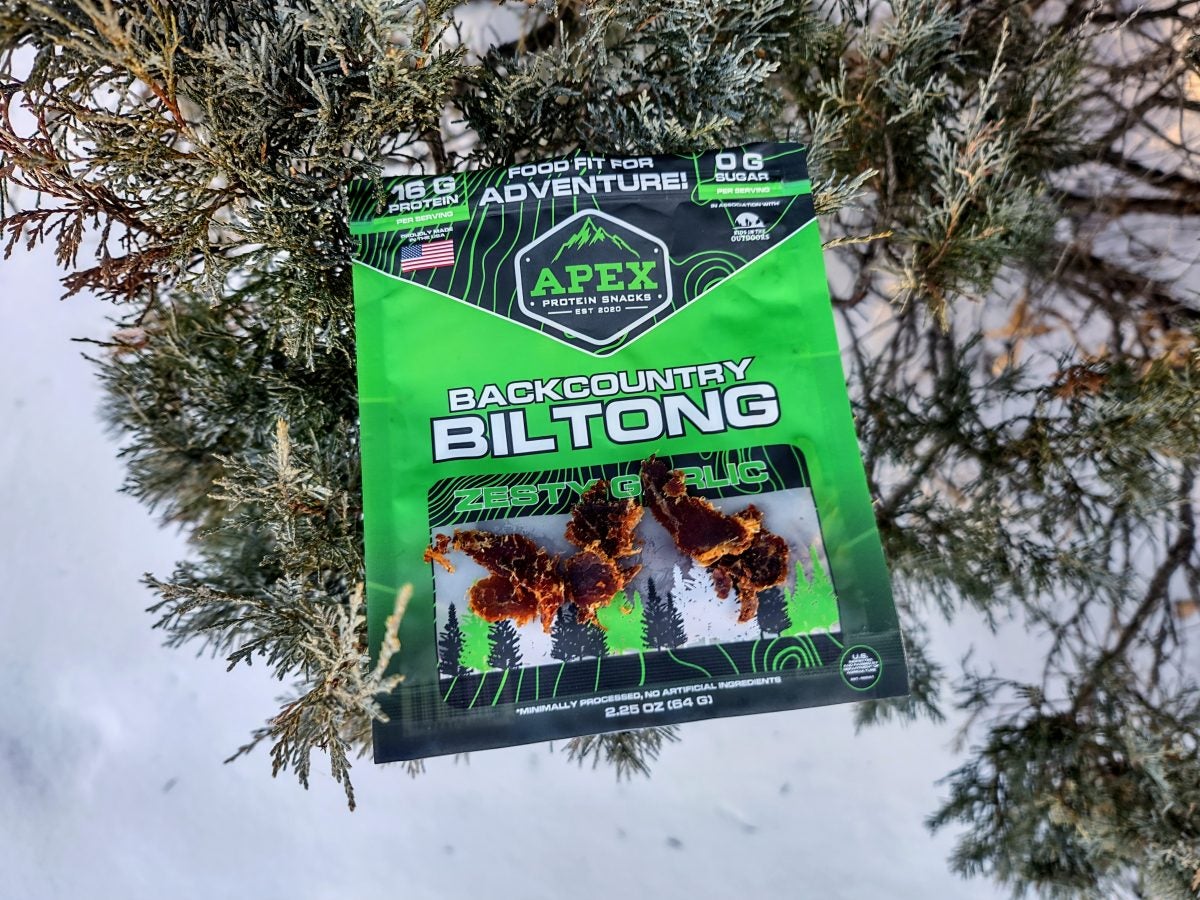 Final Thoughts – Apex Protein Backcountry Biltong – Teriyaki & Zesty Garlic
So, what are my final thoughts on Apex Protein's Backcountry Biltong in the Teriyaki and Zesty Garlic flavors we sampled?… In all honesty, I was pleasantly surprised. I was of the sadly (and probably ignorant) train of thought of how different can beef jerky be? Thankfully, I was wrong. Apex Protein takes a much more natural and healthy approach to their products making them not only taste better, but there is no crash or feelings of intestinal distress when you eat them. I would whole-heartedly recommend giving them a try if you have the opportunity.
In closing, I want to say thank you to Apex Protein for allowing AllOutdoor and myself the opportunity to try out their Apex Protein Backcountry Biltong in Teriyaki and Zesty Garlic. That is greatly appreciated. Also, we would like to know what all of you guys and gals think? Do you believe that the Apex Protein Backcountry Biltong in Teriyaki and Zesty Garlic is something worth spending your money on? As always, let us know all of your thoughts in the Comments below! We always appreciate your feedback.