Many think a crossbow will magically kill deer at longer ranges than a hunter using a compound or recurve bow. This is only true if the crossbow hunter understands his gear and practices often. Only then will the maximum distance be further than the compounds hunters are shooting. For the most part, hunters using crossbows will allow their quarry to come within an effective range, which should be 50 yards or less under most circumstances. This shot is perfectly doable for most hunters. Many hunters hunt deer in timber. When a bolt leaves a crossbow and travels 40 or 50 yards, it must bypass many limbs and small saplings to hit its target. That doesn't always happen; a bolt can easily be thrown off-course. Bow season is long, don't rush a shot at long-distance targets. It's best to wait for a closer shot.
Practice Time With Your Crossbows
While crossbows are effective and lethal, they have limitations. A crossbow will not always effectively shoot much further than your compound bow. The bolt loses force, just like an arrow. The more you practice, the more you will understand at what yardage the bolt will start to lose altitude. This will help you determine the distance limits of your crossbow. This comes with practice. Like with firearms, crossbow hunters must spend a lot of time on the range. He should be able to draw, aim, and shoot efficiently and accurately. No hunter should head to the woods, regardless of their equipment, until adequate time is spent getting to know the equipment and the hunter's limitations.
Best Crossbow Scopes
It doesn't matter how fast your crossbow is or how fast your arrows fly; you need a quality scope that you can count on. You must see where the bolt will strike for an effective kill shot. This requires a reliable scope or red dot sight. Here are a few options to consider.
The TRUGLO 4 x 32 crossbow scope has a unique range finding and trajectory compensating reticle, generous 4″ eye relief, fully-coated lenses for maximum brightness, clarity, and contrast, rubber eye-guard, fingertip windage and elevation adjustment under screw-down caps, durable leaf spring for windage and elevation adjustments, and a one-piece tube made of aircraft-quality aluminum.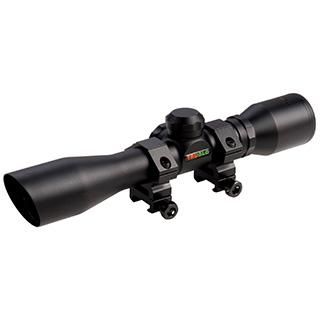 For the last couple of seasons, I have been using the Hawke Crossbow Scope 3×32. Hawke Sports Optics designed and engineered their 3×32 XB Crossbow Scope and XB MAP reticle for crossbows using bolts traveling at 315 ft/s for optimum accuracy. The objective is intentionally on the small side to maintain a low profile, reduce snag points, and keep the weight down. The post arrangement forms an inverted trapezoid target gate in the middle with aiming points from 20 to 60 yards in 10-yard intervals. It is calibrated for 315 fps speeds and offers 6″ and 12″ brackets on its 50-yard line.
Best Crossbows for 2023
Best Crossbow Broadhead for Deer Hunting
The three-blade Trocar is engineered for undisputed toughness and accuracy. This fixed-blade broadhead features a 0.035-inch-thick helix-blade design that provides field-point-like accuracy and unbelievably lethal performance. With a solid-steel ferrule, razor-sharp blades, and a one 3/16-inch cutting diameter, the Muzzy Trocar has established itself with deep penetration, massive blood trails, and unmatched accuracy among fixed-blade broadheads in extensive pre-release testing.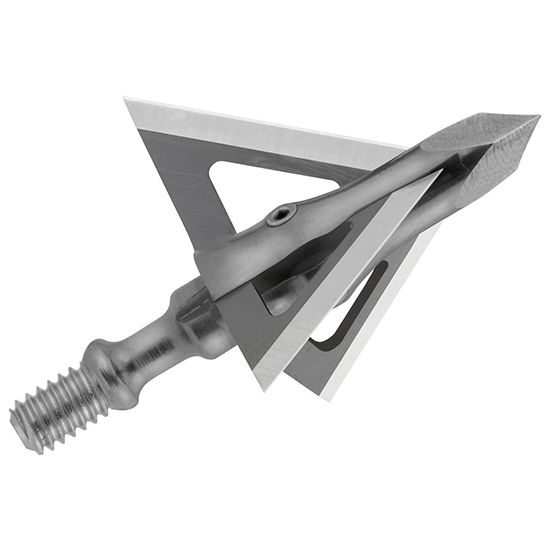 Best Crossbow for Bear Hunting
The Ravin R29X Predator Dusk Camo Crossbow is all the talk right now among crossbow hunters. The Ravin is compact and 450 FPS bolt speed, making it the perfect choice for bear hunting. The last thing a hunter wants to do is fumble with a bulky crossbow when a bear steps out. Measuring just six inches axle to axle, this lightweight bow is easy to handle as it shoots rockets toward the intended target.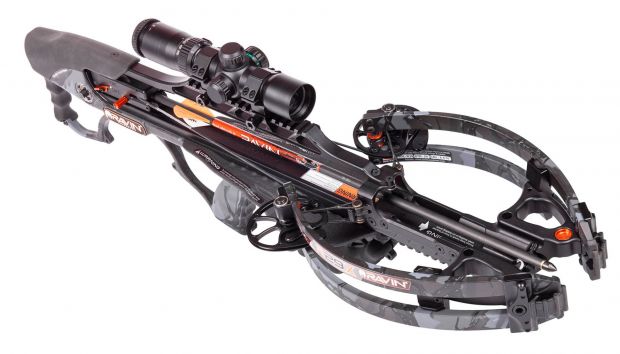 Best Crossbow Broadheads for Bear Hunting
The Crimson Talon G2 Broadheads feature a V-Lock Blade Attachment System that solidly secures the blades into the ferrule for rock-solid performance. These broadheads come in 125 grain. With their six blades, the Crimson Talons are some of the most accurate and lethal broadheads. The G2 line incorporates Spintite airfoil technology, which spin-stabilizes arrows from the front. Three rigid airfoils on the blades achieve high-speed spin, which keeps your arrow flying true. These airfoils cause the arrow to screw through the target like a drywall screw, producing a spiral wound channel and resulting in massive hemorrhaging and unmistakable blood trails.
Best Crossbow for Elk Hunting
Do not let the size of an elk intimidate you. The same crossbow you are using for other game will do just fine. The list of crossbows that can get the job done is endless. Here is my pick for the best crossbow for your next elk hunt.
The R26 is Ravin's most compact and lightweight crossbow to date. Weighing only 6.5 pounds, the R26 has a fantastic axle-to-axle width of 5.75 inches when fully drawn, making it the most compact crossbow on the market. Don't let the size fool you- the R26 shoots an incredible 400 FPS with 142-foot pounds of kinetic energy. The Ravin R26 features an ergonomic grip, making it a more tactical option for shooters and hunters. Available in Predator Dusk Camo, exclusive to Ravin Crossbows. The Ravin R26 includes HeliCoil technology, fully assembled/pre-tuned, six Ravin .003 arrows & field tips (400 Grain Total), 1-removable draw handle, 1-quiver/mounting bracket, 100 -yard illuminated scope, anti-dry fire/auto safety, and built-in sling mounts. The R26 comes in both camo and grey options.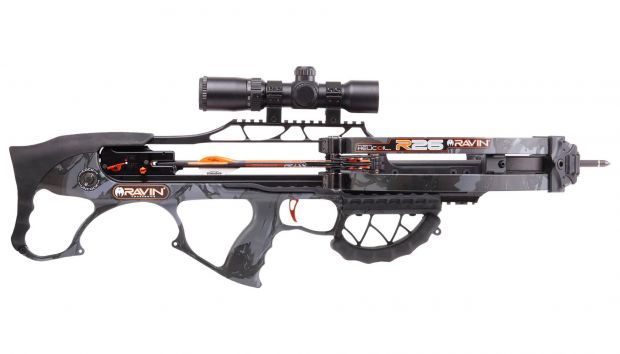 Best Crossbow for Turkey Hunting
The same crossbow you use for other hunting situations will be suitable for turkey hunting. Popular opinion is that you need to dial it down a bit when hunting turkeys, but it is unnecessary.
The SA Sports Empire Punisher 420 Compound Crossbow is powerful. Shooting at more than 420fps and delivering 158 foot-pounds of force with every shot will not only work in the turkey blind, but for any species, you hunt. It is a crossbow for all your needs. Every Punisher 420 ships with a 4×32 illuminated multi-reticle scope, quiver, u-sled rope cocking device, and sling. The first three bolts are included as well.
Best Broadheads for Turkey Hunting with a Crossbow
Turkey hunters have options for what type of broadhead to use during the hunt. Of course, mechanical and fixed blades are the most popular.
Fixed-blade broadheads at least one ¼ -inches in diameter or mechanical heads shot at the vitals are the preferred choice by many hunters. Other hunters choose to shoot at the neck of a big bird with a big four-blade broadhead made just for the neck and head region of a turkey. If you ask a room full of hunters if they prefer a body shot or a headshot for a quick kill, the answers will likely be split 50/50. For years, all turkey hunters had available to them were large, fixed-blade broadheads. This type of head has accounted for countless turkeys over the years. As technology improves, so do the broadheads available for the turkey hunter.
Arrow penetration has been a highly debated topic among turkey hunters for as long as turkeys have been hunted with archery equipment. Some hunters prefer a pass-through shot that will cause much damage and leave a good blood trail. Most turkeys do not leave a good blood trail. Their thick feathers soak up most of the blood before it ever has a chance to reach the ground.
Open-on-impact (mechanical) broadheads are quickly becoming favorites of turkey hunters. Mechanical broadheads that offer a wide cutting diameter will cause plenty of hemorrhaging and a lot of damage to a turkey. A well-placed open on impact heads will quickly put a bird down for the count. Crimson has some broadheads that are great for turkey hunting.
The Crimson Talon Battleaxe 100 Grain Mechanical Broadhead features curved sickle blade technology to conserve kinetic energy to penetrate deep, then internally deploys a 2″ cutting path for fast and humane big game knockdown power. Exclusive inboard center-of-gravity blade geometry keeps blades closed on release and helps deployment during game penetration. This same broadhead is also available in 125 grains.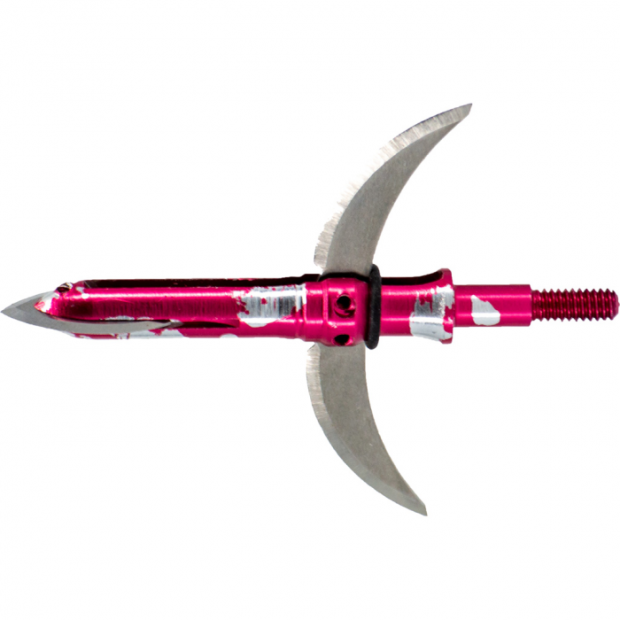 Another good broadhead from Crimson is the Talon Bone Crusher 125-Grain Mechanical Broadhead. The Crimson Talon Bone Crusher combines a smooth flying design with rugged construction to deliver considerable takedown power for bowhunters. This high-performance broadhead comes tipped with a hardened A2 tool steel chisel tip for deep penetration through bone, hide, and tissue. Two stainless steel blades deliver a wide 2″ cutting diameter. Accurate and deadly, the Bone Crusher gives you the flight of a field point with big game-stopping power.
You can find a good assortment of crossbows and crossbow sights in the Everest Outdoor Marketplace. New products from new sellers are being added daily.