Located only 1 hour from Cabo San Lucas, Todos Santos is an artsy, laidback Mexican beach town that you won't want to miss. As a "Pueblo Mágico" (magical town), a designation by the Mexican government, Todos Santos has maintained its original architecture, traditions, history, and culture. There are so many things to do in Todos Santos from walking through the colonial architecture and browsing art galleries to eating delicious food and enjoying the natural beauty of the area.
The last time I visited Todos Santos was over a decade ago and I was concerned about what the Baja locals call, "Caboifcation", or the endless tourist-centered, American chain stores sprawl that has overtaken parts of southern Baja. I was so pleased to see that the "mágico" of Todos Santos remains. This is due to the fierce protection of the natural landscape by local advocates that has kept development from overtaking the town. This quaint artist village has not lost its vitality and there are expanded options of restaurants, galleries, and tons of Pacific coastline to explore.
Looking for the best things to do in Todos Santos? Our complete travel guide has you covered!
How to Get to Todos Santos, Baja California Sur
Todos Santos is located on the Pacific side of the Baja Peninsula, 64 miles north (1.5 hours drive) of the San José Del Cabo International Airport, the largest major airport in Baja California Sur. Travelers can also fly into La Paz International Airport, located on the Sea of Cortez side of the peninsula (1 hour drive), but it's a smaller airport that typically has fewer and pricier flight options.
You can take shuttle transportation from the airport to Todos Santos using Eco Baja Tours, but if exploring the natural areas just outside the city center is part of your itinerary, I highly recommend renting a car. We had an excellent experience renting from Cactus Rent a Car, a locally owned car rental company whose office is located just outside the airport with free shuttle service to/from the terminal. Some roads in Baja are unpaved and can be rough on rental cars- consider purchasing additional insurance to cover any damage.
It is also possible to drive to Todos Santos from the US border if you have time for a 20 hour drive and a much larger adventure. Be sure to see our Baja Roadtrip Guide for more on this.
Best Time to Visit Todos Santos
Late fall, winter, and spring are the best seasons to visit Todos Santos. Summer (June-September) is brutally hot and humid, plus the potential for tropical storms is high from August until October.
November-March may be the very best time to visit Todos Santos and all of Baja California Sur. The cool mornings make for great hiking weather and the warmer afternoons are perfect for surfing, swimming, and other water-based adventures.
Prime whale-watching season in Todos Santos runs from October through March with humpback whales appearing October-January and grey whales appearing January-mid March.
Something to keep in mind if you plan on visiting Todos Santos during the winter holidays is that the area sees a dramatic spike in visitors between Thanksgiving and New Year's so make sure you book your accommodation, guided tours, and surf lessons ahead of time.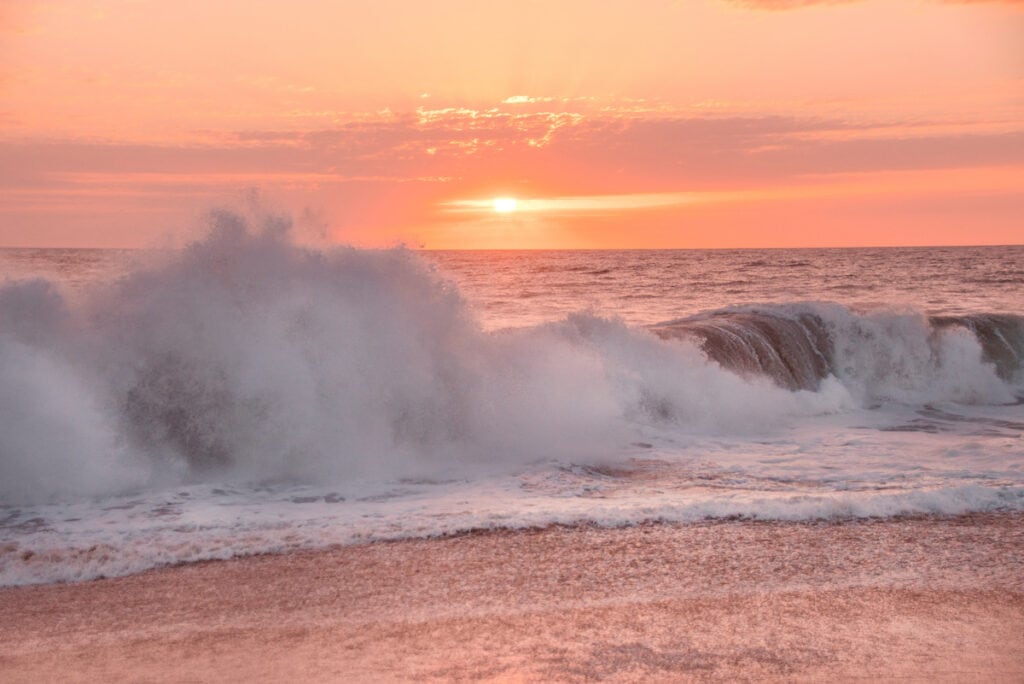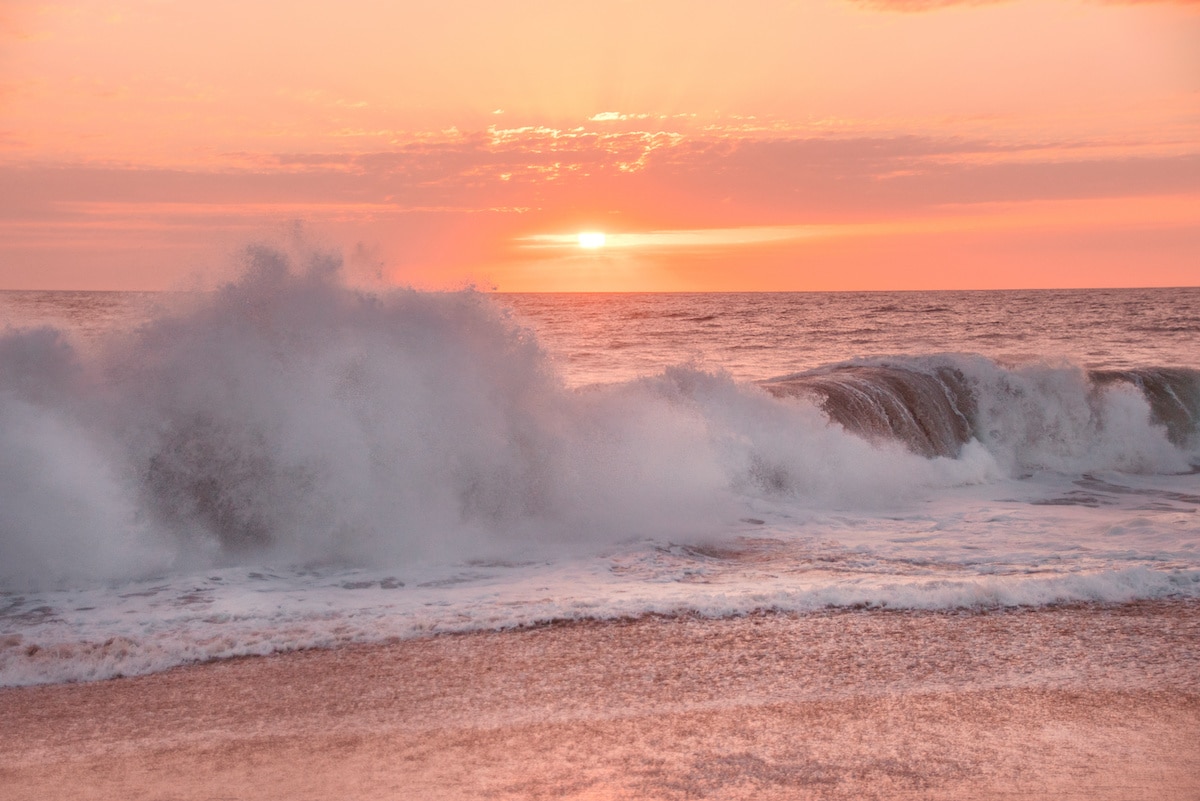 Where to Stay in Todos Santos
Todos Santos boasts all kinds of accommodations from charming boutique hotels to vacation rentals and even the Hotel California. The center of Todos Santos is located 2 miles from the nearest beach, Playa La Cachora, which is great for walking, but not safe for swimming or surfing. If you want to stay on the beach, the best option is to stay either in Playa Pescadero or Playa El Cerritos, a 10-20 minute drive south of Todos Santos.
Las Casitas (the little houses) at Los Colibris Casitas feature expansive views of the Pacific Ocean and a freshwater estuary. This luxury accommodation option features private kitchen facilities, an infinity pool and hot tub, an activity concierge, and other amenities. They also offer onsite breakfast each morning for an additional fee.
There is plenty of room at the Hotel California, located in the very heart of Todos Santos. While the hotel was not the inspiration for the Eagle's song, plenty of Instagram tourists like to pretend it was.
We stayed at a vacation rental on Cerritos Beach, a twenty-minute drive from the heart of Todos Santos. I appreciated getting away from the hustle of the city and being able to look out of our balcony at the ocean and having the ability to swim and surf right out our front door.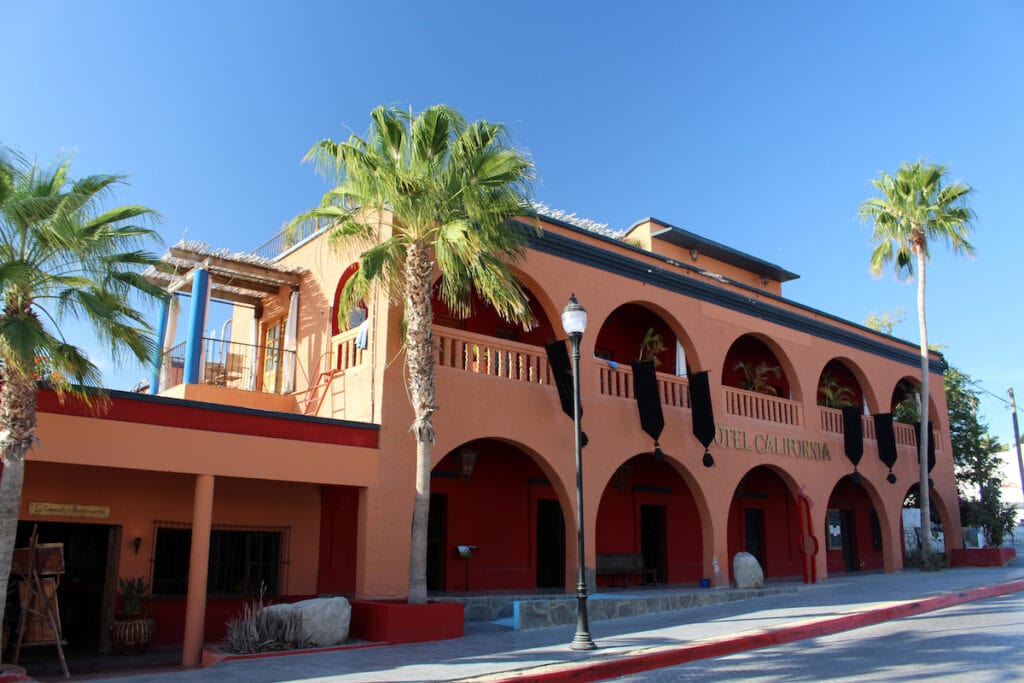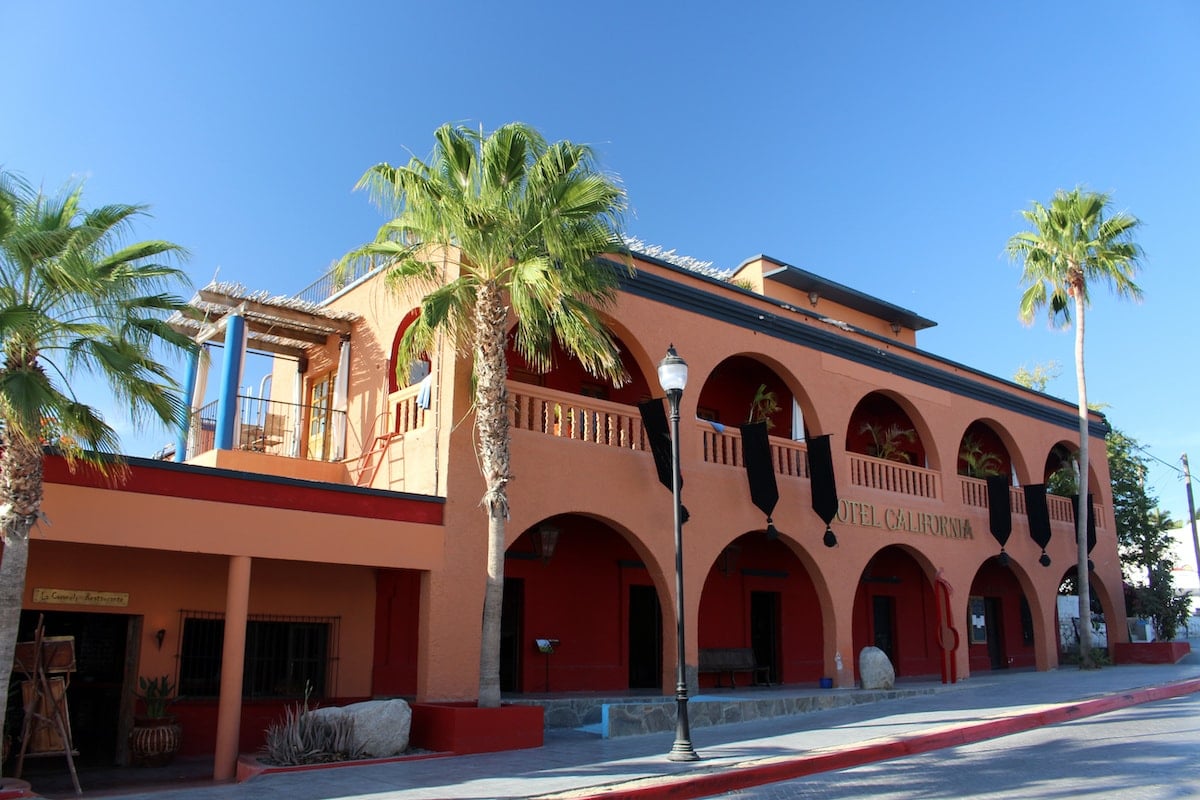 Best Things to Do in Todos Santos
Surfing
Surfers often are the first to discover the coolest places and Todos Santos is no exception. The surf close to town can be fantastic, especially in the winter. The average water temperature in Todos Santos by season is 69F in winter, 71F in spring, 81F in summer, and 82F in fall. While I didn't need a wetsuit to surf in late March, I was grateful that I packed mine. Many places offer wetsuit rentals and if you are taking a lesson, many include a wetsuit in the price.
Todos Santos boasts a number of surf shops including Pescadero Surf Shop. All shops charge $20 a day for a surfboard rental and may give you a deal if you rent for a whole week. There are a number of surf schools, but the OG in Baja is Mario's Surf School located on Cerritos Beach. Mario is so confident that you will stand up during your first lesson, he will give you a full refund if you don't.
There are three main surf breaks close to Todos Santos: Playa Los Cerritos, San Pedrito at Playa Pescadero, and La Pastora. Playa Los Cerritos (known locally simply as Cerritos) is a sandy beach break and a great spot for beginner surfers located 20 minutes south of Todos Santos. La Pastora, located 10 minutes north of downtown Todos Santos, is a heavier point break with a strong undertow and should be reserved for experienced surfers only. San Pedrito at Playa Pescadero, located 15 minutes south of Todos Santos, can also be a good surf spot for beginners and experienced surfers alike but beware of the rocky bottom. There are also a number of surf breaks around Cabo San Lucas and San Jose del Cabo, about an hour's drive south of Todos Santos.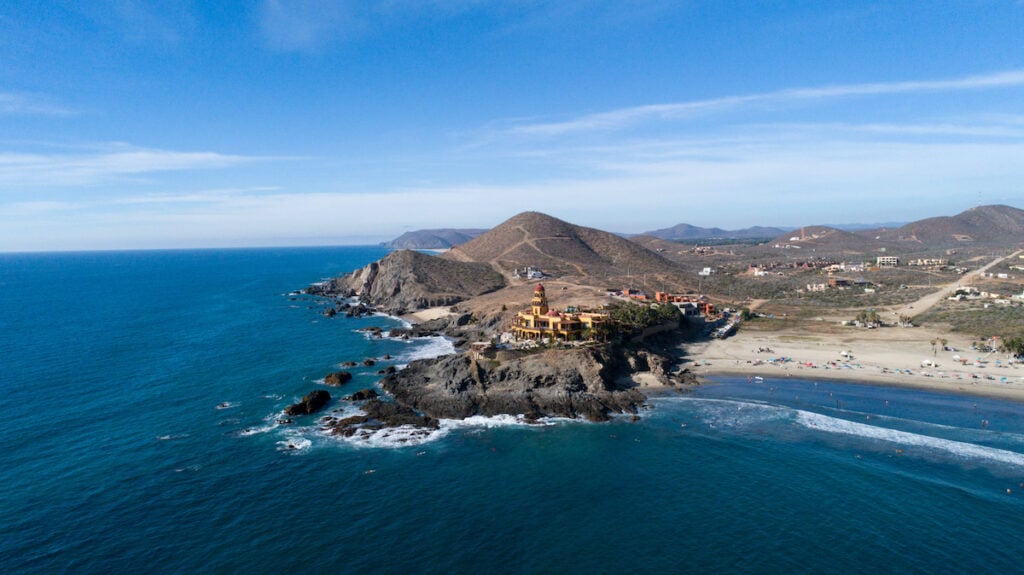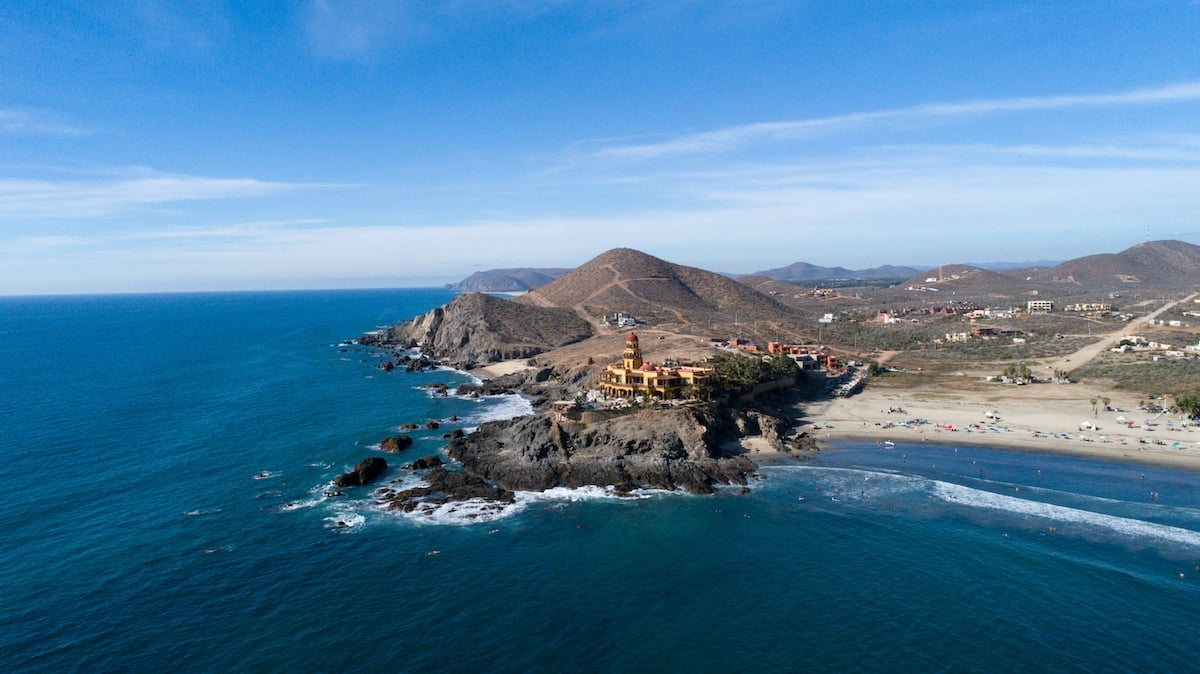 Hiking
There are a few hiking trails close to Todos Santos that offer awesome coastal views and even snorkeling opportunities. Two of the most popular trails – Puerto Todos Los Santos and Playa Punta Lobos – both start out by the Hotel San Cristobal, a 20 minute drive south of Todos Santos. Both trails are moderately challenging, but it's a fully exposed desert hike so be sure to pack plenty of water and wear adequate sun protection. The end of the trail takes you to a hidden swimming cove that is perfect for a cool down or snorkel before the return.
If you are looking for a challenge or overnight backpacking trip, head into the Sierra de Laguna biosphere for the Valle de la Laguna hike. This 15.6 mile out-and-back trail provides views of the Sierra mountains, but with over 5000-foot elevation gain, it's not for the faint of heart. The road into the Biosphere isn't very well marked off of Highway 19 so keep your eyes open as you head north on the Highway, just outside of town. This trail is also well suited to mountain biking and you can rent bikes from a number of outfitters in Todos Santos including Omega Tours.
The entire nearby Sierra de Laguna Biosphere reserve offers dozens of different hiking trails all around the greater Todos Santos area (up to 2.5 hours drive away). It is recommended that you hire a guide or make sure to hike with others as the high desert region is both notable for its low humidity rate and hard to distinguish landscape making getting lost and running out of water possible.
Whale Watching
Grey whales, blue whales, and humpback whales are the most numerous of eight different whale species that migrate along the Baja Peninsula each winter from November to March as they make their yearly journey from Alaska down to their winter homes in the Sea of Cortez. There are a number of tour companies that will take you out on boats for whale watching, but if you look out at the ocean long enough, you may get lucky and see a whale breech from shore. Playa Pastora is a great free beach spot for whale watching in Todos Santos.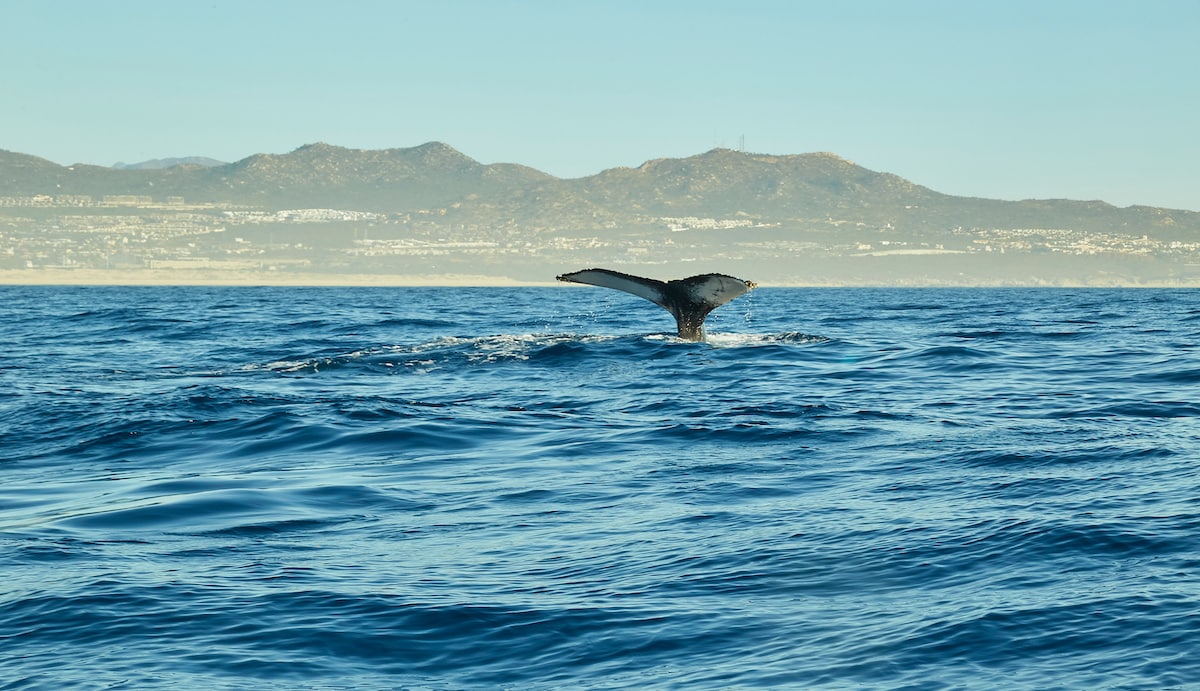 Yoga Classes
Todos Santos is becoming popular for yoga retreats and classes. Cuatro Vientos is a beautiful studio space offering yoga classes, ecstatic dance, and meditation classes. All of their classes are drop-in, so no advance reservations are required.
Watch a Baby Sea Turtle Release
Just before sunset every evening between December – February (and sporadically in March), baby sea turtles are released by a non-profit organization called Tortugueros Las Playacita, located 10 minutes north of Todos Santos. Be sure to arrive early because parking is limited.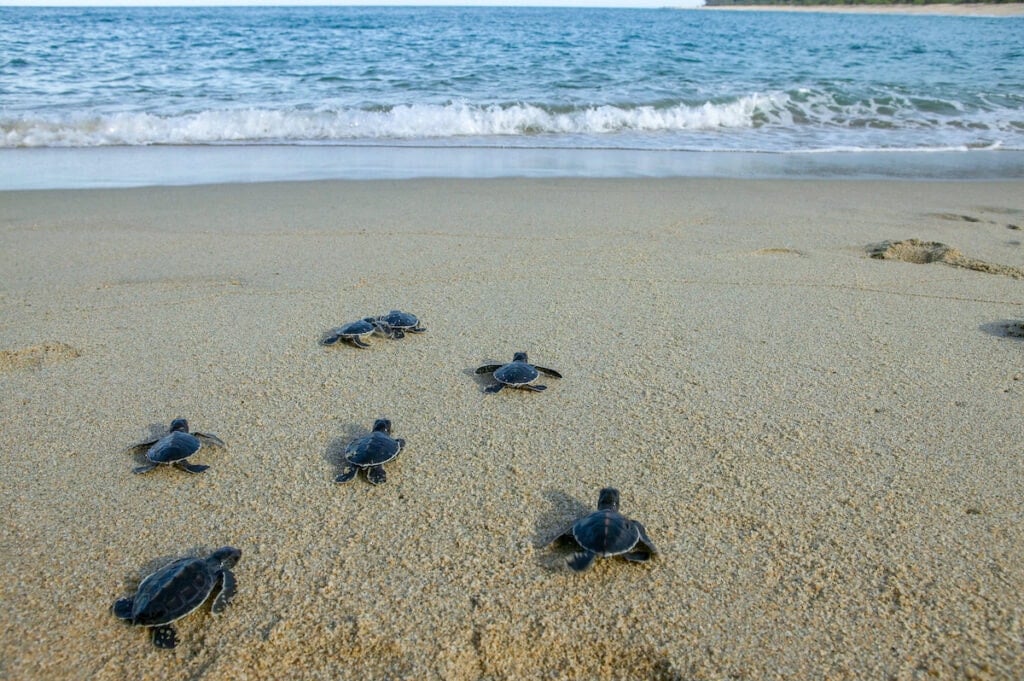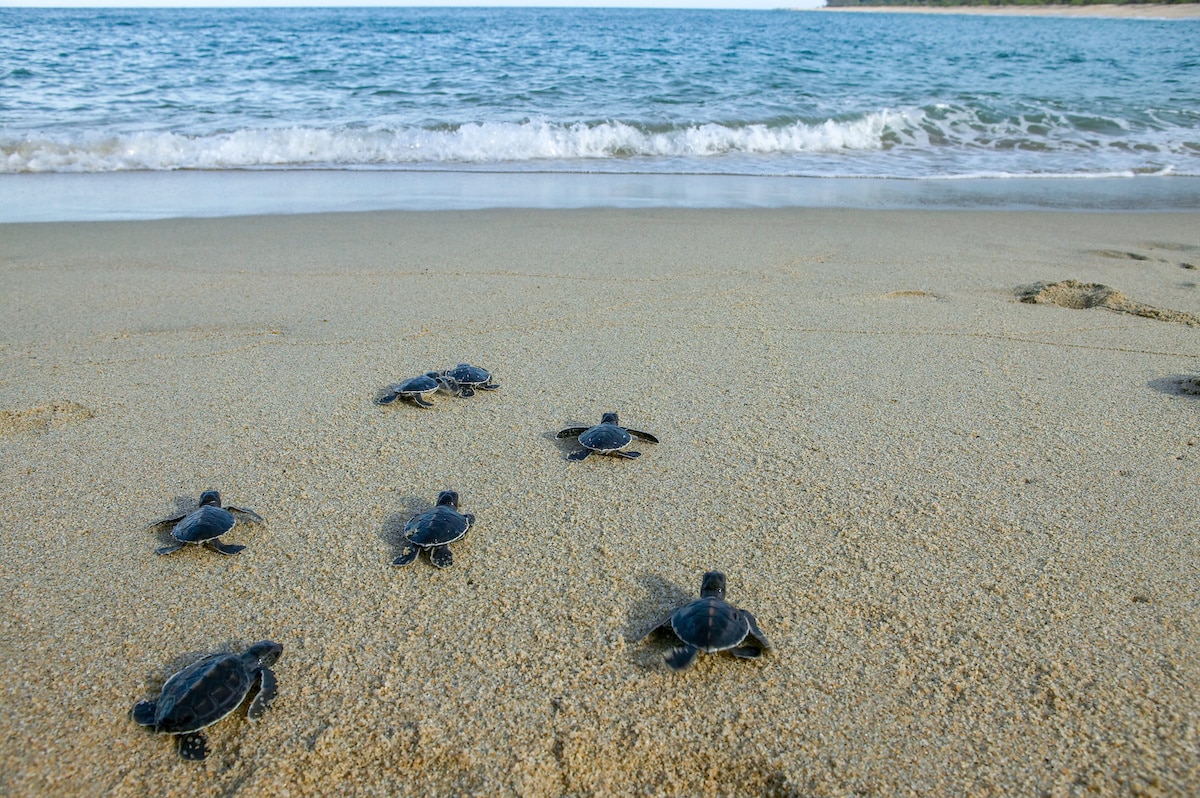 Gallery Visits
Todos Santos was discovered first by artists and surfers who found the quiet way of life in Baja in alignment with their creative focus. In the past decade, more than a dozen galleries have sprouted all over town. Some galleries are dedicated to a single artist and others boast the work of many locals in paintings, clothing design, sculptures, metalwork, and ceramics. Wandering through town and discovering a previously unknown artist is one of the delightful things to do in Todos Santos. La Sonrisa de la Muerte is one of our favorites to visit.
Shopping
There are tons of small boutiques and shops in Todos Santos to pick up local handicrafts, clothing, and souvenirs.
Supermercados are also everywhere in Todos Santos where you can pick up fresh tortillas (look in the coolers in the front of the store where they are kept warm), cheese, meats, snacks, and fresh fruits and vegetables.
We enjoyed shopping at Agricole, a cooperative organic market that boasts a bakery, an indulgent wine and local microbrew beer department, and tasty homemade burritos, salsas, and dips.
For amazing fresh local produce, check out Fruteria y Organicos San Ignacio, located just north of downtown. There is also a weekly farmer's market at Cerritos on Wednesdays that you don't want to miss as well as a local market on Sundays at Baja Beans in El Pescadero.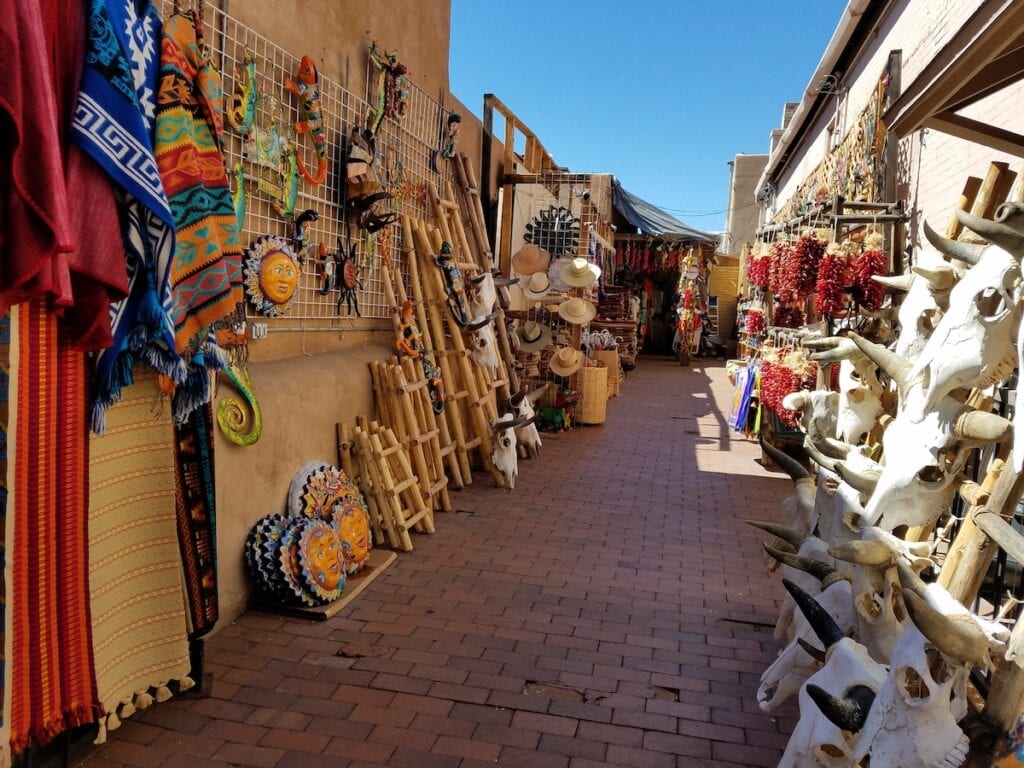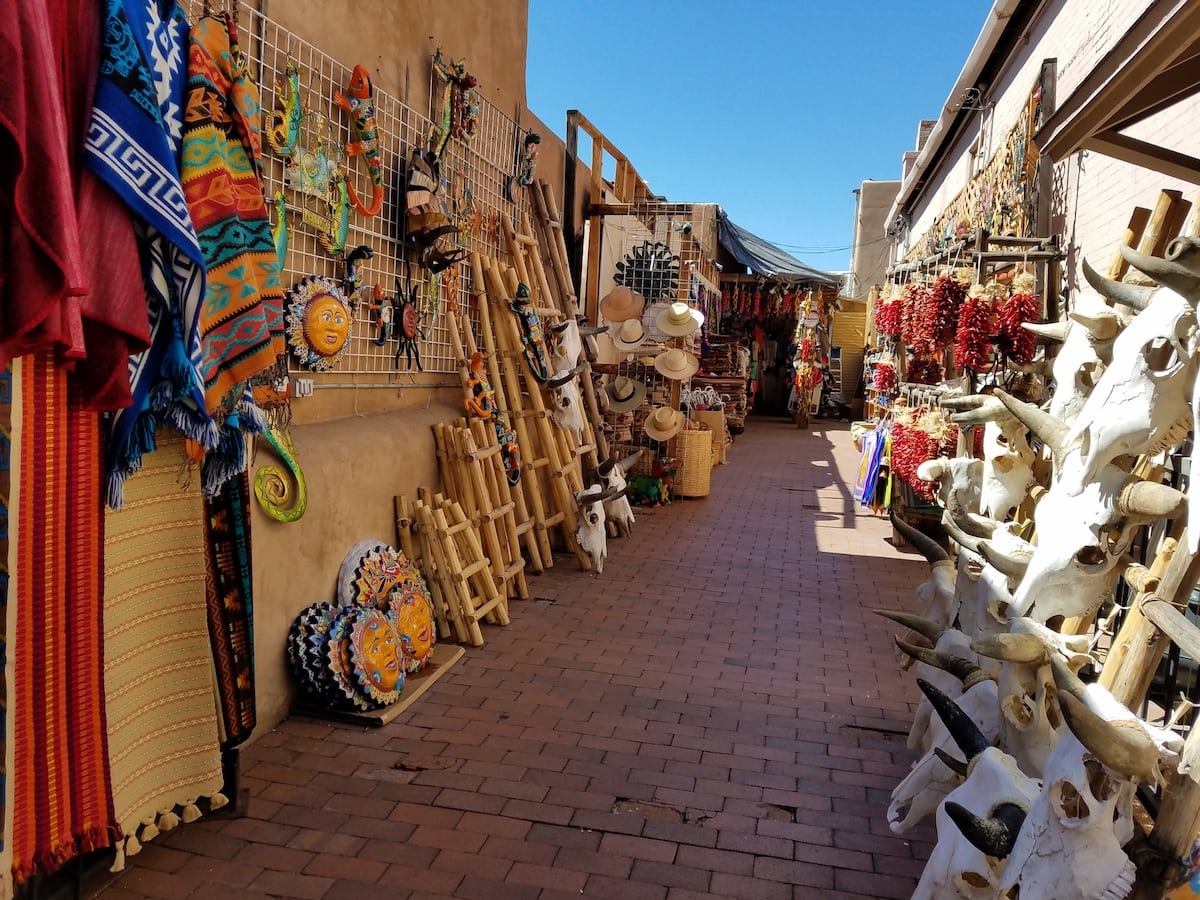 Best Day Trips and Overnights near Todos Santos
Glamping in the Sierra Mountains
Most people who visit Baja stick to the coastal areas around the Sea of Cortez and the Pacific side of the peninsula. The majority of the landmass, however, is the mostly unexplored mountainous interior. Todos Santos Eco Adventures created a heavenly, isolated glamping spot nestled in a mango grove in the Sierra de Laguna Biosphere Reserve. This full-service camping expedition includes tent camping with a bed outfitted with hotel-quality linens and a private compostable toilet.
Our guide was Todos Santos Eco Adventures owner Sergio Jauregui, who took us bird watching all around the area of Camp Cecil (which is located only about 20 miles from Todos Santos but on the undeveloped road the journey took about an hour). By far the highlight of our glamping experience was the food Chef Martin made over an open fire grill. Vegetable stuffed chicken breasts and a grilled romaine lettuce salad for lunch, steak and grilled veggies for dinner, and a wonderful rendition of huevos rancheros for breakfast. We learned how to make flour tortillas (it's really hard to keep them circular, I soon discovered). The time in the Sierra was deeply relaxing and more than once the camp hammocks called my name.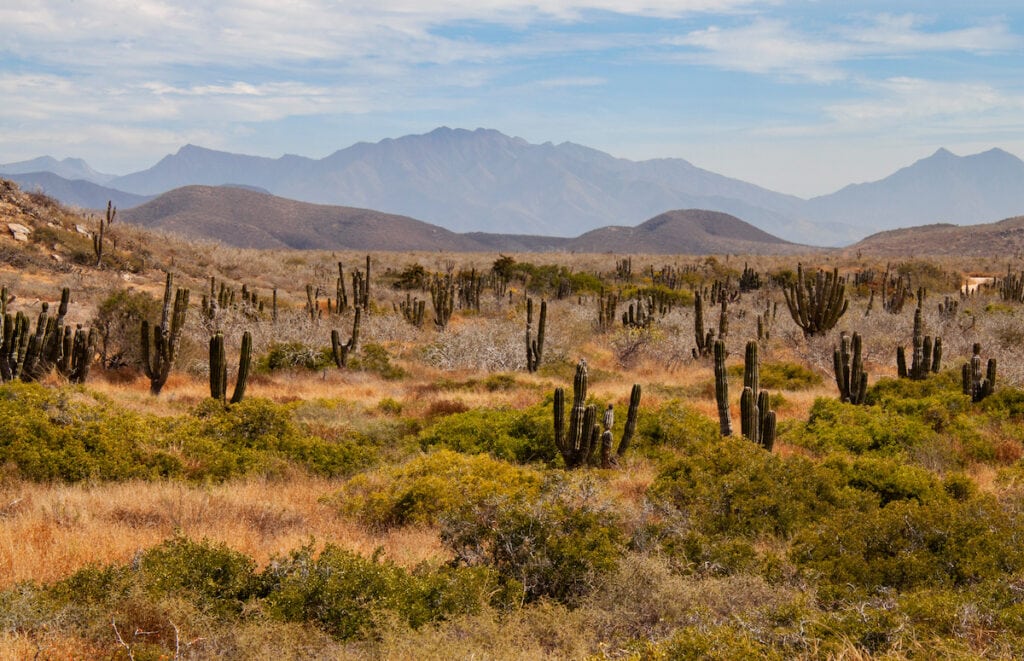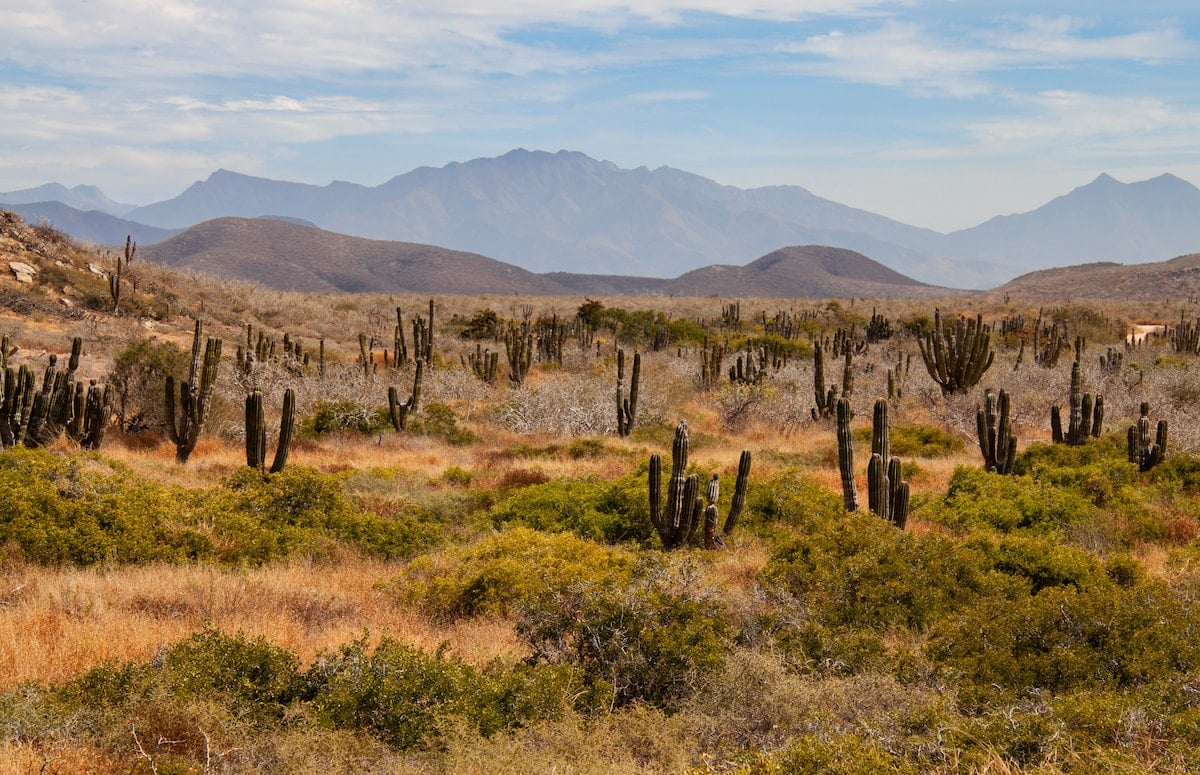 Swimming with Whale Sharks and Sea Lions
On Board Baja created a combination day tour for my family. The main draw of the tour was the opportunity to snorkel with whale sharks. We also swam with sea lions and had a wonderful picnic lunch and went paddleboarding on an isolated beach in the Sea of Cortez. We met our knowledgeable guide Alan Lizarraga and Captain Pancho at the La Paz Marina just an hour east of Todos Santos.
Whale sharks are a bit of a misnomer, they are actually the world's largest fish, measuring up to 39 feet in length. Often referred to as "gentle giants," whale sharks can live up to 150 years old. They have tiny teeth and filter over 1500 gallons of water each hour through enormous gills to eat their preferred plankton meal. The Sea of Cortez hosts whale sharks each winter season as they slowly migrate from the Tropic of Cancer, the northernmost marker of the tropics to the Tropic of Capricorn in the south.
The Mexican government highly regulates tourist encounters with these marine visitors and only 14 boats can be in the "whale shark area" at any one time. The whale sharks didn't seem to mind us swimming alongside them. I found being next to the largest fish in the world to be simultaneously incredibly relaxing and awe-inspiring.
Our Marine Biologist tour guide Alan was a wealth of information about whale sharks, the Sea of Cortez, and all things Baja. After our allotted 1.5 hours with the whale sharks ended, we then cruised across the bay to Isla Los Isoltes, a small rock outcropping on the northern end of Isla Espiritu Santo where a raft of sleeping sea lions rested, flippers up. The sea lions were in the middle of nap time and sleepily moved through the water as we approached. Alan told us the pups are quite playful when they are young and will snuggle up to humans who visit.
Our day trip ended with lunch on an isolated beach close to Isla Espiritu Santo featuring crystal clear blue water and white sand. We got to swim and paddleboard and relax after our amazing marine wildlife encounters.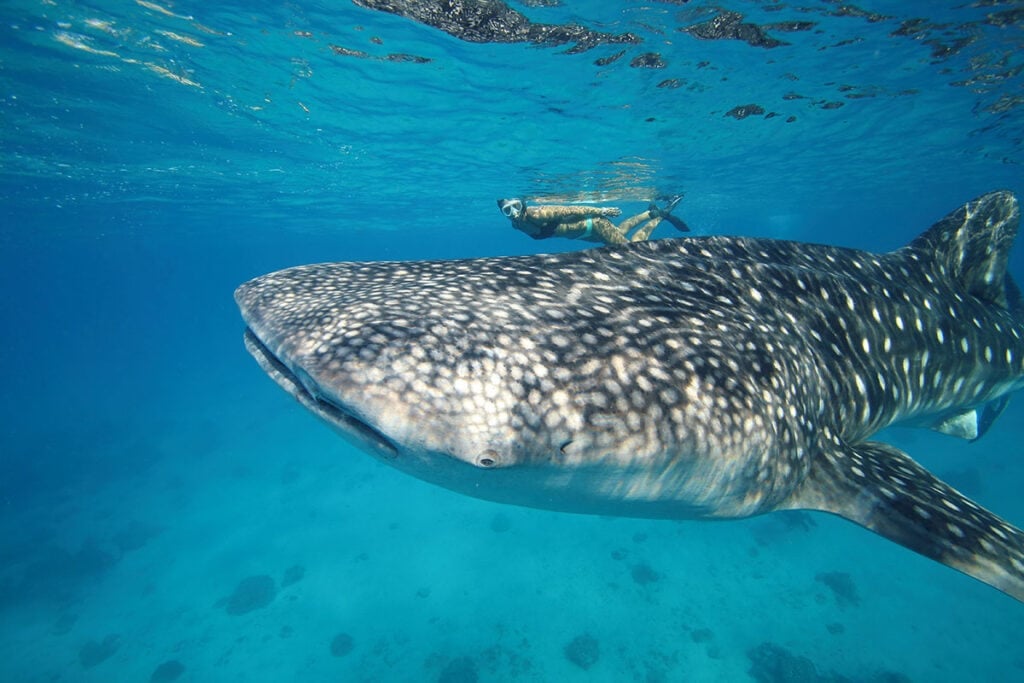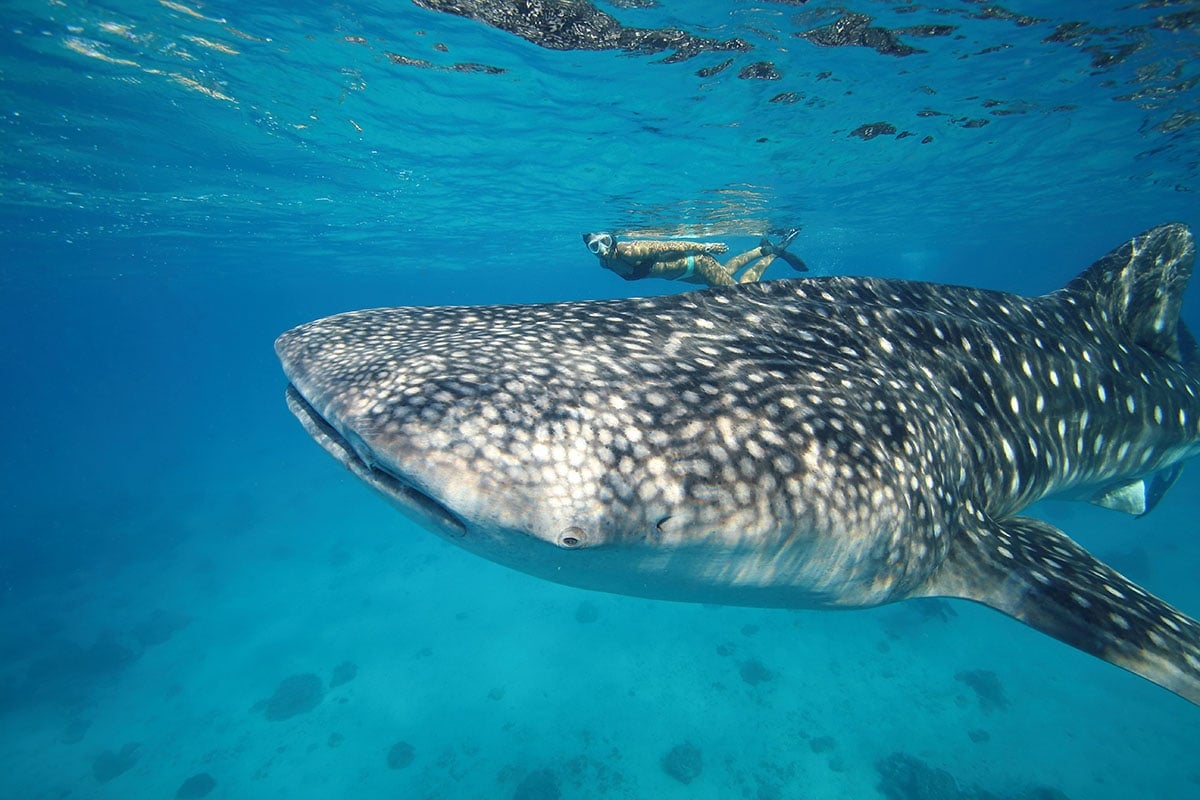 Where to Eat In Todos Santos
The Todos Santos food scene has flourished in recent years and has seen exponential growth. When I first visited ten years ago, the village had maybe half a dozen restaurants. Now that number has grown over ten-fold. The focus on farm/ocean-to-table ultra-fresh ingredients remains the common denominator. Here are some of my favorite recommendations:
Los Adobes de Todos Santos serves classic Mexican dishes with a Baja flare for fresh fish and seafood. The full bar mixes a stellar margarita, and the desert garden dining area is a beautiful and relaxing space to enjoy a flavorful meal.
The Green Room is a highly rated restaurant in Todos Santos and the only one located on the beach. It is more expensive than other restaurants in town, but it's totally worth it. Be sure to make a reservation here to enjoy whale watching as the sun goes down and order their (secret) passion fruit margarita.
Ristorante Tre Galline's authentic Italian cuisine and rustic indoor/outdoor patio dining room feels and the food tastes a lot like Italy. The pastas and main courses are authentic Italian fare and they even carry gluten-free pasta options.
Barracuda Cantina is located just off the beach in Cerritos, about twenty minutes south of Todos Santos. The supremely delicious fish and shrimp tacos and burritos make for a perfect lunch between surf sessions. While a bit spendy at $200 pesos ($10 USD), the cocktails are not to be missed. I returned multiple times for the Sexi Mexi, a passion fruit and basil concoction that I will not soon forget.
We discovered Restaurant Bar Bahia Pescadaria one afternoon when searching for a lunch spot. This place packed a big crowd for super fresh ceviche, fish tacos, and shrimp.
Tacos El Poblano features a simple menu of tacos and burritos of carne asada or al pastor roasted over a wood fire spit.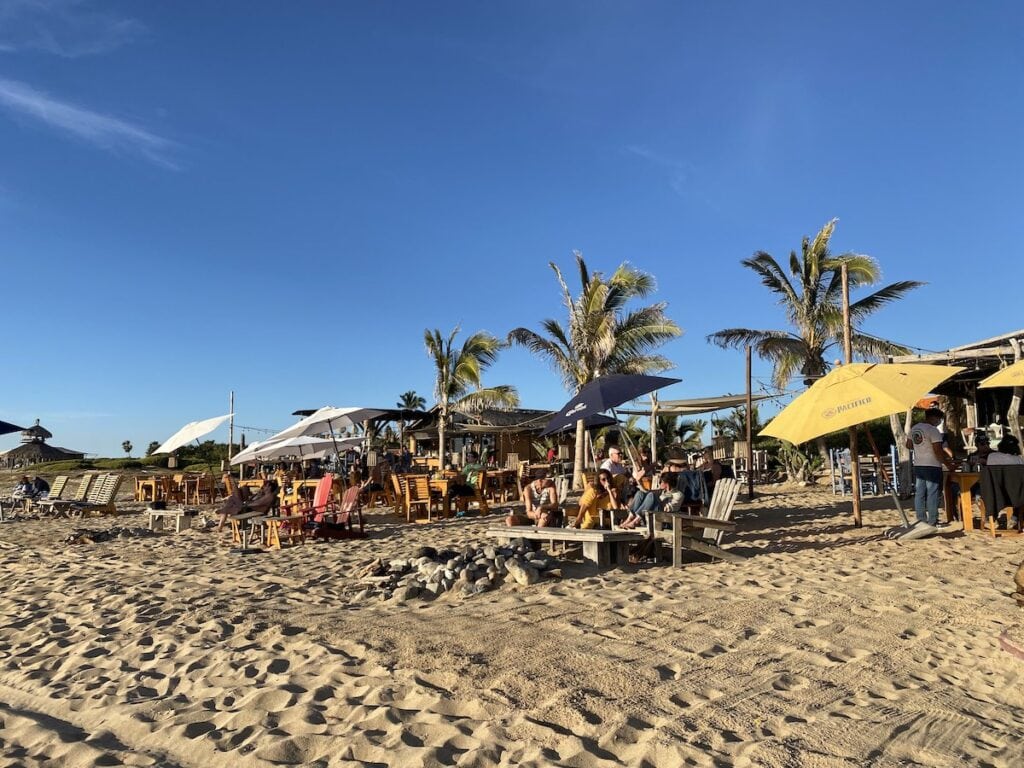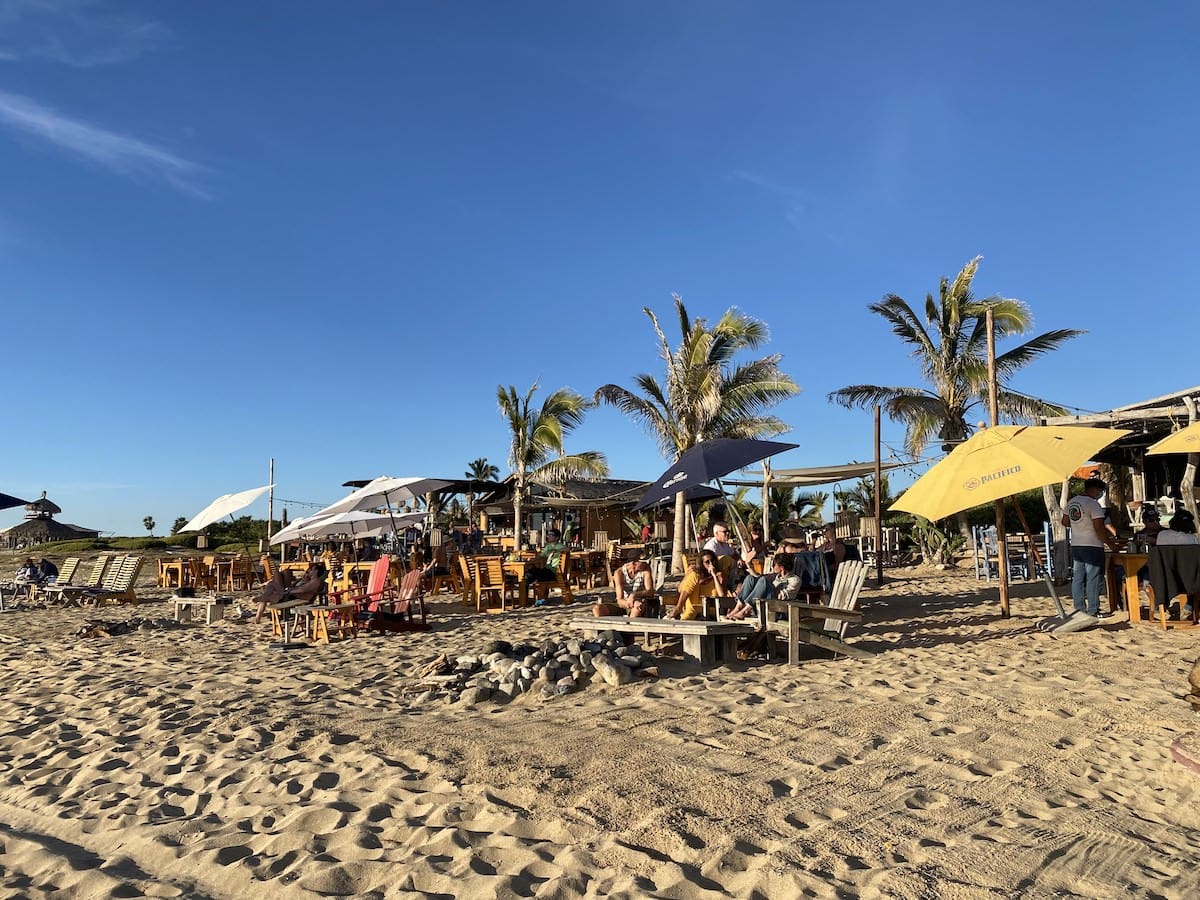 Todos Santos Travel Tips
Practice ecotourism. It's important to remember the main principles of ecotourism: minimize your physical, social, behavioral, and psychological impacts, build environmental and cultural awareness and respect, provide positive experiences for both visitors and hosts, and provide direct financial benefits for conservation efforts. You can read our blog post on how to give back while traveling for more ideas.
Drink plenty of water. The humidity is only 40% in Todos Santos and getting dehydrated can happen quickly. Always carry more than enough water when outdoors, even for just a relaxing day at the beach. We love traveling with our Hydroflask.
Wear sun protection. While it often doesn't feel very hot in Todos Santos, the sun is strong so be sure to wear adequate sun protection.
Listen to your guides. If you are doing a tour, please listen to the instructions your guides give you to keep the wildlife and ecosystems protected for all to enjoy.
Ask a local. Local folks know all the best places- ask around for recommendations for everything from restaurants to beaches to hiking trails.
Learn some basic Spanish. Most local folks really appreciate the respect travelers demonstrate when they attempt to speak the native language. Knowing the basics like "hello", "thank you", "where is____?" can go a long way.
Know what to do in a riptide. Not all the beaches around Todos Santos are safe for swimming because of the strong riptide all along the Baja California Sur coastline. Even the beaches that are better for swimming are known to have a strong riptide and undertow at times. Stay calm, don't tire yourself out by trying to swim against the riptide, and wave for help. We recommend never swimming or surfing alone.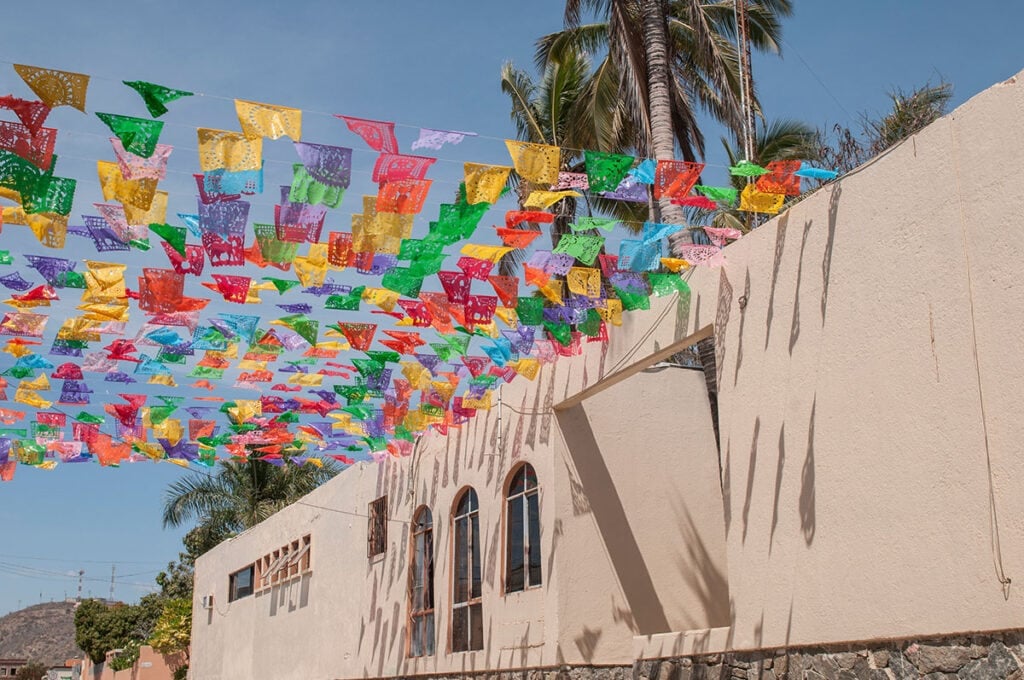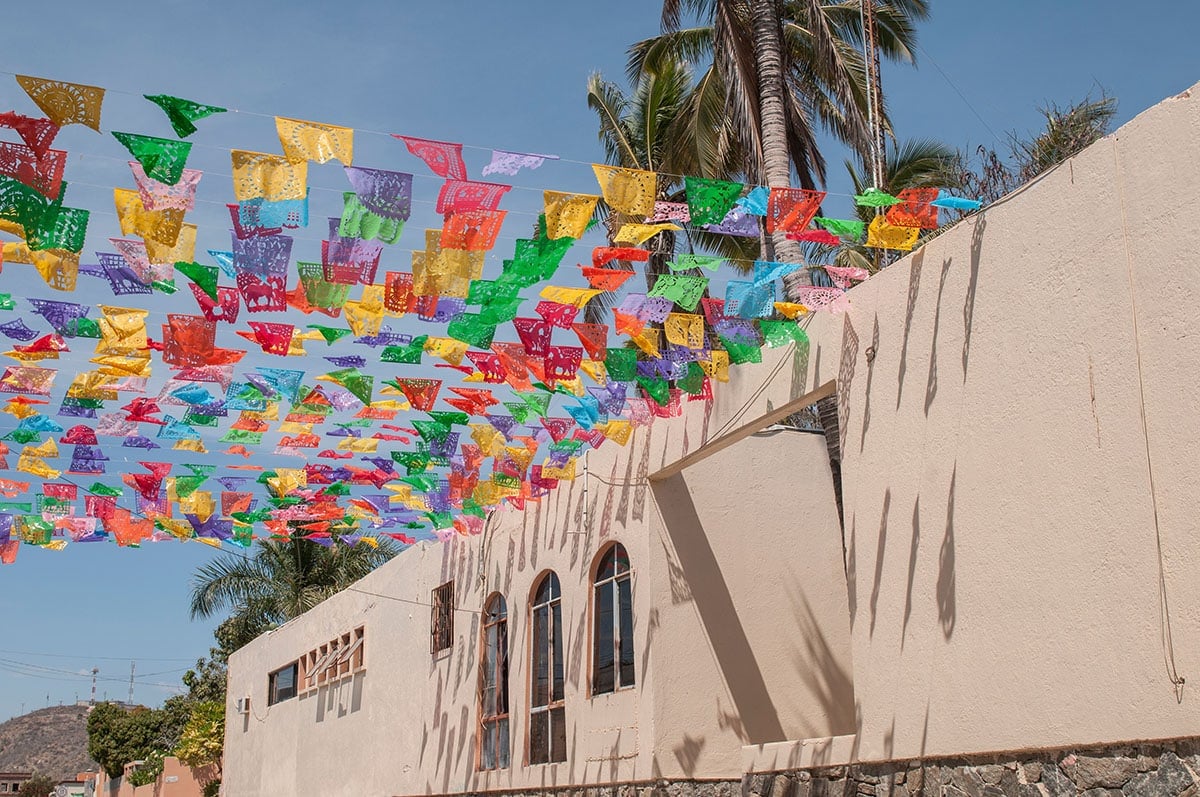 Are you planning a trip to Todos Santos? Did we miss any of the best things to do in Todos Santos? Leave us a comment below!