As Americans, we take great pride in our unique national treasures. The Bill of Rights, National Parks, baseball, barbecue, rock and roll — the list goes on. In addition, our cultural melting pot has given us access to a huge variety of iconic creations from foreign shores; we didn't invent pizza or tacos, but we've certainly embraced them. So, it's always surprising to come across an item that's essentially unobtainable in America. Such has been the case for the 70-Series Toyota Land Cruiser. However, one look at Tim McGrath's custom Maltec Land Cruiser might make you question that fact.
Editor's Note: This article was originally published in Issue 8 of our sister publication, Carnivore magazine.
Blending the 70-Series and 80-Series
Produced from 1984 through the present (yes, it's still in production), the 70-Series is an immensely popular vehicle for militaries, government organizations, and off-road adventurers around the world. However, it was never sold in the United States — we got the rounder and more luxurious 80-Series, sold here from 1990 to 1997. Although it's possible to bring over some foreign-market 70-Series Land Cruisers under the 25-year-old vehicle import law, making one street-legal comes with a long list of additional headaches and costs, especially if you live in a state with strict emissions regulations.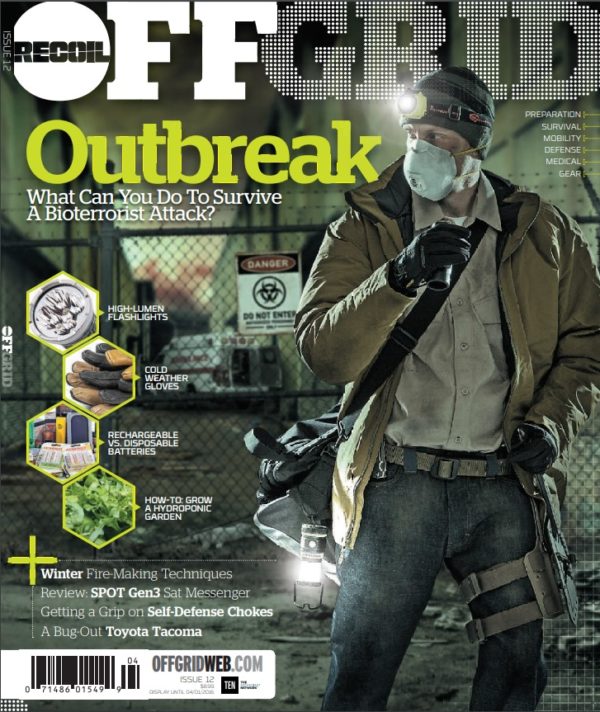 Subscribe Today and Save!
Above: It only takes a few seconds to deploy the pop-up roof and set up camp. The truck also includes a deployable awning and shower enclosure with hot and cold running water.
Tim McGrath, founder and lead designer for overland apparel company Sackwear, fell in love with the 70-Series Land Cruiser, especially its 79-Series pickup truck submodel. "The people that know about the 79 wish they sold them here in the States," he says. Knowing the difficulties of legalizing an imported 79-Series, he began looking for alternative ways to achieve the appearance and rugged functionality of one of these trucks. This led him to Maltec, a company in Germany that builds custom Land Cruisers that — despite their appearance — are actually based on the easily importable 80-Series chassis. They agreed to build him a North American-spec truck that features a modified 70-Series cab and carbon-fiber camper on top of an 80-Series frame.
The build began with a 1993 80-Series Land Cruiser. After removing the original body, its frame was stretched to match the desired wheelbase for the camper conversion. A four-door cab from a 79-Series donor vehicle was mounted onto the 80-Series frame, and the back of that cab was cut out to create a pass-through into the carbon-fiber camper shell that was added next. Normally, having a custom vehicle built halfway across the globe would be rather nerve-wracking, but Tim says the builders listened to his needs and were extremely communicative. "Maltec did a great job keeping me connected with the progress, and sent me lots of emails with photos. I trusted their expertise and craftsmanship since they build really awesome rigs."
Above: The Front Runner roof rack holds two Alu-Boxes and a large dry bag for gear storage. Additional rails atop the camper can be used to retain a kayak or paddleboards.
In addition to the body modifications, Maltec installed a 4.2-liter 1HD-T turbo-diesel engine and five-speed manual transmission, a configuration that was also unavailable in U.S.-spec Land Cruisers. The truck's underbody is armored with a variety of Maltec skid plates to fend off rocks on the trail; it rides on OME 3-inch-lift springs and OME shocks, 17-inch Braid beadlock wheels, and 37-inch Cooper tires.
Above: Despite its many creature comforts, this Land Cruiser is no pavement princess. It can still go just about anywhere and take Tim's whole family with it.
Tim says this combination balances a spacious interior and compact exterior, with "enough room to travel and sleep four while still remaining small and capable." He explains, "There's not a lot of room, but it's doable — I guess that's the trade-off. I can wheel this thing to places where most campers can't go. I love that we can set up someplace crazy and stay comfortable, warm, and dry at night. We can even cook inside and watch a movie." It wasn't an easy or inexpensive process, taking a year to complete and costing north of $200,000, but he doesn't regret it for a second.
Above: Maltec built the camper with luxurious teak flooring, custom cabinets, Dometic windows, and a fully enclosed pass-through into the cab.
Over the course of the last year, Tim has taken his Land Cruiser out on family expeditions at least once a month. In one of his most memorable experiences, he and his daughter drove to Colorado, arriving late in the evening to a dark and narrow trailhead. They continued onward, winding up a steep mountain road to a lake just above the tree line at 12,000 feet. He recalls, "The truck tackled the obstacles without any issues and delivered us safely. We were the only ones there under a star-filled sky, and had paddle boards to keep us entertained the next day."
Above: A triple-burner stove and espresso machine allow Tim and his family to enjoy a hot breakfast without leaving the comfort of the camper.
Maltec Land Cruiser Specifications
Make/Model
1993 Toyota Land Cruiser
Drivetrain
4.2L 1HD-T turbo-diesel inline-6, 5-speed manual transmission, 4×4 with 2-speed transfer case
Suspension
Old Man Emu springs and shocks
Wheels & Tires
17-inch Braid Dakar Beadlock A wheels, 37×12.5R17 Cooper Discoverer STT Pro tires
Body Modifications
79-Series Land Cruiser cab with rear cutout; Maltec aluminum front bumper, skid plates, fender flares, and carbon-fiber camper; Front Runner roof rack, awning, and camper roof rails; Alu-Cab exterior hot/cold shower, two 42L Alu-Boxes and Halite dry bags for storage
Interior Modifications
Maltec cabinets, gray and black leather door panels, suede headliner, and teak wood camper flooring; four Recaro Sportster CS leather seats, Webasto heater, 15-gallon fresh filtered water tank, water boiler, hot/cold sink, three-burner stove, espresso machine, upper and lower beds (sleeps four)
Lighting & Electronics
Dual AGM house batteries, two 100W SunWare solar panels, Victron Energy 2,000W power inverter, Alpine Halo 11-inch head unit/navigation, Simarine PICO touchscreen information panel, two Dometic refrigerators, LED camper lighting with charge ports, Warn Zeon 10-S Platinum winch with Factor 55 fairlead and FlatLink E, Baja Designs S1 bumper lights and LP9 Pro driving lights, KC Hilites Cyclone rock lights
Built by:
Maltec
Menden, Germany
www.maltec.org
---
Prepare Now:
Disclosure: These links are affiliate links. Caribou Media Group earns a commission from qualifying purchases. Thank you!
---
STAY SAFE: Download a Free copy of the OFFGRID Outbreak Issue
In issue 12, Offgrid Magazine took a hard look at what you should be aware of in the event of a viral outbreak. We're now offering a free digital copy of the OffGrid Outbreak issue when you subscribe to the OffGrid email newsletter. Sign up and get your free digital copy Click to Download!
---