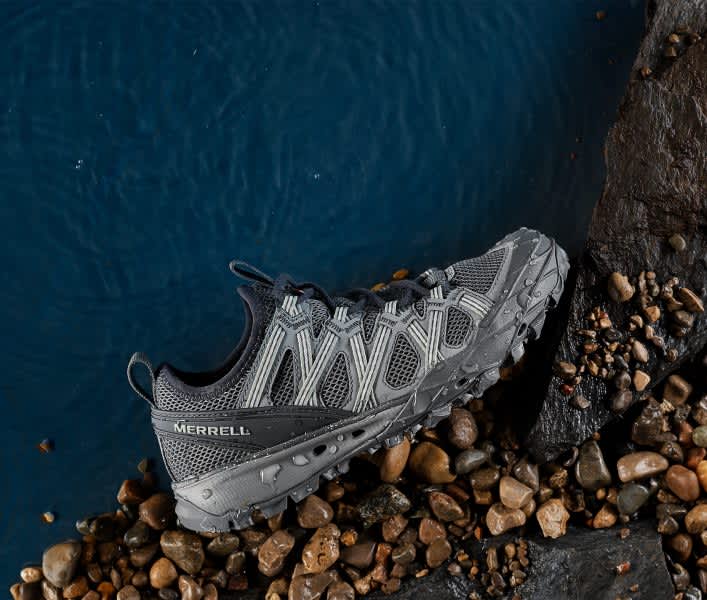 +
–
Table of Contents

1. SIMARI Water Shoes
SALE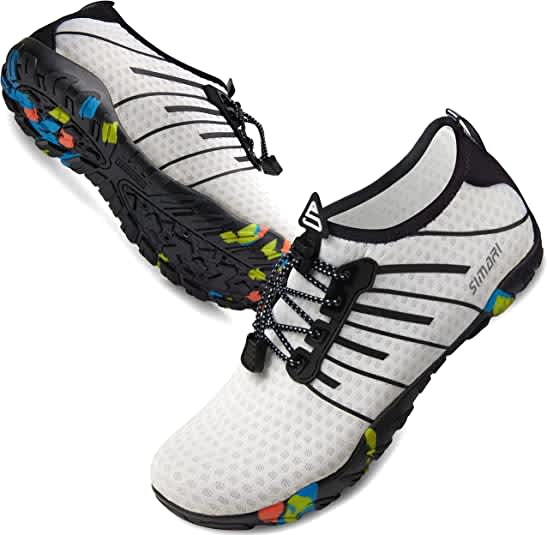 The Author's Pick
The SIMARI Water Shoes are great for walks on rocky beaches, along a rocky shoreline, across rivers, creeks, and streams, and are also good for day trips with the kayak or canoe. The elastic mesh upper is skin-friendly and comfortable, which perfectly fits your feet. The breathable upper and outer soles have excellent drainage performance. The soft rubber material sole has excellent elasticity, and high toughness. Easy to carry and store. The buckle-style shoelaces can freely adjust the tightness. Easy to put on and off without hurting your feet.
Pros/Very Versatile and Durable
Cons/None
Bottom Line/A great water shoe with tons of fun styles!
2. Racqua Water Shoes
SALE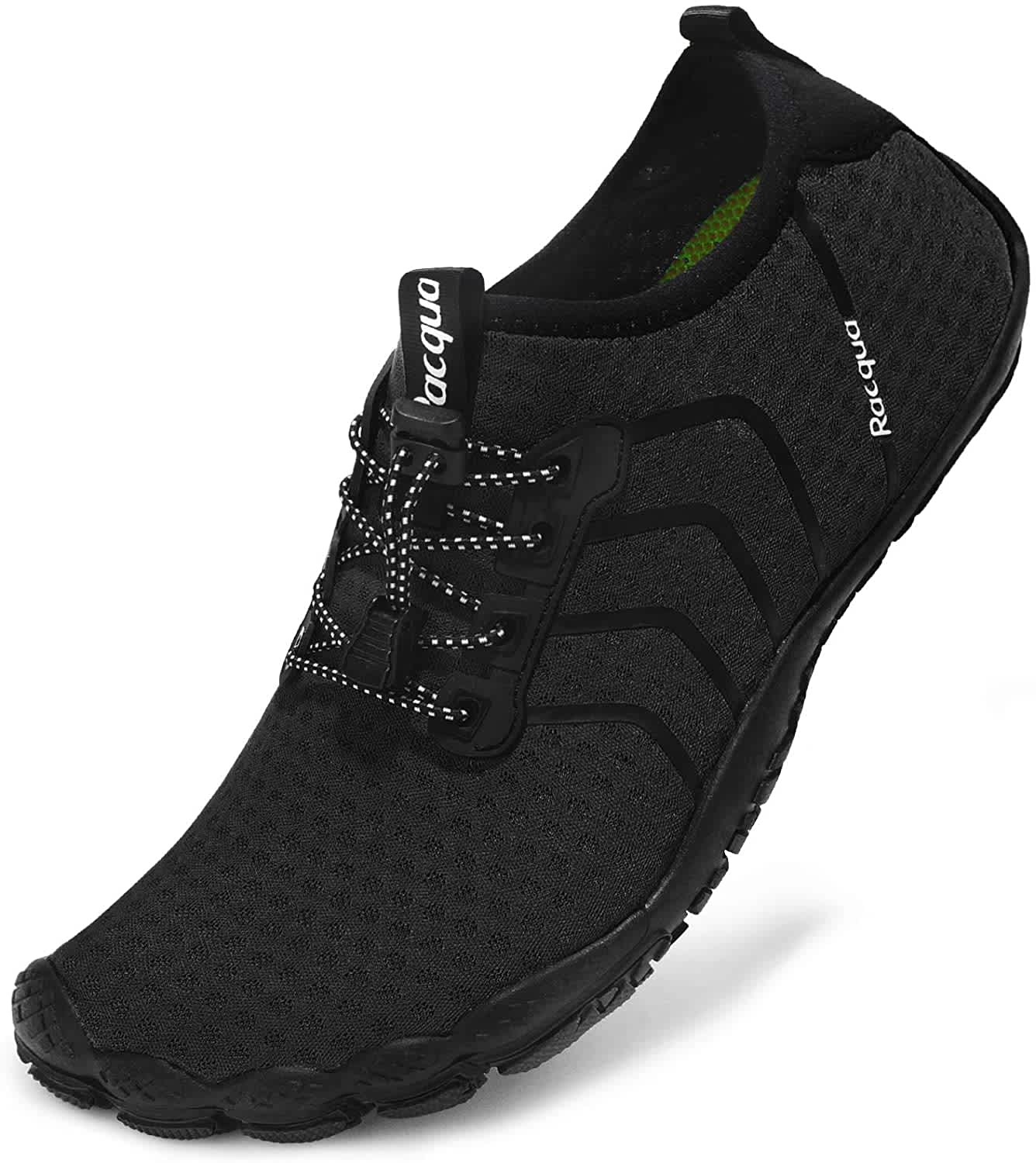 These sheos offer a great combination of form factor, lightweight design, and breathability. If you're looking for a pair of water shoes that will work perfectly in a small watercraft – these are it. The shoes lack a bit in the cushioning department but they more than makeup for this by the sheer amount of traction they provide on slippery and wet surfaces. These water shoes are very similar to Vibram Five Fingers shoes but aren't nearly as expensive or time-consuming to put on.
Pros/Great traction, low prorfile and good for brief amounts of swimming and great in boats and other compact spaces
Cons/No coushioning for your feet if you wind up on hard surfaces
Bottom Line/A great multi-purpose water shoe with stronger use cases for the aquatic side of things
3. Merrell Hydrotrekker Synthetic Sieve
SALE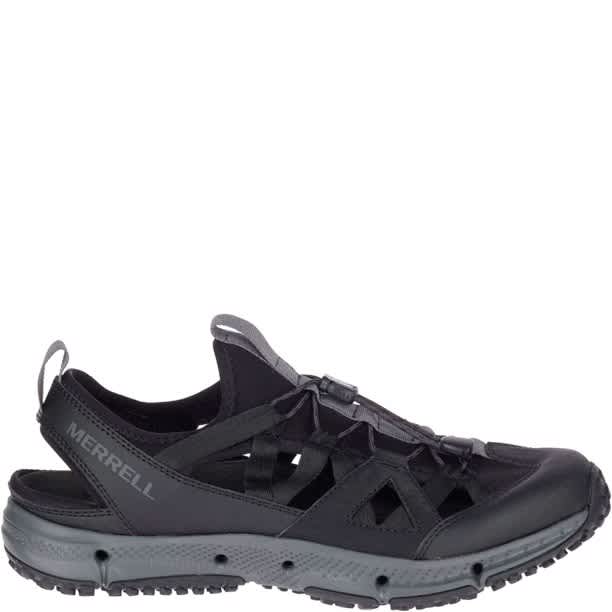 Hike confidently in and around water in this trail-capable shoe built to dry out fast and protect your feet from debris and obstacles. FEATURES Water-friendly synthetic and webbing upper Elastic cord and lock lacing system for quick secure fit Comfort neoprene padded tongue Hydramorph midsole channels and ports for water evacuation and air ventilation Kinetic Fit BASE removable contoured EVA insole with water-friendly top cover EVA foam midsole for stability and comfort M Select WET GRIP sipped lugs for traction in and out of water.
Pros/Great blend of breatheablity and comfort
Cons/Will leave funky tan lines on your feet
Bottom Line/A great option for when you'll be in and out of water frequently but still need to have good cushioning on your feet.
4. Vibrams FiveFingers V-Trek
SALE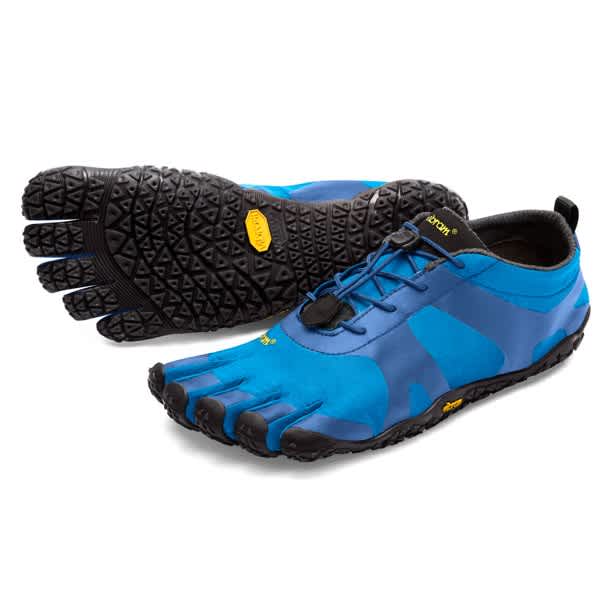 Vibrams FiveFingers V-Trek shoes are great and come in a wide array of sizes and styles including some insulated ones that work very well in the snow. FiveFingers are unique as they give each of your individual toes its own compartment and ability to move. This translates to better traction and control while on very uneven terrain and also makes it much easier to get a good grip on slippery surfaces. The V-Alpha is the essential outdoor minimal training tool and is 100% true to our original philosophy: a protective tool for the foot which allows ground sensory perception, performance, and dexterity.
Pros/Great for dextrous activities both in and out of water
Cons/Expensive and don't protect the feet very well from bumps and impacts
Bottom Line/A great high-end option that has the best traction out of any water shoe I've tried.
5. Sanuk Chiba Journey LX
SALE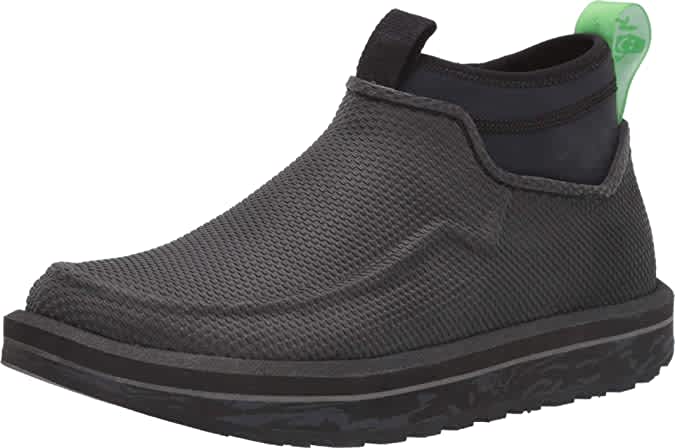 These rugged little boots are really good for when you need to head out in the rain in a hurry and don't have time to put on your full-sized side zip boots. These will keep your feet nice and comfy across a wide variety of terrain. Most customer reviews say that these boots run a bit on the big side so when ordering these keep that in mind. The boots themselves are made from very durable materials and thus should be able to handle whatever watery rocky terrain you can throw at it.
Pros/Great for river walks and work around the yard when there is water to be expected
Cons/Kind of Stiff
Bottom Line/Look good,
We are committed to finding, researching, and recommending the best products. We earn commissions from purchases you make using the retail links in our product reviews. Learn more about how this works.