Megan Plete Postol   02.15.22
Rodney Elmer is a simple man who loves deer hunting and also happens to be a YouTube star. A self-described "duct-tape and staples guy," his approach to both hunting and life is straightforward: do it right, keep it simple. Elmer has become a well-known whitetail deer tracker from the online series Mountain Deer which chronicles him and his hunting crew as they track bucks through the unforgiving mountain terrain of Vermont and Maine. The Mountain Deer crew have become one of New England's most followed deer tracking teams. They gained a following by posting their edited deer hunting videos on YouTube which has expanded into a social media presence and a podcast of the same name. Their videos are popular with views well over 100,000 on many, and even some amassing more than 600,000 views.
"I'm humbled by how much people appreciate the show," Elmer said.
The deer hunting crew is anchored by Elmer, the family patriarch and owner of the Mountain Deer Taxidermy shop. The 'wolf pack' is rounded out by Elmer's longtime hunting partner, Jim "Coco Puff" Murphy, and Elmer's sons: Rion "Beaver" Elmer, Casey "Coyote" Elmer, and Taylor "Lucky Charms" Elmer. The style of content they produce is unique in the hunting sphere. The approach is refreshing plain. It is all about respect – both for the deer and for other hunters – being in nature, support, and camaraderie.
"There is a little bit less ego," Elmer said. "Ego isn't necessarily bad. But there is a lot of ego in hunting, and some of it is very distasteful if you look at it from the perspective of non-hunters or anti-hunters."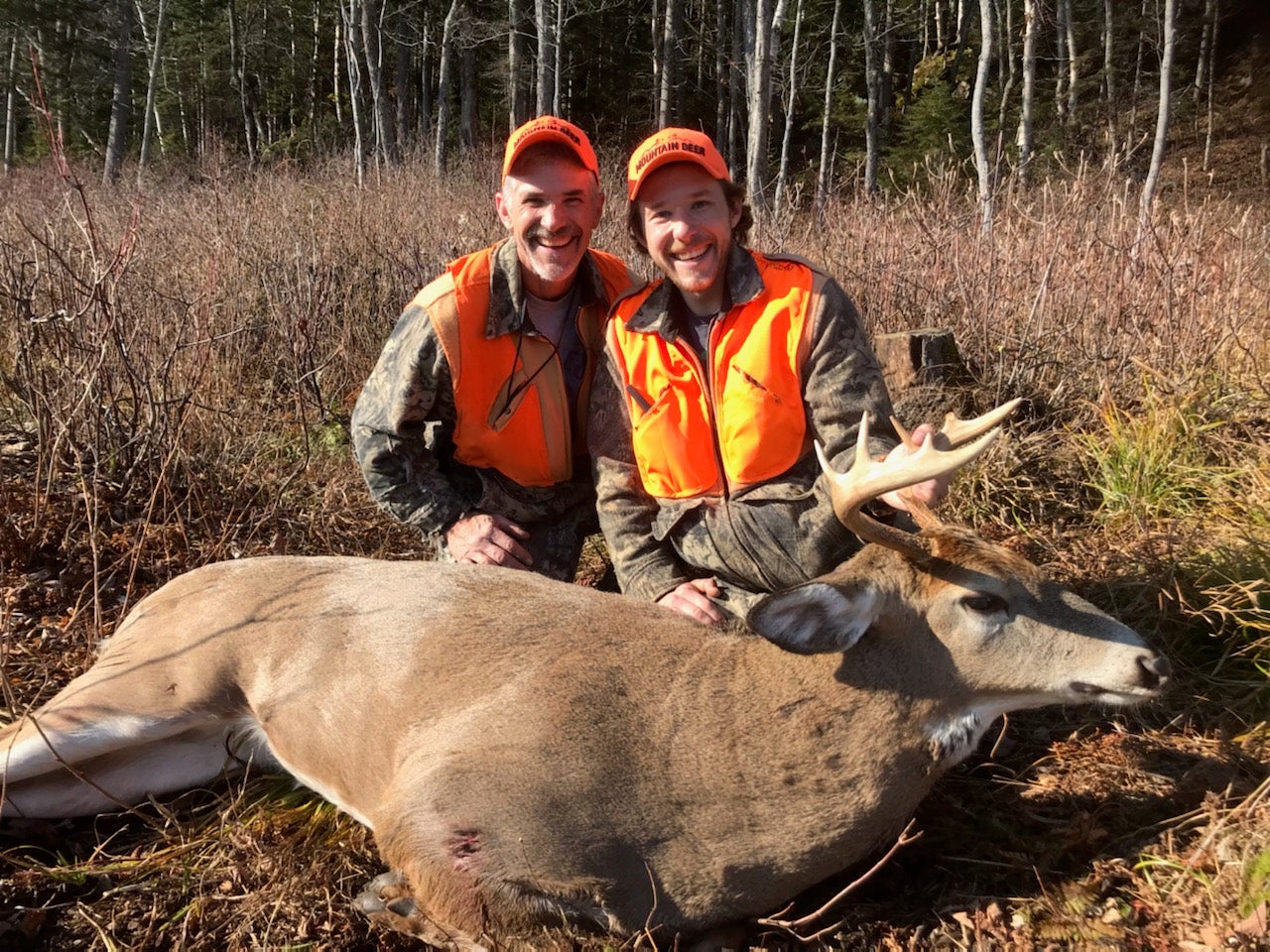 Nothing about Mountain Deer is flashy. They do not promote any sponsored products. It is all about the hunt and congratulating each other on success. The joy they express when celebrating each other's harvests is unmatched, unabashedly embracing and throwing I love you's out like confetti. Elmer is proud of the way his sons support each other.
"What you see on YouTube in the way they interact and the way they are is a drop in the bucket compared to how they are in real life," Elmer said. "They own businesses together in real life. For three brothers to be able to work together, and hang out, get along, and can be together all of the time is relatively rare. But it is something we should cultivate in people. Liking and being open to other people and treating each person as an individual. Being self-actualized like that is something I wanted them to have."
Elmer said he and his wife Theresa focused on cultivating good decision-making skills in their sons which benefits them both in the woods and beyond.
"Things can sometimes be tough," Elmer said. "One of the best things you can do is have an open heart. Number one it makes you a good hunter. You are less likely to make snap decisions. You are less likely to do things that aren't good for you, or good for the deer, or good for hunting, or good for the landowner."
When not tracking bucks through the big woods, Elmer is working in his taxidermy shop in Northfield, Vermont.
Mountain Deer Taxidermy started with a successful Caribou hunt. Elmer had brought his Caribou to a local taxidermist there in Vermont to have it mounted. While at that shop, he expressed an interest in learning taxidermy himself. The taxidermist encouraged Elmer to buy a kit and try it himself, so that is what he did. Later that season Elmer shot a six point buck and mounted it himself at home. He took it to show the taxidermist who had encouraged him to try it, who was impressed with Elmer's work. Mountain Deer Taxidermy was born. For ten years, Elmer ran his taxidermy business as a side gig while working his full time career in the granite industry. Eventually, working both jobs was too much and he knew he had to choose just one to focus on. He chose taxidermy and never looked back.
"If you look at life like a river," he said. "The river is going to bring you what you need how you need it. Whether that's a problem or a bonus of some kind. It's all going to go down the way it is supposed to go down."
Elmer can trace his interest in deer hunting back to when he was a little boy growing up on his family's small farm. As he grew, he said his obsession with it also grew, and he was deer hunting as soon as he was of age. He harvested his first deer on a Thanksgiving morning. His father had asked him if he wanted to come with the family to attend church. Elmer opted to go hunting instead.
"It was a good thing I went," he said. "I was up on the hillside and shot the deer. I found him after about 100 yards and while I was gutting him out I heard the church bells ringing."
If he had to pick one deer as his favorite, Elmer said he would choose a deer they called the "Mushroom buck," a beauty that he and his son Taylor tracked for four days straight. Elmer had actually been attempting this particular buck for years before that, but it was Taylor who took the lethal shot. The Mushroom buck scored 126 7/8 inches, which was the highest scoring Vermont buck for the 2013 season. For Elmer, it's all connected – hunting, work, and family – and it's all part of the journey on that river of life.
"Do the best you can with what the river gives you," he said. "Be accepting and using of it all. Make it work for you, and appreciate it."