Blade Show may be over, but the reveals are still rolling in. Benchmade has an auto lineup on the way, the new for 2022 Immunity family. This is a completely ambidextrous, everyday carry-oriented automatic that comes in two different pocket-friendly sizes.
As you'd expect to see in a Benchmade family with full size and mini versions, the general design and materials are retained between the two sizes of Immunity. Its blade is an angular wharncliffe, with a straight cutting edge and very acute, very pointy tip. Blade steel is CPM-M4, a formidable semi-stainless that offers truly outstanding edge retention; all variations of the Immunity comes with a coated blade to bolster rust resistance too. The handle scales are textured aluminum similar to what we've seen on the Bailout, available in bronze, green, or grey anos, with a scalloped profile for indexing the fingers.
The handle houses the Auto Axis deployment mechanism. This is is a single action set up that fires, not with a button or toggle, but by pulling down on the Axis Lock cross-bar. This set-up, which mimics a fan-favorite way of opening a manual Axis Lock knife, makes all the Immunity models completely ambidextrous, as the deep carry pocket clip is also reversible.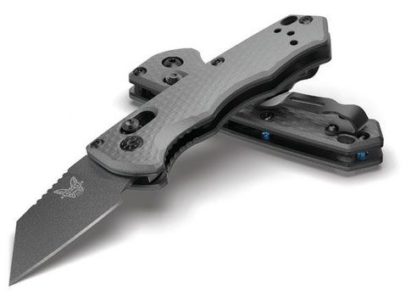 In terms of dimensions, the full-size Immunity is still a compact knife, with a blade length of 2.49 inches. Little brother Partial Immunity, meanwhile, comes with a 1.9-inch blade – just stubby enough to qualify this tiny auto for California carry.
There's no release date given for the Immunity or Partial Immunity at this time. MSRP varies between $250 and $270, depending on which color and size you choose.
Knife in Featured Image: Benchmade Immunity
Shop top of the line gear at great prices in the Everest Marketplace and get outside!