A trusty every-day carry backpack is essential, whether you're using it to carry a laptop, survival gear, or anything in between. We've lost track of the number of times we've turned to the contents of our EDC packs for a Band-Aid, sunscreen, a spare flashlight battery, or a pen and paper to jot down some notes. It also provides peace of mind knowing we have items such as a trauma kit or IFAK for more catastrophic events. The new Kitanica Vespid 30-liter backpack looks like a suitable vessel for a variety of EDC and emergency preparedness gear.
The Vespid uses a quad-zip design that offers three ways to get at its contents: pull up the top lid, peel open the front panel, or do both simultaneously for unrestricted full-zip access. Magnets at the edge of the top lid make it easier to pull open quickly. The exterior surfaces are constructed from 500D Cordura nylon finished with polyurethane and durable water-repellent (DWR) coatings to resist stains and moisture. Each side of the pack features water bottle pockets and laser-cut slits for MOLLE-compatible pouches; the front of the pack has an additional laser-cut expansion area. There's one more zippered pocket on top of the lid for sunglasses and other small items.
A split-tongue harness offers vertical adjustment for different torso sizes. The addition of adjustable load lifter straps and a removable waist belt ensure it'll distribute the weight of its contents evenly and comfortably.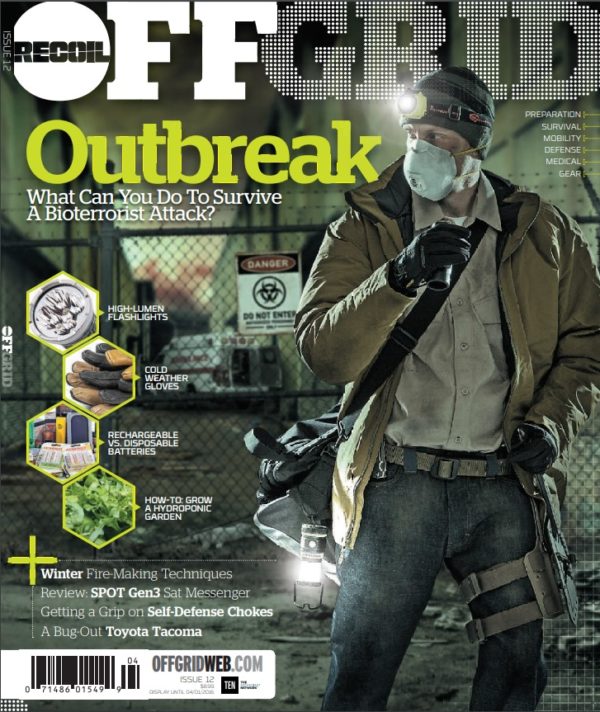 Subscribe Today and Save!
Inside the Kitanica Vespid are two more vertical pouches for water bottles and other thin items, as well as four mesh organizer pockets. Two sleeves at the back of the main compartment can hold laptops, tablets, hydration bladders, or backpack armor panels.
This backpack is currently available in three colors: solid black, ranger green with black accents, and wolf grey with black accents. MSRP is $180. For more information on the new Kitanica Vespid backpack, go to Kitanica.com.
---
Prepare Now:
Disclosure: These links are affiliate links. Caribou Media Group earns a commission from qualifying purchases. Thank you!
---
STAY SAFE: Download a Free copy of the OFFGRID Outbreak Issue
In issue 12, Offgrid Magazine took a hard look at what you should be aware of in the event of a viral outbreak. We're now offering a free digital copy of the OffGrid Outbreak issue when you subscribe to the OffGrid email newsletter. Sign up and get your free digital copy Click to Download!
---