A sturdy fixed blade makes a valuable addition to any survival kit, whether it's in the trunk of your car, your EDC backpack, or your plate carrier. Folding knives are great for many everyday tasks, but a fixed blade will hold up to heavy-duty uses such as batoning wood. SOG has announced a new combat knife called the Recondo FX that's designed to withstand these uses in the hands of armed professionals and prepared citizens.
The new SOG Recondo FX features a 4.6-inch clip point blade with full-tang construction and a rubber-overmolded handle. It's built from 440C stainless steel that has been cryogenically hardened to 58-60 HRC to improve wear resistance, and it's finished in a black TiNi ceramic coating. The handle features strong contours and texture to lock in your grip, and there's a hole for a lanyard as well.
Four variants of the SOG Recondo FX will be available — black or FDE handle, and straight or serrated edge. Each knife includes a Universal Mounting System (UMS) polymer sheath that's ambidextrous and includes toolless tension adjustment to achieve your preferred balance between retention and a smooth draw. The UMS system allows for attachment to PALS webbing, belts, and Velcro loop material.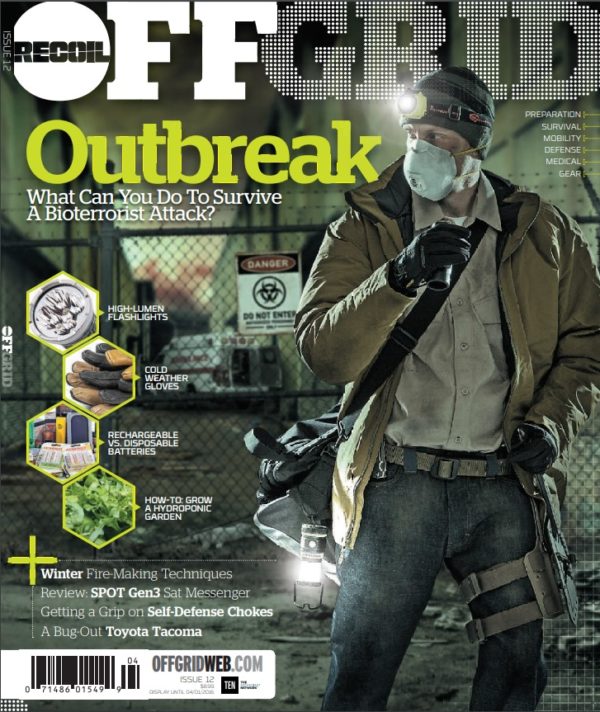 Subscribe Today and Save!
The new Recondo FX is still listed as "coming soon" on SOG's web site, but we anticipate it will be available in the next few months. MSRP for all versions is $130. For more info, go to SOGknives.com.
---
Prepare Now:
Disclosure: These links are affiliate links. Caribou Media Group earns a commission from qualifying purchases. Thank you!
---
STAY SAFE: Download a Free copy of the OFFGRID Outbreak Issue
In issue 12, Offgrid Magazine took a hard look at what you should be aware of in the event of a viral outbreak. We're now offering a free digital copy of the OffGrid Outbreak issue when you subscribe to the OffGrid email newsletter. Sign up and get your free digital copy Click to Download!
---