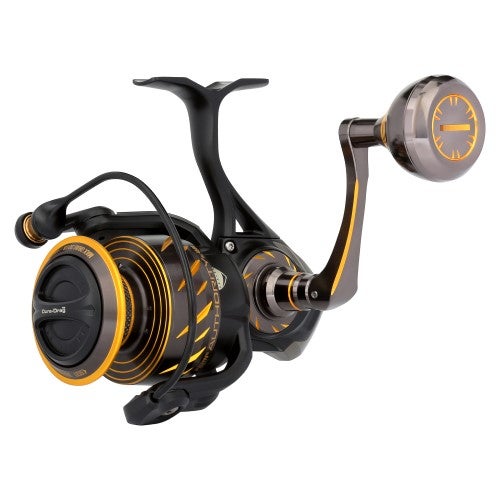 From the long-time leader in American tackle manufacturing Penn Fishing has made a big splash at ICAST2022. The new Penn Authority reel, their new line of premium spinning reels, has won the "Best New Saltwater Reel" at this year's ICAST show. This new line of reels is their latest premium spinning reel to enter the competitive high-end spinning reel market.
The new Penn Authority sets a new standard for premium saltwater spinning reels. Designed for power and maximum performance but, still feature a high level of refinement. Perfect for anyone who spends long days on the water and demands nothing but the best from their gear. The Authority reel features an impressive IPX8-rated sealed body and spool that lets the reel be submerged 1 meter deep for 30 minutes without worrying about water intrusion.
Penn used only the best materials on the market, the CNC Gear technology with a stainless steel gear train and pinion gear is designed to be better supported overall to allow for long-term durability. The body is machined from one solid piece of metal, ensuring exact alignment, smooth performance in the long term, and maximizing torque when fighting a trophy fish. The full metal body, side-plate, and rotor keeps the gears protected and eliminate body flex in the reel even under the heaviest loads.
The reel also features Penn's Leveline Slow Oscialltion System and the Slammer Dura-Drag System. The Leveline system along with the 12+1 bearing in the reel makes for an incredibly smooth retrieve, along with a very tight line lay on the spool. The bearings in combination with the Slammer drag make for a well-supported and silky smooth drag with no hesitation even under extreme drag settings.
"We designed the Authority to be the ultimate premium reel, focused on overall refinement, smoothness, and power." Says Ben Joyce, Sr. Category Manager "Using the best materials to support our reel systems and create maximum performance, we took the best of the PENN reel technologies and then leveled them up by focusing on the smallest details like the screwhead style, backup systems, and how we supported the gear systems. Our benchmark for this reel is to be better than the leading premium reels in the industry."
The Authority spinning reel comes in a wide range of sizes, from 2500 – 10500 reels. It is also available in four high-speed models as well, (2500-4500-6500-8500).
Penn Authority – Key Features
IPX8 Rated
CNC Gear Technology with Stainless Steel Main and Pinion Gear
Slammer Drag System with Dura Drag
Leveline Slow Oscillation System
Spare Hypalon handle knob
12+1 Stainless Steel Bearing System
Available online or at fishing gear retailers starting in September 2022. The MSRP will be set at $499.95 – $599.95 depending on the model.