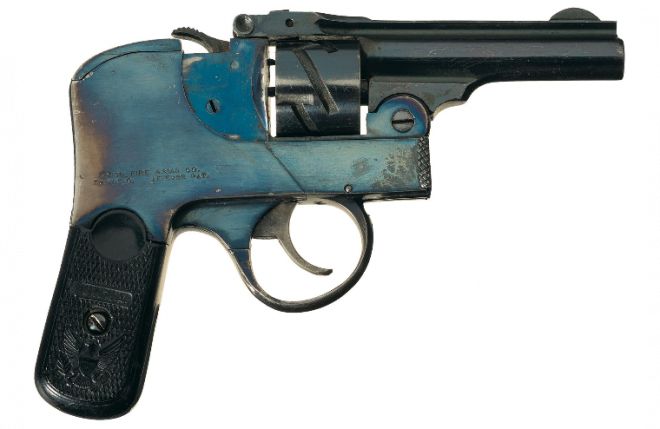 Welcome to today's Photo of the Day! Here we have the Union Fire Arms Company Auto Revolver. These interesting lesser-known firearms operate off of the same sort of mechanism as the famous and expensive Webley-Fosbury revolver of Britain's creation. The upper portion of the revolver operates on a center peg which coincides with the cuts in the cylinder and indexes it upon recoil. These were available in a blued or nickel finish and were chambered to use the 32 Smith and Wesson Long cartridge. The Union Fire Arms Company Auto Revolvers were all produced with black hard rubber grips but oddly much of the advertisements of the era mention a red rubber grip.
Manufactured around 1909-1912, the Union Automatic Revolver bears a strong mechanical resemblance to the Webley-Fosbury Automatic, to the point where the base principles are virtually identical: a top-break revolver frame is mounted in a spring-loaded housing and grip assembly, and on discharge the frame is driven backwards by recoil, revolving the cylinder and re-cocking the hammer. The main deviation is that the hammer is mounted to the housing on the Union, and no manual safety is included. Fixed sights, with a repeating "138" on several components and the address on the right side of the housing. Fitted with a pair of "U.F.A./American Eagle" grips.
Lot 1523: Union Fire Arms Company Automatic Revolver. (n.d.). Rock Island Auction Company. photograph. Retrieved June 5, 2022, from https://www.rockislandauction.com/detail/69/1523/union-fire-arms-company-automatic-revolver.
Shop top of the line gear at great prices in the Everest Marketplace and get outside!