It's time to dominate the turkey season with TenPoint's fastest crossbow ever – the new Nitro 505. The Nitro 505 is supposed to be the perfectly balanced reverse-draw crossbow and is allegedly capable of delivering 400-grain arrows up to 505 fps. The new crossbow not only incorporates blinding speed, but also still has all the same great features that many other TenPoint crossbows have like silent decocking and their new RX8-Cam system.

TenPoint's NEW Nitro 505 – Their Fastest Crossbow Ever
"The Nitro 505 is the fastest, most accurate, and most powerful crossbow ever manufactured." said Rick Bednar, TenPoint CEO. "To exceed 500 feet-per-second and maintain the durability you've come to expect from TenPoint, our engineering team was denied no expense in the research, design and testing phase of this crossbow. All major components were designed to handle this level of power. The Nitro 505 is the most tested TenPoint crossbow ever – with over 25,000 shots put through the design."
The Nitro 505's ACUslide will feature the TenPoint Auto-Brake gear system which allows for safe and silent decocking. The reverse-draw design of the Nitro 505 is apparently unmatched in its ability to produce both speed and power with 400-grain arrows and features a 17-inch power stroke which is the longest in the industry. This increased power produces greater speed with less draw weight and allows your arrow to nock to engage with the string for an additional 4-inches of draw when compared to traditional crossbows.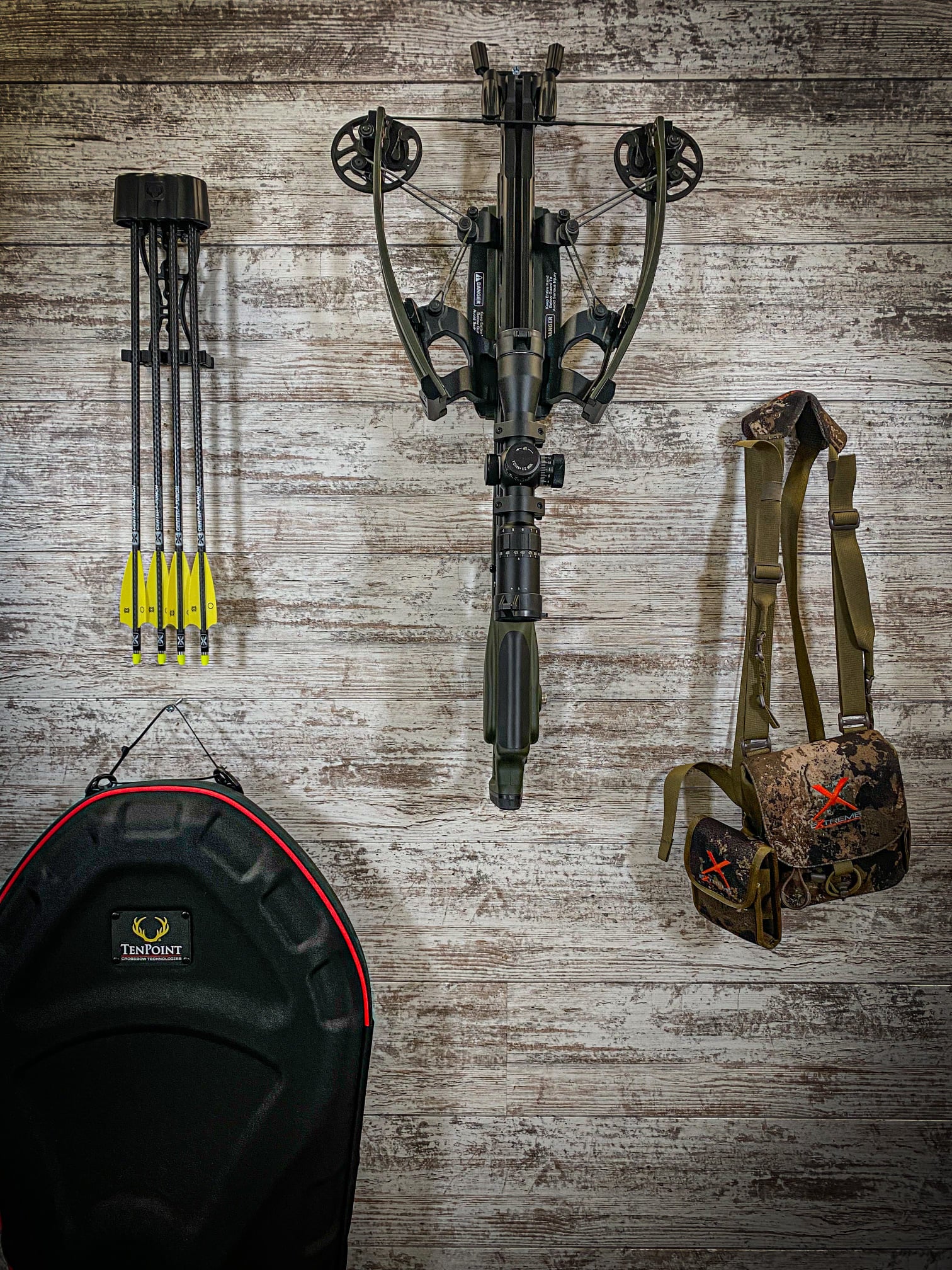 This new crossbow has been heavily tested and TenPoint claims it is their highest performing crossbow to date and makes hunting game like turkey easier than ever with increased accuracy and power. The Nitro 505 will also include TenPoint's S1 two-stage trigger which has zero creep and an advanced roller-sear system that delivers a crisp and consistent 3.5-pound trigger pull and is also equipped with a Dry-Fire-Inhibitor which is an added safety feature that can keep you from wrecking your entire rig and ending a practice or hunting session early.
The new TenPoint Nitro 505 is available now and is absolutely loaded down with features. Two packages will be available with the more affordable one being the Nitro 505 which comes complete in a Moss Green camouflage and a black scope for $2,999.99, or the high-end Veil Alpine Camoflague with a matched camouflaged scope for $3,099.99.
Each package includes:
ACUslide cocking and de-cocking system
Evo-X Marksman Elite Variable Speed Scope with External Adjustment Turrets
6-pack of EVO-X CenterPunch™ Premium Carbon Crossbow Arrows (.001" straightness)
Integrated String Stop System
6-arrow Tech Quiver