How To Hammock Camp
Spending time in nature, cooking over the fire, and staring at the stars are just a few reasons why we love camping. But we understand that, sometimes, sleeping on the ground in a tent gets old, even with a top-notch sleeping pad.
Most often, when folks get tired of tent camping, they either stop camping completely or move into the RV world of camping. But what if you appreciate the simplicity of tent camping and are just looking for a nuanced way to enjoy the outdoors? The answer is– hammock camping.
Read on for a crash course in hammock camping. This article will help you know what to expect and how to get geared up for your next camping adventure. But this time, with a hammock!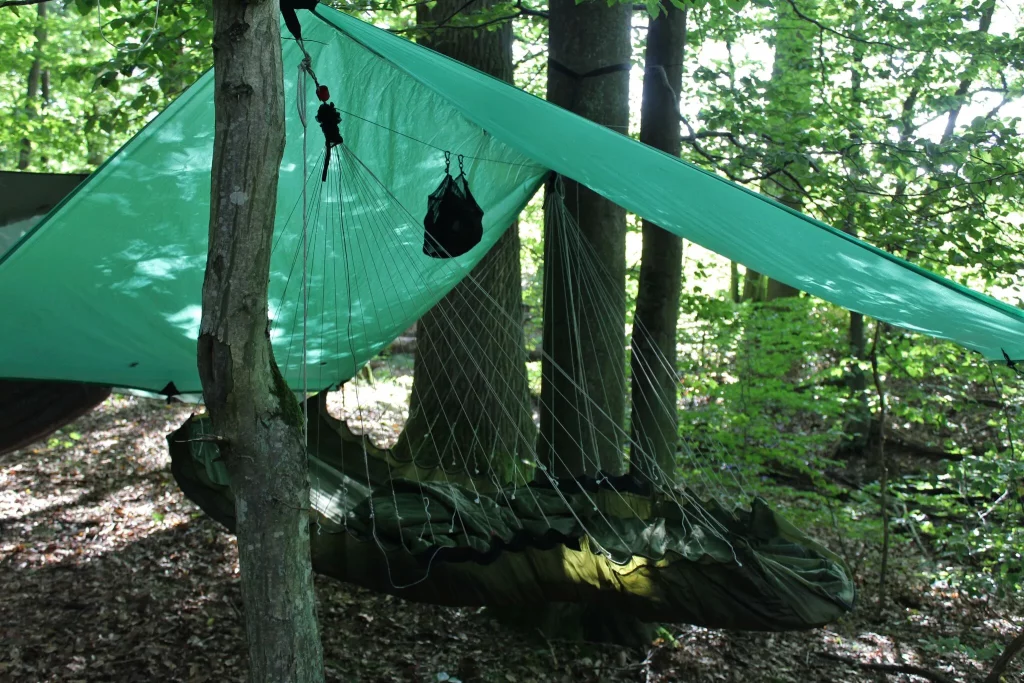 Sorry, Did You Say Hammock Camping?
Yes, we did. Tents are not the only way to enjoy camping. Hammocks are just as good, if not better.
Believe it or not, hammocks are not just massive monoliths that take up space in the backyard. They are also lightweight and portable tools that allow you to sleep comfortably at your campsite or in the backcountry.
So if you've been one to enjoy sunny siestas while swinging gently in a hammock, think about how you can enjoy that experience while you camp and not just in the backyard.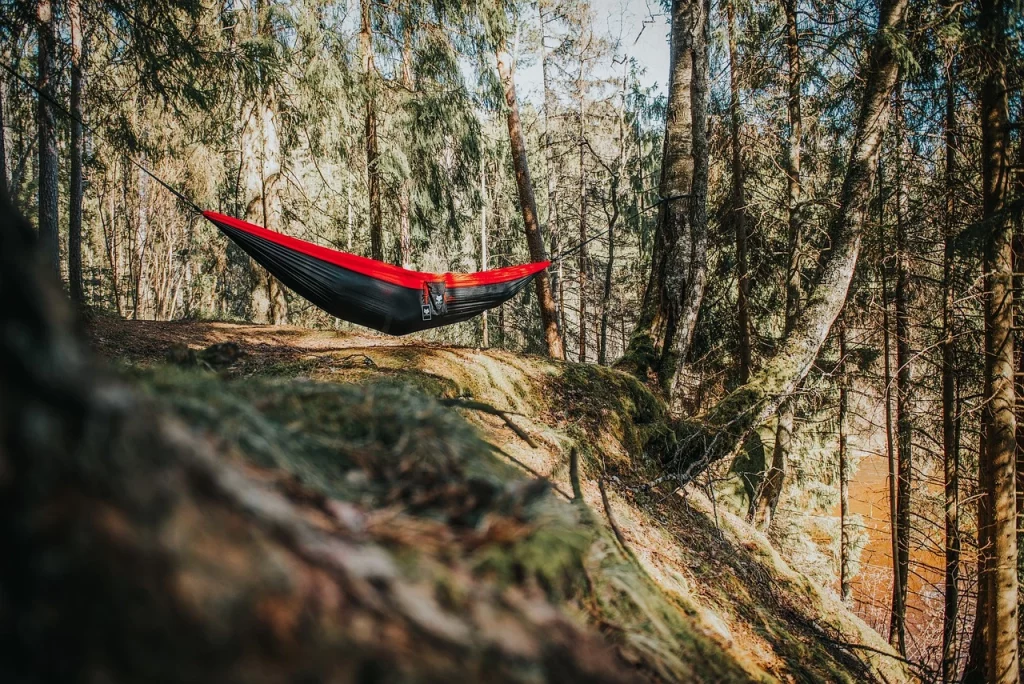 The Advantages of Hammock Camping
Tents have been the go-to tool for campers and backpackers for years. However, with updates in hammock materials and technology, along with some nuanced perspectives on how to enjoy the outdoors, hammock camping has become increasingly more popular. And for a good reason!
Minimize your impact on ground foliage. You can avoid the large footprint left behind with a tent, which is especially nice for backcountry ecosystems.
Ultralight hammock systems are lighter and more compact than tent systems. Although larger, more durable hammock systems for car camping may be similar in terms of weight.
Your hammock functions as a bed and as a camp chair. Who doesn't love a two-for-one combo?
Better temperature regulation in the summer. No more suffocating in hot and steamy tents the second the sun rises.
No level ground is required. All you need is a pair of sturdy trees, which are typically plentiful.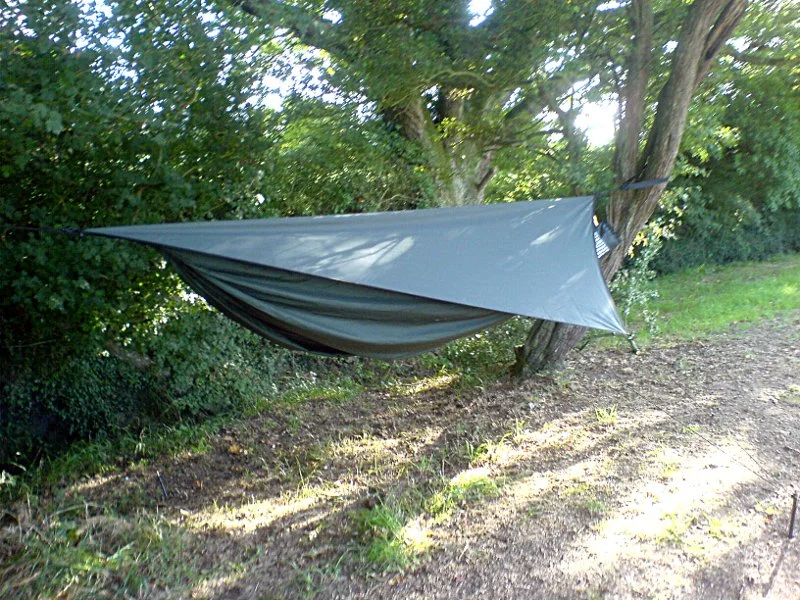 The Disadvantages of Hammock Camping
Like tent camping, there are some disadvantages to hammock camping. Depending on how you like to camp, these could make or break your decision to try hammock camping. However, on the other hand, they may not bother you at all.

Minimal interior storage. However, the entire underside of your hammock can function as a vestibule.
Colder and less weatherproof than tents. But with an underquilt and rain tarp, exposure can be mitigated.
Cannot camp above treeline. Hammock camping is also impossible anywhere where trees are unusable due to their size, placement, or local regulations.
Uncomfortable for two people and impossible for more than two. So not the best option for families.
The Complete Hammock System
There are two avenues for getting geared up to go hammock– you can dive in by purchasing a premade hammock tent system, or you can create a DIY hammock camping system by piecing together different components.
Ultimately, either approach should leave you with a complete hammock camping system.
A hammock
A suspension system
An under quilt (or sleeping pad)
A rain tarp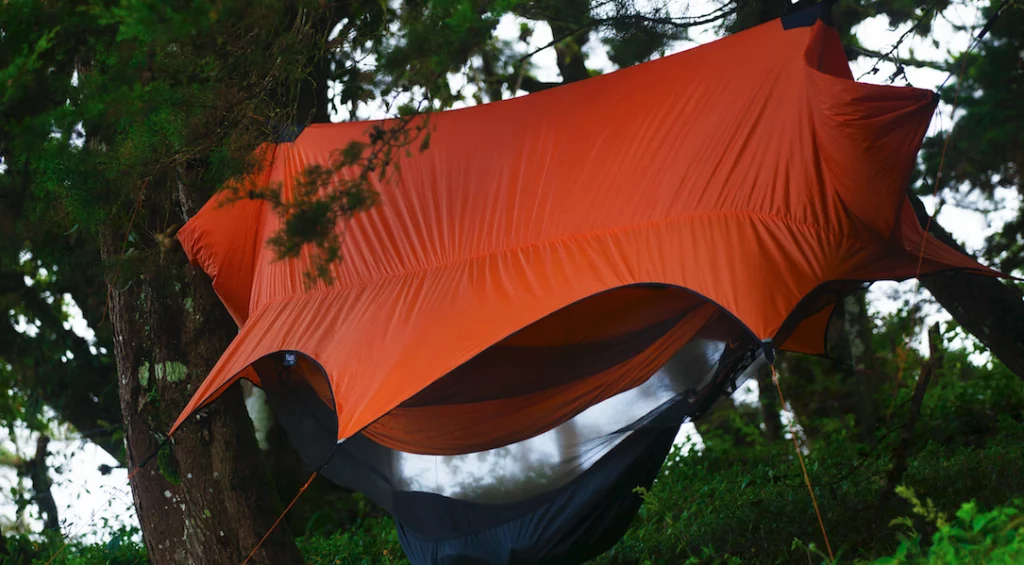 The Hammock
When thinking about your hammock, consider its size and intended use.
In terms of size, the biggest difference is between single and double hammocks. Single hammocks have a width of 4 to 5 feet. On the other hand, double hammocks have a width of 5 to 6 feet.
Due to the extra material, double hammocks will weigh more, but they will be stronger and can hold more weight. Plus, they tend to be more comfortable.
Usually, hammock campers prefer a double hammock because of the extra room, even though they will sleep in it alone.
The next item to consider is the hammock's intended usage. Is it for car camping or backpacking?
For car camping, weight isn't an issue. Instead, you probably want to prioritize a hammock made with strong and durable material.
For backpacking, lightweight is critical. So you might consider selecting the lightest option. You may even consider a single hammock vs. a double to conserve weight.
A Suspension System
Most hammocks include two carabiners. However, the suspension system you attach to those carabiners is sold separately.
Suspension systems are made with strong webbing material that you girth-hitch around a sturdy tree branch or trunk. They come in different lengths and are always adjustable, so you can customize your setup based on what trees are available to use.
Typically, hammock manufacturers will have a recommended suspension system for your selected hammock. However, because suspension systems are sold separately, you can technically choose any system you want.
A Sleeping Pad
Let's be honest– hammocks are comfortable by themselves. A lot comfier than the ground. But if you want to add extra comfort and insulation, you'll want to invest in a sleeping pad.
If you use an inflatable sleeping pad, we recommend deflating it slightly so it can better conform to your hammock's shape. If you use a foam sleeping pad, you may even consider trimming it to fit your hammock's shape.
The Underquilt
In a hammock, you miss out on the insulation that the ground provides when you sleep on the ground in a tent. That's why hammock camping can feel more exposed and colder. That is unless you use an underquilt.
A hammock underquilt is an additional piece of insulation that wraps around the outside of the hammock. Because it hangs on the outside, the insulation material doesn't get compressed and can loft fully– keeping you warmer.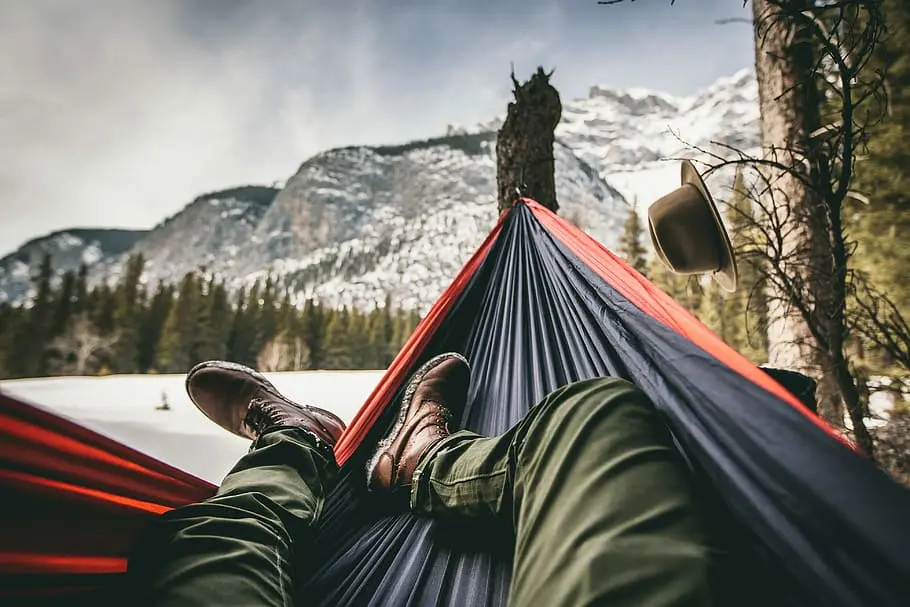 A Rain Tarp
A rain tarp, or rain fly, is mounted over a guyline that you tie above your hammock. Rain tarps help weatherproof your hammock system and reflect some body heat.
Rain tarps are sold separately. However, like the suspension system, they are explicitly designed to be compatible with certain hammocks.
However, a purpose-built rain tarp isn't 100% mandatory, although they are sleek and the easiest to use. If you prefer a more versatile (and perhaps more affordable) setup for car camping, you can rig any generic tarp. For backpacking, you'll probably want what sleekest and easiest to use is.
Bug Netting
Hammock bug nets either provide 360º coverage or only fit over the top. You will have to be the judge of how much coverage you want based on how exposed you want to be and how aggressive the local insects can be.
When investigating hammock bug nets, purchase one with "noseeum" mesh. Noseeum mesh is an incredibly lightweight yet durable micro-mesh that can prevent the entry of even the tiniest insects.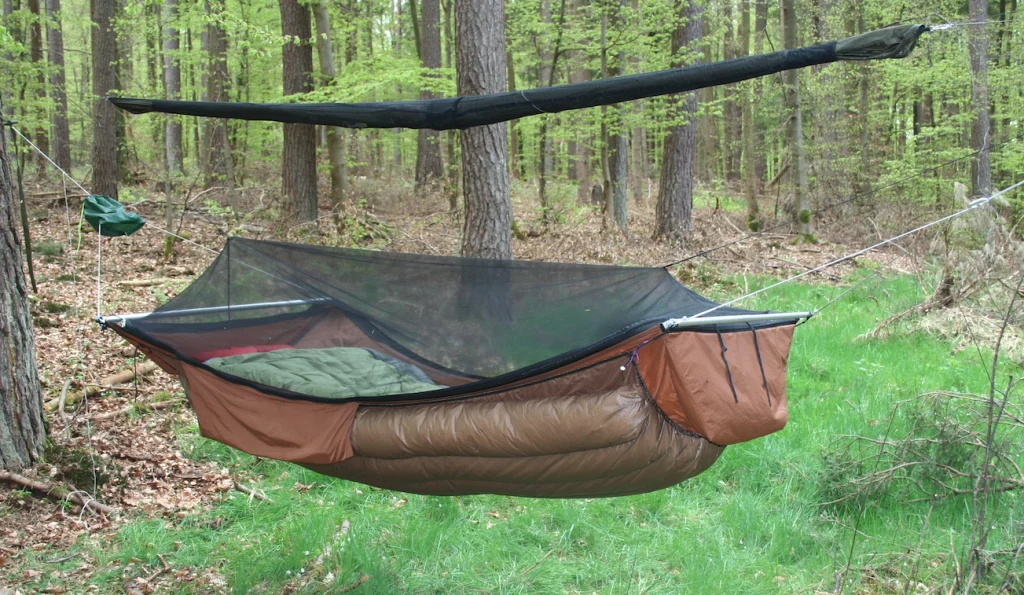 Tips for Hanging Your Hammock
Getting "good" at hammock camping takes trial and error, like the first time you set your tent up on top of a rock. The learning process is one of our favorite parts about going camping!
So we won't reveal all of our hammock camping secrets. But to help you get started on the right foot, we wanted to offer you some tips anyway.

Check land regulations to ensure hammock camping is permitted. Some areas with sensitive plant life may not allow hanging things in trees, like clotheslines and hammocks.
When not using our hammock, take it down to prevent injury to wildlife. You can leave the straps, but it may be best to pack away the hammock.
Hang your hammock with a 30º strap angle so you can nestle in comfortably and not feel like you're being bent in half. If you can't achieve the perfect 30º, go steeper rather than flatter.
Position your hammock so it hangs no more than 18" off the ground so you can easily get in and out and prevent accidents.
Ensure the ground underneath is durable, like rock, gravel, or dirt, and that you're not setting up over sensitive foliage.
Ideally, your straps will be 1-2" wide, so they won't cause acute bark damage. Always avoid using thin ropes or cords.
Hang your hammock on the thickest, strongest part of the trunk or tree branch. Whenever possible, position your straps on top of a branch instead of underneath for added support.
Always hang your hammock on live and sturdy trees. Hanging your hammock on dead trees may result in injury.
Always hang your hammock in an established campsite whenever possible, and if you're in the backcountry, select a camp at least 200 feet away from trails, water, and other campers.
Final Thoughts
Everyone camps differently. There is no "proper" way to go camping. If anything, one of the beauties of camping is that it's an adventure every time. Things may go perfectly, or you may get rained on and forget the rain tarp. You can sleep in a tent or choose to camp in a hammock.
After all, a few days out camping with family or friends, whether in a tent or a hammock, is better than no days out camping.