As the festive season approaches, what better way to celebrate than with a unique and flavorful twist on traditional Christmas cookies? Join us on a culinary adventure as Grill Your Ass Off (GYAO) and Everest.com team up with the inspiring Omar "Crispy" Avila to bring you a mouthwatering collaboration. These Christmas cookies, infused with the bold flavors of Sailor Jerry barbecue sauce, are not just a treat for your taste buds but also a tribute to resilience, strength, and the joy of the holiday season.
Embark on a culinary journey that defies tradition and tantalizes the taste buds – the unexpected fusion of BBQ sauce and cookies. It's a savory-sweet symphony that pushes the boundaries of flavor, introducing a delectable twist to the world of baked goods. Imagine the rich, smoky notes of barbecue sauce weaving through the classic warmth of holiday cookies, creating a harmonious marriage of savory and sweet.
As we delve into this unconventional culinary realm, the result is not just a treat for the senses but a bold declaration that the kitchen is a playground for creativity. Get ready to challenge your preconceptions and savor the delicious intrigue that unfolds when BBQ sauce takes center stage in crafting the perfect batch of cookies.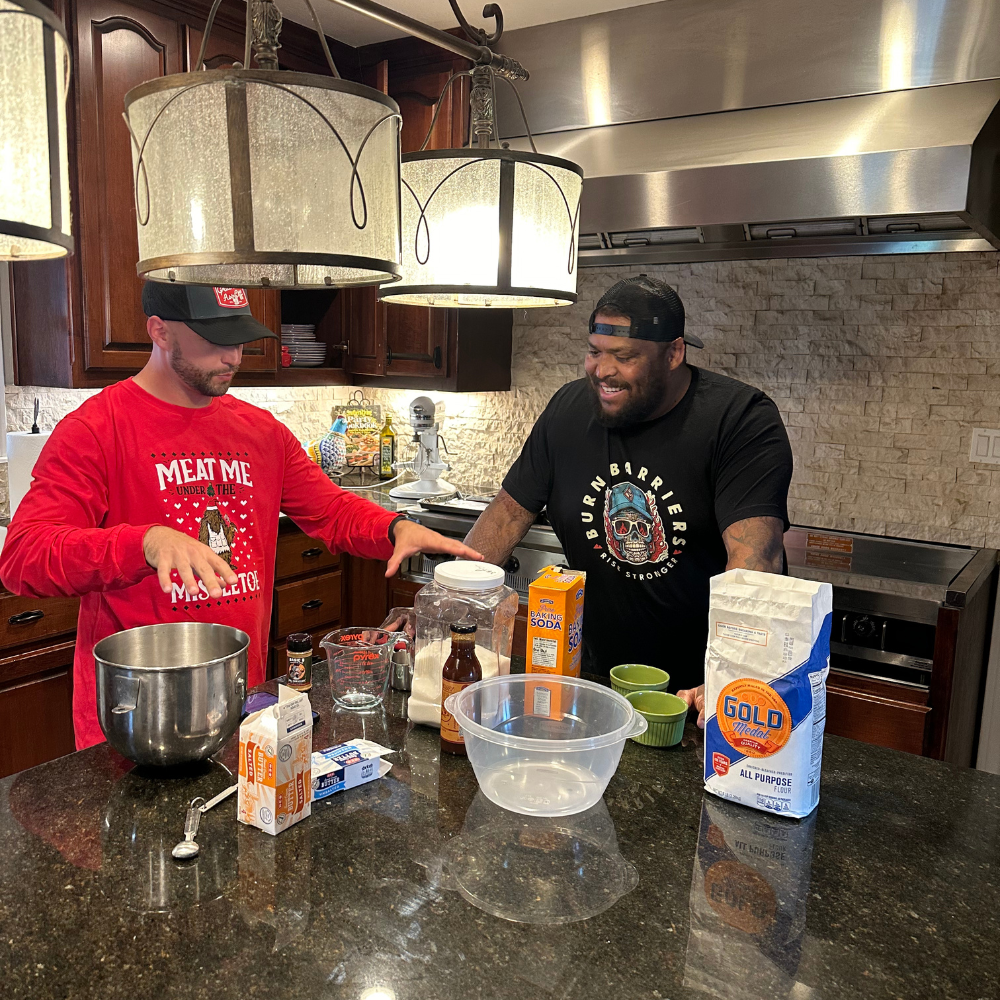 Ingredients:
1 1⁄2 cups butter (3 sticks)
3 cups sugar, divided
2 eggs
4 cups all-purpose flour
4 teaspoons baking soda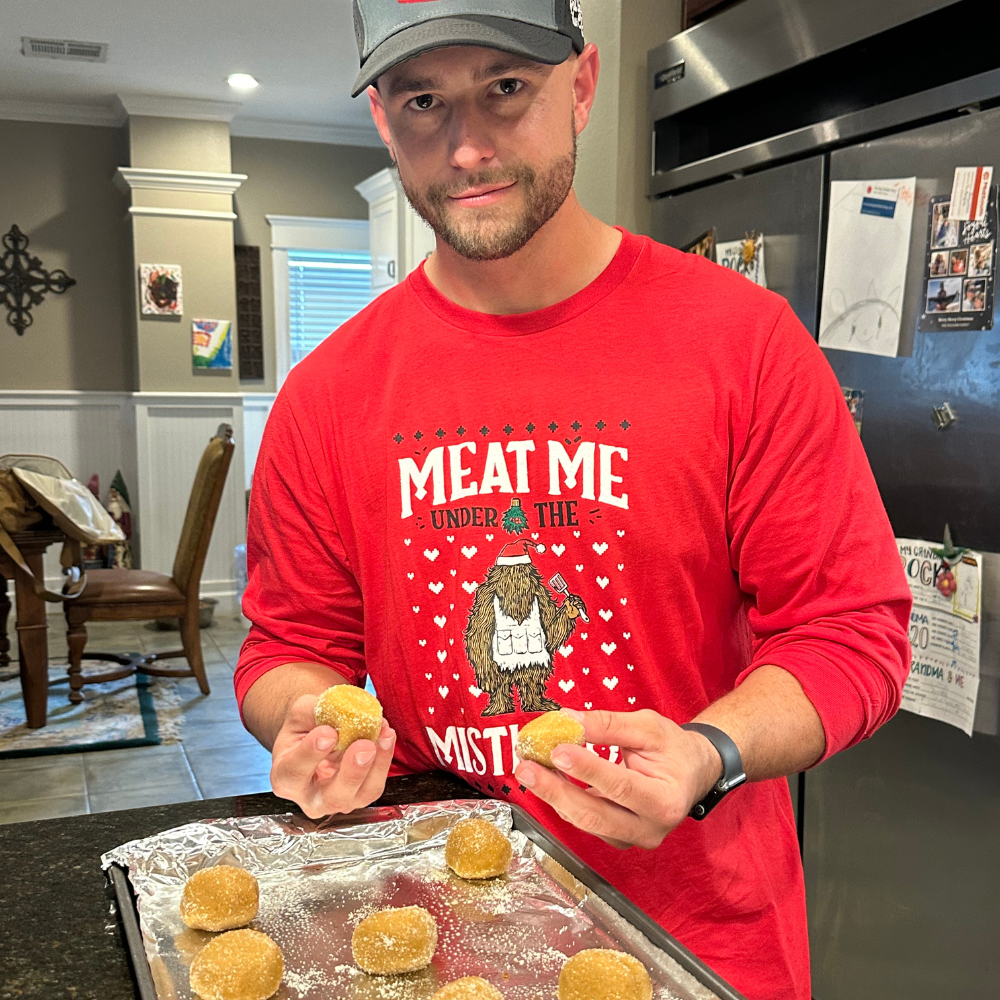 Directions:
Melt and Cool the Butter: Start by melting three sticks of butter in a large bowl in the microwave. Cook on high for 1 minute, then continue in 30-second intervals until fully melted. Allow the melted butter to cool.
Combine Barbecue Sauce, Sugar, and Eggs: To the cooled melted butter, add 1/2 cup of Sailor Jerry barbecue sauce, 2 cups of sugar, and the eggs. Beat this mixture well until it achieves a smooth and creamy consistency.
Sift and Add Dry Ingredients: In a separate bowl, sift together the all-purpose flour, baking soda, and Basic B Pumpkin Pie Spice. Gradually add the flour mixture to the butter mixture, beating just until the flour is fully incorporated. This combination of spices and barbecue sauce will give your cookies a unique and savory twist.
Chill the Dough: Refrigerate the cookie dough for several hours until it firms up. This step ensures that the flavors meld together and the dough becomes easier to handle.
Shape and Roll: Once the dough is firm, shape it into small balls and roll them in the remaining sugar. This coating adds a delightful sweetness and a festive sparkle to your cookies.
Smoke at 350 Degrees: Preheat your Traeger or smoker to 350 degrees. Place the cookie balls on the grill and smoke for 8 to 10 minutes until they firm up. The infusion of smoky flavors adds an extra layer of complexity to these holiday treats.

Grill Your Ass Off Basic B Pumpkin Spice
Ladies, it's that time of the year – cue the cozy yoga pants, slip into those Uggs, and revel in the changing leaves because Pumpkin Spice season is upon us!
Introducing our latest sensation, the Grill Your Ass Off Basic B Pumpkin Pie Spice! We've taken the beloved classic pumpkin spice and infused it with a touch of honey and sugar, transforming it into an irresistible blend that will have your taste buds dancing as if they're in a pumpkin patch.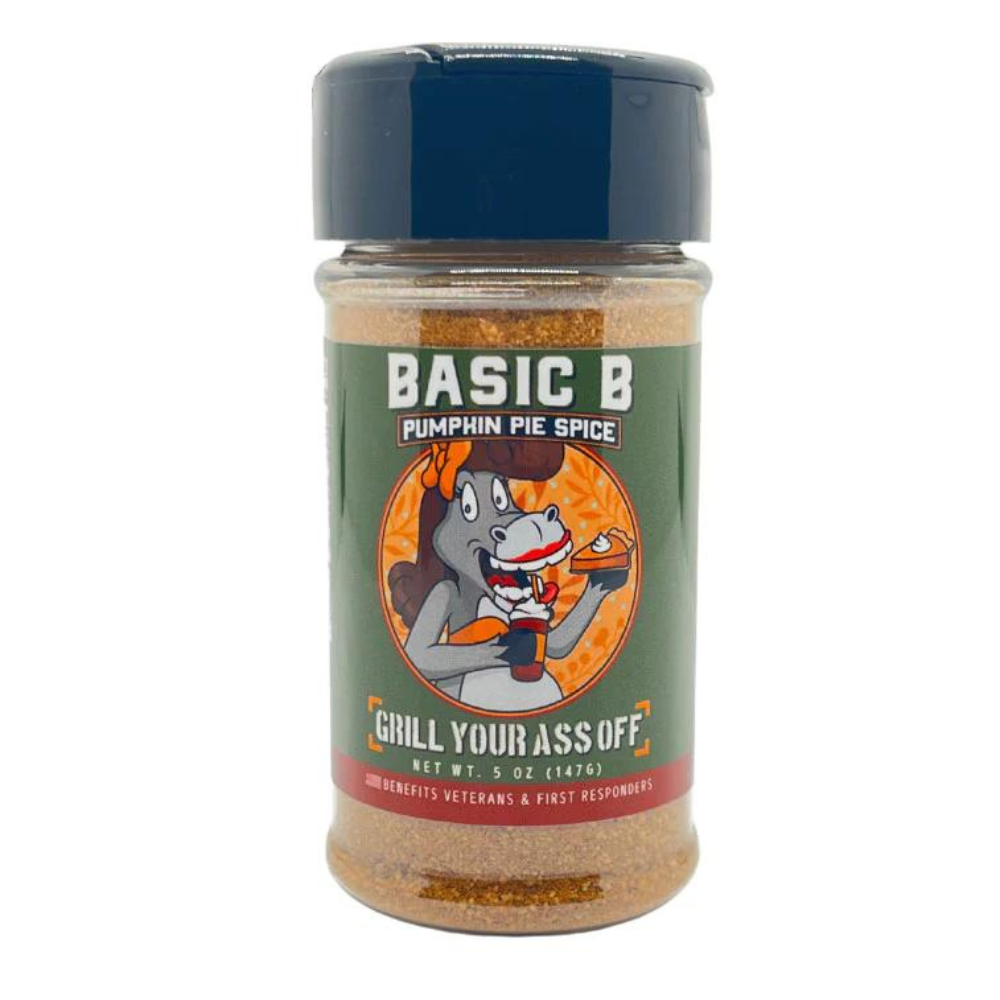 This limited-time treat is perfect for adding a dash of Basic to your morning Coffee or Lattes , indulgent Pancakes , fluffy Waffles , hearty Oatmeal , delectable Baked Goods , enticing Cocktails , and so much more!
Embrace the flavors of the season and elevate your culinary creations with this mouthwatering pumpkin spice blend.
Grill Your Ass Off Sailor Jerry Ironsides BBQ Sauce
As featured on Fox & Friends, indulge your taste buds in the rich heritage of Sailor Jerry® with our Sailor Jerry® Ironsides BBQ Sauce. Meticulously crafted with Sailor Jerry® Spiced Rum, this barbecue sauce encapsulates the bold character of the traditional Navy-style spirit. Immerse yourself in a journey of flavors as the smooth and smoky tomato-based sauce showcases the distinctive Sailor Jerry® spice blend, culminating in a delightful kick of sweet heat.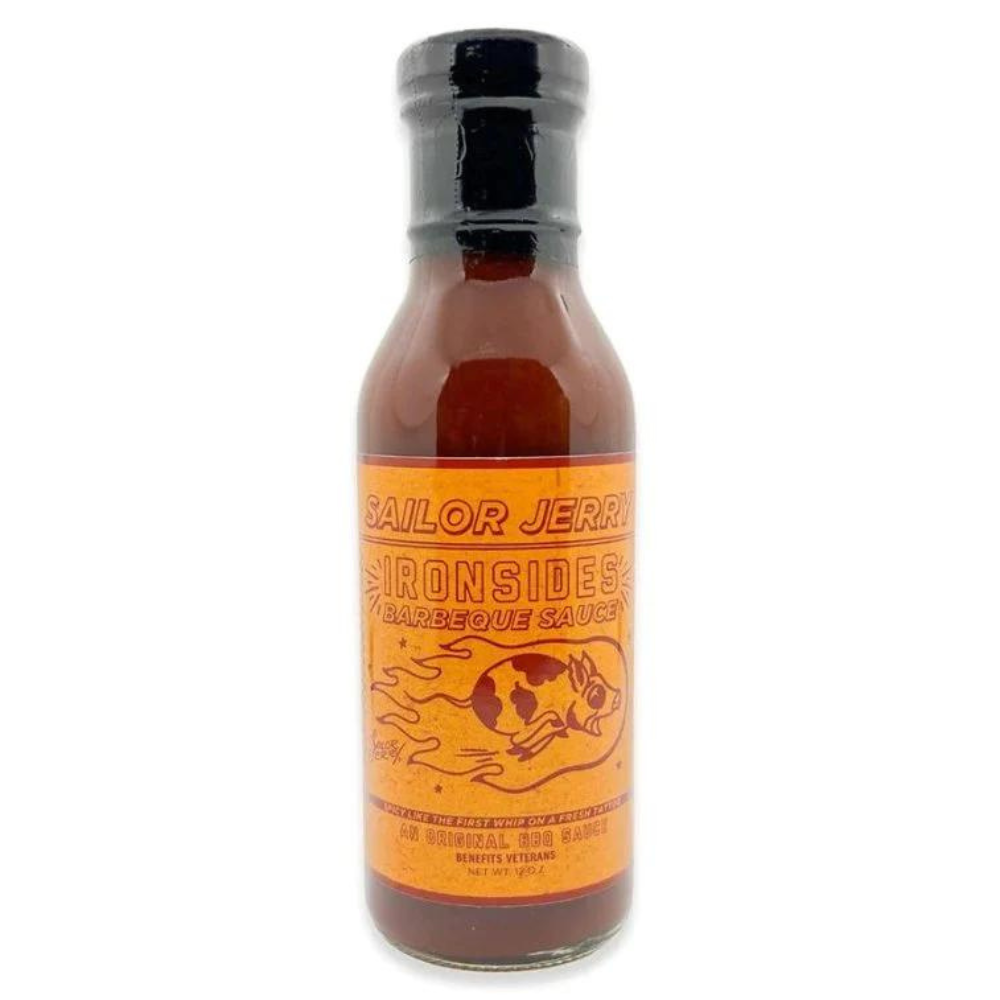 In a meaningful collaboration with Sailor Jerry® Spiced Rum, we (GYAO) take pride in dedicating 50% of the profits from the sales of Sailor Jerry® Ironsides BBQ Sauce to The Independence Fund. This 501c3 non-profit organization is devoted to restoring the physical, mental, emotional, and spiritual independence of our esteemed veteran community.
Sailor Jerry® Spiced Rum, conceived to honor the legacy of Norman "Sailor Jerry" Collins, a Navy veteran renowned for his artistry in WWII-era Honolulu, stands as the indisputable father of American old-school tattooing. Elevate your culinary experience while supporting a noble cause, as Sailor Jerry® Ironsides BBQ Sauce pays homage to this rich tradition with every savory bite.
*Rest assured, this product does not contain alcohol.
Do You Like The Shirts in The Images? Check Them Out Here: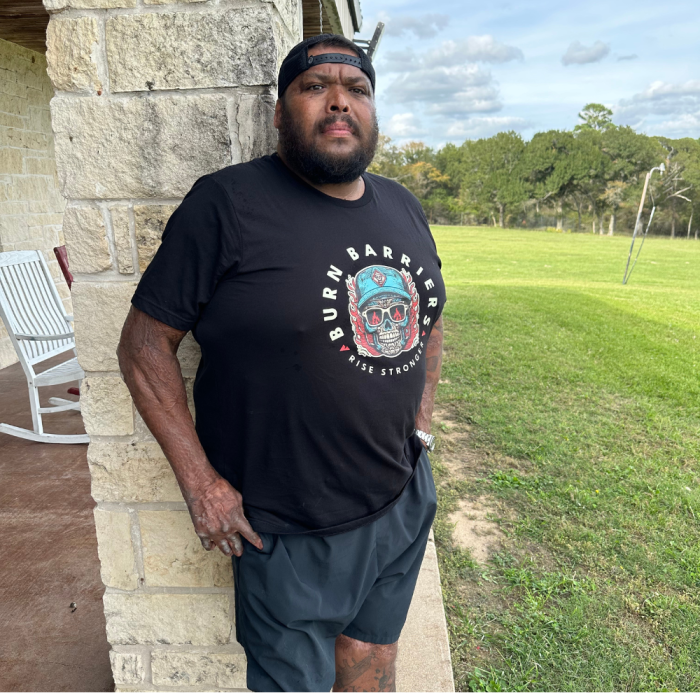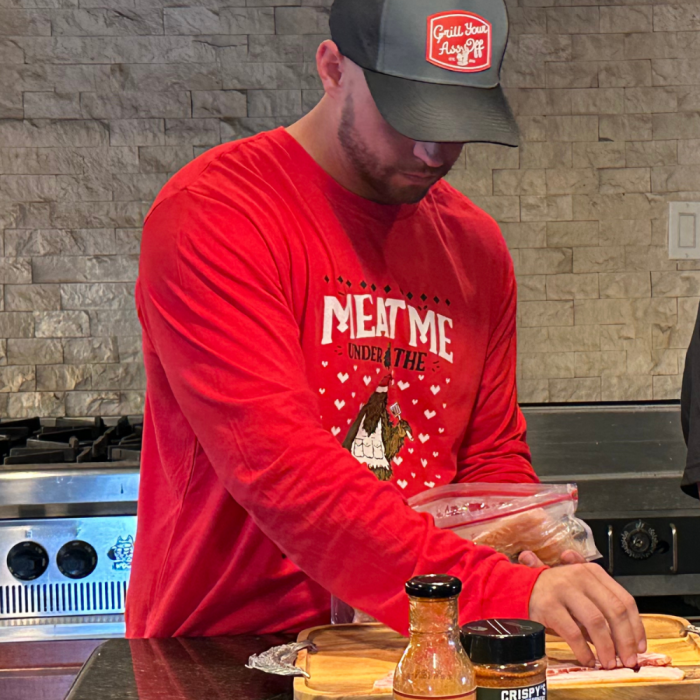 Conclusion:
As the festive season approaches, immerse yourself in the culmination of this daring culinary adventure – a collaboration between Grill Your Ass Off (GYAO), Everest.com, and the remarkable Omar "Crispy" Avila.
The journey we've undertaken goes beyond the realm of traditional Christmas cookies, introducing a mouthwatering twist that pays homage to resilience, strength, and the pure joy of the holiday season.
Through the infusion of the robust flavors of Sailor Jerry barbecue sauce, these cookies stand not only as a treat for the taste buds but also as a testament to the spirit of overcoming challenges with a touch of unconventional delight.
This festive season, let the unexpected union of BBQ sauce and cookies be a flavorful reminder that creativity knows no bounds in the kitchen, and that the joy of the holidays is best shared through uniquely crafted culinary experiences.