As summer days become shorter and the air begins to cool, many outdoors people's minds turn to hunting. One of the first seasons to come into play is the fall turkey season.
Fall turkey hunting is different from the spring season primarily because the birds are not participating in mating behaviors. They travel in big flocks and are extremely hard to call. Mating behaviors such as gobbling don't occur, and likewise, the male birds don't react to single hens or try to separate them from the flock.
In the Fall, hunters primarily set up in or on the edge of food sources like cut corn or bean fields. Turkeys are predictable as they feed on these grains and beans. The birds will eventually visit the fields to feed and hopefully travel within range of the blind.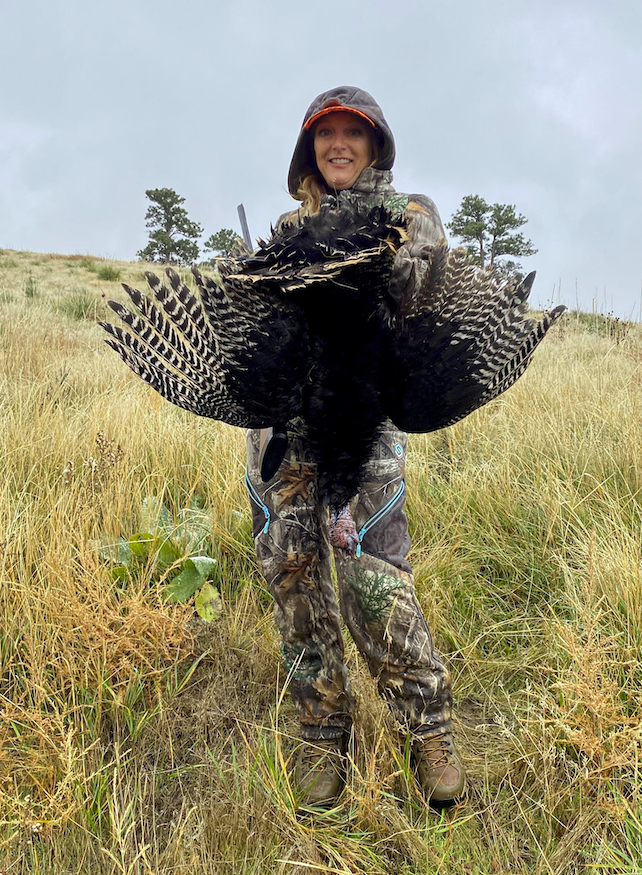 Turkey hunting is very rewarding, but it can also be quite a challenge. Turkeys are clever birds that are very skittish around humans. Unlike deer, they lack a sense of smell. However, they have excellent eyesight. Even the slightest movement can send off alarms and end your hunt in that area for the day. Because of this, the further away you can be when you take a shot, the better. Of course, taking a turkey with a long shot is not an easy task. To increase your chances of making an accurate shot, you'll want to add a turkey scope or a red dot sight to your bow or shotgun.
Identifying Turkeys
When preparing for your hunt, you'll want to learn as much as you can about the birds, gear, and hunting regulations for the location you plan to hunt. The American Wild Turkey has five subspecies: the Eastern, Merriam's, Gould's, Rio Grande, and Osceola. Each is found in different regions of the United States and has different bag limits depending on the species and the location. Some states are home to multiple subspecies. Because of this, you should learn how to identify each type of turkey. Their feathers and patterns differ slightly, the most pronounced being the Merriam's. Good resources are each state's Department of Natural Resources website and the National Wild Turkey Foundation's website www.nwtf.org.
Toms, Hens, and Jakes
Many states allow hens to be harvested in the fall. Not only do you need to know how to identify the subspecies of turkey, but you'll also need to know how to identify the sex of the turkey as well.
Adult male turkeys are called toms, and younger males are called jakes. Females are known as hens. The differences can be hard to notice, especially when hunting at a distance. Adult male turkeys are larger, more colorful, and have beards. They tend to have white, red, and blue colors on their head and neck. At the same time, hens' bodies are usually browner with greyish heads. Also keep in mind that not all bearded turkeys are male. Jakes have smaller beards than toms and tend to travel together in small groups, while a Tom is often alone. Hens tend to travel together.
What is a Bearded Hen?
Keep in mind that not all bearded turkeys are male. A small percentage of hens also don beards. You might see a brown-bodied bird with a greyish head with a beard. Many states allow bearded hens to be harvested during the Spring hunting season. Never take one unless you have verified the legality of harvesting bearded hens with the local hunting regulations.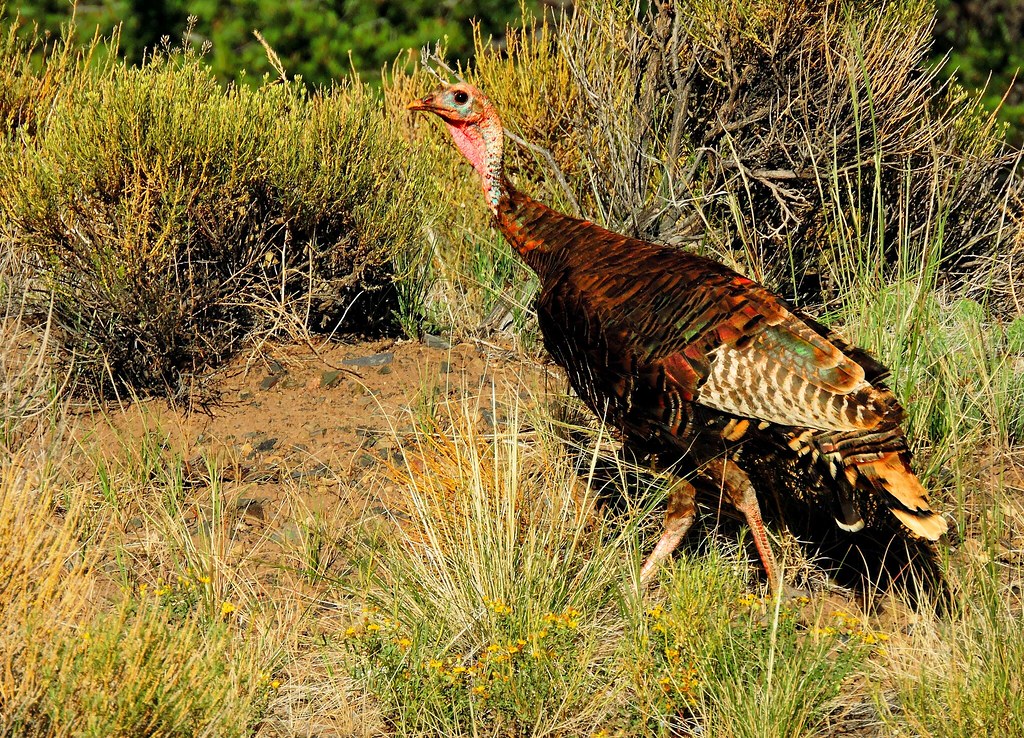 Utilizing a Scope or Red Dot Sight on a Crossbow
A lot of turkeys are taken with crossbows. Crossbows are a great alternative to firearms and compound bows because, with practice, an experienced hunter can increase their range up to 100 yards. A scope has multiple aiming points, allows you to see the yardage for your aim, and helps you identify the turkey. Red dot sights are equally effective, but you usually can't use a red dot sight because it is illegal to use electronic sights when deer hunting. Most wild turkey hunts take place during the fall deer season. Because the seasons overlap, as do tags for turkey and deer…like in Illinois, you could be charged with a hunting violation. Make sure you have a proper broadhead for harvesting turkeys in crossbow hunting and use the appropriate size shot if using a shotgun.
Using a Red Dot Scope on a Turkey Shotgun
My preferred method of turkey hunting is with a red dot sight on a shotgun with a tight, constricted turkey choke. This allows me to pinpoint the bird I'm targeting, so I only harvest the bird I'm aiming at. As discussed earlier, turkeys travel in large, tight groups during the fall season. If you aren't careful, you could take more than one bird. You can pinpoint the exact bird you want to harvest with a red dot sight. In my opinion, red dot sights are easier to use because you can leave both eyes open. This ensures no other animals are walking into your line of fire. Turkey scopes are also an option; however, they may narrow your field of view, not allowing you to see quite as much with your peripheral vision. But they are both equally effective.
The Best Red Dot Sights for Turkey Hunting
Always research when you choose the turkey scope or red dot sight to purchase. There are several on the market that offer different features. Important things to consider are battery light, weight, brightness, durability, and warranty. I've narrowed down the list for you. The following are a couple of options to consider for your next purchase.
The Holsun Open Reflex features include:
SOLAR FAILSAFE: Holosun's Solar Power Failsafe Technology allows the red dot sight to remain reliably powered if your battery ever fails in a critical situation. The battery life can last up to 50,000 hours, depending on settings.
AUTOMATIC BRIGHTNESS ADJUSTMENT: With the Solar Failsafe feature, the reticle will automatically become bright if you are under the sun and will automatically dim down when you move indoors to match ambient lighting conditions.
SHAKE AWAKE: With Holosun's Shake Awake Technology, the slightest movement will enable the onboard motion sensor to activate the LED instantly. During motionlessness, the LED will turn off to save critical battery life.
MULTI-RETICLE SYSTEM: With this feature, you can turn toggle sections of the reticle based on the job at hand and preferred vision. Select between the precision of a 2 MOA dot, a 65 MOA open circle, or a fast acquisition circle-dot reticle.
MULTI-LAYER COATINGS: Holosun optics are manufactured using optical glass with multi-layer coatings applied to facilitate maximum light transmission and wear resistance while reducing glare, making for a great addition to your gear.
The Sig Sauer Romeo 5 features include:
ROMEO5 compact red dot sights provide civilians and armed professionals with a robust 1x aiming solution for any situation.
Ultra-low parallax, so point-of-aim is point-of-impact, and the red dot remains parallel to the bore of your firearm, no matter what your viewing angle is relative to the sight's optical axis.
Unlimited eye relief allows you to acquire the aiming point and the target regardless of the position of your eye behind the sight.
The readily available CR2032 battery is side-loading, allowing for quick battery replacement (featuring 40,000+ hours or more of life):
Dependable waterproof (IPX-7 rated for complete water immersion up to 1 atmosphere)
fog-proof performance.
Trophy Red Dot Sights come in robust, precision-engineered housing that's tough enough to go anywhere. These sights offer unlimited eye relief for quick shots at imperfect angles and multiple brightness settings for maximum battery life and superior performance in various lighting conditions.
The PRO-MOUNT Cantilever Mini Riser features include the following:
The New PRO-MOUNT Cantilever Mini Riser mounts secure to your AR, ensuring you get on target faster and stay on target no matter what.
Multi-coated lenses are scratch-resistant and provide the excellent image clarity
Crisp 2 MOA red dot allows for accurate, both-eyes-open shooting.
Parallax-free design: The red dot stays on target no matter where the shooter's eye is
11 red dot brightness settings provide optimal visibility in any lighting conditions
Whether you use a crossbow or a shotgun on your next Fall turkey hunt, using a scope or a red dot sight will up your success rate. Always check with local hunting regulations and make sure to identify the bird before you pull the trigger. Best of luck!
You can find a good assortment of red dot and reflex sights in the Everest Outdoor Marketplace. New products from new sellers are being added daily