Camping is a popular family pastime and a great way to make memories with friends. You'd be hard-pressed to find someone who doesn't like to get away from it all for a night or two.
The popularity of camping has exploded in recent years, especially during the warmer months in North America. Local businesses have recognized this and raised prices accordingly. For example, private campgrounds offer accessible experiences at a higher price tag.
Camping gear costs have increased dramatically, with name brands being the main offenders. Even basic gear you find at big box stores can make you reach deep into your pockets. You'll find that camping expenses can add up quickly if you can't find a deal or two.
Luckily, camping doesn't have to drain your bank account as long as you're equipped with a little knowledge and some common sense. This guide will show you some tips to help you have a great camping trip while sticking to your budget.
The Costs of a Camping Trip
You'd be surprised at the "hidden costs" associated with camping. These include things like costs that occur while on the trip or fees incurred from booking at a private campsite. But you'll find that after doing it a few times, you'll be able to easily identify what parts can get expensive.
Gear
Gear requirements are often a large expense, especially if you only go camping a few times a year. Finding deals in the off-season can be difficult if you don't know when and where to look.
Here is a list of gear that you'll need to scrounge together before your trip:

Backpack
Shelter (tent, hammock, bivy)
Sleep system ( sleeping bag, pad, pillow)
Clothing (outerwear, shoes, additional clothing)
Tools (knife, axe)
Protection/Safety (bear spray, whistle)
Cooking (pan, pot, utensils, stove, fuel)
Lighting (headlamp, lantern)


Food
Most people (myself included) ensure that they bring the best food possible while camping. It is a time to eat extravagantly, often using ingredients you wouldn't dare buy for the kitchen at home. If you seldom take advantage of the grocery store deals then food costs can be a large part of your camping budget.
The best way to save money on food is to use as much of the existing ingredients in your house as possible. It's a great way to come up with unique recipes while also using the veggies in your fridge that might go bad while you're gone anyway.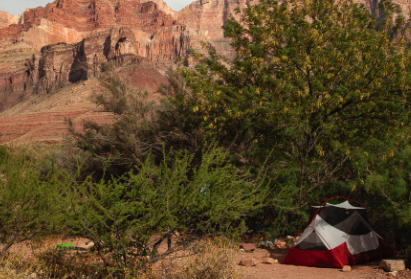 Everything Else
So you have the gear and all the food figured out for your camping trip, next comes the other expenses. Fuel is a great example of a cost that can add up quickly, depending on where you're headed. The price tends to fluctuate in different areas so it might become even more expensive.
If your vehicle isn't maintained and you're headed off-road, you might have to pay a lot of cash to take care of the car afterwards, trust me it happens. Another common cost is when people become overconfident in their driving abilities and end up having to get a tow out of their campsite.
Don't forget the additional costs of getting a hunting or fishing license if you plan on doing some extracurricular activities. There is an entire lineup of gear needed for that too, adding to the expenses.
If you're camping a few times a year then these costs can be substantial. You get the most out of your money if you camp more, which isn't a bad deal in itself. Let's take a look at some of the best ways you can explore the outdoors without breaking the bank.
How Can You Save Money Camping?
These 10 tips will save you money so you can go on more camping trips. Whether you want to do some wild camping or glamping in a private campground, there is always room to be frugal.
1. Camp on public land
The US has almost 150 million acres of public land that anyone can use for camping. While they are free for everyone to use, some do require a fee to use.
This is common with national parks where you may need to get a permit to stay the night. Expect a fee if you're receiving any kind of service or have to pass through a national park to get to your campsite.
However, if you find an off-the-beaten-path forest road and do some exploring of your own, you might find a free, hidden gem of a campsite.
2. Split the trip cost with friends
Camping with friends has additional benefits aside from the company. Splitting the cost of camping is often the best way to cut costs all around. However, it is an effective tactic for saving the most on fuel and food costs.
Not only that but there is the opportunity to borrow gear from your friends. There is more than likely at least one member of the party that is a camping enthusiast and has extra gear for anyone that needs it. This will save you from having to front the cost of expensive camping gear, especially if you don't do it often.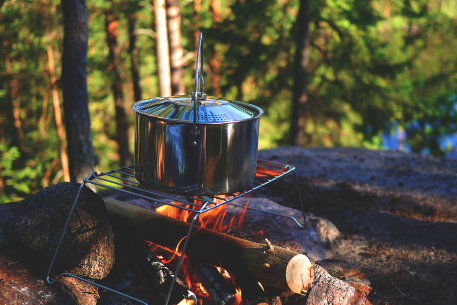 3. Rent your camping equipment
Did you know that you can rent camping gear? What about buying second-hand camping gear from a rental company? If you didn't, don't feel bad, just know it exists.
Companies like OutdoorsGeek provide everything you need for camping while shipping anywhere in the United States. Additionally, they can sell you used gear that was used by the business, saving you more if you want to try camping more often.
4. Buy gear that can do more than one thing
Many bushcrafters and hikers will tell you to lighten the load by getting gear that does more than one thing. A good example of this would be to bring a tarp camping instead of a tent. Using a tarp can help you keep the rain off a common area while also doubling as your shelter for the night.
Another common trick is to shine your headlamp light into a bottle of water. The light refracting will cause the water to start growing, effectively turning it into a lantern instead of a flashlight.
5. Cook food in bulk ahead of time
Hitting up a grocery store near your campsite will always be an expensive trip. This is because those stores understand that they are in a heavily trafficked tourist area, justifying a price increase for their goods.
Avoid this by doing all of the prep work from home, where you more than likely have access to cheaper food. Tin foil hobo meals are a great option as you can stuff whatever you want into an aluminum foil pouch and then throw it over a fire.
If you have access to electricity, prepare a large slow cooker meal that can simmer while you partake in the outdoor experience. The idea is to make a lot of food while being frugal and avoiding the expensive tourist grocery stores.
6. Better yet, catch your food
If you're a keen forager and hunter then you might want to skip bringing the food and get your own. Fishing trips are a great example of a catch-and-cook where nature provides dinner for you. Simply bring the fixings, condiments, and utensils and eat whatever you catch (whichever fish is in season and legal to catch in that area, of course).
Hunting small game such as rabbit and grouse are also great ways to have a good camping meal. Avoid hunting large game since you more than likely won't be prepared to field dress the animal and pack it out.
7. Camp in the off-season
The best time to camp is when the kids are in school and the parents are working the 9-5 grind. Not only will all of the prime campsites be available, the pricing of everything is substantially cheaper.
If private campgrounds are open they will offer heavily discounted rates to get the most out of whatever traffic comes their way. Camping equipment stores are always having their off-season deals to get rid of inventory they don't want. Even grocery stores will lower their prices, making last-minute meal prep easier on the wallet.
8. Learn some bushcraft skills
Camping chairs can be expensive, especially if they end up not being as comfortable as you thought. What if you could build your chair while camping? The art of bushcraft is all about living comfortably outdoors, teaching people how to build shelters, beds, and even comfortable chairs to sit in.
The nice thing about bushcraft is you only need a saw, axe, and knife to make a lot of projects. Wood is a common resource around you while camping and it has a lot of versatility.
9. Stay close to home
It's almost a guarantee that a quick Google search of campgrounds in your local area will bear some kind of fruit. Why add wear and tear to your vehicle when you can have the same experience much closer to home? Additionally, it allows you to explore your area a little more while supporting a local business in the process.
10. Become part of a camping network
Joining a camping Facebook group is a great way to meet like-minded people that may just be heading on an interesting camping trip you want to join. Not only that but you'll be able to pick their brains for any tips on where to camp and even how to save money.
Websites such as Passport America offer memberships that save you a significant amount of money on campgrounds affiliated with their network.
Alternatively, Hipcamp is another great service where landowners will host campsites on their properties, most of the time at a much lower rate than in other places.
Camping Doesn't Have To Be Expensive
At the end of the day being frugal in the right ways is the most important thing. Don't sacrifice your comfort for the sake of being cheap, just make smart decisions that won't stress you out later.
Just remember to be completely prepared for your trip and save money on the biggest things first. But most importantly, have a blast and enjoy the memories being created from these awesome experiences.