Introduction
Pickled red onions are a great way to elevate your next meal. The pickling process tames those fiery onion flavors and adds tang and sweetness. This recipe is so easy and definitely a crowd pleaser. Serve them with lamb burgers, on top of salads or tacos, on sandwiches… the possibilities are endless.
Feel free to get creative with this recipe! Using other vinegars or spices will give you different, but delicious, results. This recipe also works well with carrots, cucumbers, green beans and even asparagus. I hope you enjoy this recipe as much as I do!
Time to Make:
24 Hours (30 minutes active)
Special Equipment:
Large Mason Jar with Lid
Also Works With:
Cucumbers, Carrots, Green Beans
The Ingredients:
2 Large Red Onions, Sliced
1 ½ cup White Vinegar
1 ½ cup water
¼ cup white sugar
2 Bay Leaves
4 garlic cloves, peeled and halved
1 teaspoon peppercorn
1 tsp whole mustard seeds
1 tsp kosher salt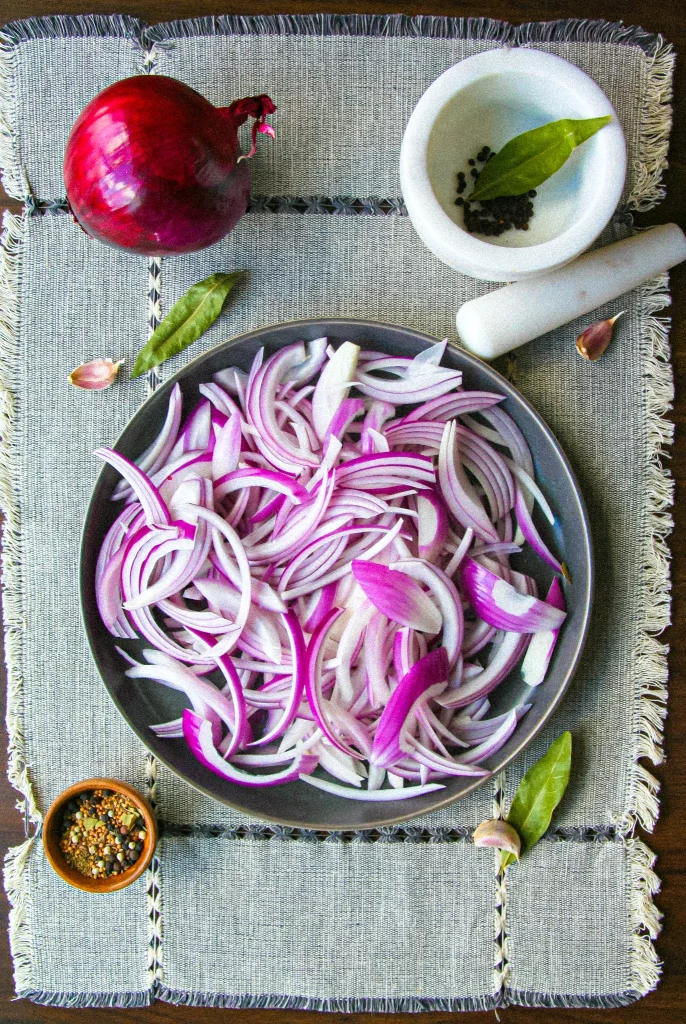 How To Make The Best Pickled Onions:
In a medium pot add vinegar, water, sugar, bay leaves, peppercorn, mustard seeds and kosher salt and heat until the salt is dissolved.
Add sliced onions and garlic to a large mason jar. When the salt has fully dissolved pour that into the mason jar.
Let cool with the lid off for 30-45 minutes.
Put the lid on the mason jar and store in the fridge overnight.
The onions will be done in a few hours but the longer they sit in the pickling liquid the better they get. The onions will turn a beautiful shade of pink. Be sure to not eat the bay leaves!