A hunter is not going to be able to pick up a crossbow and magically shoot more deer at longer ranges than a hunter using a compound or recurve bow. A crossbow hunter is still going to have to practice with his or her weapon, and the maximum distance is not that much further than what compound hunters are shooting. Often, compound bow hunters are overconfident because they know they can hit a target's bullseye at 50 yards while practicing. They think they will be just as accurate with a crossbow. Unfortunately, this is not always the case.
A lot can go wrong in the time it takes an arrow to travel 50 yards from any sort of legal archery device. As way of examples, a deer can take a step or two resulting in a gut-shot animal, an unseen twig could reflect the arrow, and frankly, your nerves might be a little more rattled when shooting at a deer than at a foam target in the backyard.
Crossbow hunters have limitations, and good hunters know them and will abide by them. A crossbow is not going to effectively shoot an arrow or bolt much further than a compound bow. The bolt will lose force just like an arrow will, and hunters will quickly learn this by spending time on the range. All hunters should practice on a regular basis. There is not a single hunter that should head to the woods, regardless of their equipment, until adequate time is spent determining the strengths, weaknesses, and limitations of both the hunter and the equipment.
What Is The Best Archery Shot Placement On A Deer?
When taking a broadside shot, it is generally best to aim about five inches behind the deer's shoulder and about halfway up the deer's body. Although many bowhunters like to aim for the heart, aiming low and up against the shoulder/leg can set you up for heartbreak. If you hit square on the shoulder joint and don't get adequate penetration you will miss the lethal shot. Aiming a bit higher, and further behind the shoulder, gives you a much greater margin for error. If you hit exactly where you are aiming you will take out both lungs. If your arrow drifts closer to the shoulder you will still hit the lungs or heart. And if your arrow drifts a bit further back toward the deer's mid-section, you will likely take out the liver. A couple of inches higher or lower will still keep you within the vital area. In any of those scenarios, the deer will be mortally wounded and unlikely to go very far.
Another consideration for broadside shots is the position of the deer's front leg. If possible, wait to shoot until the leg closest to you moves forward, as this takes the shoulder blade out of the way and exposes even more of the vital area to your shot.
So, What are the Best Crossbows for Deer Hunting?
The lightweight Vengent S440 Crossbow delivers lightning speeds up to 440 FPS and features the NEW revolutionary ACUslide silent cocking and safe de-cocking crossbow technology. This ultra-fast hunting crossbow is narrow, measuring an incredible 5.8 inches wide, and features a 3.5-pound, 2-stage S1 trigger that delivers our most crisp, consistent break ever.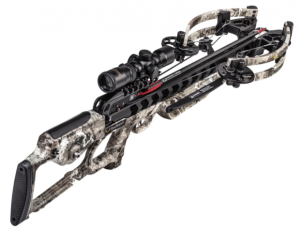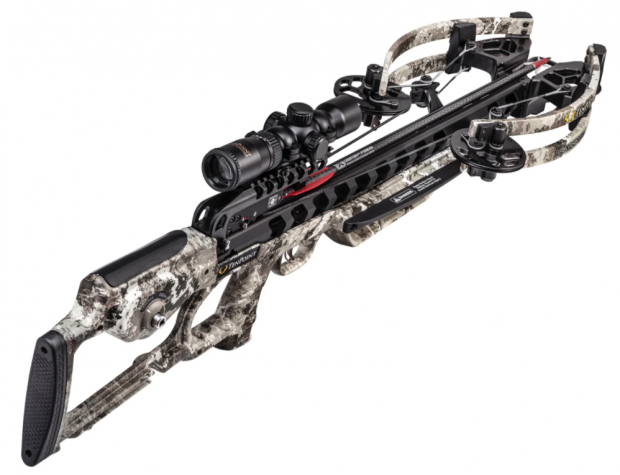 The lightweight Vengent S440 Crossbow
TenPoint designed the silent cocking and de-cocking system for users to safely de-cock their hunting crossbows without risk of injury, making it one of the finest and safest crossbows for sale on the market today in our opinion.
The Barnett Hypertac Pro 430 has the smoothest, fastest, easiest shooting experience which often translates into bigger hits on bigger bucks. Further, the HyperTac™ Pro 430 is loaded with features, including a newly patented string hook system you won't find anywhere else. Paired with the quick-detach integrated CCD, the HyperTac Pro guarantees a worry-free cocking experience to get you to your shot faster. This hunting crossbow also has comfort on its side, with every touchpoint completely customizable. Hunters can use the flip-down Verti-Grip™ to shoot AR-style, and set the perfect length-of-pull fit with a micro-adjustable butt stock and cheek piece.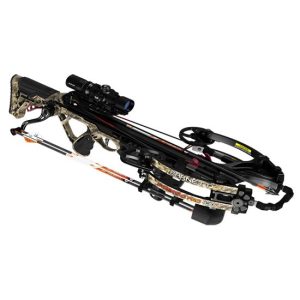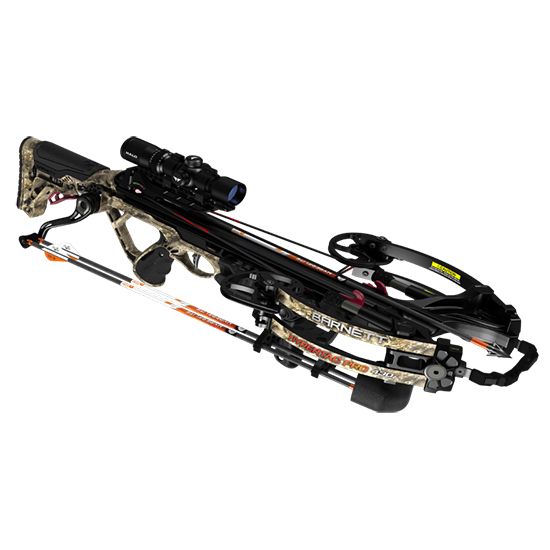 The Barnett Hypertac Pro 430
The traditional frontend and narrow backend give the HyperTac Pro an incredibly balanced center for peak maneuverability. Hyperflite™ technology pummels small diameter arrows down range with incredible speed and precision with up to 430 feet per second and 25 percent deeper penetration than the competition. The 1.5-5x32mm red/green illuminated, speed-compensating scope, pre-installed string dampeners, and multi-position premium quiver complete the package for the ultimate shooting experience. Best of all, the HyperTac Pro comes fully assembled and ready to hunt straight out of the box. This crossbow has everything going for it and comes highly recommended by many field experts.
What Type of Broadheads are Hunters Using to Hunt Deer?
The first thing you need when hunting deer or any big game animal is a razor-sharp broadhead. Most of the broadheads on the market today are efficient for deer. The only thing that might have to be done out of the package is to touch up your broadheads. Always check all broadheads from the package to ensure they are sharp.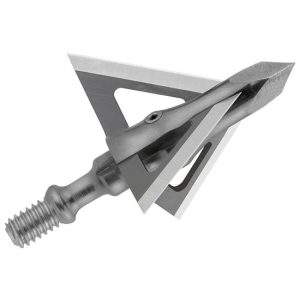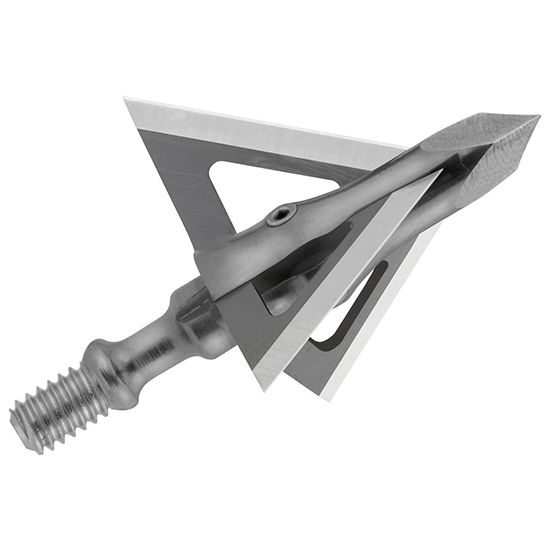 The three-blade Trocar
The three-blade Trocar is engineered for undisputed toughness and accuracy. This fixed-blade broadhead features a 0.035-inch-thick helix-blade design that provides field-point-like accuracy, as well as unbelievably lethal performance in most game. With a solid-steel ferrule, razor-sharp blades, and a 1 3/16-inch cutting diameter, the Muzzy Trocar has established itself with hunters due to deep penetration, massive blood trails, and unmatched accuracy among fixed-blade broadheads in extensive pre-release testing.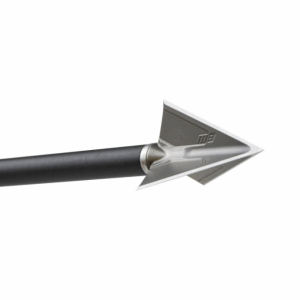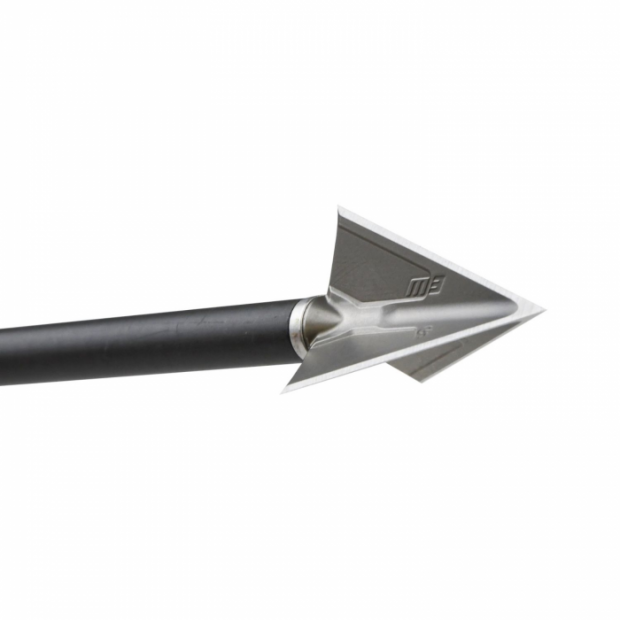 The G5 Montec M3 100 Grain Crossbow Boradhead
The G5 Montec M3 100 Grain Crossbow Broadhead 3 Pk features all-steel construction with 100 percent spin-tested accuracy. Stronger steel provides a sharper edge and the new non-vented design has a quieter arrow flight. These 100-grain broadheads feature a 1.125-inch cut and come in a pack of three.
What is the Best Crossbow Target for Deer Archery?
Do not expect the same target you use with your compound bow to be good enough for the power delivered by the powerful crossbows on the market today. An arrow shot from a crossbow will completely pass through a normal target and keep going. Crossbow targets have extra strength to stop crossbow arrows before they completely pass through or bury up to their fletchings.
The Hurricane H21 Crossbow Target features high-visibility aiming points, an off-center deer vitals design, and a heavy-duty handle.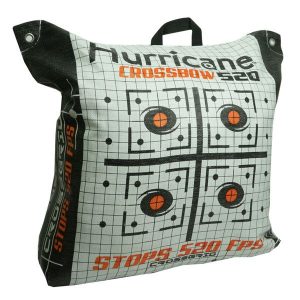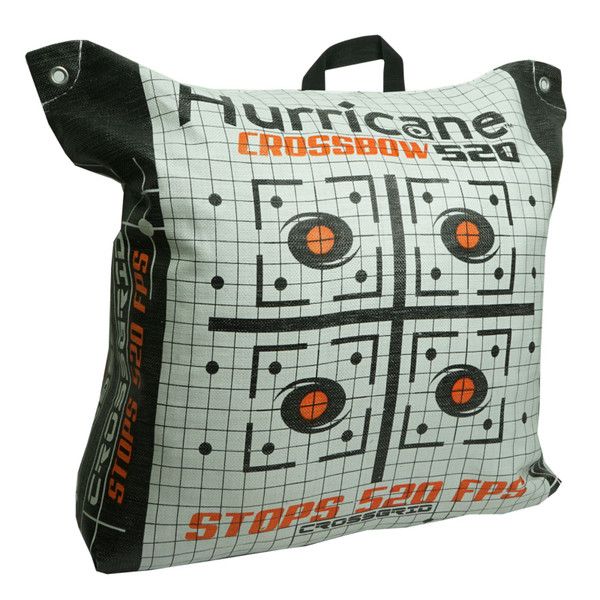 The Hurricane H21 Crossbow Target
Designed for crossbows and high-speed bows, Hurricane targets feature highly visible shooting "eyes" with bright orange centers that are easy to see against the bright-colored background, even at longer ranges.  Some core features of the Hurricane targets include:
       Provides two sides for practice shooting;
       High visibility aiming points;
       Off-center deer vitals;
       Designed for crossbows; and
       A heavy-duty handle.
What are the Best Crossbow Scopes for Deer Archery?
The TRUGLO 4 x 32 crossbow scope has a special range finding and trajectory compensating reticle with a generous 4″ eye relief. This scope has fully coated lenses providing maximum brightness, clarity, and contrast. This particular scope also includes a rubber eye-guard, fingertip windage, and elevation adjustment under screw-down caps. Finally, this scope has a durable leaf spring for windage and elevation adjustments. And to top it off, the one-piece tube is made from aircraft-quality aluminum.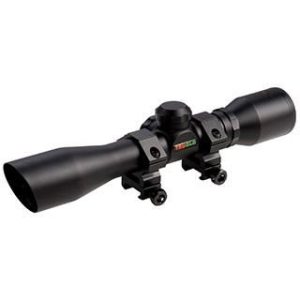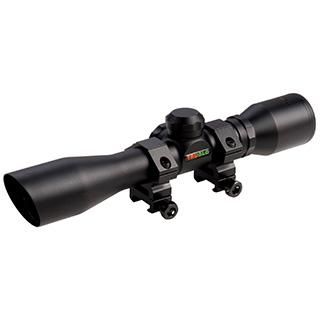 TRUGLO 4 x 32 Crossbow Scope
For the last couple of seasons, I have been using the Hawke Crossbow Scope 3×32. Hawke Sports Optics specifically designed and engineered their 3×32 XB Crossbow Scope and XB MAP reticle for crossbows using bolts traveling at 315 ft/s for optimum accuracy and ease of use. The objective is intentionally on the small side to maintain a low profile, reduce snag points, and keeps the weight down. The post arrangement forms an inverted trapezoid target gate in the middle with aiming points from 20 to 60 yards at 10-yard intervals. It is calibrated for 315 fps speeds and offers 6″ and 12″ brackets on its 50-yard line.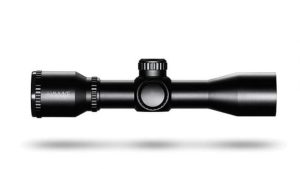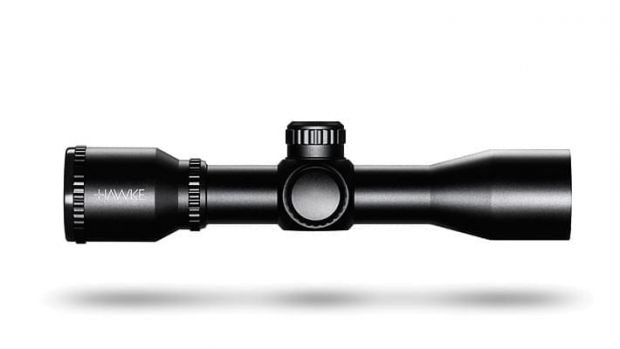 Hawke Crossbow Scope 3×32
In closing, crossbows are an amazing tool in the world of deer hunting. And, remember, please do not be under the impression that you can just pick up a crossbow and head to the woods to harvest a deer. To be an effective hunter with a crossbow, or any weapon for that matter, you need to know the animal you are hunting and be safe and proficient with your weapon of choice.