Red Dot Sights
Are you looking to improve your shooting speed and accuracy?
Do you want to have the ability to shoot in all lighting and weather conditions without having to worry about sun glare, foggy lenses, or low light? Using a rifle with a red dot sight will help with all of these conditions. Don't settle for iron sights when products out there can make your life easier and not break the bank while doing it. Every gun owner who spends a lot of time in the field or at the target range should invest in a red dot sight.
Having the right gear and getting away from iron sights can be a game changer.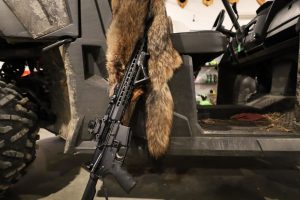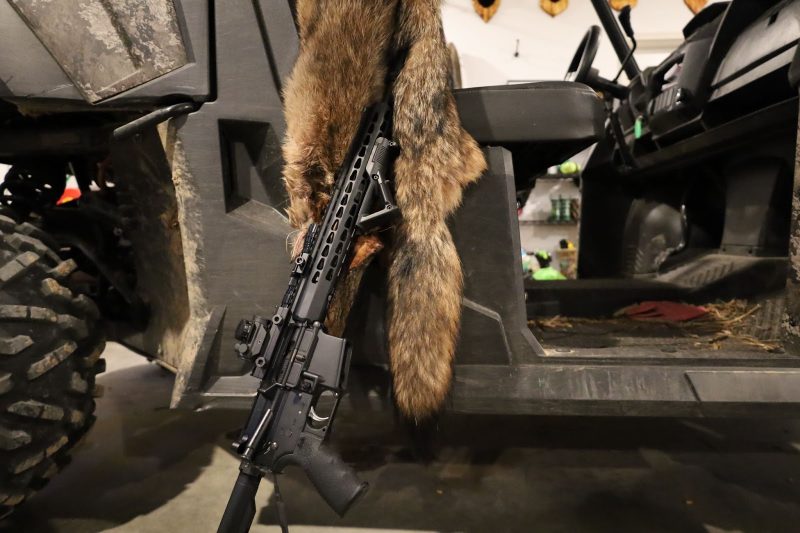 Red dot sights are popular among many hunters and competitive shooters. They give you the edge you need to make every shot count. For example, We put this coyote down with an AR15 and a red dot Scope. This beats out any iron sights. The right gear makes a difference.
Red Dot Sights for a Rifle
There are many purposes for a rifle with a red dot sight. Some people choose to use it for hunting. Hunting coyotes, hogs, and varmints are typically the most commonly targeted animals with an AR15 and a red dot sight.  Other applications are for competition and recreational shooting, and home protection. A red dot sight on a rifle allows the shooter to acquire their target faster with improved accuracy. Therefore, red dot sights are vital during situations where speed is needed. This very reason is why a lot of competitive shooters use a red dot sight on their guns. They must be able to shoot and move quickly, all while needing accuracy. This is the same reason people use these for hunting prairie dogs and other varmints. In addition, the single focus point and bright reticles make shooting easier for novice and advanced shooters. Another benefit of using a red dot sight for a rifle is the ability to shoot in all light conditions, even at night. Coyote and hog hunting is common at night, making this possible with a red dot sight. Finally, one of the most significant advantages of using a red dot for home protection is the ability to shoot with both eyes open and maintain awareness of your surroundings. There are many options for red dot sights, as they vary slightly in their capabilities. Not only that but choosing the right size MOA reticle is critical for different scenarios. Some red dots come with multiple reticles, which makes them more versatile. You can use these sights on most guns.
How to Mount Red Dots on a Rifle
My first recommendation if you are new to these sights is to take it to a gunsmith that is already knowledgeable in this area. Improperly mounted red dot sights can lead to an array of issues. If your sight is not tightened correctly, it can shift, which will throw your "zero" off on the sight.  But if you tighten your sight down too hard, it can damage the lens, and most companies do not have a warranty for this.  The last thing you want is to be out the money and the sight if this happens. Take the extra time and money and have someone else do it right. A couple of things to consider is where to mount the sight on your AR 15. Mounting it as far forward on the receiver is ideal. The further forward you mount it, the better your peripheral vision will be, allowing you ample awareness of your surroundings. You will need a Picatinny mount for your AR15. If you shoulder your gun and find yourself moving to see the red dot, you may have to adjust your risers to fit you. Not all sights come with risers, so you may have to purchase these separately. The mounts grip strongly to the gun, so you do not need to worry about your scope coming off.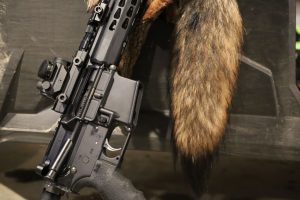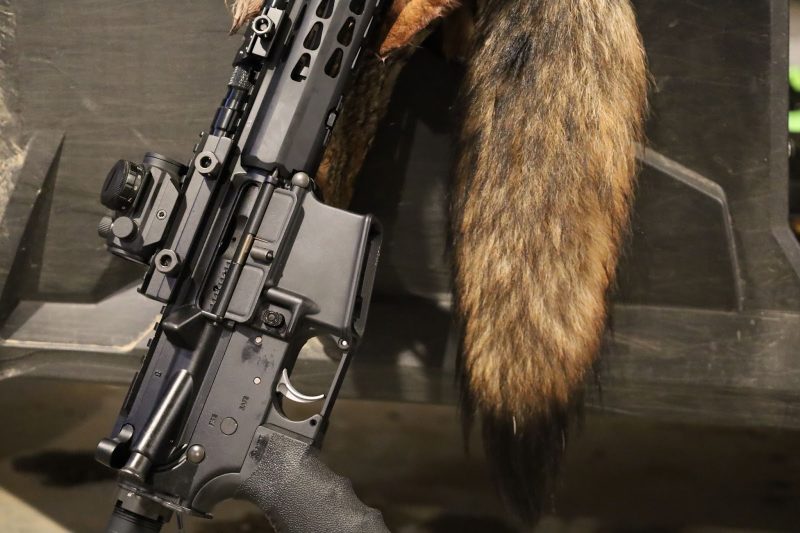 Make sure you choose the right mount and risers for your AR15 or it will not work correctly; also, make sure it is securely on there and can't move. If you don't and it shifts, you will have to re-zero your sight. Remember to mount it as far forward as possible on your gun. These sights are built to handle the recoil of any gun. Step out of the box and try a red dot sight, instead of the old iron sights.
How to Sight in a Red Dot on a Rifle
When sighting in your red dot sight, think about the distances you will be shooting your gun commonly. You will want to zero your sight at that distance. If you are making longer shots, you don't want to zero your sight at 25 yards, as you will have to make more adjustments. You also want to think about accuracy. Shooting and being consistent at 200 yards can be challenging. Choosing a distance of 50-100 yards is more attainable and versatile. Remember, this is your "zero"; all your shots are based on this. Once you have decided on a distance, shoot a couple of times and see where it hits the target. If you are shooting high or low, move your elevation. If you are left or right of the target move your windage. Always move in the direction you want to go. For example, if you shoot low, you will want to move up. If you shoot to the right, you will want to move left. Understanding what MOA means will make sighting in your red dot easier.
How Dot Sights Work
In general, 1 MOA = one inch at 100 yards and 1 MOA = .5 inches at 50 yards, and so on. Click here for some helpful information and examples on making adjustments. They demonstrate how to determine your adjustments using one simple equation. For both elevation and windage adjustments, the equation is as follows. The number of inches from the point of aim divided by (the distance in yards you are sighting in at/100 yards). For example, if you are sighting in at 50 yards and you shoot three inches low, your equation would look like this. 3/(50/100)=3/.50=6. You will need to move 6 MOA up. It will look like this if you shoot 2 inches to the right at 50 yards. 2/(50/100)=2/.50=4. You will need to move 4 MOA to the left. Check your red dot sight to see how many clicks it will take for a 1MOA change, as not all of them are the same. For example, on the Trijicon ACOG 3×35 w/ Horseshoe .223 Ball Ret, it takes two clicks to equal 1 MOA. So if you need to make a 6 MOA adjustment, you must move it 12 clicks. After you have found your zero, start shooting at different distances and get used to it. Make a cheat sheet for adjustments at different distances and have it handy. Take it with you when you go hunting, so you don't have to do the math on the fly. Once you try a red dot, you will never go back to iron sights.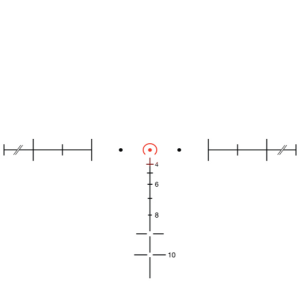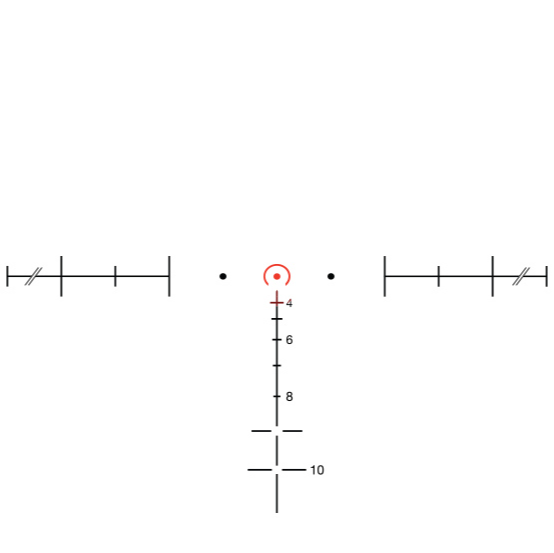 This image is showing what the reticle will look like on the Trijicon ACOG 3×35. This will help you focus on your target. It gives you a red dot and ACOG sights. Keep your aimpoint small with a red dot.
Best Red Dot Sight for AR15
The Trijicon ACOG 3×35 w/ Horseshoe .223 Ball Ret is a great red dot sight for AR15 users. Whether you want to use it for hunting or target shooting, it will meet your expectations. It is designed for a .223 caliber gun and has ACOG and red dot sights. It is waterproof, fog proof, and shock resistant, which means it's durable and can handle harsh conditions. The ACOG sight changes its brightness according to the light coming in, but you can manually change it using six brightness levels. With Trijicon's Bindon Aiming Concept (BAC), shooters can easily shoot with both eyes open and have maximum awareness of their surroundings. At 100 yards, the shooter's field of view is 28.9 ft. The sight also has a 3.5x magnification, which is nice for longer shots.
This red dot does offer the bullet drop compensator and target-ranging reticle for shooting at pre-determined distances. There will be multiple aiming points under the main crosshair. These aiming points are usually set at 100-yard increments, although they can be set at 50-yard increments. This is the right gear for hunters and shooters because you can change windage and elevation sparingly.
Red Dot Sight Summary
If you are thinking about purchasing a red dot sight for your gun, do some research, look at reviews and choose the sight that best matches your needs. They work great for improving your shooting success and allow you to get on target quickly. Not all red dots are the same. If you are a novice shooter, purchase a sight with fewer adjustments until you are familiar with it. For example, if you are a hunter, a sight with both a red dot and an ACOG sight would be beneficial, along with night vision options. An experienced shooter may want as many adjustments as possible to dial in their shooting. Holosun makes a great sight for novice shooters. I recommend having someone help mount your red dot and if you are not confident in sighting it in, get help. It won't do you any good if it's not set up correctly. These sights are proven to improve the speed and accuracy of all shooters. If you are unsure about purchasing one, go to a range and target practice. Compare your red dot to iron sights and see what they can offer. Also, remember that these sights can be used on a pistol or a shotgun. Gear up for your next adventure and don't forget your sight. red dot optics are becoming very popular.